"My OKR Dashboard Made Me Famous!": A Client Success Story
Published 2018-10-22, updated 2023-03-21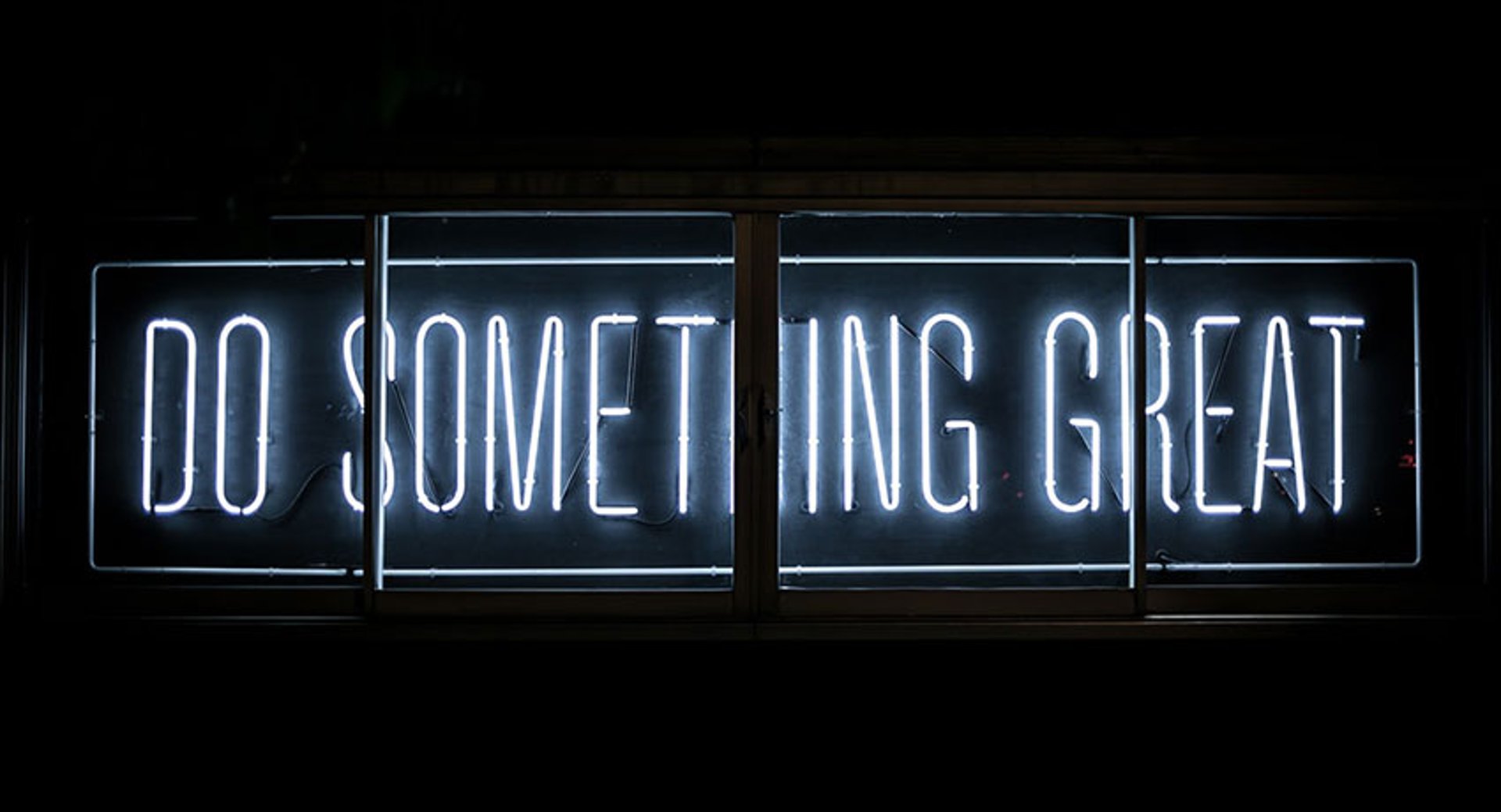 Summary - An OKR (Objectives and Key Results) client was excited about the results she and her organization had realized by implementing OKRs. Her OKR process helped her perform better, helped the organization perform better and, most importantly, made her famous across the organization.
---
We received a call the other day from one of our OKR (Objectives and Key Results) clients who was super excited about the results she and her organization had realized by implementing OKRs. Sarah told me that their OKR process helped her perform better, helped the organization perform better and, most importantly, made her famous across the organization.
In thirty years of consulting I have never had a call like that! And what I learned from Sarah can apply to anyone's career and organization.
Sarah's OKR Dashboard
Fitting into the big picture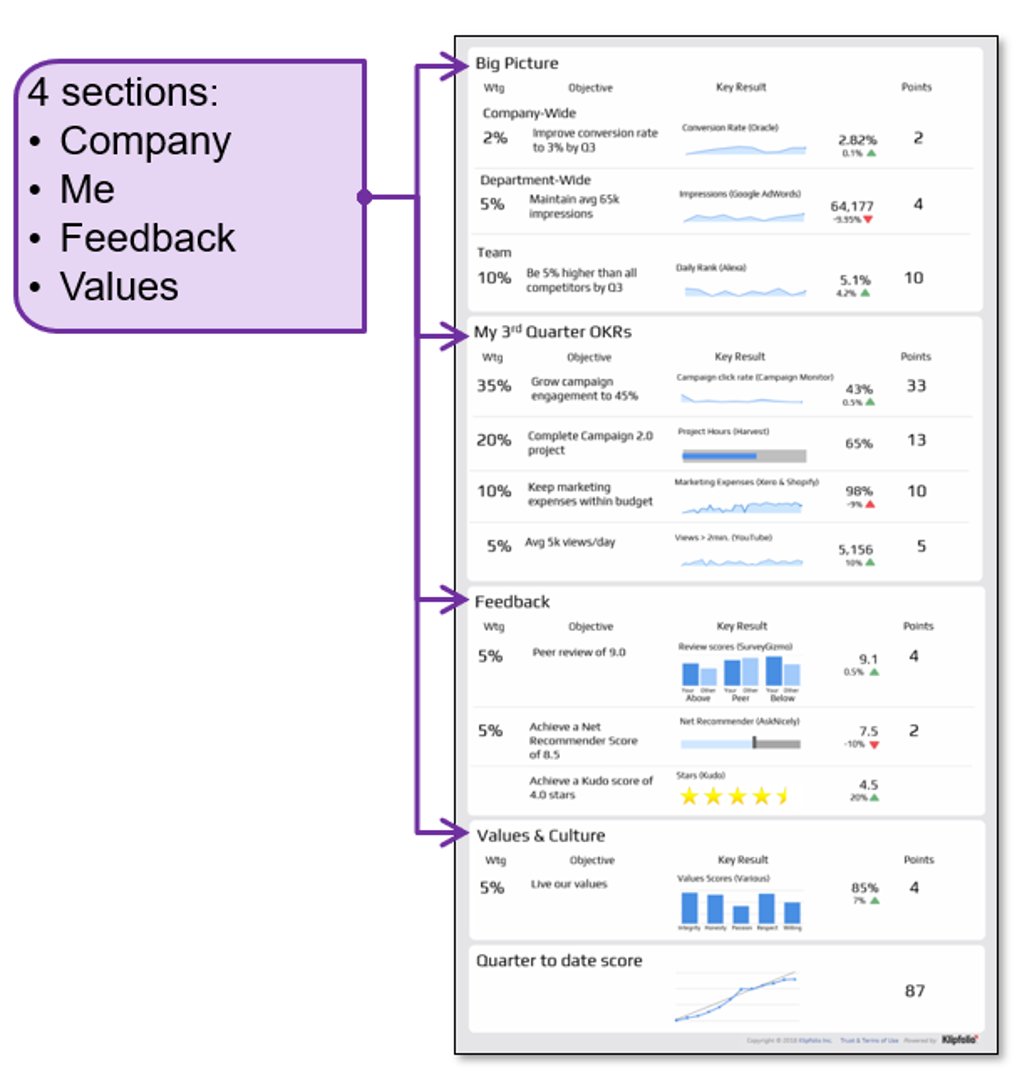 Sarah's OKR dashboard was divided into four sections with total performance displayed at the bottom.
Each section showed the OKRs that she was associated with and made her contributions to the overall organization clear – which is something she had been puzzled about since graduation!One of the great benefits of this approach is that the senior team got to see what Sarah was doing towards their success.
The Feedback and Values sections gave her personal performance information beyond the specific work she does. Sarah said that this became a tool for her to significantly improve how she was seen by her colleagues and how she worked alongside them.
Getting my priorities right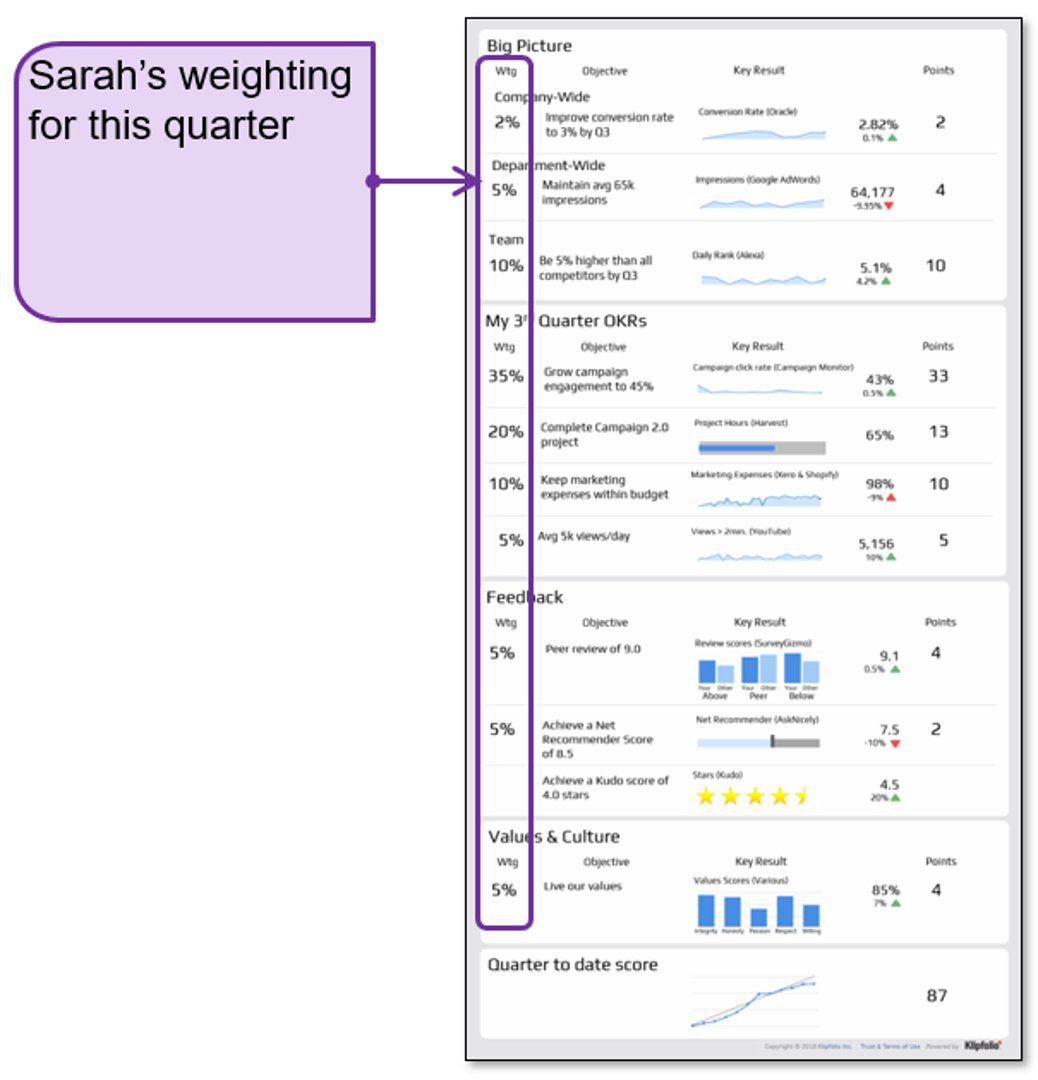 Each quarter Sarah and her boss(es) agree on the relative importance of all of the things she does.
The My OKR section's weighting scheme helped her Matrix-managers and Team-leads set her priorities across their various objectives. This allowed her to prioritize her time across her many cross-functional responsibilities.
Sarah told me a story about how the weighting helped her boss send her on a couple of training courses that had been previously "postponed" because he finally saw how the training would help her to achieve her Objectives.
Gamifying the job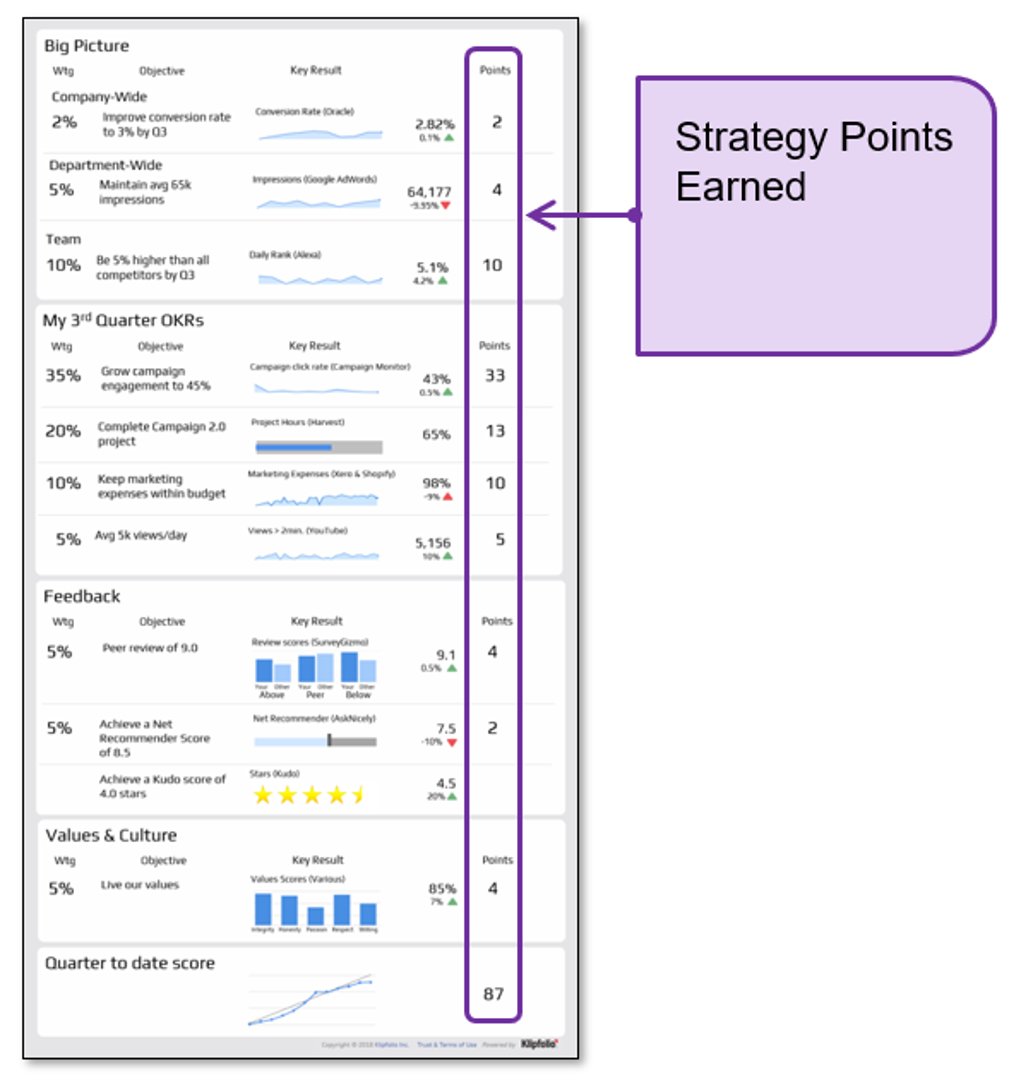 Sarah's OKR Dashboard also showed her how many (strategy) points she earned for each Objectives.
Sarah said that this was the biggest motivator for her. By getting that daily/ weekly / monthly performance score she was able to beat her weekly previous "high score" by evaluating what actions she could take to do so.
Sarah told me how this was a big contributor to her new-found fame. She out-performed her teammates month after month and was subsequently recognized at the all-hands meetings. Once she started earning "Top Performer" badges (given out to highest points earners), people began saying "Hi" to her in the hallways and she began getting the choice of special projects to work on.
Measuring what matters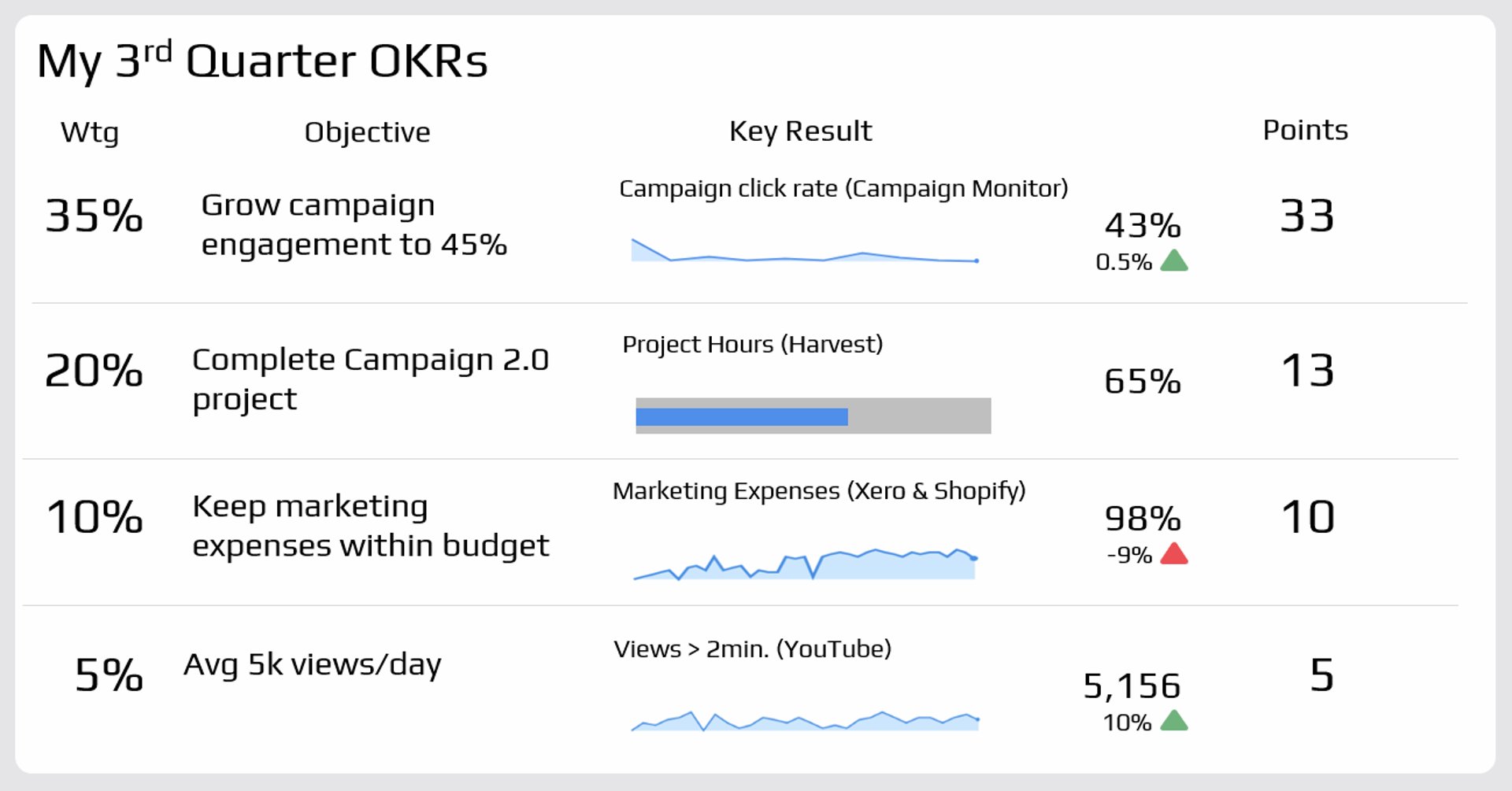 Sarah's made sure to take the S.M.A.R.T. approach into consideration when setting her OKRs. This made it easier for her to see how she was progressing against her targets and priorities and kept her focused, ultimately increasing her productivity.
She was laughing as she told me that she actually attended about 35% fewer meetings! She said that about 20% of the meetings that she was invited to had nothing to do with her Objectives and so she sent an email explain that she would not be attending. About 15% of the meetings she was invited to were outside of her RACI responsibilities (she was the "R" or "I" and needed to only be informed of the decisions made by the "A" and "C" players).
Sarah also said that her daily dashboard allowed her to learn what she could do to maximize her score and react to problems as soon as they happened, as opposed to a few weeks later when the month-end reports were published.
Becoming a Team Player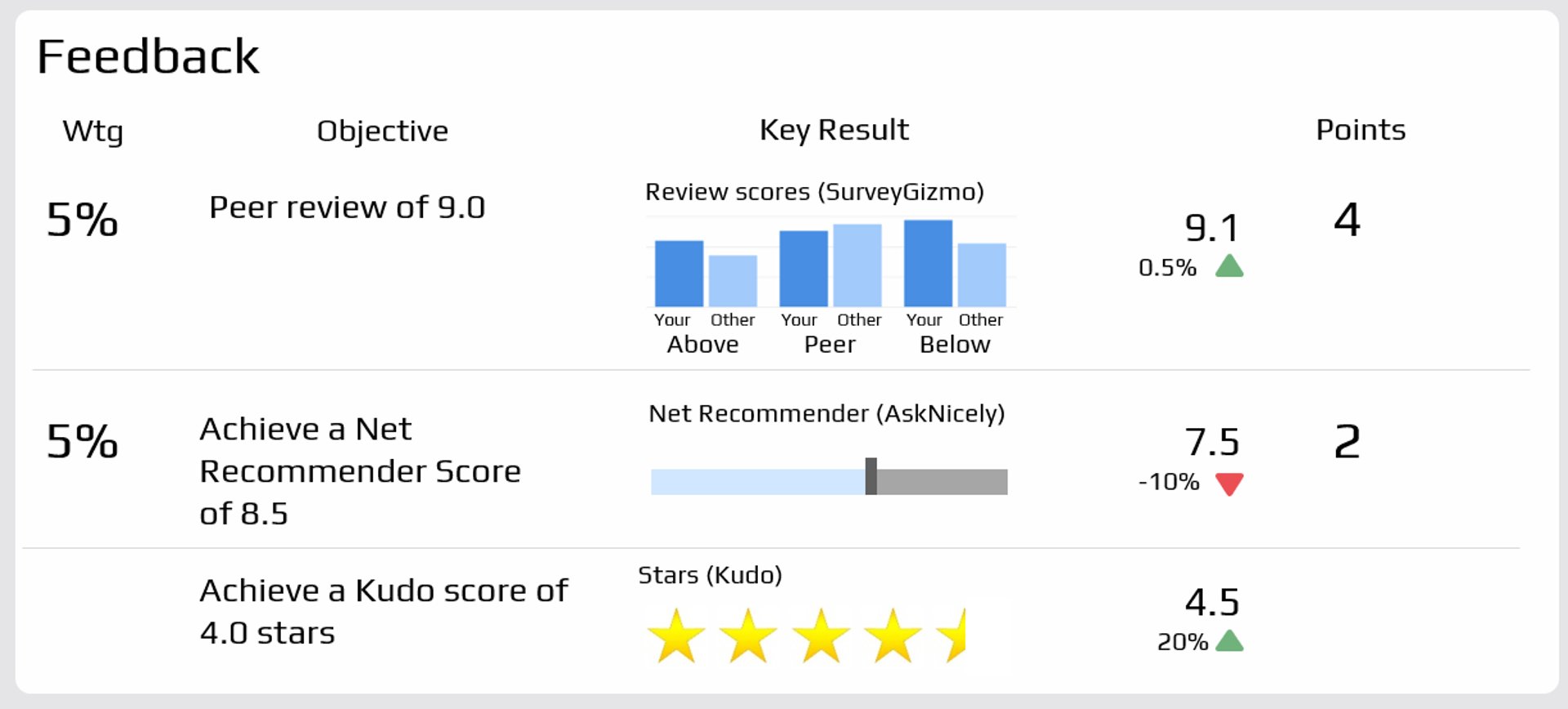 In the Feedback section – where co-workers, suppliers, and customers feedback is reported – she began to see how others perceived her. For example, she found out that her direct boss had a better impression of her than her Matrix-bosses. This was easy to fix once her various bosses and herself sorted out her Objective weightings.
She also found her NRS (Net Recommender Score – "Would you recommend Sarah for the next project?") was quickly increasing. The more successful she became – and others saw it – the more she would be recommended for the next special project.

Sarah's company had been communicating about their five "values" forever, but she never knew what she was supposed to do about them. On her OKR dashboard she has those five values – plus hard measures around each of them. For "Integrity", she said that it was defined as "Say what we will do. Do what we said". Her measures were targeted around how many times she had to change her promised delivery dates and the number of times she committed to one date but delivered late.
She now understood how the values affected her – and her internal and external customers. Her "Value" score ended up moving up, on average, 10% per quarter. This helped her score – but more importantly, made her customers far happier!
Fame came one day at a time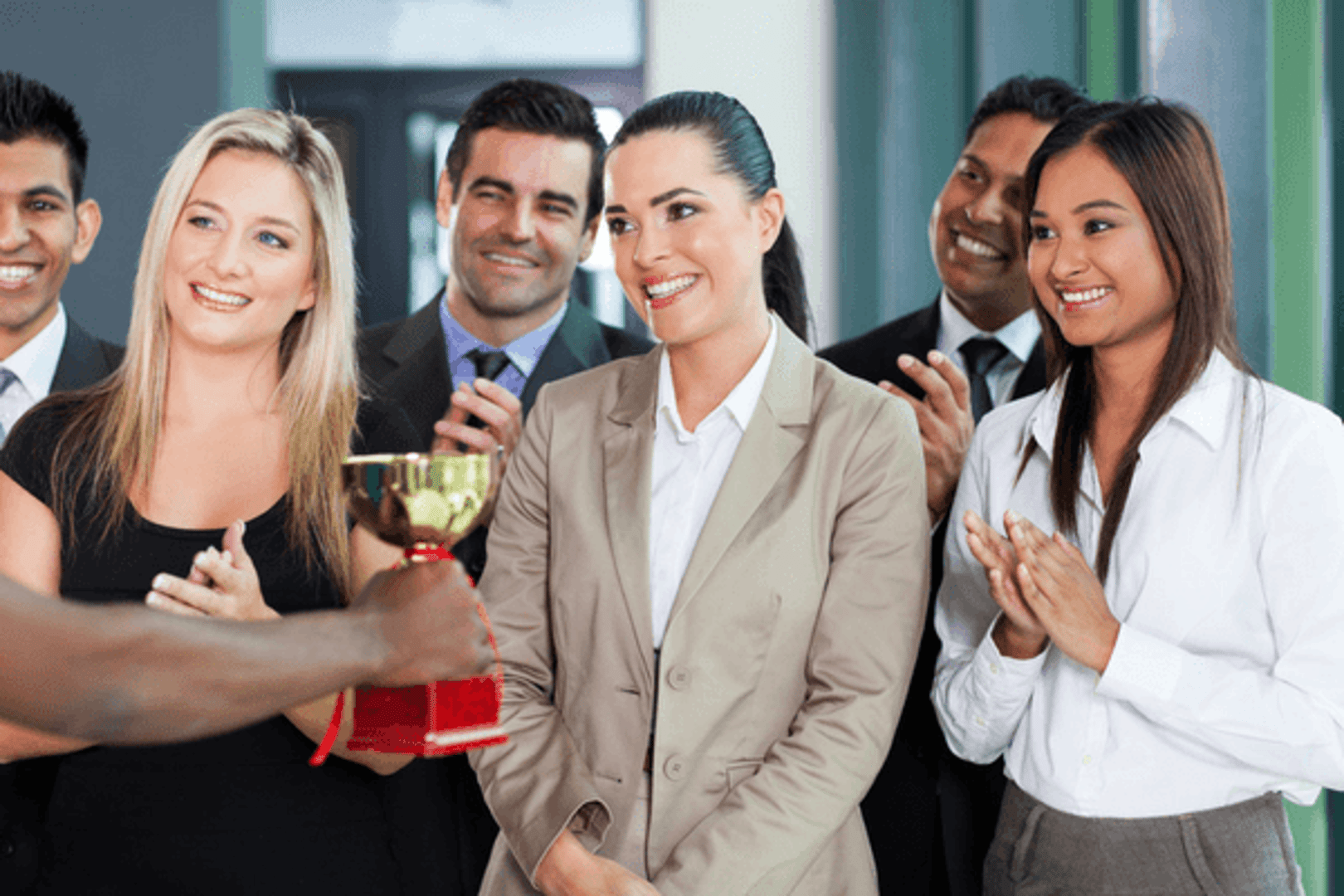 Sarah says that each day she did slightly better than the day before. She saw it. Her teammates saw it. Her bosses saw it. And soon the whole organization saw it.
About Pm2
Brett is an Executive Partner at Pm2 (Performance Measurement & Management) an international consulting firm specializing in the development and implementation of strategic dashboards and scorecards. The frameworks they use includes OKRs (Objective and Key Results), Balanced Scorecard, 4DX (Four Disciplines of Execution) Lean, Six-Sigma, etc. Their work has been profiled in Harvard Business Review, Fortune and Forbes magazines as well as countless business books and periodicals. We are pleased to have this thought leader as an active contributor to our blog posts.
Related Articles