How to use Facebook Analytics
Facebook analytics helps on several fronts, including:
Optimizing your content
You can't make a great Facebook page if you don't have access to the right data.
Using Facebook analytics is an essential tool for getting the most out of your Facebook presence.
For example, Facebook Insights can help you to:
Identify the types of posts (i.e. photos, videos, text) that performs best on your page
Analyze the topics that help to drive the most engagement on your page
Build a content calendar around the formats that your audience interacts with the most (i.e. infographics, event coverage, articles)
Learning about your audience
One of the most powerful uses of Facebook analytics is its audience insights.
Facebook collects a ton of data on its users, from location to interests. Facebook analytics helps to deliver that data to you.
Check in on your audience insights regularly. It'll help to give you an idea of how the audience you want to reach compares to the audience you are reaching – both on Facebook and elsewhere.
Tracking performance
You have Facebook goals, right? (If you don't, you should).
Well, without the right data, you're not going to be able to measure how you're performing against them.
By looking at your Facebook analytics you can tell where you're on track and where you need to improve.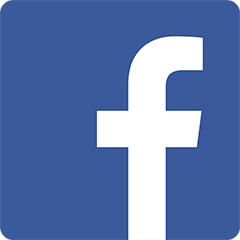 Facebook Analytics with Pre-Built Metrics
To give you an idea of what you can, and should, be monitoring, explore our Facebook integrations page or take a look at some of the pre-built Facebook and Facebook Ad Metrics we have available:
Connecting your Facebook data into Klipfolio gives you instant access to your page performance. Check out our integrations page to see what other
Daily reach
Clicks
Engagement
Impressions
Visits
And more
Make sure people are noticing your page (impressions) and getting excited by liking, commenting and sharing your posts (engagment).
See what else you can build with Klipfolio's integrations
Facebook offers, when it comes to social media at least, one of the most robust analytics platforms around.
With just a few clicks you can get a treasure trove of data, yielding important insights that can help track your progress and shape your overall social media strategy.
The only problem? The sheer amount of data can sometimes be so overwhelming that the useful insights are buried under a pile of numbers.
That's where a Facebook analytics report from Klipfolio can help.
By pulling together your most important metrics from Facebook into one place, you can stay on top of the data that matters most to you.
What is Facebook Insights
Facebook Insights is the primary analytics tool for measuring how audiences interact with your Facebook page.
Number of likes, which post received the most comments, whether more women or men engage with your content – these are the sorts of questions you can answer using Facebook Insights.
Insights also allows you to customize by date, whether a post received a paid boost, and whether they were an image, photo or other form of post.
But it's not just Facebook Insights. Facebook's Ads Manager also offers tons of data related to Facebook ads and boosted posts.
Taken together they give you complete insight into your Facebook Analytics performance – both on the paid side and the organic.
Facebook and Facebook Ads report examples
Curious to see what you can track in Klipfolio? Here are just a few examples of the reports and dashboards you can build that will help you grow your business. View the Live Dashboard examples to get a better look.
View the most recent posts on your feed
Monitor the number of users engaging with your account
Gain a view into your fan demographics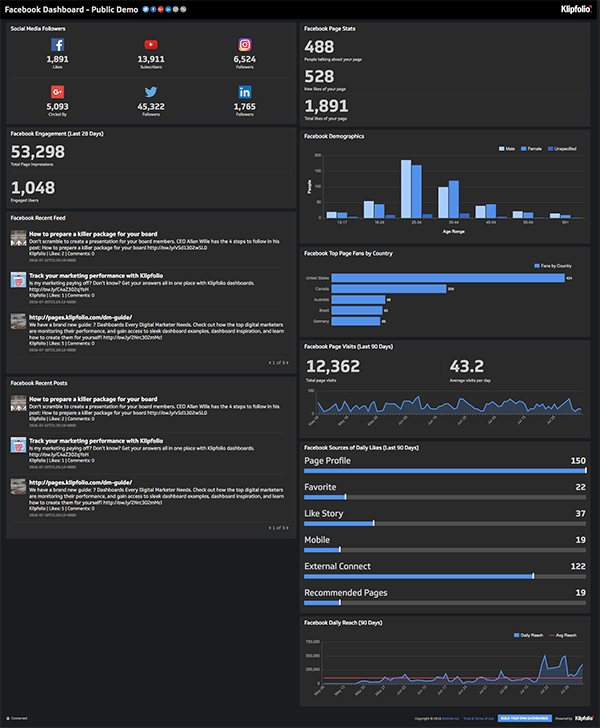 Track your total ad spend
Gain insight into the performance of your ad campaigns by placement
Consolidate your key metrics such as CPC and impressions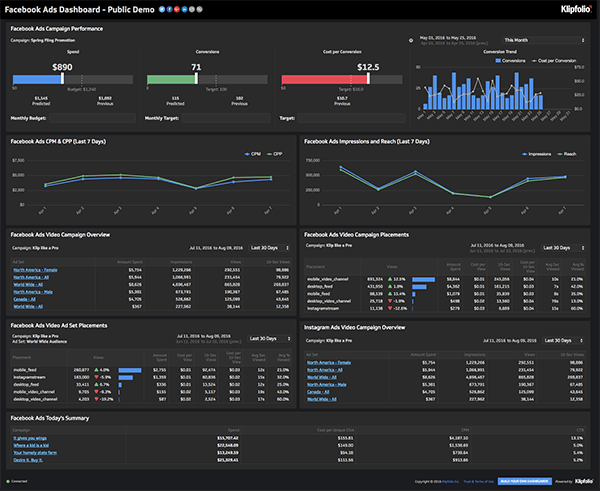 Need to track more than just Facebook Social Media Analytics?
Of course you do, with Klipfolio you can create mashups with as many different data sources you need, including Google Analytics, spreadsheets, CRM platforms, social ad platforms and much more. What does this mean for you? No more manual reports or Google Sheets with multiple versions. And you can get started with just a few clicks.
You may want to check out our other social media analytics solutions for: Instagram Analytics, LinkedIn Analytics, Twitter Analytics, YouTube Analytics, and Google Analytics.
Facebook analytics reporting fundamentals
A Facebook analytics dashboard helps cut through the statistical noise surrounding your Facebook account. Instead you can focus in on the metrics that matter most to your success.
Here's how a Facebook analytics dashboard is essential to building your Facebook presence:
Update your Facebook data in real-time
Your Facebook performance is constantly changing.
It only makes sense, then, that your measurement and tracking change along with it.
A big benefit of Facebook analytics dashboards is the ability to get an up-to-the-minute portrait of how you're performing.
This helps to keep you focused on the metrics that matter most to you.
More than that, though, it also acts as an indicator for when you need to address an area that has fallen below expectations.
That way, if your CTR for a particularly important and time-sensitive Facebook ads campaign is below the target, you won't have to wait for reporting time to know about it. You'll know right away.
Focus in on your key Facebook metrics
Facebook analytics is invaluable.
But it is a LOT of data.
That's why you need to ensure you're looking at the metrics that matter most to you and your organization.
A dashboard helps you to focus on your most important metrics for Facebook (otherwise known as your Facebook KPIs).
Look at your Facebook data visually
Numbers on a screen just don't have the same impact as numbers presented visually.
A good dashboard transforms your data from figures on a spreadsheet to powerful visualizations.
For example: Your Facebook CTR could become a line chart. This would help to keep you on track towards your goal while giving you an idea of how you're performing.
Visualizations help to create insights – and drive action – in ways that simply aren't possible with numbers on a spreadsheet.