Starter Guide to Facebook Analytics
Facebook has 1.93 billion daily active users. If you're sharing social media content with even a fraction of users, you want to be able to measure its performance. Make your Facebook data a pillar of your social media strategy and accelerate your growth.
Track all your Facebook Analytics KPIs in one place
Sign up for free and start making decisions for your business with confidence.
or
Sign up with your email
Free forever ● No credit card required
What is Facebook analytics?
Facebook analytics is a key part of your marketing strategy. Facebook's standalone analytics tool was retired in July 2021, but Facebook Page Insights and Facebook Business Suite (which provides insights to Facebook and Instagram metrics like page view, reach, and impressions.) So if Facebook doesn't have a standalone analytics tool that allows you to dive deep into your data through dimensions and segmentation, what can you use instead?
Facebook Page Insights and Facebook Ads Analytics
Facebook no longer offers a standalone analytics tool, but you can access the Facebook Business Suite to manage your Facebook page (or Instagram business page  since they are both owned by Meta) and access detailed insights about your audience, content engagement, and trends.
Facebook Ads Manager serves as your ads analytics tool. Within Facebook Ads manager you can view ad performance and reports. Facebook Ads reporting has "breakdowns" which allows you to break down your Facebook ads data by level (like campaign or ad set), time, demographics, delivery (like placetime type or platform), and actions. The metrics available within Facebook Ads reporting include performance metrics (reach, impressions, delivery), engagement (likes, mentions), conversions, or settings (objective or ad budget).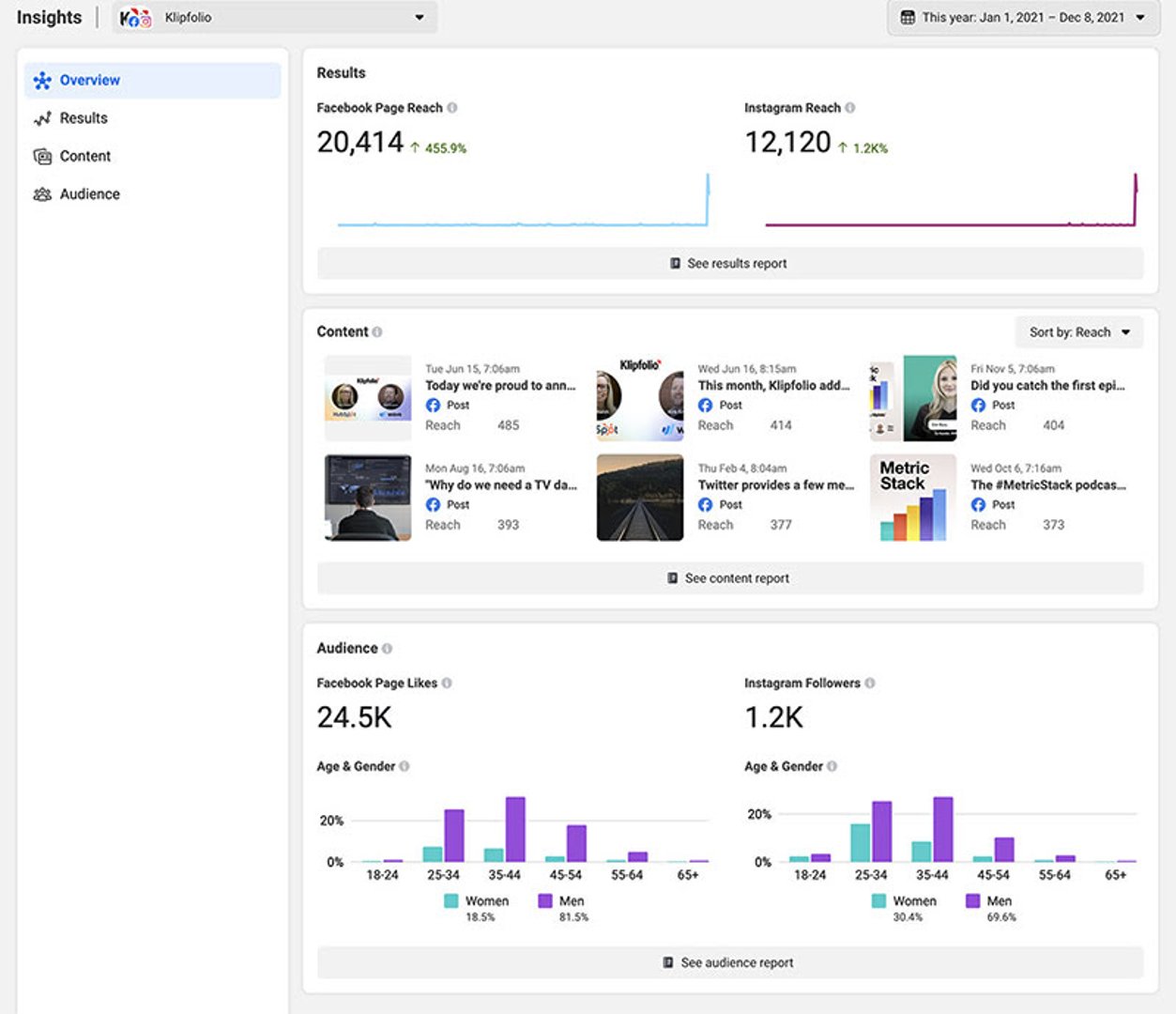 Third-party Facebook analytics tool
Facebook Ads reporting is pretty detailed, but there are limitations. Facebook doesn't allow you to view your Page or Ads insights all in one place—you have to log in to either the Business Suite or Ads reporting to access your data. With a third-party analytics tool like PowerMetrics, you can pull all of your Facebook data (Facebook Page and Facebook Ads) together in one place on the same dashboard. This means no more switching between Business Suite and Ads Manager! Instead, bring everything together on a PowerMetrics dashboard for quick and easy insights.
Similarly, a Facebook analytics tool like PowerMetrics means you can pull all of your social media data together, too. View your Facebook, Instagram, Twitter, YouTube, and LinkedIn metrics on the same dashboard so you can understand your performance across your social media channels.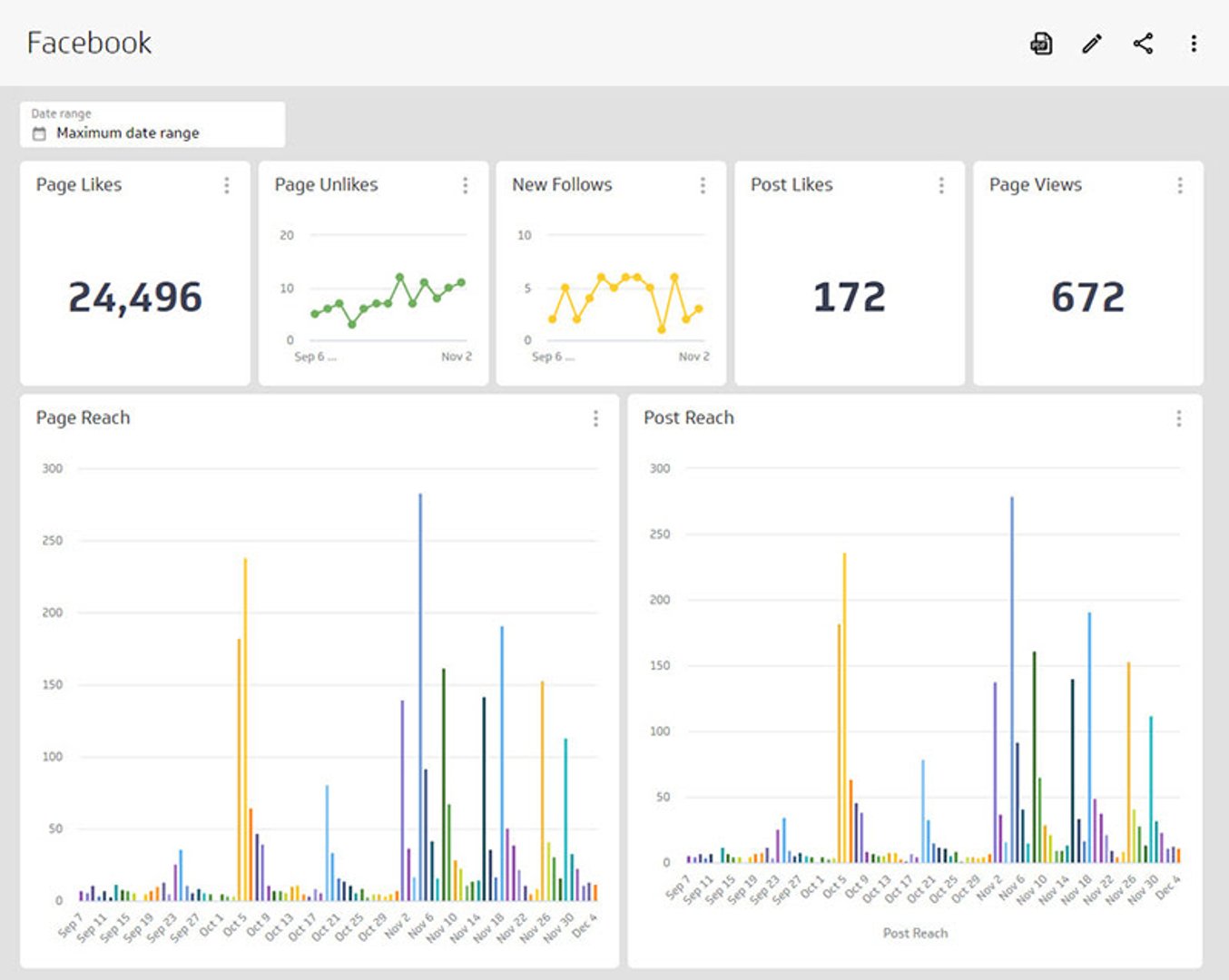 Start tracking your metrics
Level up your analytics with a free forever PowerMetrics account
How can a Facebook analytics dashboard help me reach my goals?
Optimize your content by using your Facebook data to: identify which type of post (photos, videos, text) performs best on your page; analyze topics that drive engagement; and build a content calendar based on the content type that generates the most engagement.
Learn about your audience—from location to interests. Check your audience insights regularly to understand how the audience you want to reach compares to the audience you are reaching.
Track your performance to see where you're on track or what needs improvement with a dashboard that updates in real-time.
Cut through the noise and focus on the metrics that make an impact for your business.
Top Facebook statistics that every marketer needs to know
Facebook Page Metrics
Track content engagement to know what type of content converts and where you can make adjustments.

Track page likes to count the number of unique visitors who have liked your Facebook page.

Track new followers to understand the number of people who have followed your page over a given time period.
Facebook Ads Metrics
Track ad clicks to understand the number of times a user has clicked on your advertisement.

TrackTrack click-through rate to measure the percentage of clicks on your ad that generate an impression.

Track cost-per-click to know the price you pay for each link click in your advertisement.
How to connect to the Facebook API
The Facebook API allows you to generate custom reports using your YouTube analytics data. Here are a few resources to help you get started.