Brand Awareness KPIs & Metrics
How are people hearing about and talking about your brand online?
Track all your Digital Marketing KPIs in one place
Sign up for free and start making decisions for your business with confidence.
or
Sign up with your email
Free forever ● No credit card required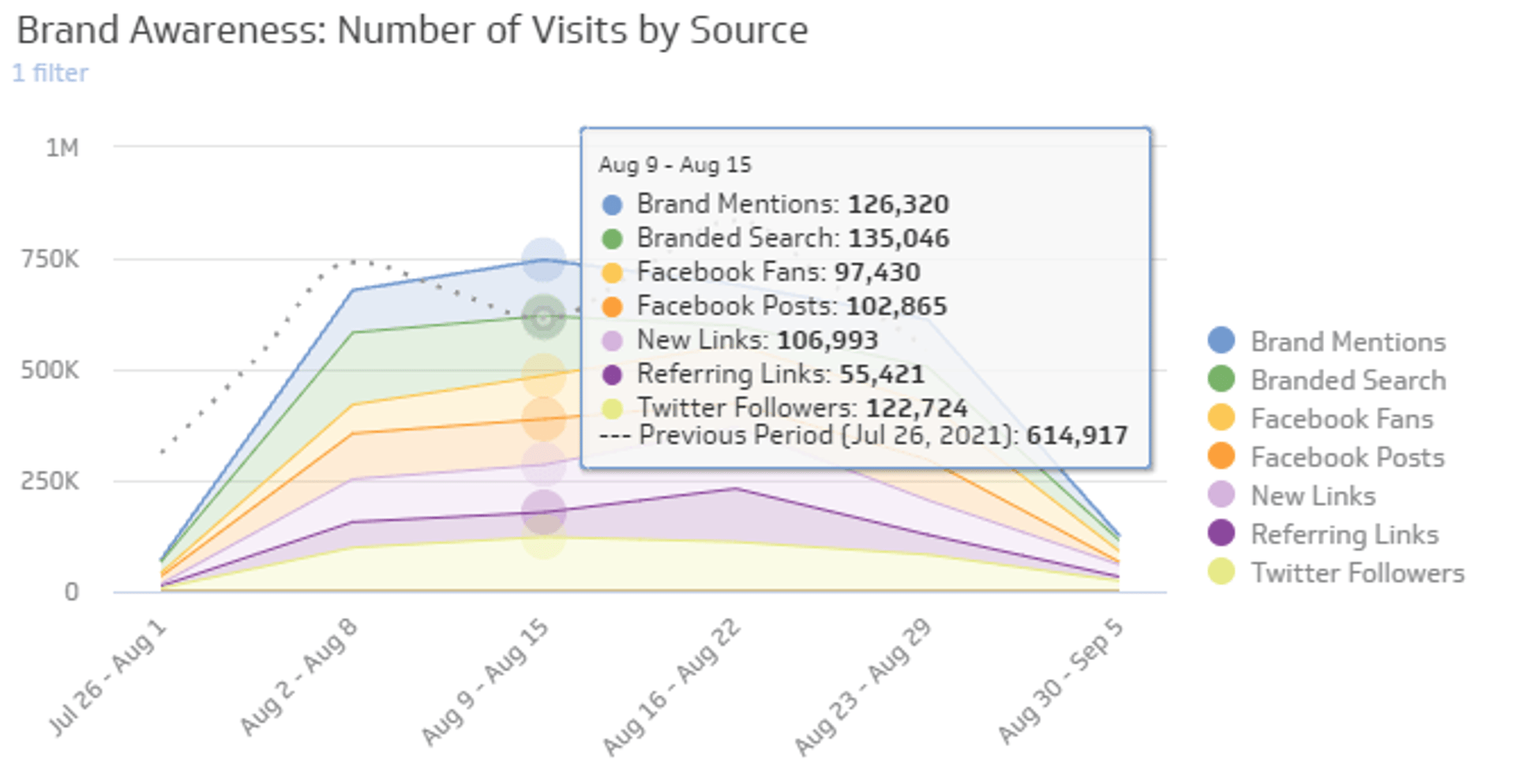 How do you measure brand awareness?
Brand awareness tracks your brand's visibility and sentiment across social media platforms and search engines. Digital marketers may set a brand awareness KPI to track how their brand is perceived over a specified period of time. You can track your brand awareness KPI with a number of metrics.
Brand Awareness Metrics
Social Media Followers
Tracking your social media followers across your social channels will help you to understand the number of people who are seeing or interacting with your content. Follower growth is an indicator of your momentum in capturing attention and your brand message resonating with users.
Brand Mentions
Are people talking about you? Track your brand mentions getting insight into who is talking about you online and how frequently. Brand mentions can include social media, websites, articles, or blogs. You can set up Google Alerts to track where your brand is mentioned online or follow branded hashtags and keywords on your social platforms to see where you land in online conversations.
Branded Search
Who's looking for you online? Track your branded search volume to see who is actively searching for you. This provides great insight into the awareness and visibility of your brand. Measure branded search by looking at your organic search traffic and click-throughs to your website.
Referral Traffic
Measure your referral traffic sources to see who is referencing your brand as a trusted source. Referrals indicate that your website is linked somewhere else and the volume of users who follow those links. While this may not directly measure awareness, it helps to build momentum for your brand.
How do you increase brand awareness?
Develop relationships with your customers and potential audience. Word of mouth is a powerful tool for brands. Provide a positive and encouraging experience with your product or service, and people will talk about it.
Treat each platform differently with its own objectives and KPIs. Share different content on your social media platforms, engage with your customers and followers in a unique-to-them way, and provide an experience on each platform that keeps your audience coming back for.
Adjust your strategy in real time. Social media is a living, breathing platform that requires constant monitoring and fine-tuning. Keep an eye on your metrics and performance regularly so you can adjust as you go.
How do you track brand awareness?
Consult with your marketing team
Define your KPIs and metrics
Select your marketing dashboard software
Connect to data sources
Create data visualizations
Deploy and get feedback
See the list below for more examples of digital marketing metrics & KPIs.
Start tracking your metrics
Level up your analytics with a free forever PowerMetrics account