Incremental Sales
Demonstrate how your marketing campaigns are resulting in increased sales revenue.
Track all your Digital Marketing KPIs in one place
Sign up for free and start making decisions for your business with confidence.
or
Sign up with your email
Free forever ● No credit card required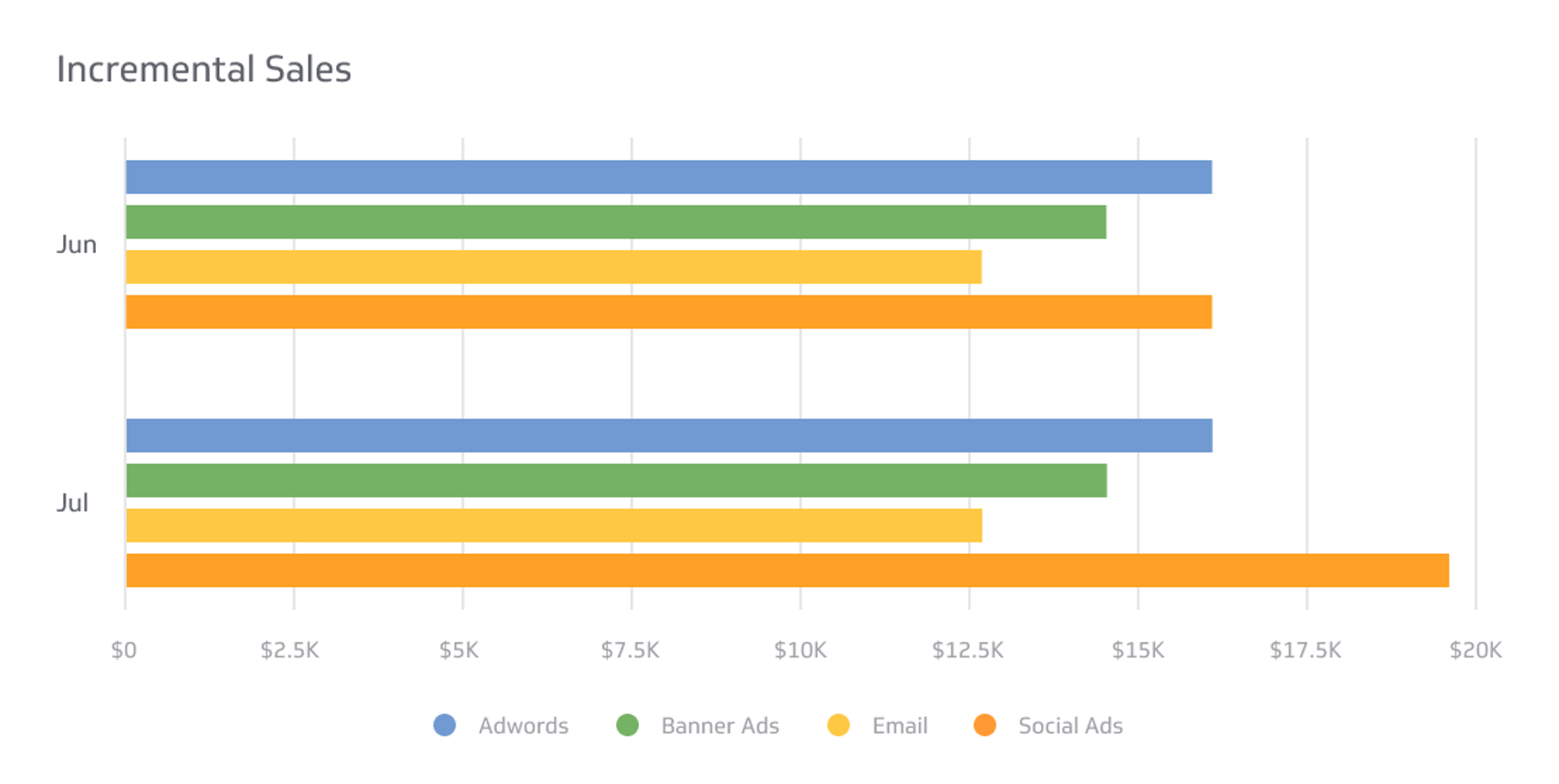 What Is Incremental Sales?
Incremental sales are the extra sales generated by marketing or promotional activities beyond what would have naturally occurred without those efforts.
This KPI emphasizes the close relationship between sales and marketing and how that relationship benefits your organization. Marketing attracts qualified leads, and sales convert those leads into paying customers (who, hopefully, become brand advocates to further fuel marketing efforts).
A report by Think with Google highlighted that rather than showing how many products your target audience bought, the incremental sales metric shows how many more products they bought because of the particular change in the media spend that you're testing.
Key Terms
Baseline Sales: What you expect to sell for a given time period without marketing.
Lead: An individual that has expressed interest in your product or service by completing a goal.
Wins: New customers generated by a marketing campaign.
Campaign: A marketing communication on a dedicated channel intended for a business's target audience.
Incremental Sales Example
A retailer expects to sell $24,000 worth of water bottles in a typical month without advertising. In May, while running a Mobile Ad Banner Campaign that cost $1,500, the store sold $30,000 worth of water bottles. Its owners calculate incremental sales generated by the ad campaign as follows:
Incremental Sales ($) = $30,000 - $24,000 = $6,000
Incremental Sales Success Indicators
Incremental sales that exceed the initial marketing investment.
Indirect increase in sales that can be attributed to a marketing campaign.
How to Calculate Incremental Sales
The formula to calculate incremental sales is:
Incremental Sales = Total Sales (with promotion) - Baseline Sales (without promotion)
This formula helps determine the additional sales generated as a result of marketing or promotional activities.
Incremental Sales Challenges
The incremental sales KPI is one of the most consistent ways to measure your marketing return on marketing investment, as it demonstrates new revenue that can be directly attributed to a marketing campaign. The problem for marketing teams is that campaigns may generate new leads or sales indirectly. For example, a banner campaign with a large volume of impressions may encourage people to complete what is called a "view through conversion." This means that a visitor may see an ad, visit the website in a separate browser tab or window, and then complete a goal without actually clicking on the banner ad. The result is the same, but the path and credit for the completion are very different.
Incremental Sales Best Practices
Identify your business goals and performance metrics--experimenting with different media channels should be a natural part of your budget planning. Execute a controlled marketing experiment to see which channel best appeals to your campaign's target audience and why.
Ask a focused question - if you're trying to connect your online campaign to offline purchases, make sure your media buy reflects that goal. An example from Think with Google is to test location-based mobile ads that include promotions for local stores.
How to Monitor Incremental Sales in Real-time
Once you have established benchmarks and targets for measuring Incremental Sales, you'll want to establish processes for monitoring this and other marketing KPIs. Dashboards can be critical in this regard.
Learn more about how to track your Incremental Sales on a Digital Marketing Dashboard.
Incremental Sales: Top Resources
Getting the Most Out of Advertising and Promotion, Magid Abraham
How to Measure Incremental Sales from Marketing Campaigns, Tim Young
What is an Incremental Sale?, Performance Marketing Association
Proving Marketing Impact: 3 Keys to Doing it Right, Think with Google
Explore the comprehensive collection of digital marketing KPIs & metrics designed to drive your business toward growth and success. Enhance your strategic decision-making by examining the insightful list of metrics provided below.
Start tracking your metrics
Level up your analytics with a free forever PowerMetrics account