Key Social Metric
How effective is your website at building an audience?
Track all your Social Media KPIs in one place
Sign up for free and start making decisions for your business with confidence.
or
Sign up with your email
Free forever ● No credit card required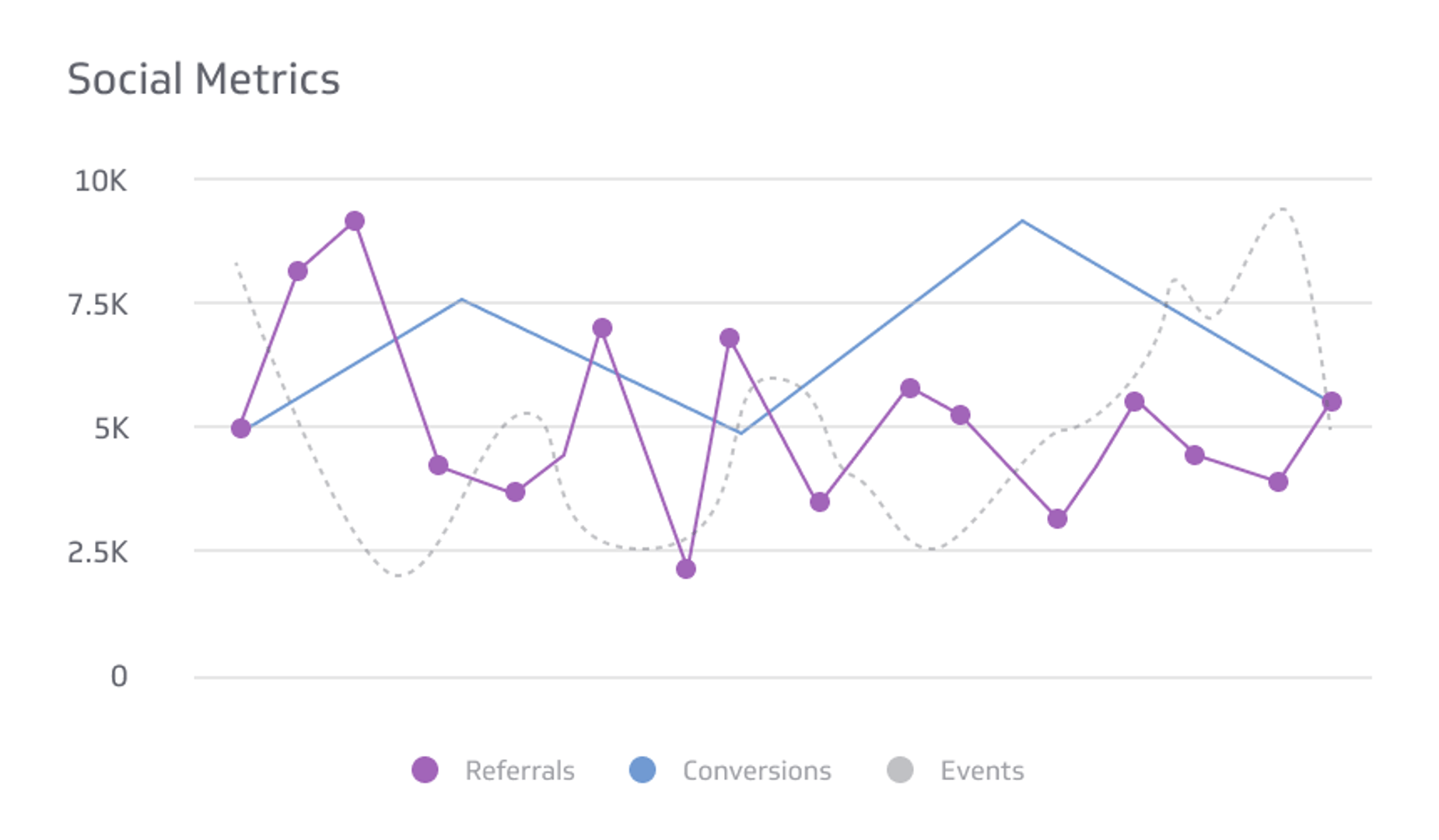 Key Social Metrics Definition
Key Social Metrics measures the impact of your social media efforts on other marketing channels, such as your website or conversion ratios. A hazard of the social media trade is becoming fixated on vanity metrics such as new followers when you should also be monitoring how your social efforts impact your marketing efforts as a whole. Key metrics to monitor include website referrals, conversions, and engagement on social sites.
Key Terms
Referrals: The number of friends who see shared content on Facebook, Twitter or an email message and click to visit your website.
Conversions: The number of referred visitors (friends) that convert when they get to your site.
Events: Events are user interactions with content that can be tracked independently from a web page or a screen load. Downloads, mobile ad clicks, gadgets, Flash elements, AJAX embedded elements, and video plays are all examples of actions you might want to track as Events.
Key Social Metrics Benchmark
Google Analytics provides different benchmarking reports: Channels, Location and Devices. Within these reports, you can benchmark your data based on industry, size by daily visits and geographic location. Before adding your Key Social Metrics Klip to your dashboard, make sure you have a clear understanding of these benchmarks to get the most out of your reporting.
Key Social Metrics Best Practices
Pay special attention to the traffic metrics from your social sites. They may show you significant differences in the performance of one social network versus another.
Ensure that you aren't spending time on social media marketing if the referral traffic you're able to procure from these sources doesn't ultimately convert on your home site!
At least once a month, take the time to measure the number of conversions generated on your site by visitors from different social media websites.
How to Monitor Key Social Metrics in Real-time
Once you have established benchmarks and targets for Key Social Metrics, you'll want to establish processes for monitoring this and other social media KPIs. Dashboards can be critical in this regard.
Learn more about how to track your Key Social Metrics on a Social Media Dashboard.
Key Social Metrics: Top Resources
3 Social Media Metrics Your Business Should Track, AJ Kumar
5 Social Media Marketing Metrics You Should be Measuring, Jordan Skole
A 6-Step Guide to Tracking Social Media in Google Analytics, Kristina Cisnero
About Events, Google Analytics
5 Under-Analyzed Social Media Metrics that Matt [+Free Tools to Measure Them!], Marcus Guido
Start tracking your metrics
Level up your analytics with a free forever PowerMetrics account