New Followers Metric
How many social media followers are your campaigns attracting?
Track all your Social Media KPIs in one place
Sign up for free and start making decisions for your business with confidence.
or
Sign up with your email
Free forever ● No credit card required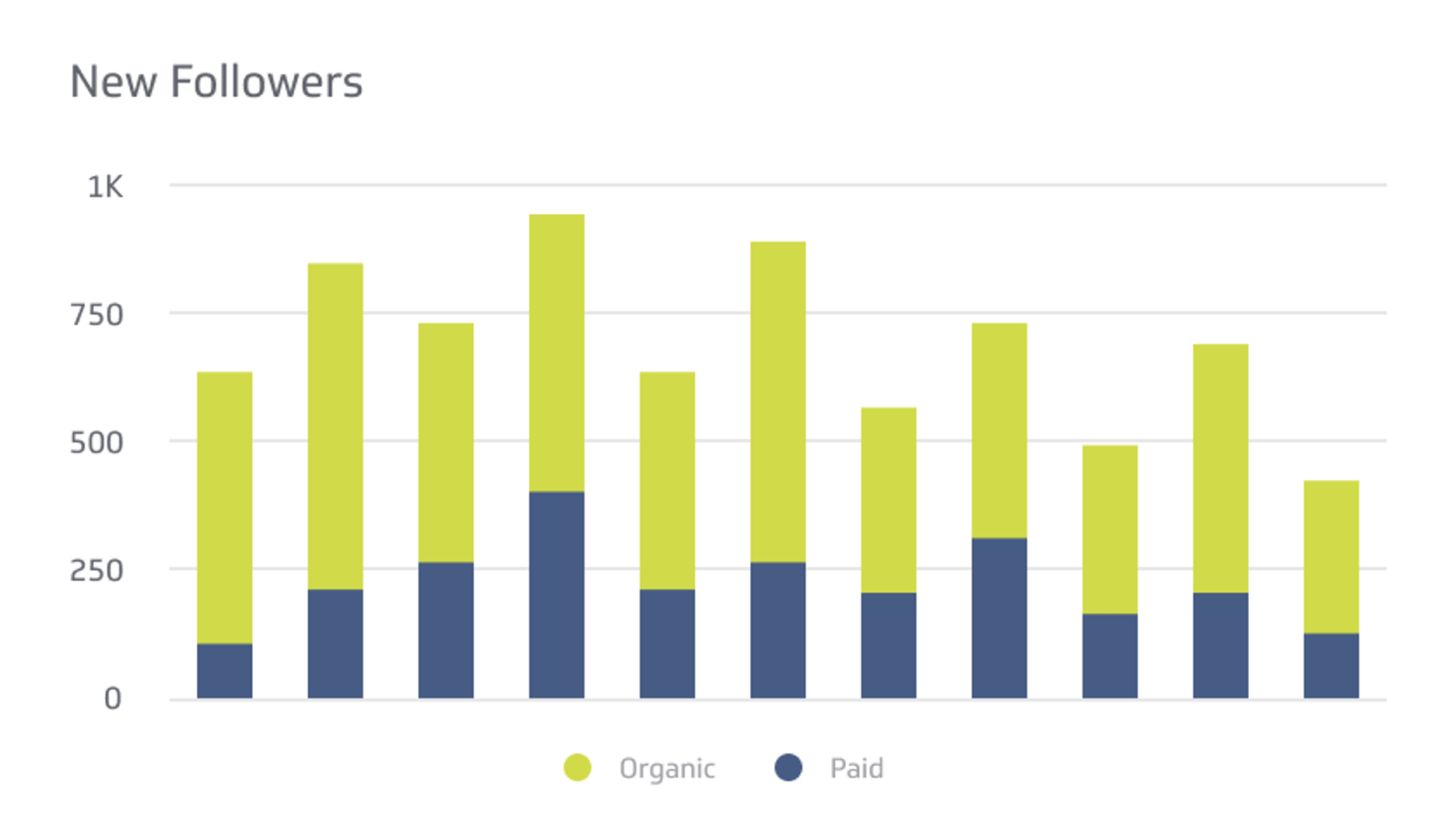 New Followers Definition
The New Followers metric measures the number of new followers you've gained on a specific social platform over a given period of time. These metrics can be combined with information such as social interactions and web visits to allow you to see correlations between new followers and key events or posts. Not every social platform is appropriate for every business, so if you are flat lining on one platform and rocketing on another, adjust your budget accordingly. See also: Social Followers vs Target.
New Followers Best Practices
Neil Patel, co-founder, Crazy Egg, Hello Bar and KISSmetrics
Reacting to changes in follower growth: Each month, you could face three different scenarios.

1. Your follower growth may repeat itself in the last few months, which is good. Your process only requires a change if you believe there is significant room for improvement.

2. Your current follower growth may exceed your past follower growth. In this case, you need to analyze your social media posts carefully and figure out what went right. If you understand the reasons behind the growth improvement, you should be able to sustain it.

3. Finally, your follower growth may be very low or significantly worse than in previous months.That indicates a problem that needs an instant response.
Alex Embling, Director, Strategic Internet Consulting Ltd: A B2B Web Design & HubSpot
[for Linkedin] Beyond aiming to increase the volume of followers, ensure you spend time researching the new followers you attract. Once again, consider if these new follows are connection opportunities; do they fit your target personas? Ensure your company page manager routinely checks this and has a blueprint connection request email template ready to send to these potential prospects.
Guest blog. Not only can guest blogging be a great way to get your company exposure, but it can also increase your social media impact.

When guest blogging, it's important to find a blog that is relevant to your industry. You want to get relevant followers who would be interested in your products or services, so it's important to write in your area of expertise.

Add Facebook and Twitter Widgets to your website. This allows users to Like a page without ever having to access Facebook and search for you. There are also sharing functions available on many sites, with the option to Like or Tweet specific pages.

Follow and follow back. Following back adds a personal touch, no matter how popular you are on Twitter. It shows that you noticed someone followed you and took the time to follow them back. People like to be followed; so take the time to follow and follow back.

If you don't know who to follow, go to your competitors Twitter pages and see the people they follow and the ones who follow them. These will usually be people who are in the same industry. Follow those people. Some may follow you back. If nothing else, they'll notice that your company followed them which will get your brand name just a little bit more exposure.
How to Monitor New Followers in Real-time
Once you have established benchmarks and targets for New Followers, you'll want to establish processes for monitoring this and other social media KPIs. Dashboards can be critical in this regard.
Learn more about how to track your New Followers on a Social Media Dashboard.
Returning Visit Metric: Top Resources
39 Ways to Get More Social Media Followers, Jayson Demers
Gain Long-Term Social Followers With These 5 Tips, Zach Cutler
How to Increase Your Facebook Fans and Twitter Followers, Kissmetrics
Start tracking your metrics
Level up your analytics with a free forever PowerMetrics account