GCS improves accountability across every department with Klipfolio
Published 2019-08-12, updated 2023-02-13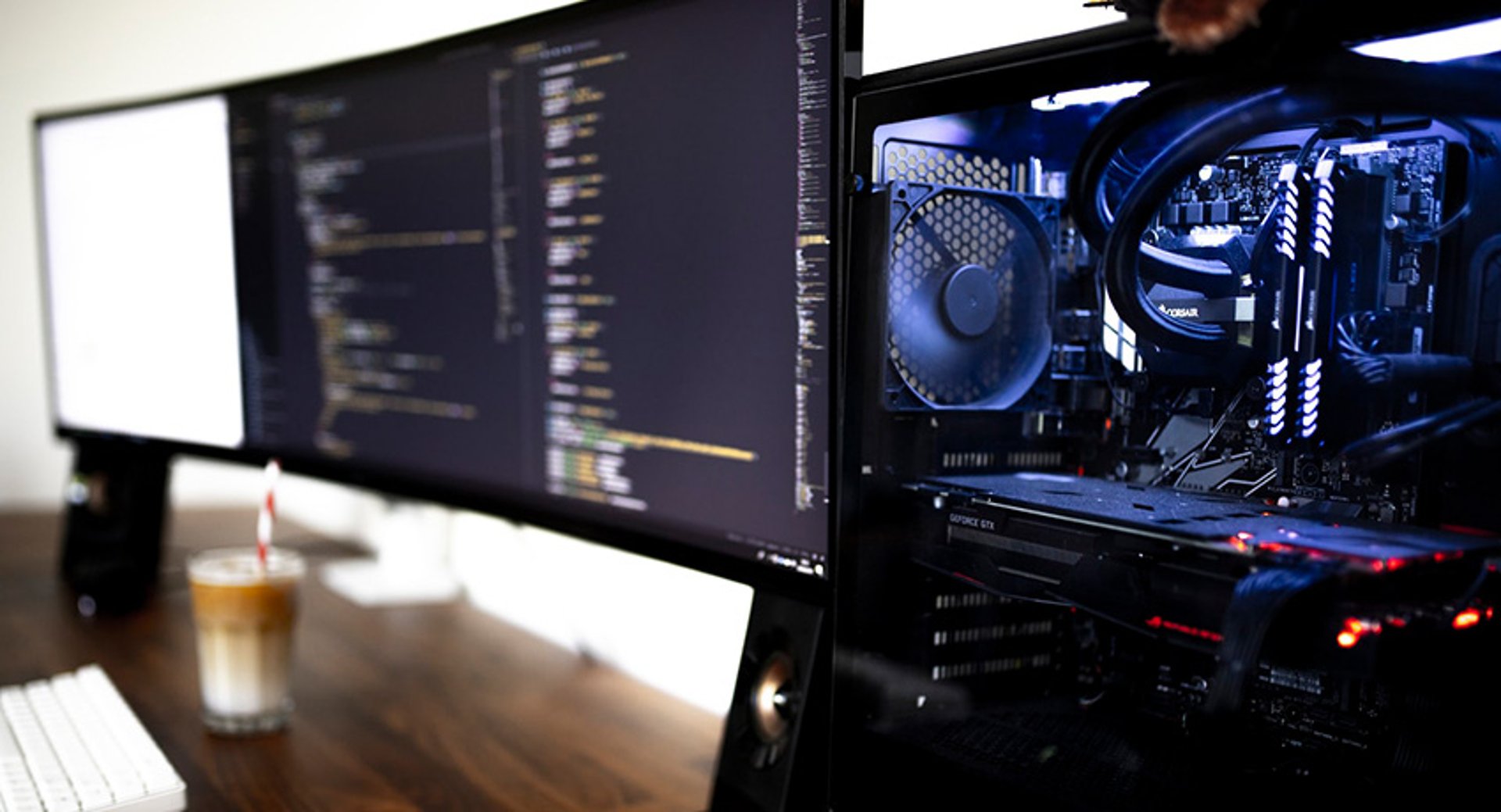 Summary - How GCS uses Klipfolio to answer the questions 'How soon can we get this customer's project started?' and 'Is the project team actually busy?'"
---
GCS Technologies is an Austin-local managed services provider that acts as a facilitator to organizations that have various information technology needs. They also offer implementation services as projects to install and deliver various infrastructure and cloud solutions.
Meet Eric...
Eric Granger is Director of Implementations and Development at GCS. He manages the Advanced Technical Services (ATS) team and leads internal development for products and services sold to their customers. He's been with GCS for a little over 5 years now.
Eric's days are typically filled with internal meetings with various committees and stakeholders to discuss and align objectives, and work on collaborative solutions for the organization. When he's not in meetings he is working on other customer-facing project-specific tasks. The ATS team starts every day off with a morning scrum, where each Tech reviews work for the day and any obstacles that might need assistance resolving.
Taking spreadsheets to the next level
Previously, ATS team reporting lived in a bunch of different spreadsheets that tracked the company's various KPIs. In addition to spreadsheets, they were using ConnectWise reporting to process and display some of their data the best they could. The issue was that the data was all over the place making it difficult to resolve any inconsistencies in tracking.
GCS needed an all-in-one solution that could aggregate their data sources and display their KPIs in one place. So, Eric and his team decided to try some other BI tools.
"When we discovered Klipfolio we were pleased with all the various integration options as well as the opportunity to visualize every data set we needed to track KPIs at every level of the organization."
How soon can we get this customer's project started?
Now, Eric's team uses Klipfolio in several different ways. Primarily they have a team dashboard that displays monthly and quarterly progress towards revenue goals.
Eric has also added a Klip to the team dashboard called the "Heap". The Heap contains multiple components, tables, and widgets based on modelled data sources that are used to calculate and display information regarding the Project team's capacity, lead time, and backlog.
"Klipfolio is used by our team leads and execs to answer the questions 'How soon can we get this customer's project started?' and 'Is the project team actually busy?'"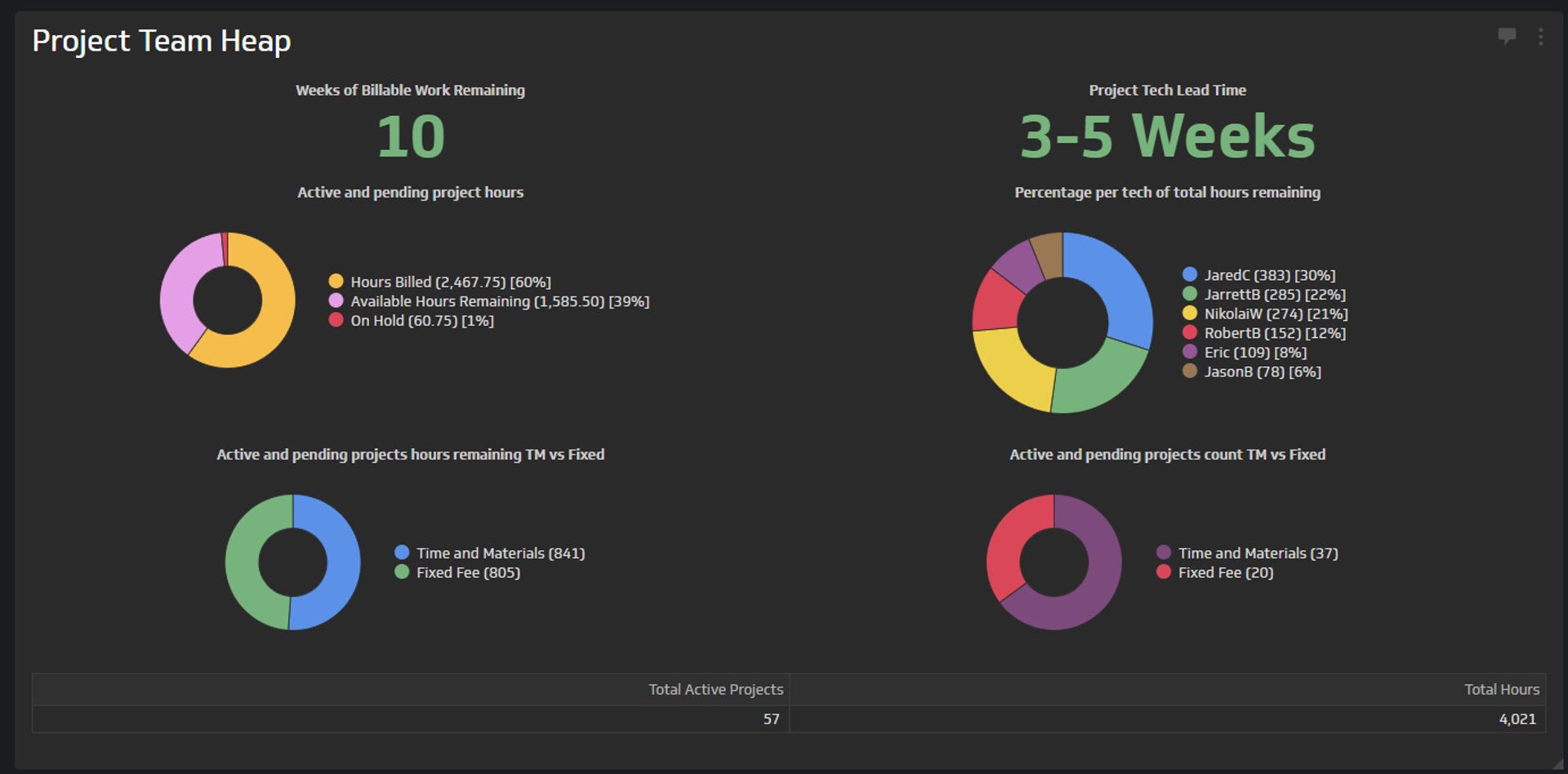 GCS also has a dashboard for tracking individual team member metrics like effective hours per week (utilization) and remaining effort on active projects (breaks down projects by type and displays billable hours left).
Tracking impactful cross-departmental KPIs
A Key Performance Indicator (KPI) is a measurable value that demonstrates how effectively a company is achieving key business objectives. Organizations use KPIs to evaluate their success at reaching targets.
Selecting the right KPI will depend on your industry and which part of the business you are looking to track. Each department will use different KPI types to measure success based on specific business goals and targets.
GCS's NOC and Service teams track ticket volume and completed service tickets.
Their project team is mostly tracking revenue based on billed hours.
For their sales KPIs, GCS tracks closed opportunity margins, but generally are set by quotas per quarter.
"My personal favorite Klip is the 'Project Team Heap' mostly because it was the first one that I made all on my own."
They use the Project Team Heap Klip to know at a glance how busy a Tech might be, how much backlog they have, and, as a team, how healthy or unhealthy their sales pipeline is.
It also gives them a breakdown of project types that can impact potential profitability depending if they are time and materials (TM) or a fixed fee.
Fixed fee projects are generally more desirable to Eric and his team because they have the potential for under budget revenue that incentivizes efficiency and reduces project defects.
"Before we had access to Klips, we had to pull reports and dig through spreadsheets. Now, with Klipfolio we just take a glance at our dashboards. Everything is there, automated and aggregated."
Using data to promote cross-departmental accountability
Overall, Klipfolio has increased accountability across every department within GCS by being able to display and track in near real-time all the various team and individual performance indicators.
More specifically, Eric has been able to track and observe trends in financials like AR, backlog, and deferred revenue which has allowed his team to forecast capacity better and secure their so-called 'health of the tribe'.
"We have been able to turn insights into sales opportunities with Klipfolio"
Most of their company dashboards are accessible via published links, which are displayed across multiple monitors in their network operations center. You can also find monitors hovering over the cubicle work areas in the office.
"My favorite thing about Klipfolio is 'The Struggle'...a good kind of struggle. One that comes with trying to get a component (table, chart, or gauge) to work in a way I could only imagine it to. Usually, I make my way towards an epiphany by playing around with all the customizations and layout settings. The thrill of the 'A-HA' moment becomes addicting and makes me want to figure out more ways to find and display data."
A "Do No Harm" culture with beer and private karaoke
"Our philosophy is 'Do no harm'; leave environments better than you found them."
Generally, there is a strong cultural emphasis on craftsmanship with the goal of increasing the reliability and performance of technology builds at GCS.
"The strength of our commitments and the length of our relationships create a 'Chosen Family' dedicated to mutual success and fulfillment. We enjoy what we do and who we do it with."
Eric and his team enjoy camping and planning river tubing trips together.
"Occasionally, we'll do some pitch and putt golfing while towing along an ice chest or two of beer. When we're feeling really saucy, you might catch us getting a private karaoke room and letting it all out."
Anything that involves beer and karaoke is my kind of outing. These folks sure know how to celebrate their successes...
Eric's parting advice for people who are new to Klipfolio:
"Don't be afraid to reach out to Klipfolio's support team! They will help you 'figure it out' or get to the bottom of what you're trying to see. They have some of the brightest folks I have encountered on their team. Also, check if the apps you use have APIs. You can connect them to Klipfolio and create real-time visualizations (vs. manually updating spreadsheets)."
Related Articles