The top 12 KPIs for social media managers
The top 12 KPIs for social media managers
Summary - With rapid growth in social media platforms, it can be difficult for marketing managers to know exactly what to pay attention to and how to develop a multi-platform social strategy. Developing an understanding of key metrics will equip you to answer the simple question: "How are we doing?"
---
Social media is often the first touchpoint a company has with potential customers. And as social media platforms grow both in variety and user base, so do their importance in the overall marketing scheme.
With this rapid growth, however, it can be difficult for marketing managers to know exactly what to pay attention to and how to go about developing a comprehensive, multi-platform social media strategy.
Developing a fundamental understanding of the key social metrics will equip you, even as new social media platforms rise to prominence and others alter their algorithms, to answer the seemingly simple question: "How are we doing?"
As you know, answering that question in regards to social media isn't as easy as asking it!
Depending on what exactly it is you are overseeing, the various dimensions of that question could vary. As a social media manager you need to be able to answer how you are doing on both a campaign and channel level. Your understanding is critical to delivering the valuable social media insights your team will need to inform their pivots and future campaigns.
With these 13 hand-picked social media KPIs you can be confident in your answer to that critical question and, more importantly, be on solid footing for developing a winning strategy.
Note: Although I'm drilling down on specific platforms here, many of the basic principles can apply to Pinterest, Snapchat, or whatever social media platform you're using to grow.
Social Media Followers
Facebook Engaged Users and Impressions
Facebook Daily Reach
Facebook Page Likes
Twitter Key Stats
Twitter Recent Hashtags
Twitter Recent Mentions
Instagram Key Metrics
LinkedIn Key Metrics
LinkedIn Shares
LinkedIn Clicks
LinkedIn Followers by Function
YouTube Channel Views
Before I give a brief overview of each metric, let's make sure we're on the same page here.
What is a KPI?
A key performance indicator (KPI) is a measurable value that displays how effectively a company is achieving critical business objectives. Companies use KPIs to measure and evaluate their success at reaching targets at multiple levels. Monitoring (not just reporting on) KPIs is a great way to give your team an overview of their performance and what exactly is going on in real-time.
Klipfolio's Co-Founder, Allan Wille, discusses KPIs
Depending on your industry and what specific part of the business you are looking to track, the "best" metrics will vary depending upon your specific objectives. That said, three rules of thumb to follow are:
Choose KPIs that are accurate and attainable
Ensure the KPIs keep your team on track and aligned
Select KPIs that provide insight into your objectives.
Why measure social media metrics?
Social media metrics let you know how well your campaigns are performing, what others are saying about your business, and if there is a need for a pivot in social strategy.
The impact of social media marketing is sometimes underestimated, but don't fall into this trap. So long as you know how to define your organization's KPIs and are properly monitoring their progress, social media platforms can be the source for endless marketing returns.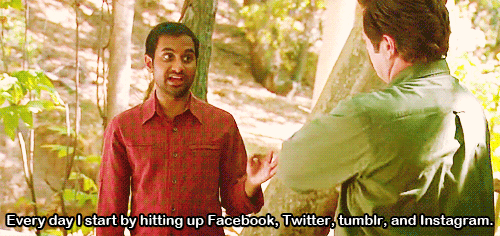 Without further ado:
The top 13 social media KPIs
Specially curated and vetted, these KPIs are what most social media marketing managers are tracking to bring their team to the next level.
Top-Level Social Metrics
This metric is a great way to quickly gauge where you stand on all your social platforms. With just a glance, social media managers can get the initial information they need to focus on: the overall growth of their social following.
Facebook
With the sheer size of Facebook, and its ability to let marketers drill down to find their targeted audience, this metric is often the initial indicator that all social media managers track. Facebook page likes, though not nearly as important as true engagement, are a critical gauge in the reach and sentiment of your business on the social platform.
Monitor how many people are noticing your page and its posts, and how those people are interacting with it (liking, commenting, and sharing). This metric gives insight both into how effective your page and posts are at engaging users and into each week's historical trends.
Your Facebook daily reach indicates how many people's profiles have your content on their timeline and how many unique individuals have seen your posts. This social media KPI is great for reporting on and examining historical engagement trends.
Twitter
This KPI gives you a view into your company's current Follower count, Friends, Statuses, and Favourites. This is a great metric to keep track of your overall Twitter account's growth.
Stay on top of the latest tweets using the hashtag of your choice. Be it #digitalmarketing or #officedogs, never miss a tweet!
Make sure you are aware of all your Twitter mentions with this real-time metric. Mentions are a great way to interact with your audience, while increasing your visibility and customer loyalty.
Want to learn more about what Twitter metrics to measure? Check out our 6 Must-Have Metrics for Twitter Analytics.
Key LinkedIn Metrics
This high-level metric gives you insight into all the things you need to know about your LinkedIn performance: Clicks, Likes, Impressions, Engagement, Followers, and New Followers. Track progress and identify trends from the previous month and the past 12 months.
Measure your ability to create thumb-stopping content with the LinkedIn Shares KPI. This metric gives you the count of page shares for the current month, and allows you to compare it with last month's stats.
Track how your page is trending on LinkedIn over time, and ensure you are keeping up with your historical trends.
Keep an eye on the top departments that you are attracting. This metric is fantastic for strategy planning and targeting. Analyze which function is the most engaged and work towards creating content for them, or target your less-engaged functions to boost your total user-base.
Key YouTube Metrics
Use this metric to measure your channel's popularity through total channel views over the last 30 days.
Want more social media KPIs? We have hundreds of more metrics in our KPI Examples Page!
Now that you know the metrics, see how you can harness all this power in a single, real-time social media dashboard.
Still want more? Read our blog on How to Establish the Best Social Media KPIs for even more insight on social media metrics!
Originally published May 22, 2017, updated Aug, 20 2020
Related Articles