The 5 most important SEO KPIs for digital marketing success
Published 2017-04-26, updated 2023-03-10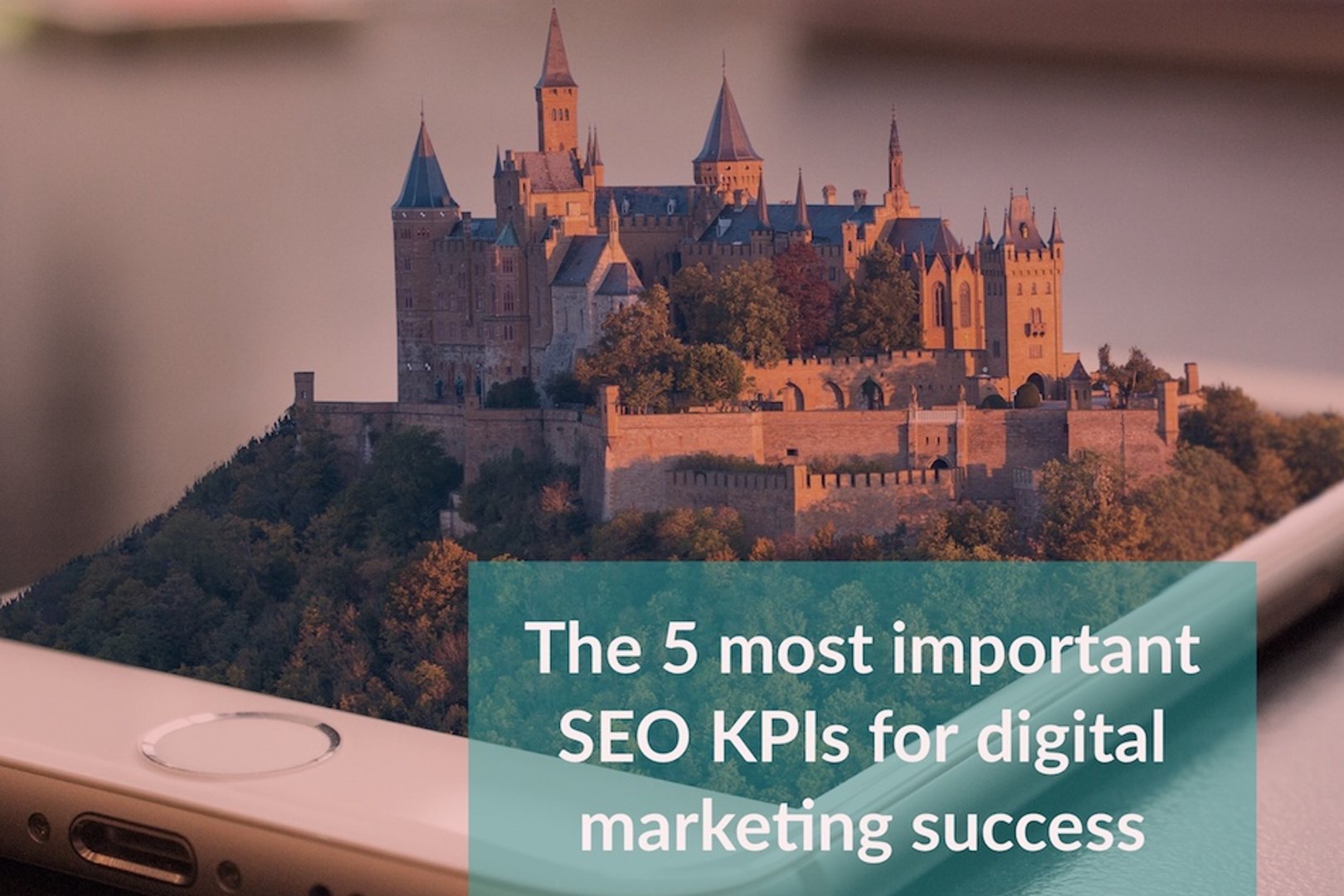 Summary - Are you wondering which digital marketing KPIs you should use to scale your marketing? Get the 5 most important KPIs for digital marketing success.
---
Are you often wondering which of the many digital marketing KPIs you should use to scale your marketing efforts? While your digital marketing team may have slightly different goals, the five SEO KPIs I describe here have proven to be the most common (and most important) for the many clients I've worked with at Blurbpoint Media and HireSEOAgency.
Before exploring the individual SEO KPIs, let's sneak-peek into the concept of KPI and its importance.
What is a KPI?
As stated in this KPI definition, a KPI is "a measurable value that demonstrates how effectively a company is achieving key business objectives."
Organizations make use of business KPIs at multiple levels to figure out their pathways to reaching targeted goals. Understanding how to create an effective KPI dashboard allows companies (and the departments within) to determine what goals to drive toward and how best to create focused strategies to achieve those goals.
With a disciplined approach, companies can then benchmark their KPIs and compare them across time.
Let's jump into the five most important SEO KPIs:
1. Web Page Rankings
The rankings of the site's pages on SERPs (Search Engine Results Pages) is the indicator that demonstrates the value of how well the page has been optimized and what kind of topic authority the overall website itself has earned.
One great way to assess this KPI is through Google Search Console, where you can see how many impressions certain keywords on your site generate, as well as where each of your site's pages rank on them and if searchers are clicking through.
Here's a screenshot of the primary Search Analytics panel:

It's important to note that in recent years the importance of keyword-driven SEO strategies have slowly diminished and marketers are placing less importance on keywords and more on queries. As Jonathan Taylor put it in his piece at Wordstream, it's time "to demote the importance of keyword volume data and focus on the opportunity to answer user queries in a meaningful way."
In other words, content built to answer user queries will likely have a far better chance of ranking than content built to rank for keywords.
2. Organic Search Performance
Organic search results are listings on SERPs that appear when users search for specific information and arrive at a page on your website because of the relevance of your content—not because of paid advertisements.
For example, here is a Google search for KPI. Only the final listing is based purely on relevance: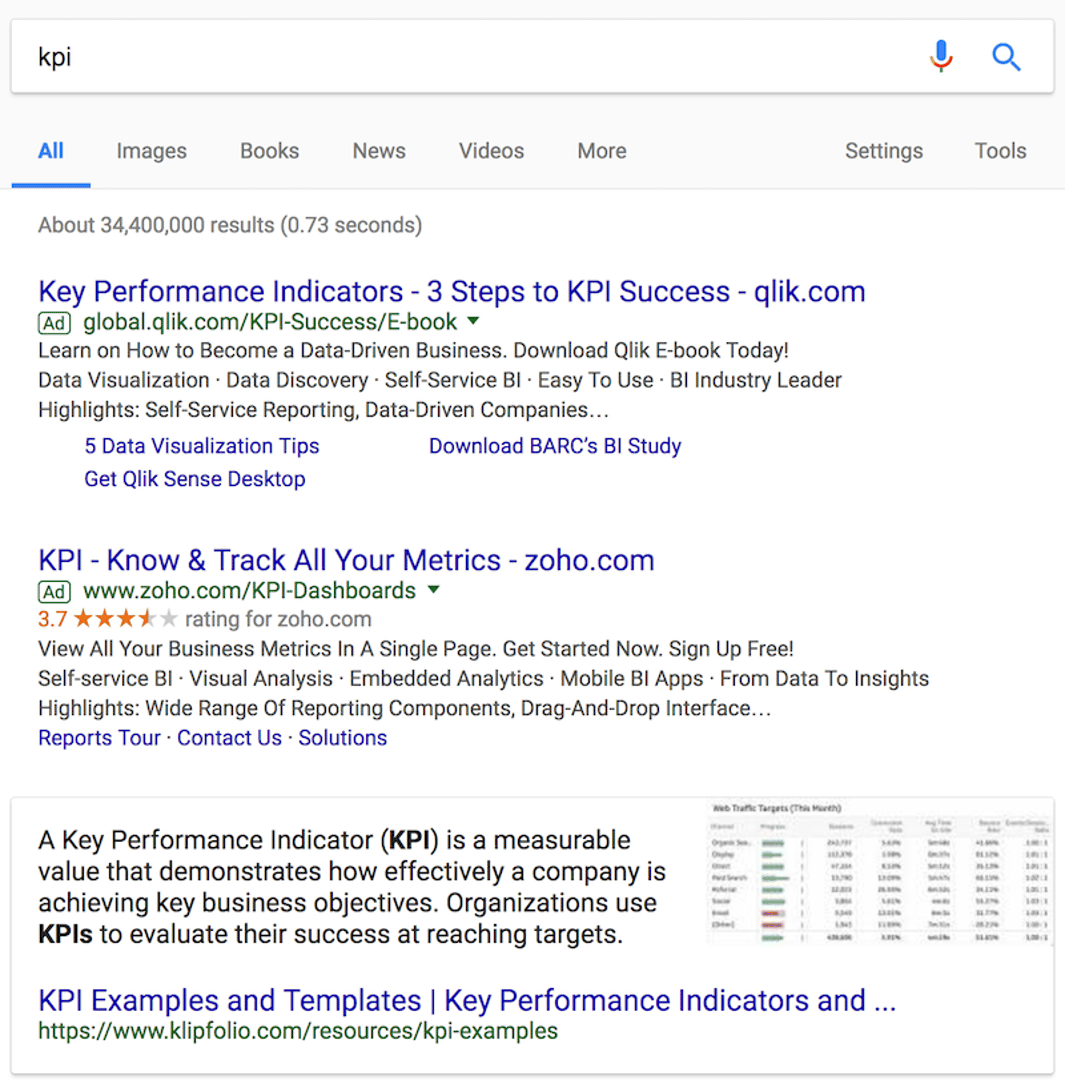 Organic search performance is often the most important key performance indicator for digital marketing teams that care about inbound results.
For a deeper glimpse, see this Organic Search Traffic resource. And be sure to check out SEMrush and Moz as they offer fantastic tools to help you see and monitor your results. For paid ads, metrics such as Search Lost Impression Share can help monitor ad ranking and performance.
3. Page Loading Speed
Page Loading speed is an indicator that demonstrates an important aspect of your website's performance. As reported by Search Engine Land, Google made site speed a ranking factor back in 2010. If a web page takes a long time to load, you're creating a poor experience for the visitor and for your page's ranking factors.
Want to check a URL's speed factors right now? Submit the URL to Google Pagespeed Insights and the Pingdom Website Speed Test. You can also display your Pingdom results on a dashboard.
The above tools not only show you your page speed, they provide advice for how to improve it. Here's what Google Pagespeed Insights shows for Google's own About page: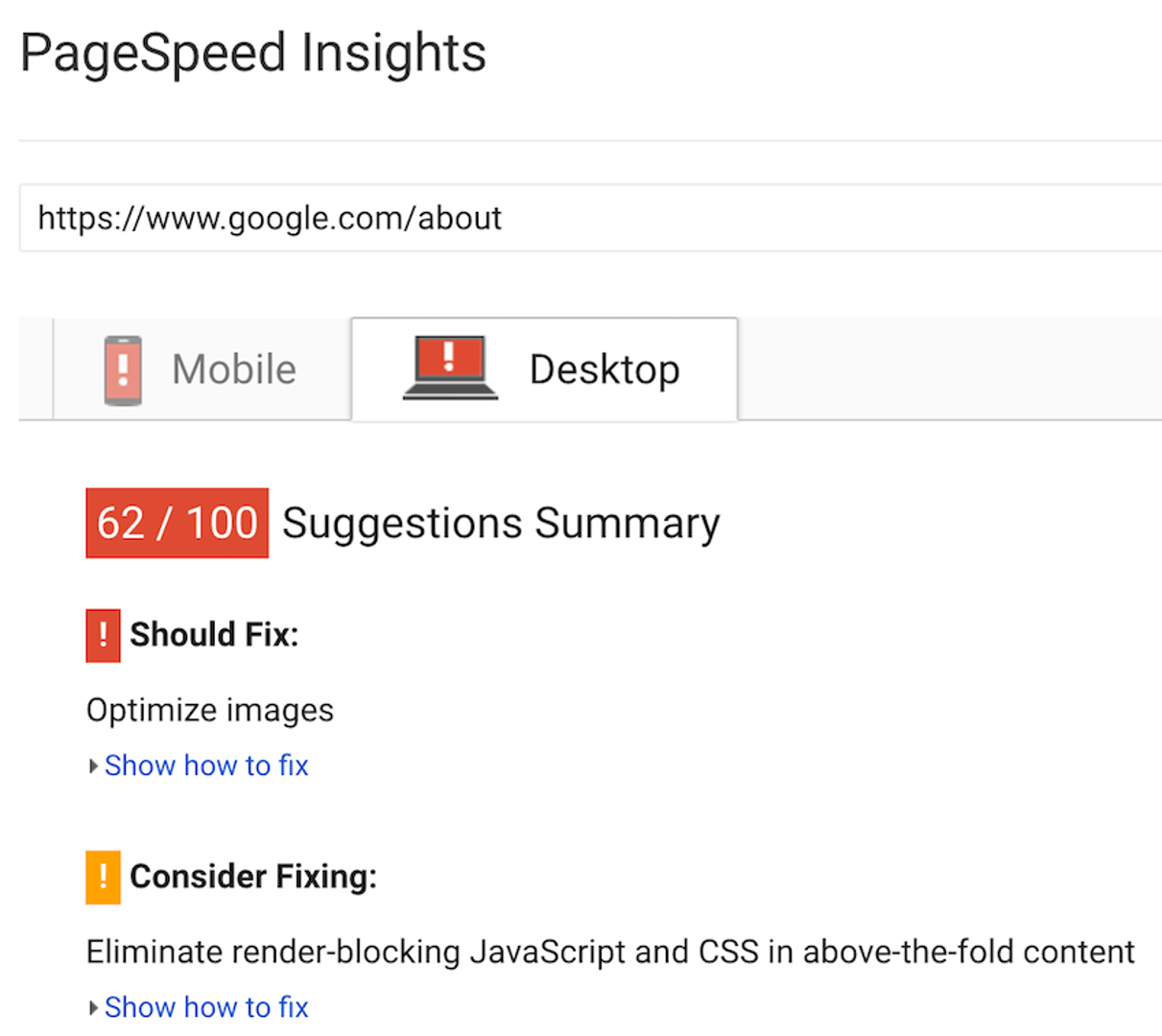 4. Organic Landing Page Bounce and Conversation Rate
Most digital marketers understand the importance of landing page bounce rates— the percentage of visitors to a page who leave after visiting that page—but from an SEO's perspective it's important to focus on the organic journey and incorporate conversion into the mix.
This means tracking not just how a visitor stumbled on your site, but what they did when they arrived. This SEO KPI is crucial for understanding, from an organic perspective, the user's progression (or not) through the SERP and then through your marketing funnel.
Here's how it happens: A user typically visits a page through finding its link on the first results page of the search engine. Upon clicking, they are redirected to the landing page.
What happens next? As revenue against each and every organic search visit to the website is the most efficient indicator to demonstrating true inbound ROI, it's critical to be able to answer this question as accurately as possible.
There are many ways to track progress from search to click to bounce or conversion, but the Rand Fishkin Dashboard offers an easy way to monitor this progression.
5. Indexed Pages
Robots.txt and sitemap.xml are files that restrict Google crawlers from crawling on all the web pages. If Google crawlers are not allowed to crawl the website, then how is it possible for Google to index all the web pages of the website?
Controlling and optimizing robots.txt and sitemap files allows Google crawlers to visit the website in a correct manner. If, when you publish a post and submit it to Google Search Console, Google can immediately assess who the author is, what the title is, and where the publication name is displayed (among other qualities), your content will have a far better chance of ranking.
To put it differently: If Google can't understand the dimensions of your content, your targeted audience may not even get the chance to.
Here is Google's own guide for how to build and submit a sitemap. Also, depending on your content management system, there are a variety of SEO plugins that can help you properly index all the pages of your site. While this might not fit the traditional KPI definition, it is key to performance and a habit all digital marketers must develop.
Final thoughts on SEO KPIs
While the SEO KPIs mentioned here are necessary to monitor the progress of your digital marketing efforts, planning must come before execution. Establishing a KPI is not at all a tedious task, but ensuring that it's calculated as accurately as possible—such as with the organic search to bounce and conversation KPI—can take time to properly build out.
Each and every business is of course unique, and so too are the KPIs it must set and monitor. However, it's likely that at some point in your company's trajectory that your digital marketing team will want to have a fundamental understanding of these five SEO KPIs. In my experience, if you aren't yet there you will be in the near future.
About the author:
Sanket Patel is Founder & Director of Blurbpointmedia.com, a digital marketing company. His passion for helping people in all aspects of online marketing flows through in the expert industry coverage he provides. He is an expert in Web marketing, Search Engine Optimization, Social Media, Affiliate Marketing, B2B Marketing, Online Advertisement of Google, Yahoo and MSN
Related Articles