The emerging importance of Advocacy Marketing - 3 Takeaways from Advocamp 2016
Published 2016-03-09, updated 2023-03-14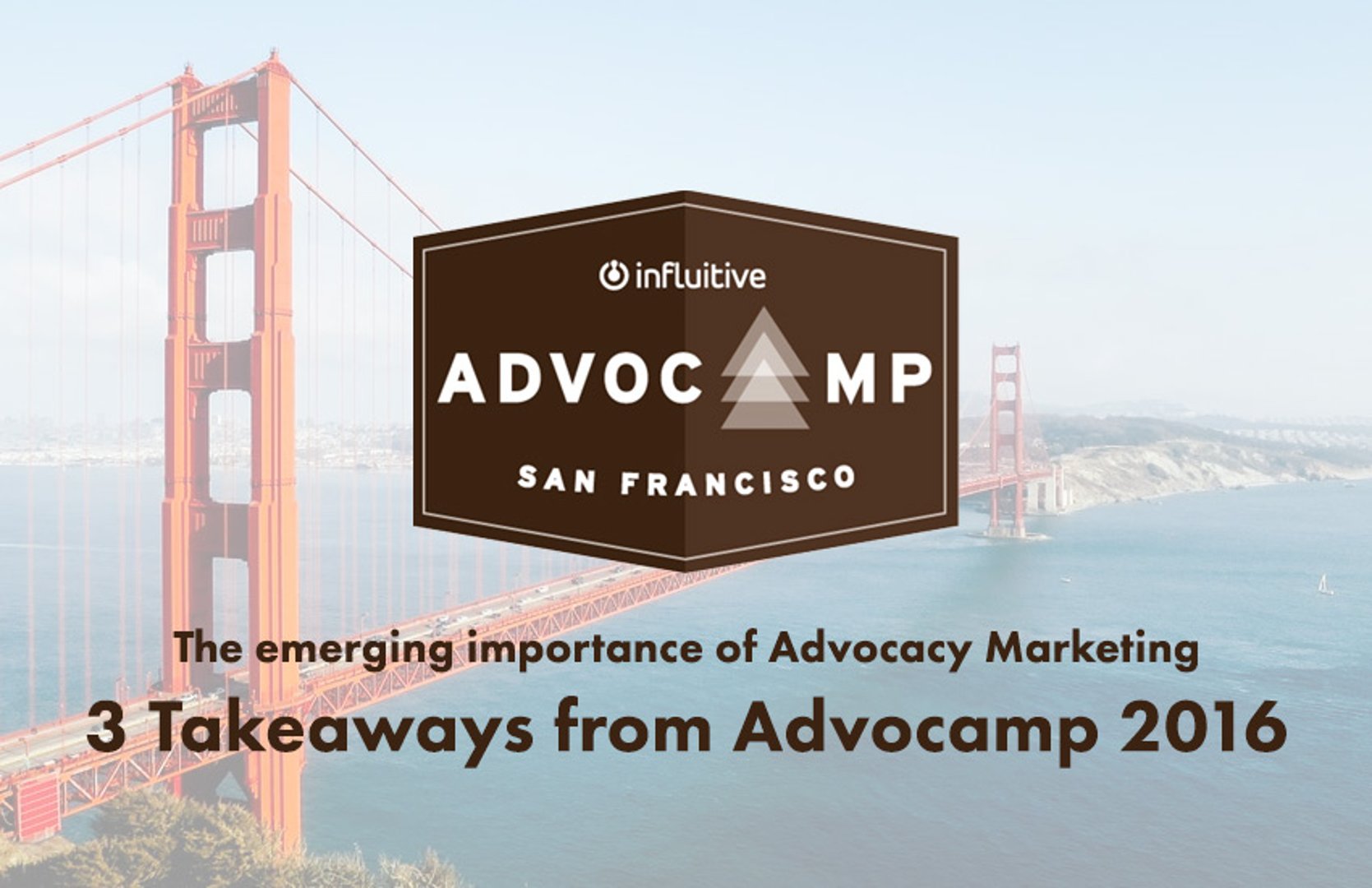 Summary - I love camping. The fresh air, the fires, the hiking, and of course… the s'mores. But nothing could have prepared me for the awesomeness that is Advocamp. I'm talking about a marketing conference that brings more than 1,000 people together from around the world to discuss the emerging importance of advocacy marketing. Not only did I get to meet some incredible people, I also
---
I love camping. The fresh air, the fires, the hiking, and of course… the s'mores. But nothing could have prepared me for the awesomeness that is Advocamp. I'm talking about a marketing conference that brings more than 1,000 people together from around the world to discuss the emerging importance of advocacy marketing. Not only did I get to meet some incredible people, I also got to sit around fake campfires with a mascot bear, in the beautiful city of San Francisco. Can you say best camp ever?
The three day conference was filled with key notes from incredible speakers like Mark Organ, Influitive Founder & CEO, Joseph Jaffe, Marketing Consultant and Founder & CEO of EVOL8TION, LLC, and Bill Macaitis, CMO of Slack. We also had 50 amp talks from industry professionals that really opened my eyes to the power of advocacy marketing and of course, incredible networking opportunities where we were able to discuss our own experiences, struggles, and successes. I learned so much at this year's Advocamp and am excited to share my lessons with all of you.
Here are my 3 key takeaways from the 2016 conference:
1. Advocacy marketing ROI may not be as obvious to your colleagues. Share the data.
Here at Klipfolio, we run an advocacy program we call Klipfolio Insiders. Customers who join our program are able to participate in fun and educational challenges for points. These points can be cashed in for rewards like gift cards, Klipfolio swag, and dashboard design time with our CXO. Working so closely with our advocates, sometimes I forget that not everyone at Klipfolio knows what's happening in the hub.
The ROI of running this program may be obvious to me, but that doesn't mean everyone gets it. This is why it's crucial to share the data! Advocacy marketing may be an emerging idea, but measuring your results is nothing new. For your marketing team, tracking the success of your hub, engagement rates, and active advocates may be enough, but think about the rest of the company. How is your advocacy programming helping your developers, sales reps, customer success gurus, and UX team? During the amp talks and networking periods, I was curious to understand how other people were measuring and sharing their success.
Here are a few of the key advocacy marketing metrics that you will want to track:
Reference ROI: The number of advocate references that helped to close a new account
Reference Retention Rate: The retention rate of customers that closed with a reference compared to non-referenced accounts
Referral ROI: The number of advocate referrals that became paying customers
Referral Retention Rate: The retention rate of advocate referrals
Cost of Referrals: The estimated cost of a referred customers compared to a paid or organic customer
Number of New Content Pieces: The number of case studies, infographics, and quotes we get from our customers
Content Conversion Rates: The conversion rates of customer content compared to company content
Social Reach and Impressions: The increase in reach and impressions from advocates amplifying social content
Visits from Social Shares: The increase in website visits from advocates sharing social content with their personal networks
2. Advocacy marketing is a full-time job. So why are we all acting like it's part-time?
Running an advocacy program is one thing. Running, managing, maintaining a successful advocacy program is an entirely different ball game. Whether I was speaking with other SaaS companies, health care providers, or large retail organizations, one thing was clear about all of our advocacy programs – they require constant attention to be successful. This wasn't a new concept to anyone, we know that successful marketing programs need the right amount of attention.
What was new to us all was the idea of having a full-time resource to manage our hubs. It was amusing talking to others about the idea of hiring a full-time advocate marketer. I could almost see the drool rolling down their faces. When you manage an advocate hub, you get it. The time it takes to build a strategy, create engaging challenges, and maintain meaningful conversation is not insignificant. However, the idea of advocacy marketing is still new to so many organizations that the chances of getting a dedicated advocacy marketer is slim to none.
That's why this was a key takeaway for me. For many of us, advocacy marketing could easily be our full-time job - but for now, we're going to have to continue on as part-timers. But don't fear! Listening to the keynote speakers and the incredible amp talks restored my faith that advocacy marketing is not only here to stay, it will soon be a core function in all marketing teams.
3. Your customers are your most underutilized asset
Advocates are a company's most valuable asset. When we think of our advocate programs, we usually single in on an upcoming marketing campaign that we think our customers can help amplify, and that's it - the challenge is published and our job is done. This goes to show how underutilized our advocates are. When customers become advocates, it's because they love our products, our companies, and genuinely believe in our missions.
So why don't we give them more credit? Why aren't we treating them like our very own employees? They're willing to do the work, willing to praise our companies, and more than happy to recommend us all to their colleagues. Let's start looking past the upcoming marketing campaigns and start utilizing our key assets in new and creative ways. Here are a few great ideas I'm taking home from Advocamp:
Turn advocates into product ambassadors and build an army of enthusiasts
Build a series of customer run webinars to give a new spin on your usual product demos
Implement a "buddy system" that pairs your top advocates with customers who may be struggling with your product. Customers are more likely to resonate with each other than with a company rep
Start running customer hackathons for your product. You may be pleasantly surprised with ideas that come from outside of the company
Planning on attending any conferences? Why not stand out from the crowd by bringing your very own advocates to help run your booth. Nothing is more powerful than an actual customer giving honest recommendations to potential buyers
Advocate marketing is about being so damn generous, your customers have no choice but to love you
When it's all said and done, Advocamp 2016 was a huge success. I had the opportunity to listen to unforgettable keynotes, educational amp talks, and participate in active discussions with my peers about the challenges we're all facing and how we all plan to overcome them. With so much inspiration over the past three days, I couldn't think of a better way to finish my post than with a quote from Keith Ferrazzi that I can't get enough of, "Be so damn generous, they have no choice but to love you."
Related Articles