4 Lessons Jobber Learned While Growing Their Marketing Team
Published 2017-09-20, updated 2023-03-27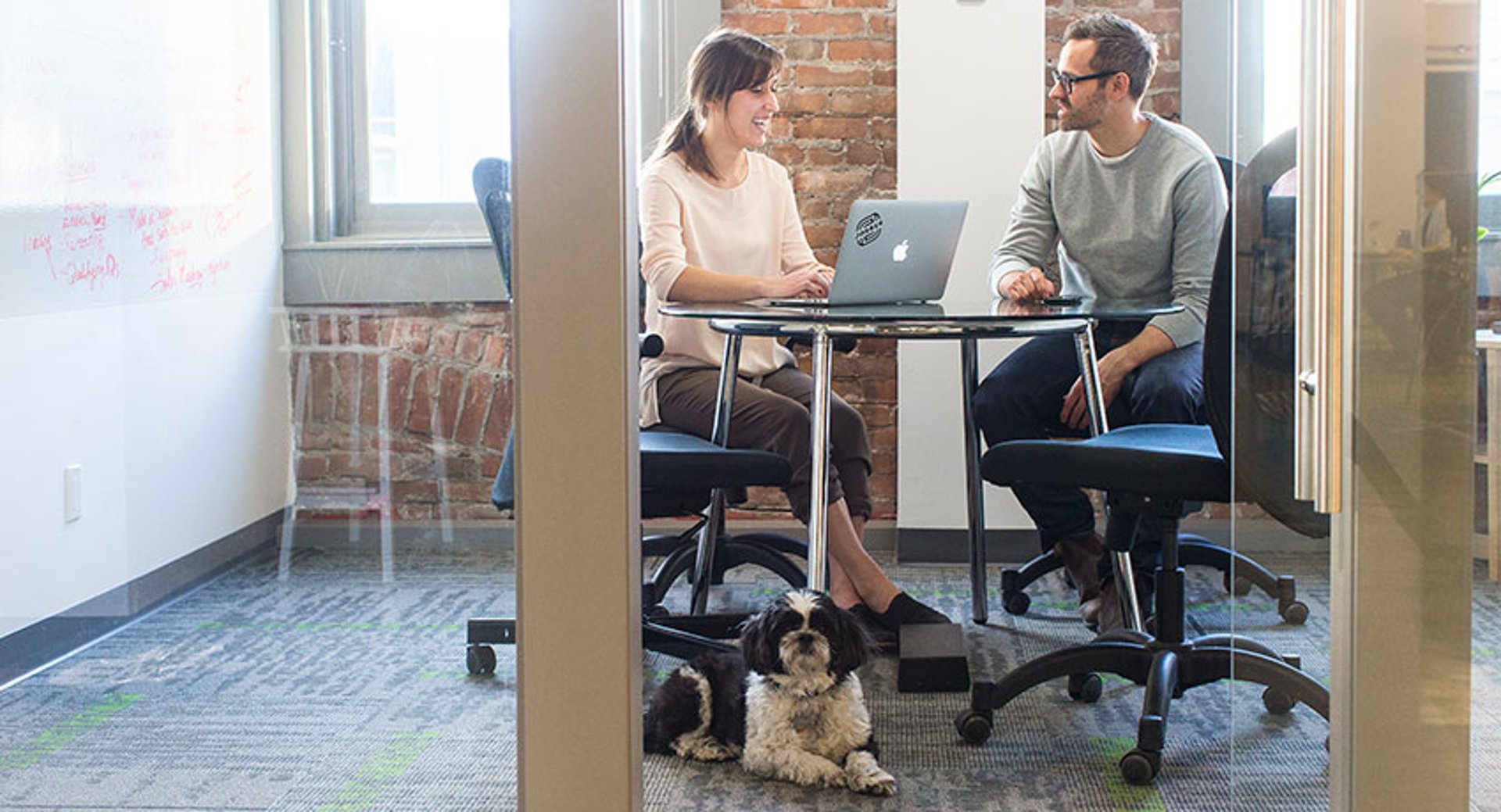 Summary - Jobber understands that their customers have a lot on their plates. Read about the four key lessons learned while building Jobber's marketing team.
---
At Jobber, we understand that our customers have a lot on their plates. They're running fast-paced home service businesses in industries ranging from lawn care to pressure washing, to residential cleaning, to tree removal, to carpentry. They have customer requests, employee payroll, providing for their families, and much more on their minds. What's more, their brand is often their first or last name.
All of these realities remained unchanged since Sam Pillar, and Forrest Zeisler founded Jobber in 2011 with the goal of helping small service businesses become more successful. And that means our marketing approach has stayed the same, speaking to the very human side of running a home service business.
Our customers invite us to their homes to learn how they use Jobber, tag us in Instagram posts when they win local awards, and visit our Facebook page to tell us Jobber is their lifeline—and we appreciate every one of these relationships.
That's why Nick Keyko, our Director of Marketing, says that his number one requirement for anyone joining the marketing team is empathy:
"People who are highly empathetic can relate to our customers, and that makes for better, more genuine relationship marketing. We're talking to real people who are putting everything into their businesses, and we need a real voice and personal touch to come through when we communicate with them."
With this quality in mind, Nick—Jobber's first marketing hire—has built a team of 10, all with their own specialized areas of responsibility.
However, a team isn't built on empathy alone, so what else got us to this point? Nick shares four key lessons he's learned while building the marketing team at Jobber.
1. Determine a single priority to focus on
There's a lot of pressure early on, when you're still a one or two-person marketing team, to tackle a lot at once. Unfortunately, says Nick, trying to do everything means you'll end up doing nothing very well, and you don't often move the needle.
"After making that mistake, what I found worked well was to focus on the highest value activities," says Nick.
How should you define the highest-value activities? "It depends on what stage the business is at and what's needed," Nick explains. "Branding might be really important because you need to establish who you are as a company. Or if acquiring new customers is more important, then branding maybe has to go on the back burner."
What's important is to get to the root of what value you're going after, advises Nick. You might think content marketing is your number one priority, but if your goal is to increase traffic, ask yourself if the content is the right thing to focus on.
Once you've pinpointed the highest-value activity, focus your resources on it.
2. Do every role before you hire for it
Nick only thought about hiring after he had a high-value activity up and running and felt the time was right to get a person to scale it up.
"It's important to have an understanding of what a role is, what you want it to accomplish, and what someone needs to be successful in that role," says Nick. "You get a really solid understanding of that when you roll your sleeves up and do it yourself."
Even when our team was half a dozen strong and the need for a product marketer was becoming clear, Nick did some product marketing himself before posting for the role.
The benefit? "Our product marketer has built upon those foundations in her first six months. A person can pick up where I left off, so you get an acceleration for new employees," explains Nick.
That being said, a marketing team can eventually outgrow this approach.
"It's harder to do this at our current size," says Nick. "I've offloaded most of the tactical marketing I've done, and we're now hiring people to take on parts of other team members' roles which will be interesting."
3. Outsource what you can, if you can
You need to determine what you do and do not want to outsource, says Nick. For example, Nick determined early on not to outsource any of our paid marketing efforts. Why? Besides the risk that comes with offloading a very expensive arm of your marketing strategy, Nick felt that our long-term plan to play in the paid marketing space meant that it was better to build and understand internally, so we have a full-time team member on staff handling this strategy.
"One of the downsides of outsourcing is that you lose the inherent knowledge of how to do something," says Nick. "So you have to balance that with the speed that outsourcing allows you."
What our marketing team does choose to outsource is more of the basic, day-to-day aspects of what we do.
"When outsourcing is done right, it allows us to free up the time and the energy for the team to focus on new high-value activities and test new initiatives," says Nick. "We choose to outsource things we've done before. We build repeatable processes, and outsourcing helps us plug into those repeatable processes and speed them up."
Case in point, our team built the foundation of our content engine, Jobber Academy, internally, and we now have a team of outsourced writers building upon it.
Of course, there are exceptions to the rule, and sometimes you outsource a skill that you don't have internally to take your team to a new level. Before we hired a full-time developer, Nick outsourced the build of Jobber Academy, knowing that the short-term cost of outsourcing would give existing content-focused team members a platform to operate from faster.
4. Get the team on board with data
"Everyone on our marketing team has to know and understand why they're doing the work they're doing and what data is important to lead their work," says Nick. "This approach elevates people's thinking to solve problems not just based on what they think they should do, but what the data suggests they should do."
Each member of the marketing team, from front-end development to content design to product marketing, has individual KPIs that filter into the larger team KPIs. This can be a shift in thinking for certain disciplines.
"Over two years, our designer has come from a place of pure design to tracking how design affects our conversion rates and influences the performance of pages," explains Nick. "As she tracks time on page, bounce rates, and conversion, she can make changes more quickly and run tests to get those numbers moving in the right direction."
Remember, no two days are supposed to be the same
Cliché but true, and if empathy is the most important quality Nick looks for when hiring, then the second most important quality is adaptability, essential for any startup.
"Even today, priorities at Jobber can shift in a week, so we're not coming in to work expecting to do the same thing every day," says Nick.
Hopefully, you find these lessons help you navigate the quick-changing realities of running a startup marketing team.
Related Articles