Marketing Funnel
Understand your customer acquisition process from awareness to purchase.
Track all your Digital Marketing KPIs in one place
Sign up for free and start making decisions for your business with confidence.
Sign up with Google
or
Sign up with your email
Free forever ● No credit card required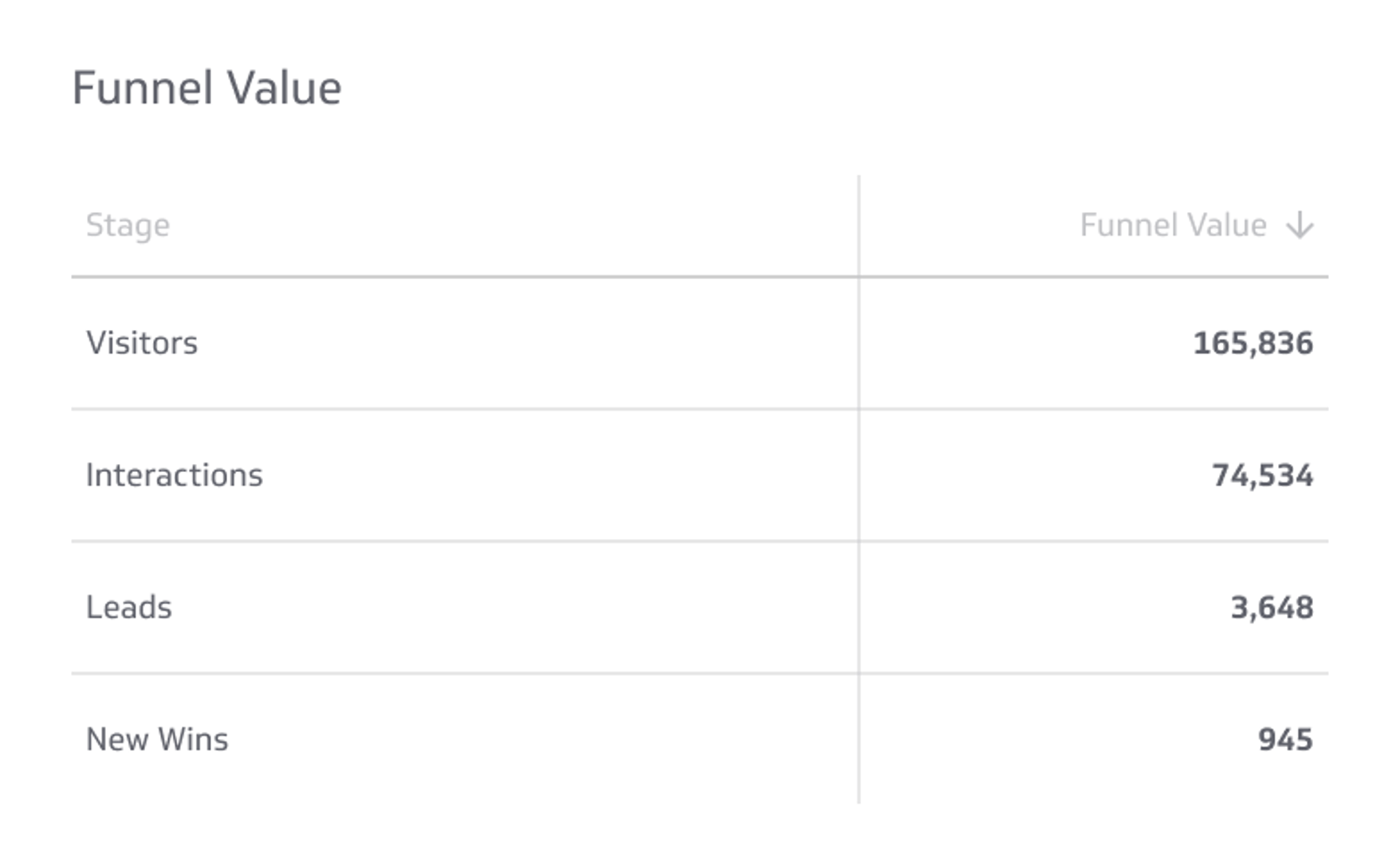 What is Marketing Funnel?
The Marketing Funnel analyzes your customer acquisition process to help you understand how potential customers discover your product or brand and, more importantly, how they eventually become loyal customers.
The purchase funnel (alternatively called the marketing funnel) is typically broken down into five stages: awareness, interest, consideration, preference, and purchase. From a measurement point of view, this may map to a variety of sales and marketing channels, from social media and web visits to mailing lists and sales contacts.
The key to the marketing funnel is analyzing rates of the conversion funnel from one stage of the funnel to the next. The strength of the funnel is the ability to zero in on your strengths and weakness. For instance, you may have strong brand awareness (represented by a high number of web visitors), but your ability to convert leads into wins may represent a weak point. The funnel allows you to see and act on this information.
Key Terms
Funnel stage: Five key stages that represent the typical customer acquisition process. Stages include awareness, interest, consideration, preference, and purchase.
Conversion rate: The percentage of people that move from one funnel stage to the next.
Customer journey: A customer journey is the path a person takes when they interact with a brand. It starts when they learn about the brand and continues through buying and using the product or service. 
Marketing Funnel Success Indicators
A high conversion rate through all stages of the funnel.
High volume through each stage of the funnel.
Improving conversion rates for stages performing poorly.
Marketing Funnel Challenges
It's hard to pinpoint what stage a customer is actually at in the marketing funnel. Early marketers know the purchasing funnel as the marketing funnel, but in addition to a name change, this metric itself has been modified to fit the competitive digital age of marketing. And this new landscape is challenging. No longer do potential consumers gradually move down the funnel until they purchase from one company. Marketing efforts today have to be integrated, meaning they address the multiple media channels that buyers interface within their daily lives--email campaigns, videos, e-newsletters, online reviews, product comparisons, etc. Goodbye to one-way marketing, hello to two-way conversations. Here's some expert insight:
Guy Chriswick, Managing Director of Webloyalty UK
"Consumers now spend 34% more time shopping for fashion than they did ten years ago. Taken alongside the increasing use of online channels by consumers as part of this process, this offers the opportunity for brands to 'personalize' the purchase experience."--What this also means is that the duration of time for consumers to move from the top of the marketing funnel to the bottom is much longer, so this metric needs to be paired with the online conversions metric to allow for a full understanding.
Marketing Funnel Best Practices
Make sure your website is easy to navigate to avoid any sort of distraction that could cause a lost opportunity. When customers are in the consideration stage of the funnel, they are weighing the pros and cons of the purpose, so avoid distractions to ensure they find what they want fast.
Reviews are a great way to ensure you are addressing the preferences in the customer journey. All e-commerce companies can benefit from allowing customers to write product and experience reviews because it eliminates any doubts potential customers may have.
At the purchase stage of your funnel, you have to think about what would make that customer come back or, better yet, spread the word. Meaning: how are you building loyalty?
How to Monitor Your Purchase Funnel in Real-time
Once you have established metrics for your Marketing Funnel, you'll want to establish processes to monitor this and other digital marketing KPIs. Dashboards can be critical in this regard.
Learn more about how to track your Purchase Funnel on a Digital Marketing Dashboard.
Purchase Funnel: Top Resources
How to Define Critical KPIs Across the Marketing Funnel, Jessica Donlon
Customer Journey Challenges You Need to Overcome in 2016
Start tracking your metrics
Level up your analytics with a free forever PowerMetrics account