Sessions by Device Type
See what devices your website traffic is using for the time period of your choice.
Track all your Digital Marketing KPIs in one place
Sign up for free and start making decisions for your business with confidence.
Sign up with Google
or
Sign up with your email
Free forever ● No credit card required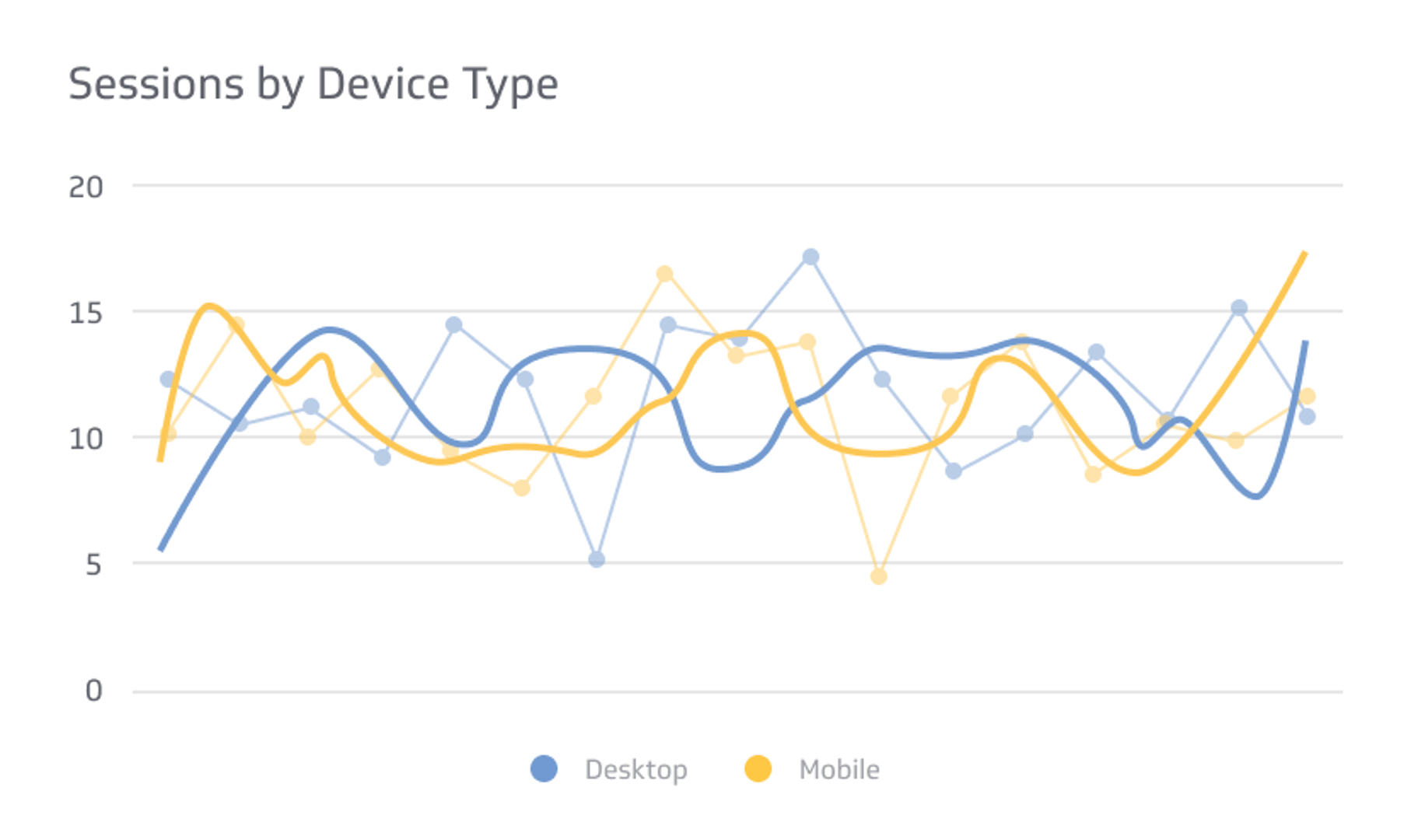 Sessions by Device Type Definition
The Sessions by Device Type metric tells you what number and percentage of users are visiting your website on each device at a period of time of your choice. In 2015, mobile search exceeded desktop; according to Pew research, health information (62%), directions (67%), online banking (57%), real estate (44%), and job hunting (43%). Where your users are accessing your website is important to know when designing your website for an optimal user experience. You can advertise your website on all devices, including desktops, laptops, tablets, and smartphones, so knowing this information will help you easier to divide your advertising budget across devices.
Sessions by Device Type Challenges
The greatest challenge with the Sessions by Device Type metric for marketers is that it does not reveal website traffic by device for specific demographics. It has become best practice for marketers to target specific demographics and personas as opposed to exclusively by the device.
Sessions by Device Type Best Practices
As an increasing amount of your users begin accessing your website on mobile and tablet devices, it is critical to have a responsive website. A responsive website is one that provides users with an easy reading and navigation experience across devices, making for an optimal viewing and interaction experience.
When monitoring your Sessions by Device Type metric, keep in mind the following expert advice to make sure viewers have the same seamless interaction with your website across devices:
Eric Siu, CEO, Single Grain LLC
Take the time to view your landing pages from different devices to make sure that it always loads properly, contain all the key elements needed to prompt users to action, and have a crisp layout that isn't impinged upon in any way by your site's responsive styling.
Online emulators can show you how your site will render on different devices; take advantage of them, but also test your site on the live environments of you, Pierre DeBoiand your friends' devices to be sure the emulators are accurate.
Pierre DeBois, Founder, Zimana
One driver of the growing need for cross-device analysis is webrooming and showrooming, both retail-related activities stemming from holiday shopper activity during the past few seasons. Webrooming is the retail customer behavior of researching products and services while in a store. It differs from showrooming, an in-store behavior in which customers compare prices and research features, leading to purchases online.
Both trends signal the need to understand foot traffic that is likely to become web traffic, including traffic from customers researching products in the privacy of a home.
The fact is that it is critical to add an analytics solution to accurately capture that traffic. And adding a User ID in a Google Analytics script captures the best cross-device behavior to enhance a marketing strategy. Learn more about how to track this KPI on a Google Analytics dashboard.
How to Monitor Sessions by Device Type in Real-time
To gain a comprehensive view of your web performance, it is important to combine the Sessions by Device Type Metric with other relevant digital marketing metrics. Consider tracking this metric alongside others, such as Organic Search Performance by Device, Web Traffic Sources, and Audience Metrics vs. Targets.
Learn more about how to track your Sessions by Device Type on a Digital Marketing Dashboard.
Sessions by Device Type: Top Resources
Why Your Brand Must Analyze Traffic by Device, Dani Fankhauser
How Google Analytics Can Make Cross Device Marketing Easier, Pierre DeBois
Why Marketers Must Embrace Mobile, Sharmila Singh
Google Analytics: Desktop vs. Mobile vs. Tablet Metrics, Jonathan Ellins
Start tracking your metrics
Level up your analytics with a free forever PowerMetrics account