Email Marketing Statistics
Metrics to gain insight into your email marketing campaigns.
Track all your Email Marketing KPIs in one place
Sign up for free and start making decisions for your business with confidence.
or
Sign up with your email
Free forever ● No credit card required

Why Monitor Email Marketing Statistics Metrics?
Email marketing is one for the most effective marketing tools digital marketers have at their disposal. Email marketing statistics give marketers insight into how their current campaigns are performing and how they can improve the ROI on other campaigns. In gaining access to email engagement, opens, unsubscribes, bounces, and more, marketers can create targeted content to meet marketing goals.
How to Monitor the Right Email Marketing Statistics?
With all the the available email marketing metrics, it can be difficult to select the ones that will give marketers what they need. When monitoring email statistics, the data displayed should be high-level, actionable and easy-to-read, as well as allow for data comparison between email campaigns. Here are the must-have email statistics metrics digital marketers should track.
Email Marketing Statistics KPIs
Campaign Performance

This metric is a great way to evaluate the effectiveness of an email campaign and whether to improve on the email and landing pages related to it, to build similar email campaigns, or to discontinue the campaign all together.
Why this metric?
The Campaign Performance metric gives digital marketers insight into the performance of each of their email marketing campaigns. The metric provides important information for measuring and comparing success; allowing marketers to understand the reach of the email, the interest in the subject line, the actions taken within the email, and the number of unsubscribes the email prompted.
Delivery and Engagement Statistics Metric

This metric gives digital marketers high level data on their email campaigns. The metric displays valuable campaign insight like the number of leads who received the email, the number of leads that opened the email, and how those who opened the email are interacting with the content.
Why this metric?
The Delivery and Engagement Statistics metric is a telling metric for email marketing campaign performance. Not only does the metric display your open rate success and email engagement, but it also gives information on whether or not recipients found the email subject line and content compelling. In examining these email stats while looking at the actual structure of the email campaign, digital marketers can improve upon current campaigns and create more engaging campaigns in the future.
Opens by Country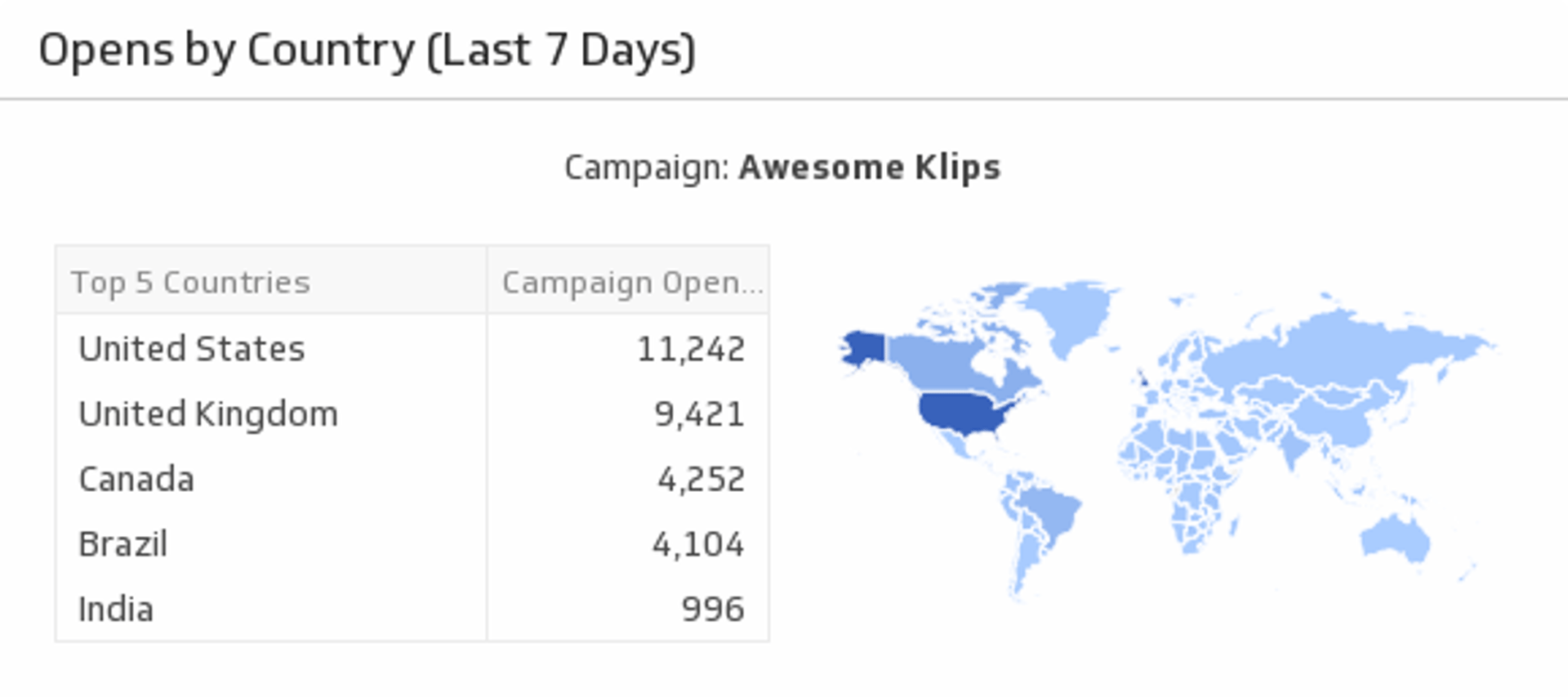 The Opens by Country metric helps you understand which countries bring in the highest open rates for your email campaigns.
Why this metric?
Understanding which countries are more likely to open and interact with your emails is a key set of data for digital marketers. With the information from this metric, marketers can tailor their content to suit specific regions and restrict where their marketing campaigns are sent.
Start tracking your metrics
Level up your analytics with a free forever PowerMetrics account