17 KPIs every data-driven manager needs to lead their team
Published 2016-08-05, updated 2023-04-09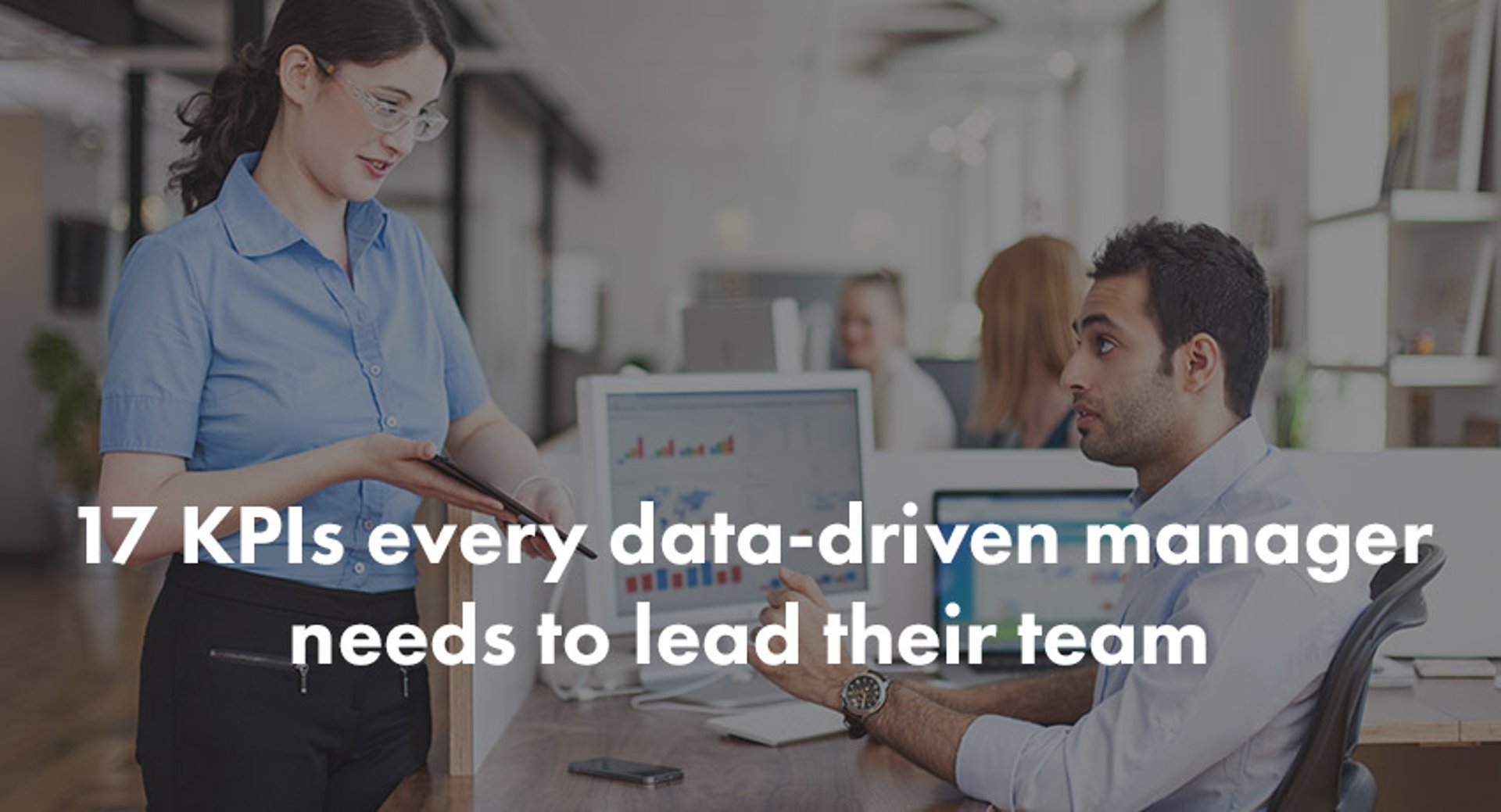 Summary - Motivate your team with real-time data. Learn how implementing KPI management will improve your performance as a manager, and your teams in general.
---
KPI Management 101
As a manager, you have the responsibility of achieving performance targets, reaching higher performance levels, and ensuring that people's work supports and furthers the organization's goals. In order to fulfill these expectations, managers must create a cohesive and motivated team by knowing how to define your organization's KPIs and using this information to its full potential.
When you manage your team with KPIs (and put them on a dashboard), data is always at the forefront of every decision you make. What this means is that you are able to adjust your work based on real-time data that clearly visualize your team's impact on the organization. This blog will provide you with an overview of what a KPI is and how implementing KPI management will improve not only your performance as a manager, but your teams in general.
KPI Definition
KPI stands for Key Performance Indicator, a measurable value that demonstrates how effectively a company is achieving key business objectives. Organizations use KPIs to evaluate their success at reaching targets.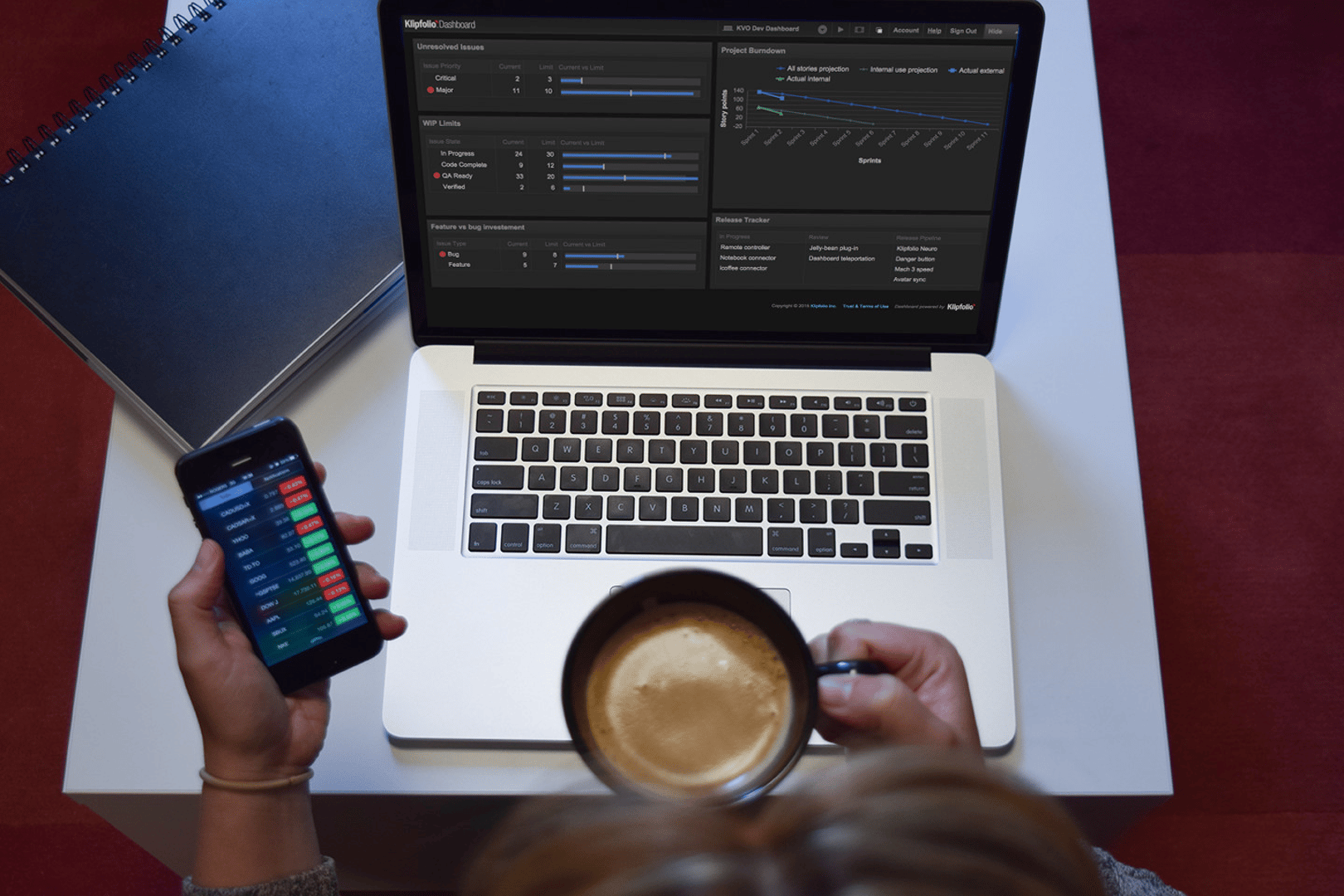 How can KPI Management Improve Your Organization?
A KPI is only as valuable as the action it inspires. Too often, organizations blindly adopt industry-recognized KPIs and wonder why that KPI doesn't reflect their own business and fails to affect any positive change.
A lot of people overlook one of the most important aspects of KPIs, which is that they are a form of communication. Therefore, they abide by the same rules and best practices as any other form of communication. When information is succinct, clear, and relevant, it is much more likely to be absorbed and acted upon.
How to Start KPI Management
If your team is finding it challenging to develop a strategy for formulating KPIs, start with the basics and understand what your organizational objectives are, how you plan on achieving them, and who can act on this information.
Selecting the right KPIs for your team should be an inclusive and interactive process that involves feedback from analysts, department heads, managers, and you! As you dive deeper into your analytics, you will gain a better understanding of which business processes need to be measured with KPIs and with whom that information should be shared.
KPI Types
Selecting the right KPIs will depend on your industry and which part of the business you are looking to track. Each department will use different KPI types to measure success based on specific business goals and targets. High-level KPIs may focus on the overall performance of the enterprise, while low-level KPIs may focus on processes in departments such as sales, marketing, or a call center.
KPI Management Reports
The chain of communication in most organizations situates the manager as the go-to person for executives to ask: So, how are we doing? Simple question, right? So why not give a simple answer.
KPI management on a data dashboard lets you pull KPI visualizations from different campaigns and departments to answer this question with real-time data. Utilizing a dashboard, managers can share links to KPIs with executives or their teams with published links and email reporting. Maybe your executive prefers print, KPIs can be converted into PDFs without the hassle of formatting. By incorporating an executive dashboard, managers provide an efficient and easily accessible way for executives to monitor company performance.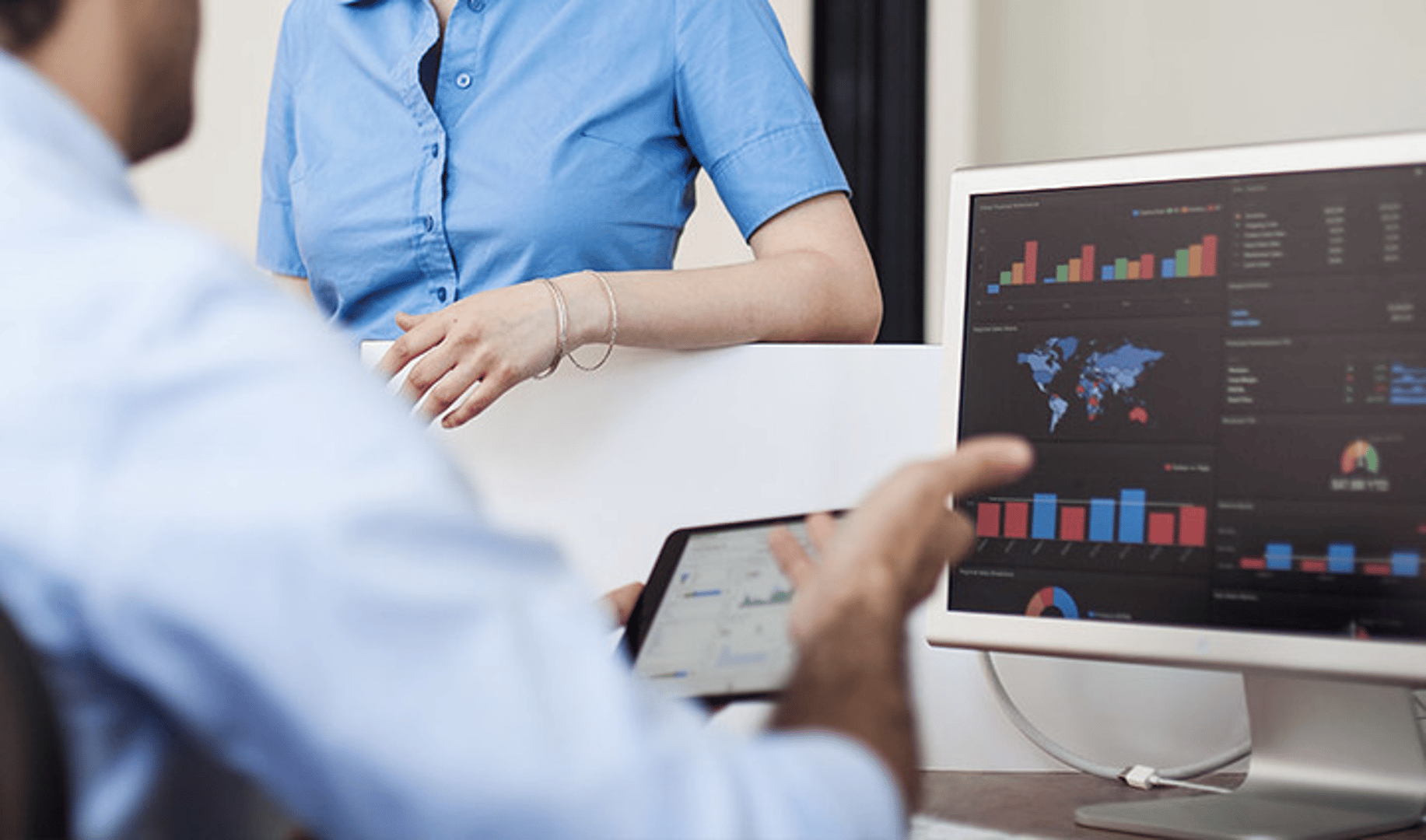 KPI Management Presentation
KPI management means performance presentation all the time. When you manage your team with KPIs, you are able to use a TV dashboard to display data in your office all the time, or if you prefer, cut down on the hours spent creating a slide presentation for your weekly meeting and just put your dashboard up on the screen. Keeping KPI presentations visual is a great way to foster conversation, particularly questions.
Questions are important for KPI management because it means you are continually challenging your team and yourself to ask how and why in terms of performance and improvements.
KPIs for Different Types of Managers
Depending on your industry and the specific department you are interested in tracking, there are a number of KPI types your business will want to monitor. Each department will want to measure success based on specific goals and targets. Take a look at the departmental KPI examples below or listen to the Metric Stack podcast to learn more about the KPIs you should be measuring:
KPIs for Marketing Managers
It's important for marketing managers to be as cognizant of the organization's sales performance as they are of marketing initiatives. In many cases, sales, which can include anything from lead breakdown to customer location, is a reflection of marketing efforts.
For example, are your webinars generating leads for the company? Questions like this interweave sales and marketing because, besides creating awareness, the bottom line is that marketing is meant to generate customers for the company. Learn more about Marketing KPIs.
1. Cost per Conversion
Compare your cost-per-conversion to typed-in targets, or delete targets to compare to the previous period.

2. Marketing Expenses and Traffic
Mash up your QuickBooks and Google Analytics data to see how your marketing expenses have affected your website traffic within the last 30 days.

3. Conversion Funnel
Combine the power of Google Analytics with Salesforce! Gain insight into how prospects have advanced through your marketing funnel over the past 30 days.

4. ROI
Compare conversion values and costs to see ROI. Calculations will be dependent on having conversion values in Google AdWords.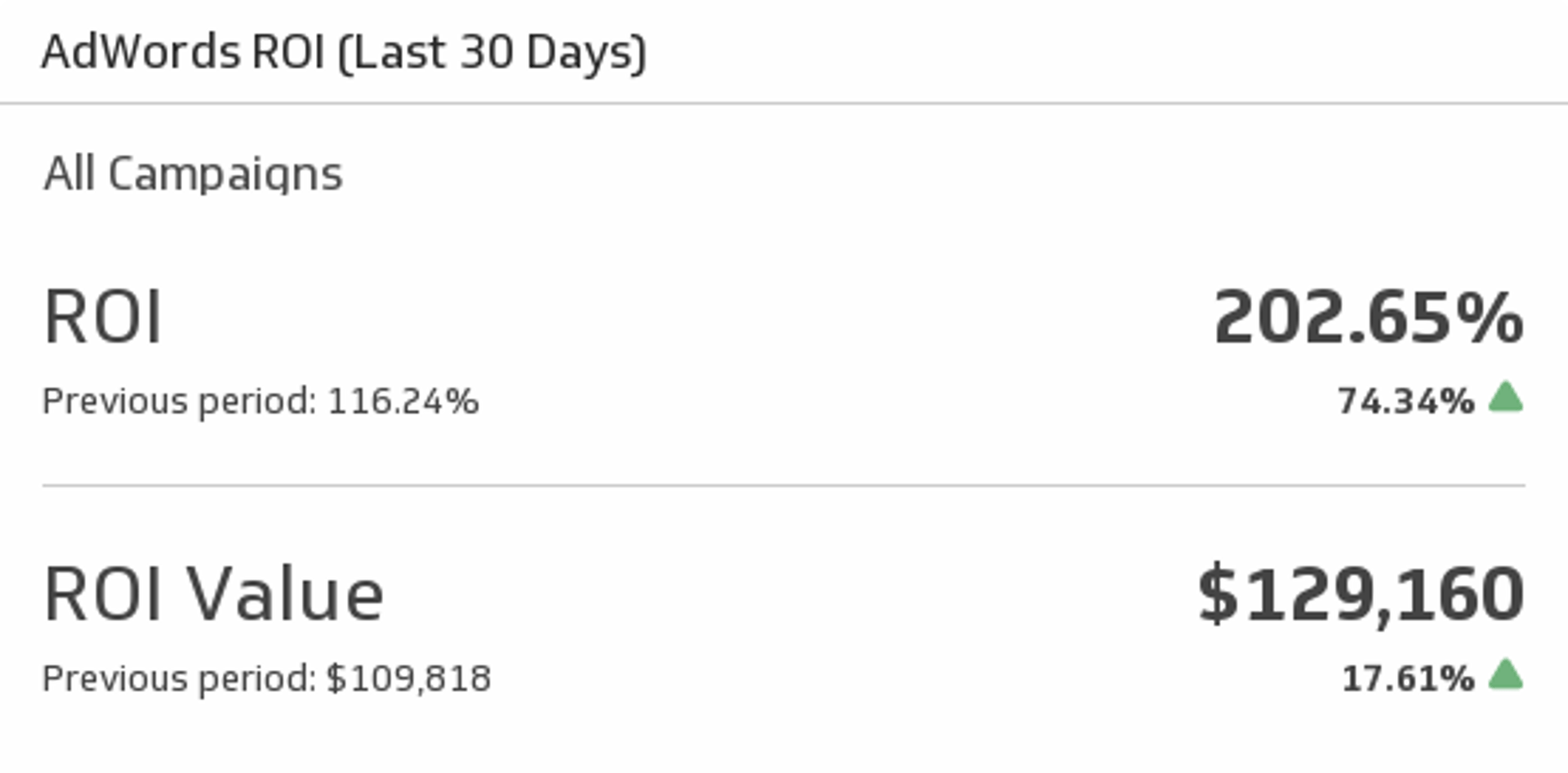 KPIs for Sales Managers
To keep your sales team competitive in today's business environment, it's important to establish a data-driven culture by sharing relevant performance indicators and business metrics, including sales targets. By tracking these sales key performance indicators (KPIs), you can ensure that your team has the necessary information to help your business succeed. Learn more about Sales KPIs.
5. Quarterly Metrics
Track your most pivotal metrics for the current quarter.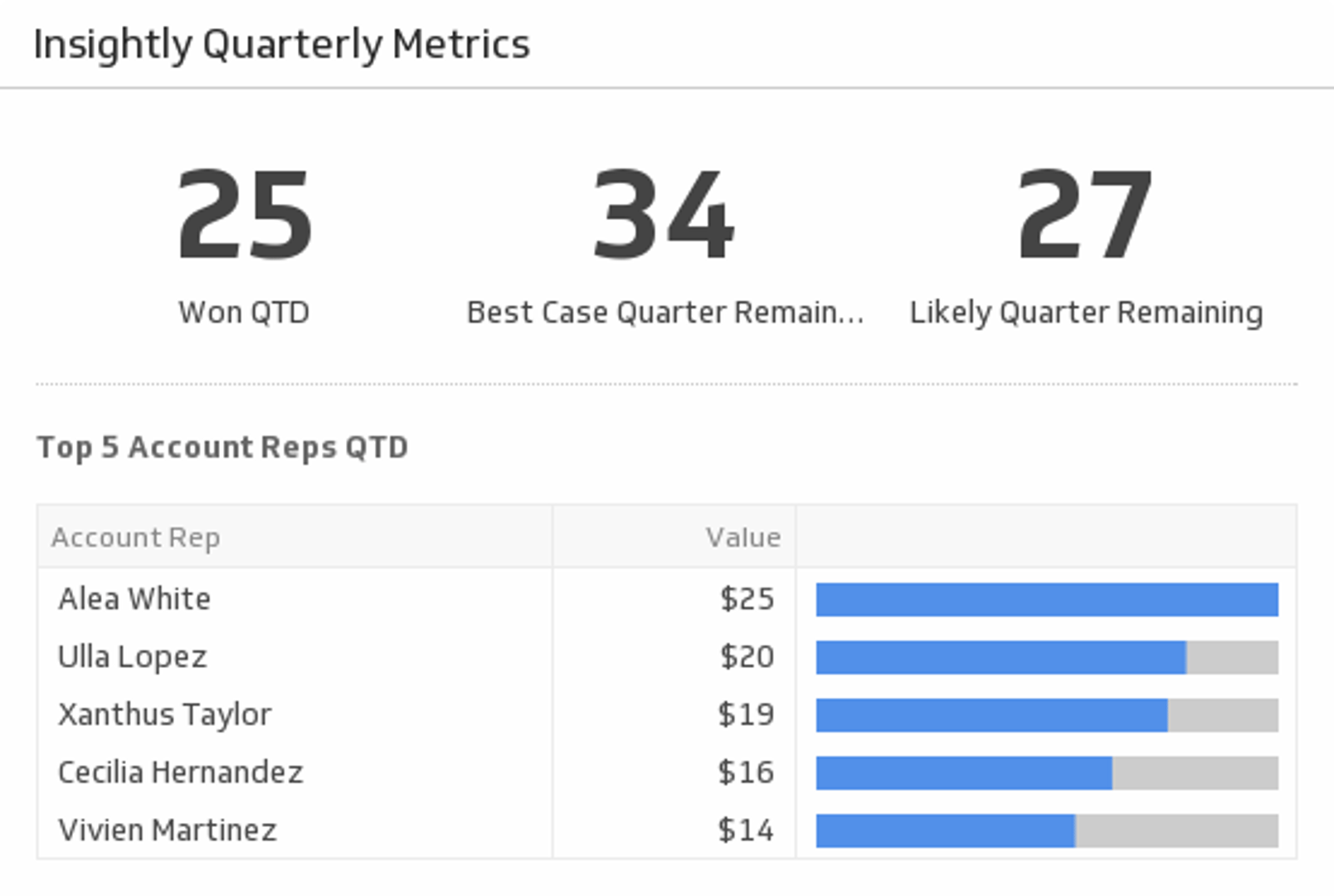 6. Revenue and Wins by Type
Make reporting easy by comparing revenue and wins amongst existing and new businesses.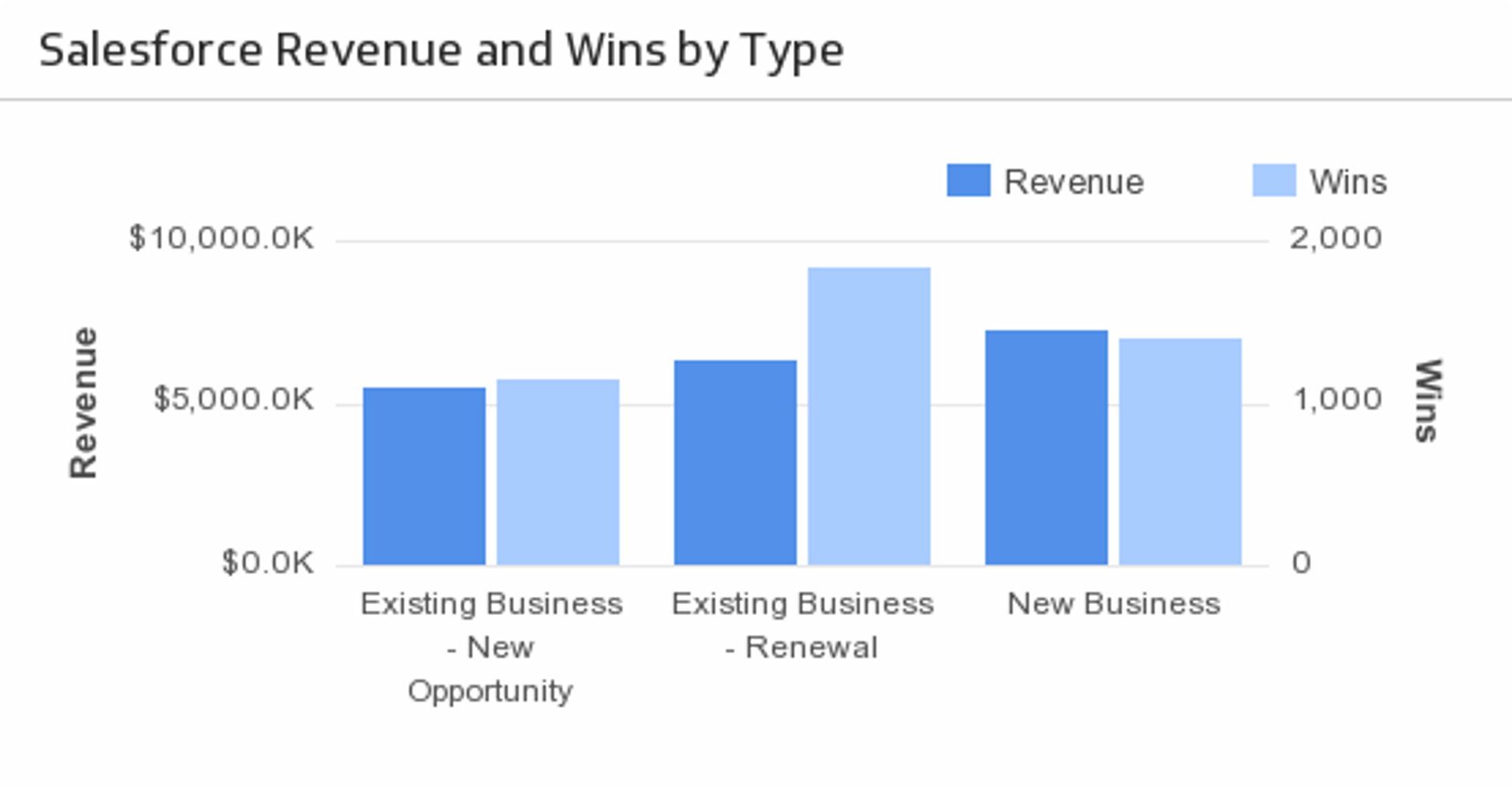 7. Open Opportunities by Stage
Monitor how many leads you have at each stage of the sales cycle.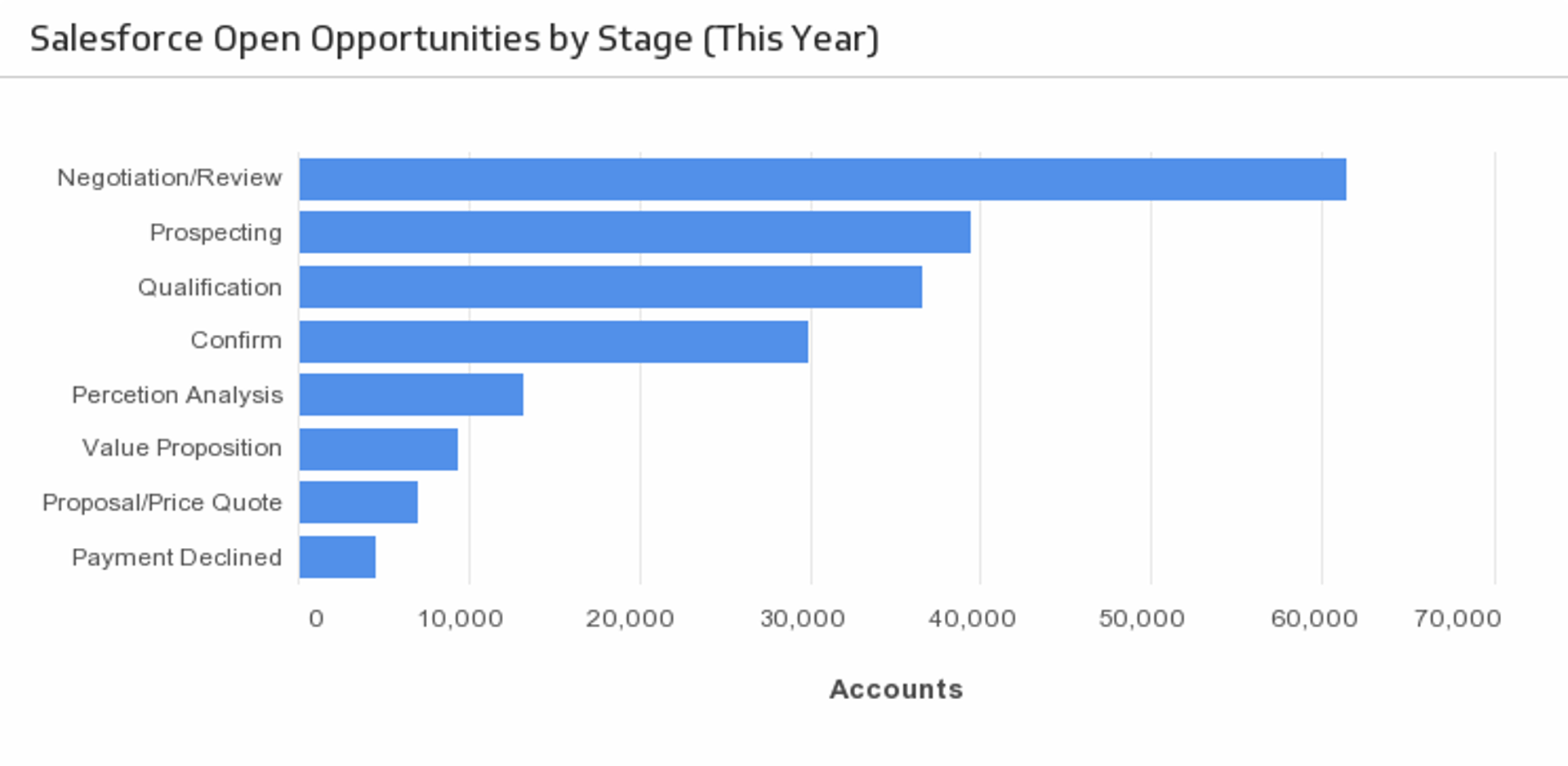 8. CAC (last 30 days)
Mash up your Quickbooks and Salesforce data to measure your Customer Acquisition Cost over the last 30 days.

KPIs for SaaS Startups
Every SaaS startup needs to monitor and track customer success through a comprehensive SaaS dashboard. Understanding your customer churn and customer retention numbers is essential for growing and scaling your business. KPI management, no matter the size of your SaaS company, will keep your entire team thinking about how to make your customers successful. Learn more about SaaS KPIs.
9. Customer Lifetime Value
The longer customers stick with you, the more valuable they are. Monitor Customer Lifetime Value and at the same time, compare with the historical trend.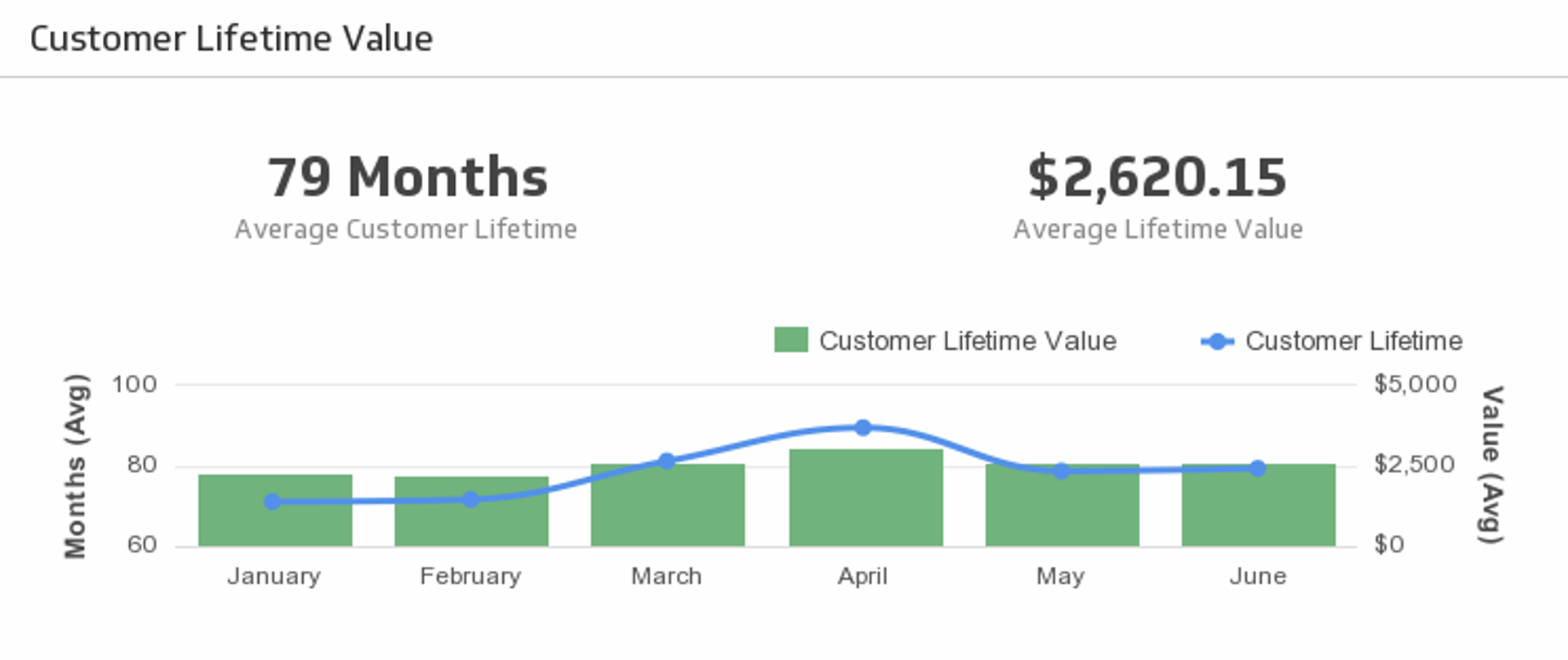 10. Opportunity Pipeline
View opportunities at each stage of the pipeline, and track bid values.

11. Monthly MRR / Expansion Rate
Monitor the health of your business as it grows and retains customers, and at the same time, compare with the historical trend.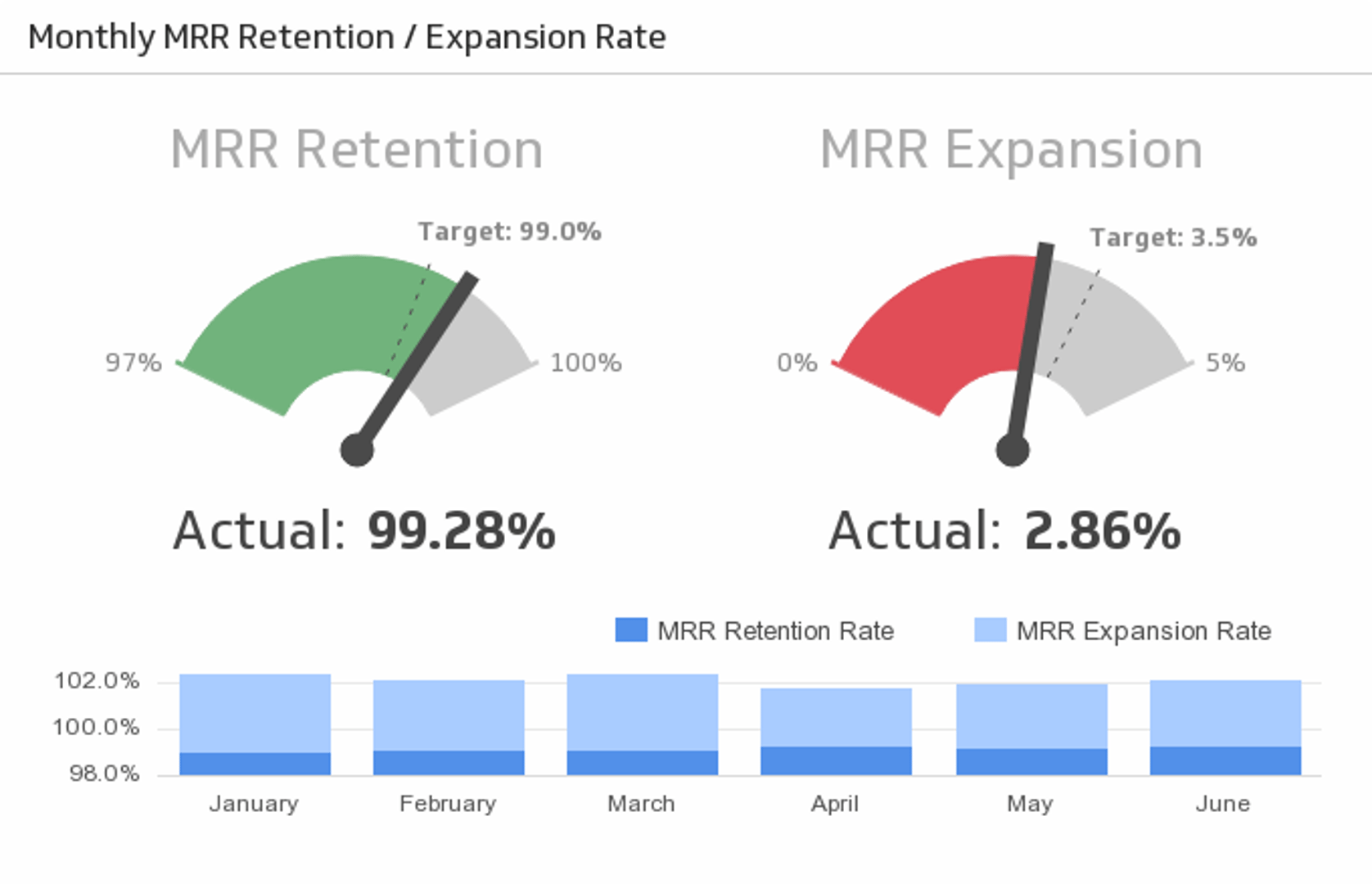 12. Lead to Win Conversion by Month
Use a line chart to track your lead-to-win conversion rate over time.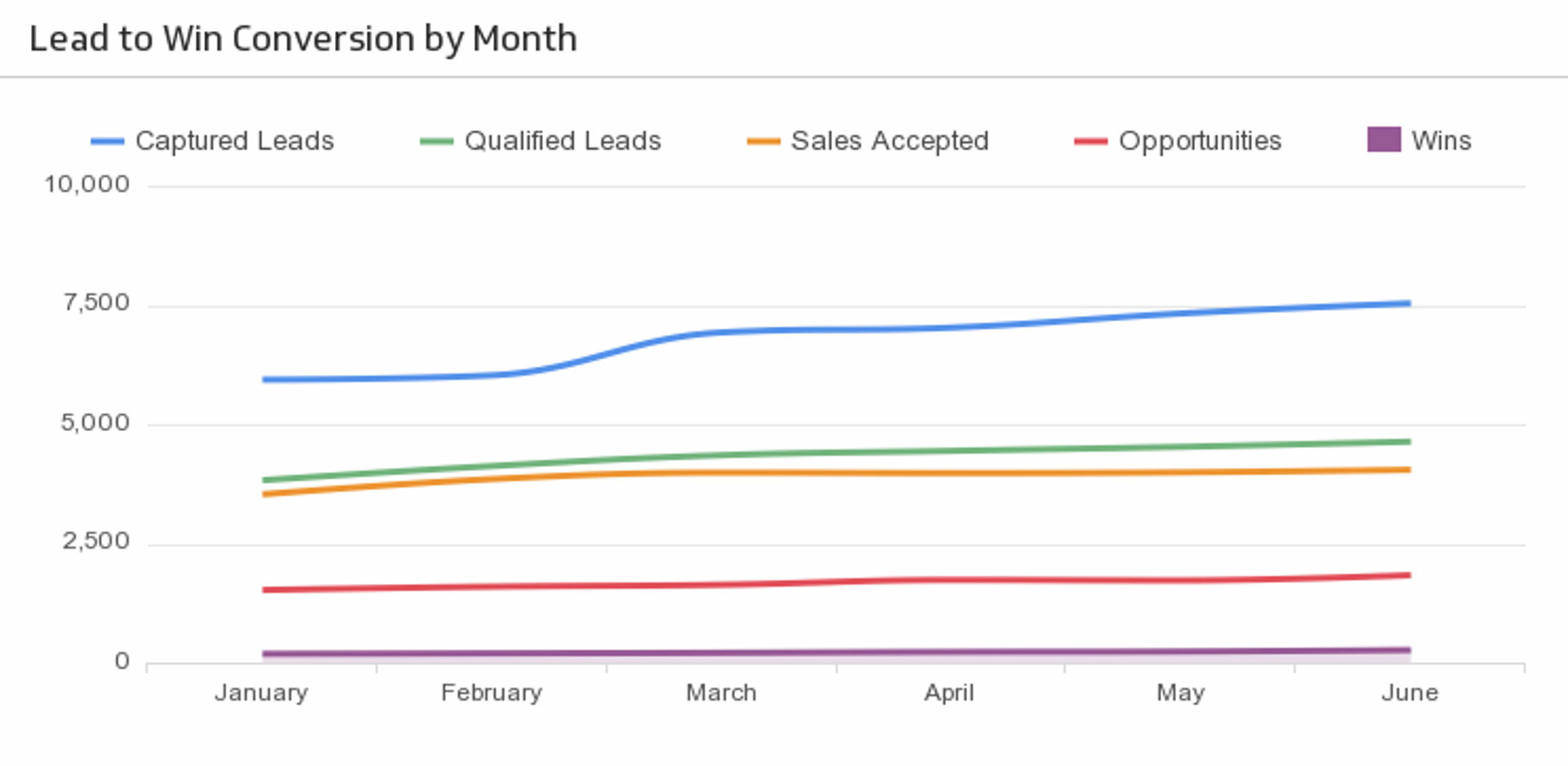 KPIs for Social Media Managers
How do you measure the success of your social media campaign in a landscape populated by dozens of platforms and sites, each with its own set of analytics KPIs? As a social media manager, you need to define the metrics and KPIs that show how your team's efforts are resulting in more leads, increased web traffic, and higher ROI. Learn more about Social Media KPIs.
13. Social Media Conversions
Compare conversion rates from various Social Media platforms during the time period of your choice.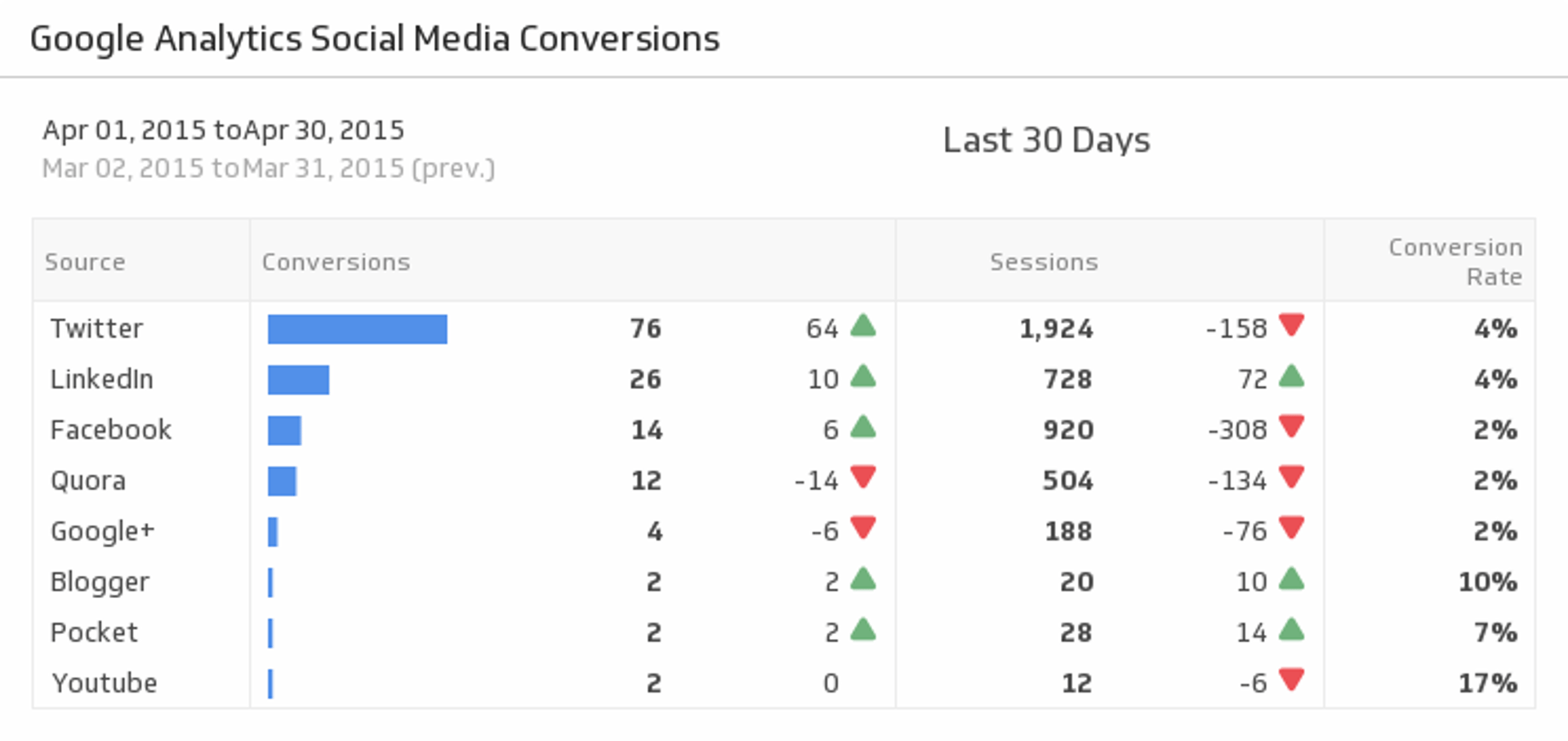 14. Facebook Ads Campaign Performance
Make sure your message is reaching the right audience by measuring your Facebook Ads campaign performance for the date range of your choice.

15. Social Media Followers
See where you stand on all of your social media platforms!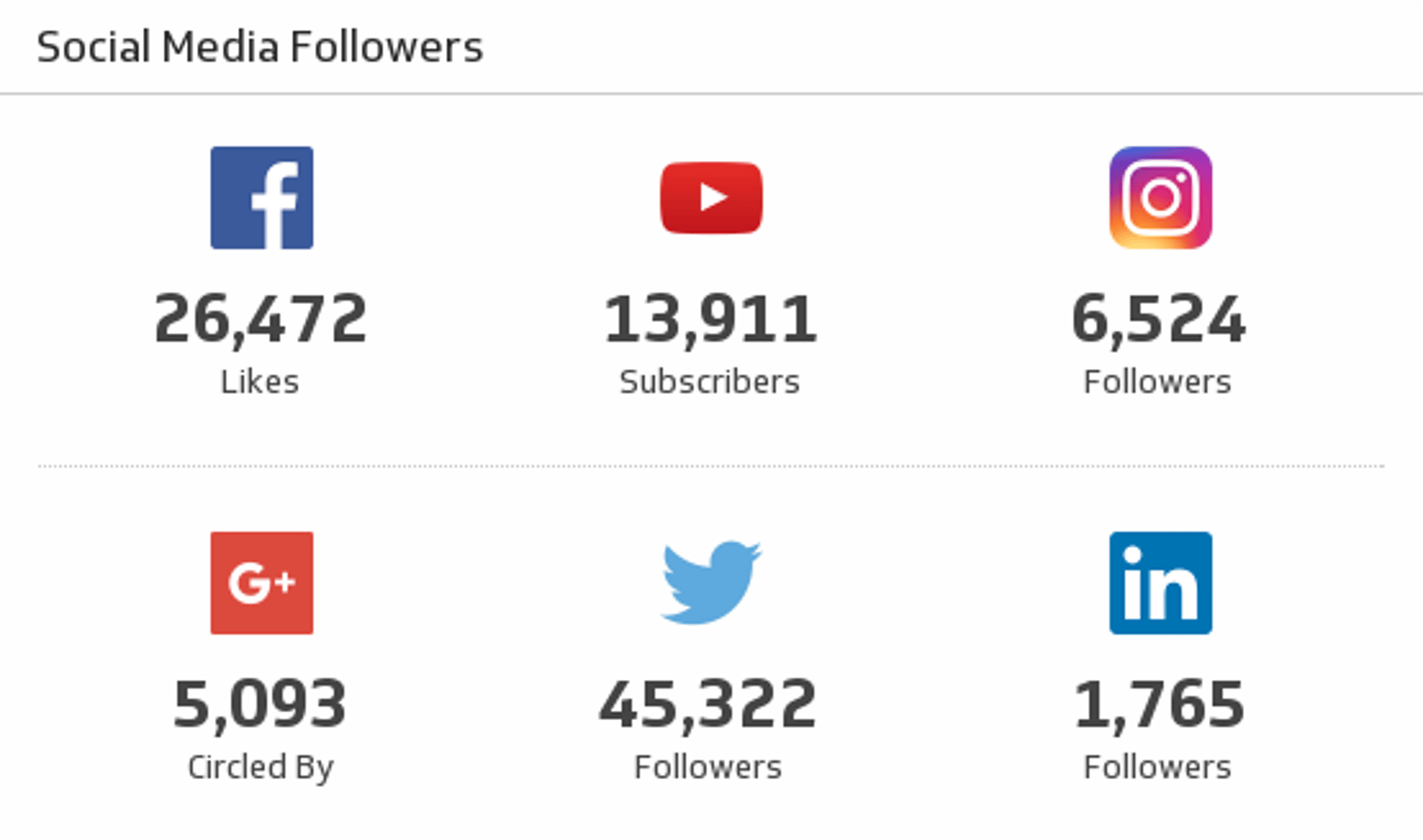 16. Social Sentiment
Understand the sentiment behind mentions of your brand across all media channels worldwide (social networks, news, forums, blogs, etc.) in all languages.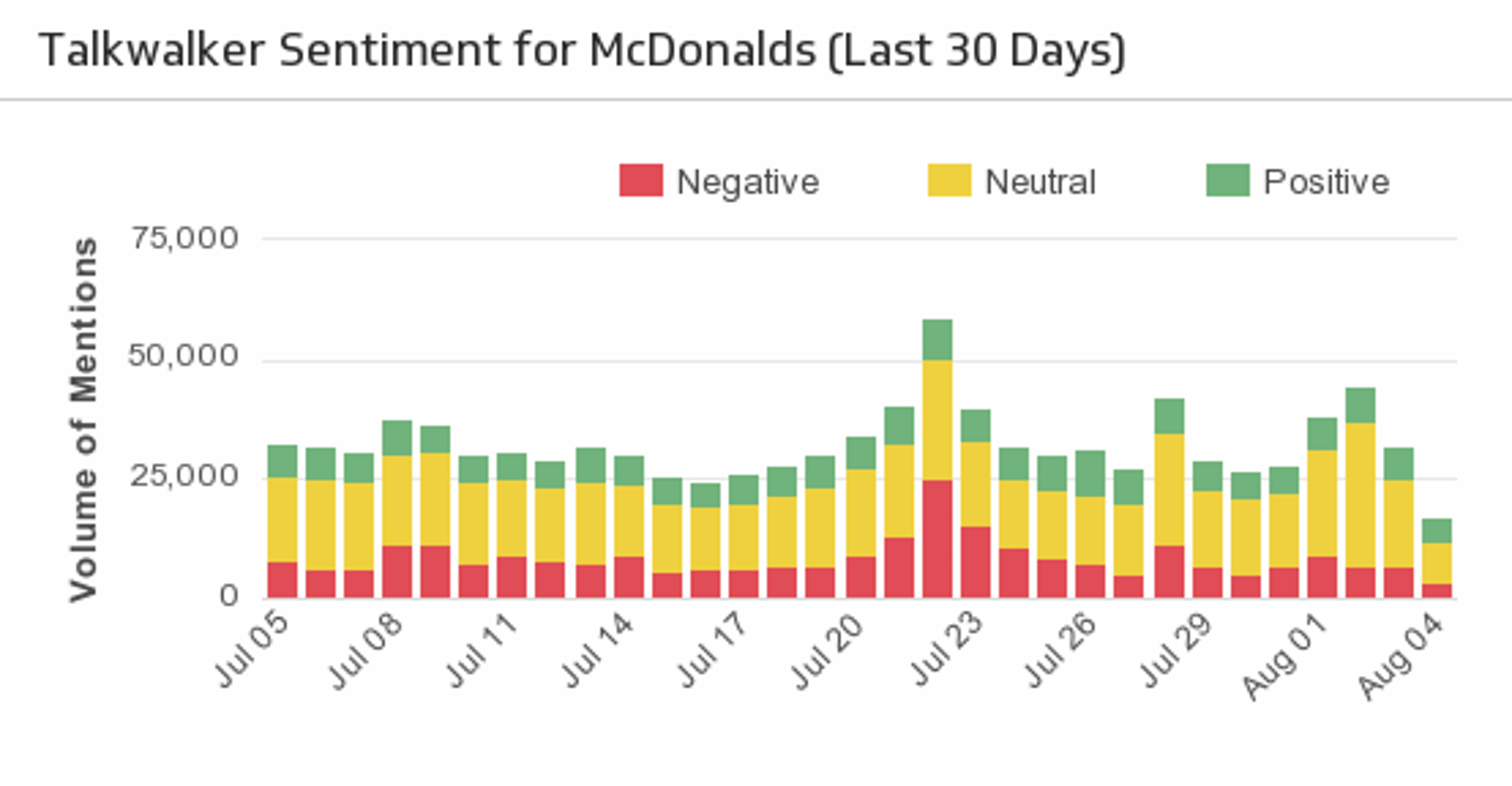 KPIs for Call Centers
To effectively operate in the stressful environment that is a call center, you need to be dialed into the latest metrics and KPIs, such as current service level, call volume, and call resolution rates. The responsibility of managing thousands of calls each hour while maintaining a high standard of customer service can be hectic, which is why business dashboards allow you to keep an eye on everything. Use these call center KPIs to track your team's performance through the busiest and most hectic days. For more call center metrics, check out the Desk.com Integrations page. Learn more about Call Center KPIs.
17. Today's Calls
Monitor your daily call metrics and always know where you stand! (Up to 1000 calls)

Related Articles