6 Marketing Automation Lessons To Take You From Data To Dashboard
Published 2015-04-13, updated 2023-02-15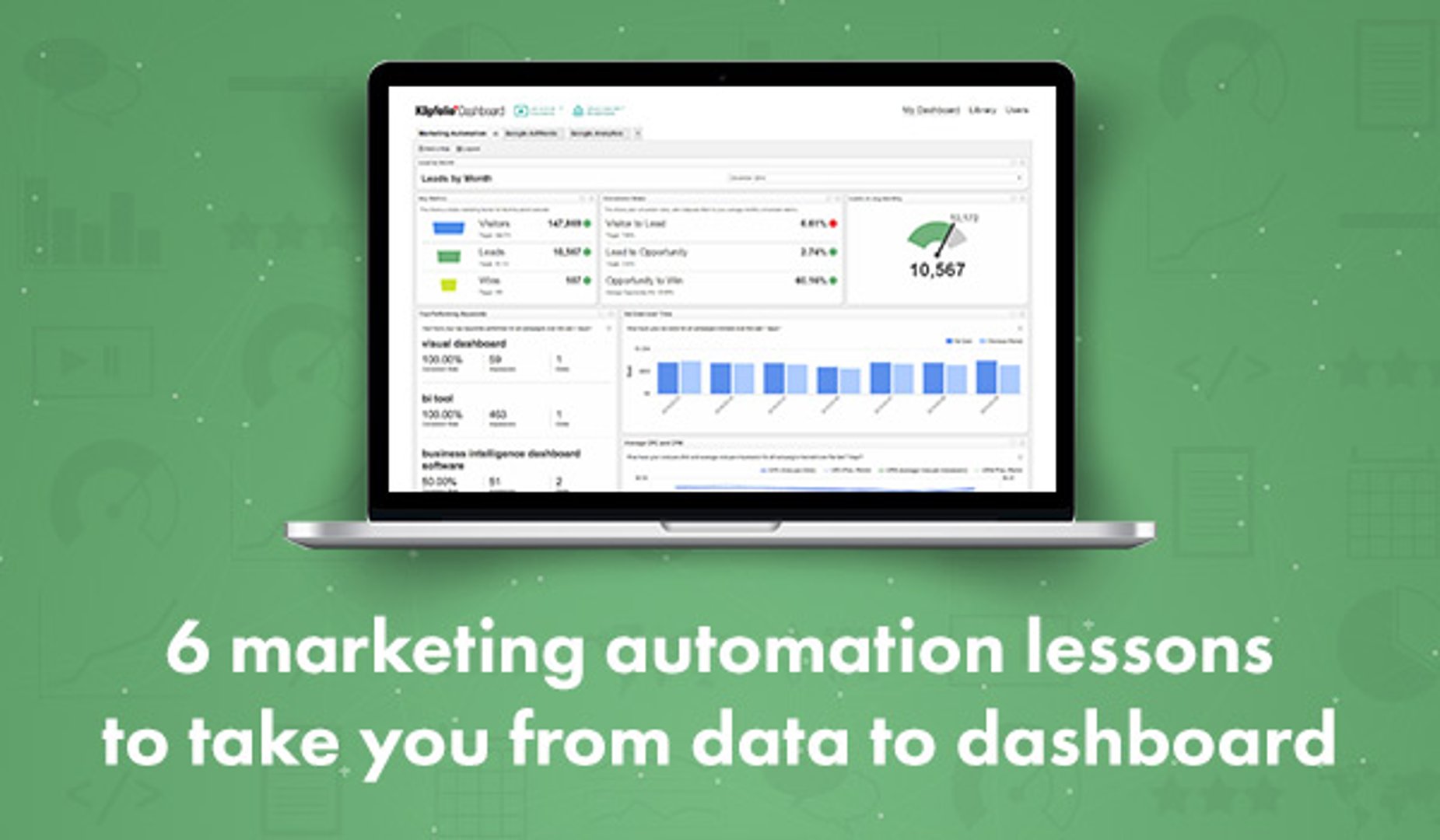 Summary - As a software startup, we enthusiastically embrace technology, and, just over a year ago, we made the decision to embrace marketing automation (Marketo). Here are 6 lessons we thought were worth sharing.
---
Let's open this blog by breaking the 4th wall -- Klipfolio uses marketing automation. Shocked? I hope not.
As a software startup, we enthusiastically embrace technology, and, just over a year ago, we made the decision to embrace marketing automation (Marketo).
It may come as no surprise that we're data obsessed here at Klipfolio. While we take to dashboards like a Canadian to Tim Horton's, we've learned that going from technology to data (aka, awesome insight) isn't as simple as ordering a Double-Double.
Here are 6 lessons I've learned about going from marketing automation to killer marketing dashboards.
1 - Automation isn't automatic
The technology side of marketing automation is pretty simple, in my opinion. We went with Marketo, and, with a bit of training, you'll be up and running in no time.
Well, almost no time. The biggest thing I've learned about marketing automation is that it isn't automatic; it's the end result of thoroughly understanding key marketing and business processes. If your aim is a best-in-class marketing automation tool, it starts by nailing your business processes. Answer questions like:
What does our customer lifecycle really look like?
When does marketing work with a lead, and when does sales work with a lead?
What data points do we capture today, and what data points do we need to start capturing?
Lesson: Learn where data is being collected, how that data is being used and identify any processes where automation can take over
2 - Know thy lifecycle
This marketing commandment will double as your true north during marketing automation deployment. Each time you set up a piece of automation -- whether it's triggering an email send or alerting a sales rep of a new lead -- ask yourself how it fits into your lifecycle.
Automation sometimes gets a bad reputation for being impersonal, but I have to disagree. Done right, marketing automation lets you enter the conversation at the right time to be useful to your (potential) customers. It allows you to be informational and timely. And, in today's world, well-timed touch points are exponentially more valuable (and personal) than old-school, shiney-shoed sales folks taking you out for a golf game or dinner to convince you to buy. Give me answers! And make it quick! (Is this maybe a generational thing?)
Lesson: Map out your lifecycle and identify the data points that signal transitions from one stage to another.
3 - Be inclusive
Deploying a marketing automation system will force you to ask and answer a lot of tough questions. You cannot do this by yourself.
The earlier you can identify and enlist the support of stakeholders throughout the organization, the better. As I discovered multiple times, you'll be stumped on certain questions, problems, technology solutions, or integration issues, and, inevitably, need help. This is particularly true when working with your sales team, as they will feel the most impact of your marketing automation solution within your organization.
Lesson: Work closely with other groups to understand how automation can help them, and incorporate their knowledge and best-practices into your system.
4 - Mistakes happen
Immediately after hitting the "Send" button, email marketers run the gamut of emotions: trepidation, elation, excitement, apprehension, and hopeful expectation.
Naturally, every email marketer has hit that "Send" button and realized, to their horror, they've sent an email to the wrong list or send the wrong email copy. (Guys, please tell me I'm not alone here!) These lessons are something of a rite-of-passage for email marketers. The second you realize you've made a mistake, admit it, apologize to your subscribers, and move on.
Lesson: Learn your lead database inside and out to prevent mistakes from occurring.
5 - Go to a user group
Your Marketo geek-dom will not be complete until you attend a user group. My first user group was beyond awesome, and I walked away with tons of tips, tricks, and best-practices that I could implement right away.
Lesson: Always be willing to learn from experts!
6 - Lots of data isn't always the right data
Your marketing automation deployment will open the floodgates to a new, data-filled world. From scoring programs and lead management to email performance and landing page stats, you will be inundated with data.
It may be tempting to try and extract all that data, and provide your team with a report. "Look! Lots of data!" Despite my excitement, this approach wasn't particularly useful to the team.
Instead, I've opted for a more precise approach and try to pull Marketo data into Klipfolio to answer questions like:
"How are we performing right now?"
"Are we hitting our daily/weekly/monthly lead targets?"
"How are leads converting from one stage in my lifecycle to the next?"
Lesson: Don't flood your team with metrics; aim to provide precise answers to their questions.

Here's an example dashboard I've built using Klipfolio and Marketo. Notably, I've always brought in data from Google Analytics.
Learn more about the best digital marketing KPIs for your business.
Share your lessons!
I'd love to hear what lessons you've learned since deploying your marketing automation system. Leave a comment below!
Related Articles