On inbound and dashboards: How content marketing agencies select irrelevancy
Published 2017-07-22, updated 2023-03-21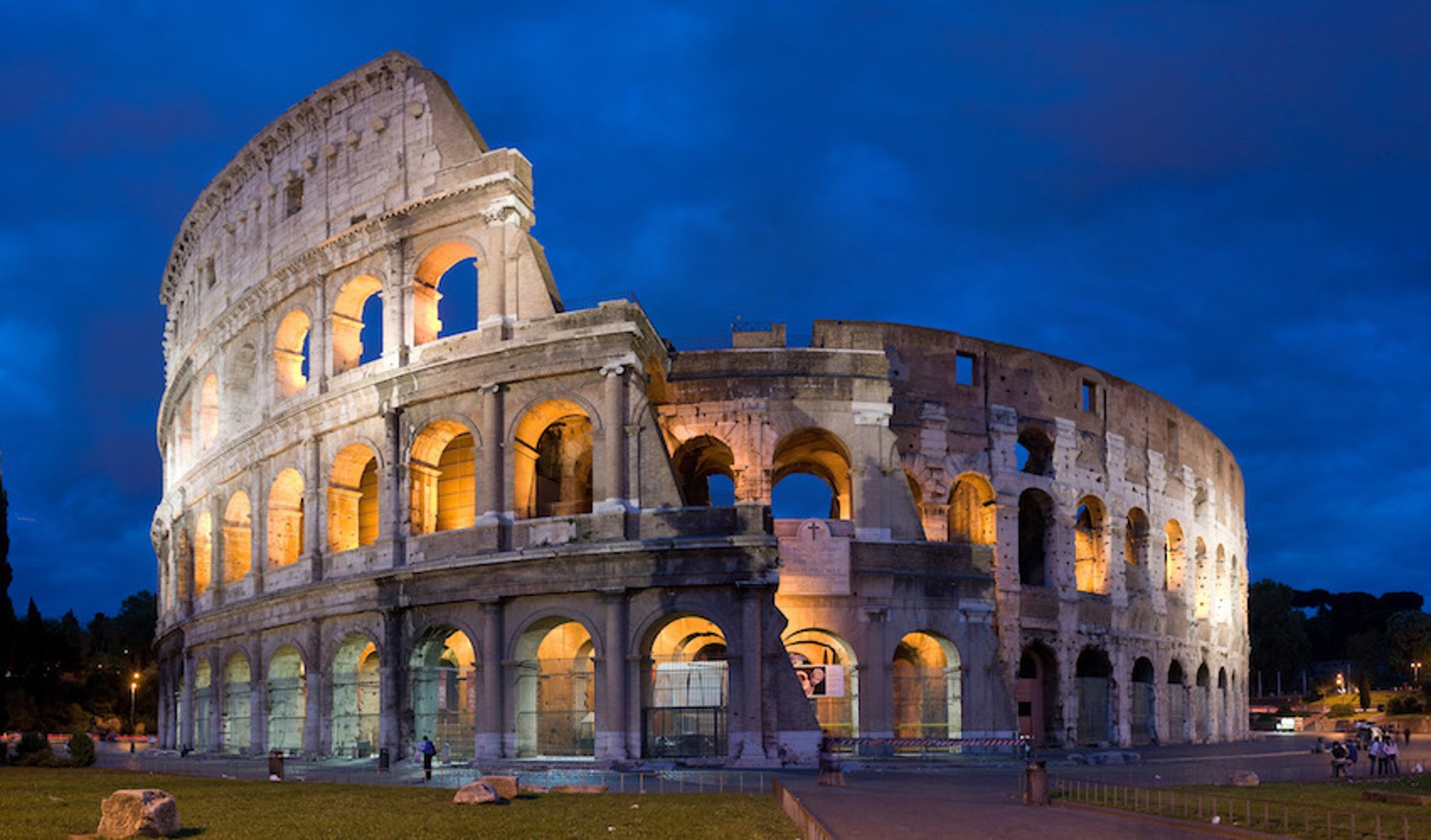 Summary - There are over 600 content agencies, and many are fighting tooth and nail over landing the same clients. Here are two ways that even hungry agencies are setting themselves up to fail.
---
The April 2017 issue of Chief Content Officer, the print magazine of the Content Marketing Institute, was titled "The Agency Issue."
In the magazine (PDF here and searchable database here) they listed over 600 content agencies.
And although I'm no content marketing agency buff, I knew of plenty of agencies that didn't make the list—perhaps because they weren't popular enough or because they've positioned themselves as content consultancies.
The magazine issue evoked in my mind a gladiator scene, with content marketers slugging it out in some kind of digital coliseum.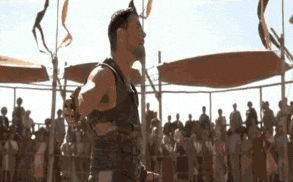 While the competitive spirit behind this imagery is true, many of the content marketing agencies I've met over the years are on a perfect path to irrelevancy—and it typically comes down to two reasons.
First, they aren't practicing what they preach. They stand atop the mountain and shout "Inbound works!" and "You need a content strategy" and yet as a company they aren't taking the classic advice that Shakespeare dropped in Hamlet:
"Suit the action to the word, the word to the action."
Second, they aren't using a content marketing dashboard—either for their inbound strategy or their clients'. Data-driven content marketing isn't just about meaningful content metrics; it's about organizing, understanding, displaying and sharing those metrics.
On selecting irrelevancy
In an interview with Chuck Kent of Lead the Conversation, Andy Crestodina of Orbit Media stated that executives choosing not to create valuable content have "selected irrelevance."
In watching the video, I couldn't help but think the same about the many content marketing agencies I've met over the years. Some are on top of it; they're consistently delivering content of value to their potential customers, and they're building gorgeous real-time dashboards to deliver modern reports to their clients.
Because both of these—inbound marketing and content dashboards—are in the agency's wheelhouse, they should know better. So I can only come to the belief that they are intentionally choosing not to evolve (and therefore choosing to slowly get choked out in the coliseum).
Here's the video. I recommend watching it from start to finish, as Andy offers up some solid advice throughout:
On agencies avoiding inbound
I get it. They're busy, they need more clients right now, and inbound marketing can be a long-term strategy.
So they whip out the credit card and turn on the ad machine.
Cool, I respect that.
But the solution shouldn't be to neglect what's more sustainable simply because you've flipped the switch on a machine. That's like neglecting the sun for the flashlight.
If you're a content agency and inspired by Crestodina's advice above, these insights from Rand Fishkin of Moz may get you thinking differently about how content marketing does (and doesn't) work:
On agencies avoiding dashboards
A few years ago I didn't know what business dashboards were—and I certainly didn't know how they could help my efforts as a content marketer.
I was late to the game, and indeed most in the journalism arena I come from still haven't showed up to the game.
But content dashboards are everywhere now. And content agencies likely caught wind of them first, especially because they can't possibly enjoy the grueling experience of living in spreadsheet land for hours and even days just to create monthly or quarterly client reports.
Surely this pain point was deep enough for them that they searched for a solution.
Still, if you're just discovering this solution and aren't sure how to go from metrics to dashboard, my colleagues offer up a few tips here:
Select relevancy
While creating a comprehensive inbound strategy can take a few weeks of work (if your knowledge is lacking I seriously recommend Content Marketing University), creating a content dashboard is getting easier and easier.
There are many options out there to choose from, and I recommend doing your research before going all-in.
On our end, we paired up with Andy Crestodina to create a pre-built content marketing dashboard. Here's a glimpse: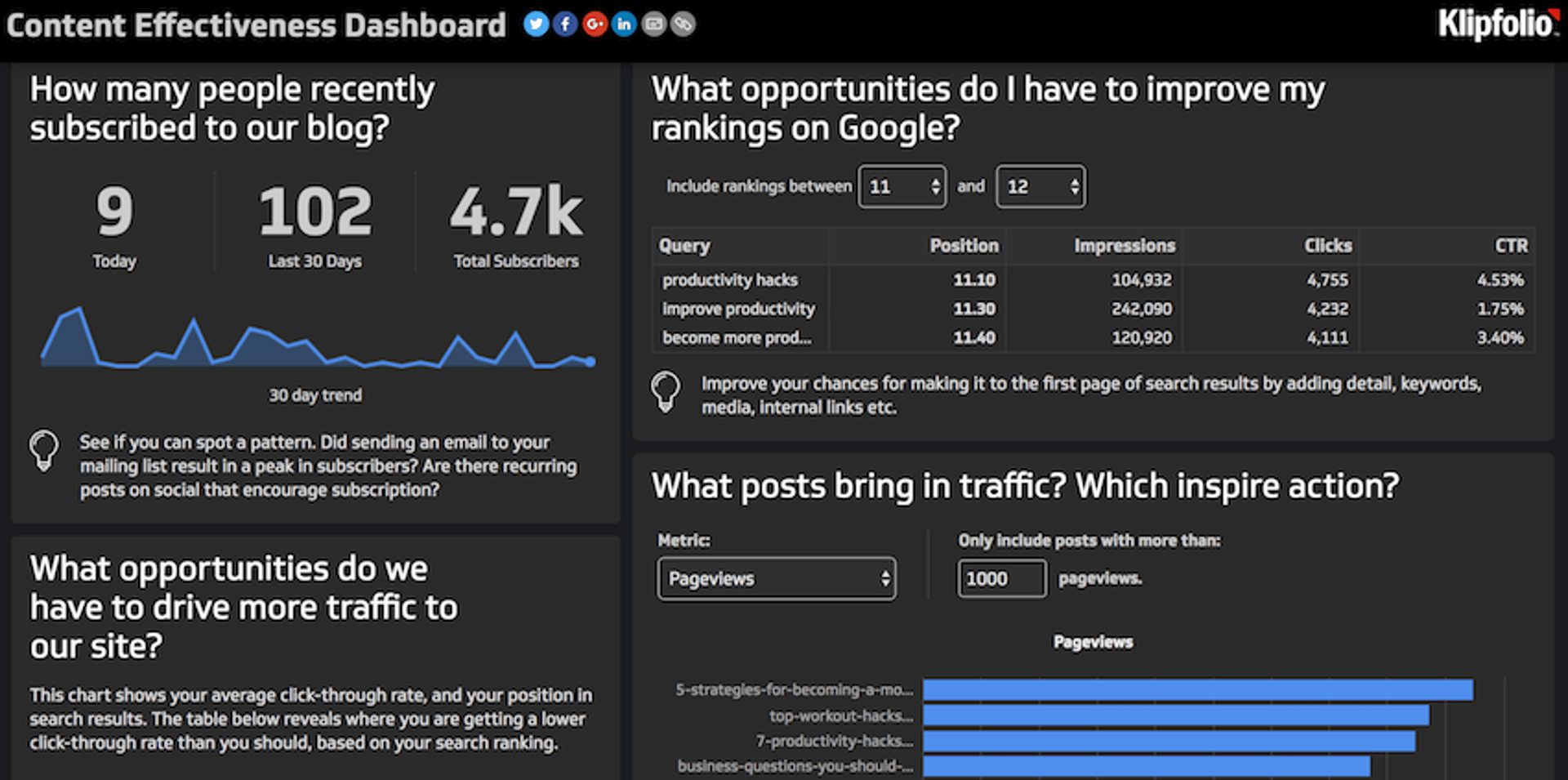 See it live
You can get it and other pre-built dashboards with our $19/month Starter plan. In my experience (and certainly biased opinion), it's the most cost-effective way for content marketing agencies to choose relevancy.
Related Articles