Why marketing executives need dashboards
Published 2015-11-23, updated 2023-02-01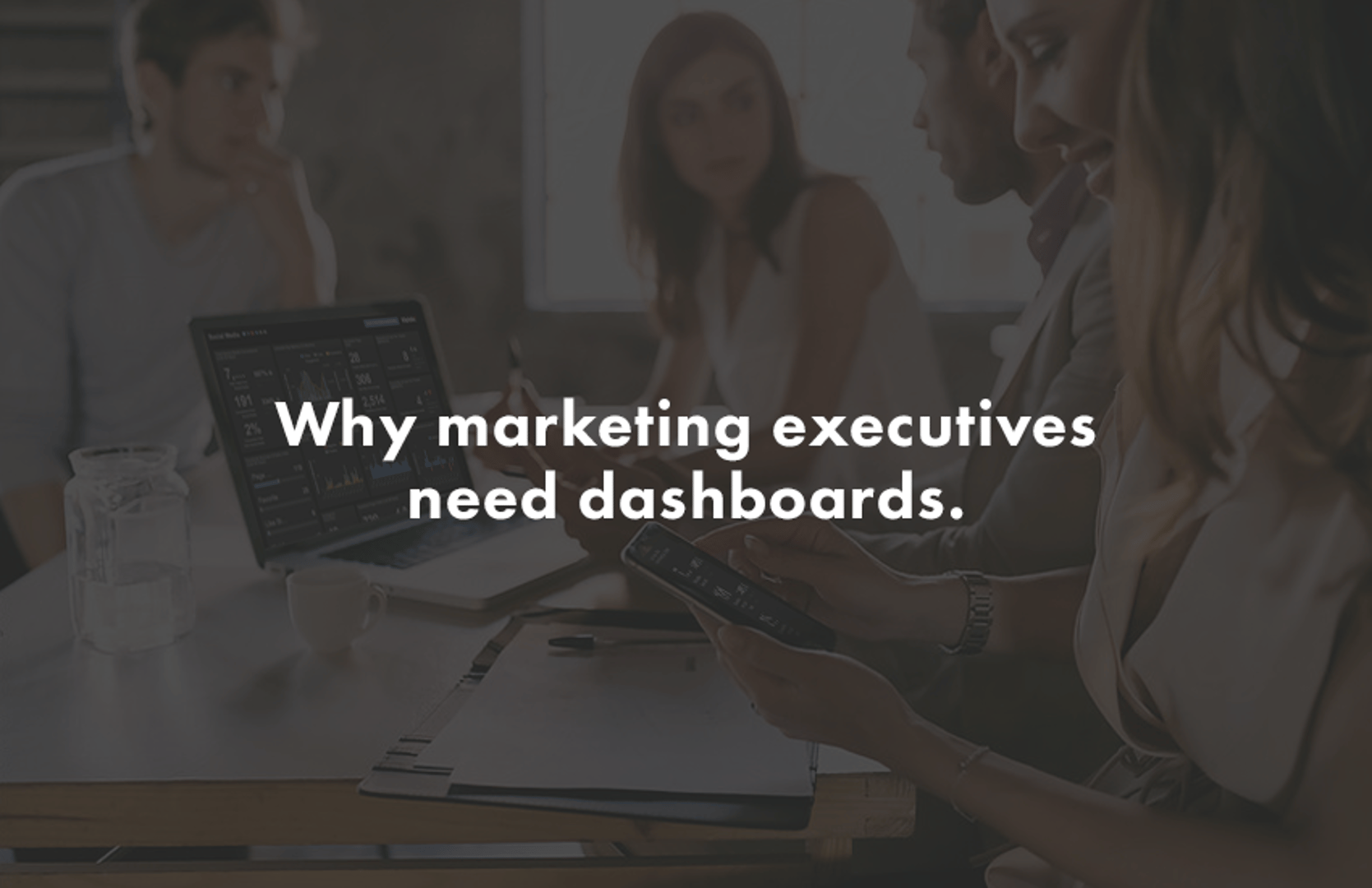 Summary - Despite what marketing outsiders think, the most challenging question a marketing executive has isn't what color palette should be used for the new campaign (although that is a brutal question). No, the most challenging question is one that, on the surface, should be easy to answer: "How are we doing?"
---
Despite what marketing outsiders think, the most challenging question a marketing executive has isn't what color palette should be used for the new campaign (although that is a brutal question). No, the most challenging question is one that, on the surface, should be easy to answer:
"How are we doing?"
It sounds like a simple question, and we'd all love to just answer, "Great." In reality, however, answering that question requires answering many others, like:
"How are we doing…"
in social media
on the web
in programs
in events
in SEO
in advertising
in email campaigns
in [fill in the blank]
And it requires answering all of the above for specific time frames:
last month
this month
this quarter
right now
Making it even more complicated, the answer to that simple question usually comes from many different services and applications like LinkedIn, Twitter, Instagram, Facebook, Marketo, Unica, Moz, Mixpanel, Hubspot, Mailchimp, Google Analytics, Google Adwords, Majestic SEO, Quintly, Searchmetrics, Comscore, Coremetrics, and many, many more.
You get the idea. As marketing becomes more automated and empowered by great new marketing applications — most living in the cloud — it also becomes more siloed from a data perspective, making it more and more difficult to answer this simple question.
Many organizations have have people on their teams able to answer the "how are we doing?" question for each of the services. For example, you probably have a digital marketing person whose job it is to optimize your spend on Adwords at all times. This person probably lives in AdWords and is constantly tweaking the spend and the content and can easily give that answer at the drop of a hat. But to get the answer to that question in the context of other spend is a different story.
To get the holistic answer to the "how are we doing?" question, most marketing organizations are manually producing a monthly or quarterly management presentation. The presentation is usually put together by the marketing operations specialist or a marketing analyst on the marketing team through a process that involves many painful hours of reporting, cutting, pasting, asking (badgering) the data gate-keepers, manually entering numbers into Excel and lots and lots of graphic magic to make it look like a cohesive story. Learn more: Excel dashboard
This manual patch-work quilt, kill-your-analyst-with-a-mind-numbingly-rote-activity every method comes with a high cost:
The analyst's many hours — and emotional wear and tear!
The opportunity cost of not being able to optimize your marketing investments across your channels within the review period. For example, if you see at the end of the month that your Adwords delivered more leads that turned into sales than anything else, there is nothing you can do at that point to redirect other investments to that high performing channel.
But there is a better way to answer the "How am I doing" question
Build a marketing executive dashboard that has that answer for all the key marketing metrics you need to track; operational metrics like daily leads by lead type, social leads to goal conversion, Adwords spend versus goal conversion, and strategic metrics like customer acquisition cost, cost-per-lead by channel, and return on marketing investment.
I track many digital marketing KPIs like visitors to our website, # of prospects who start a trial, # of wins, conversion versus ad spend and social conversions on this dashboard that is updated every five minutes and that is displayed on a large TV monitor on our wall.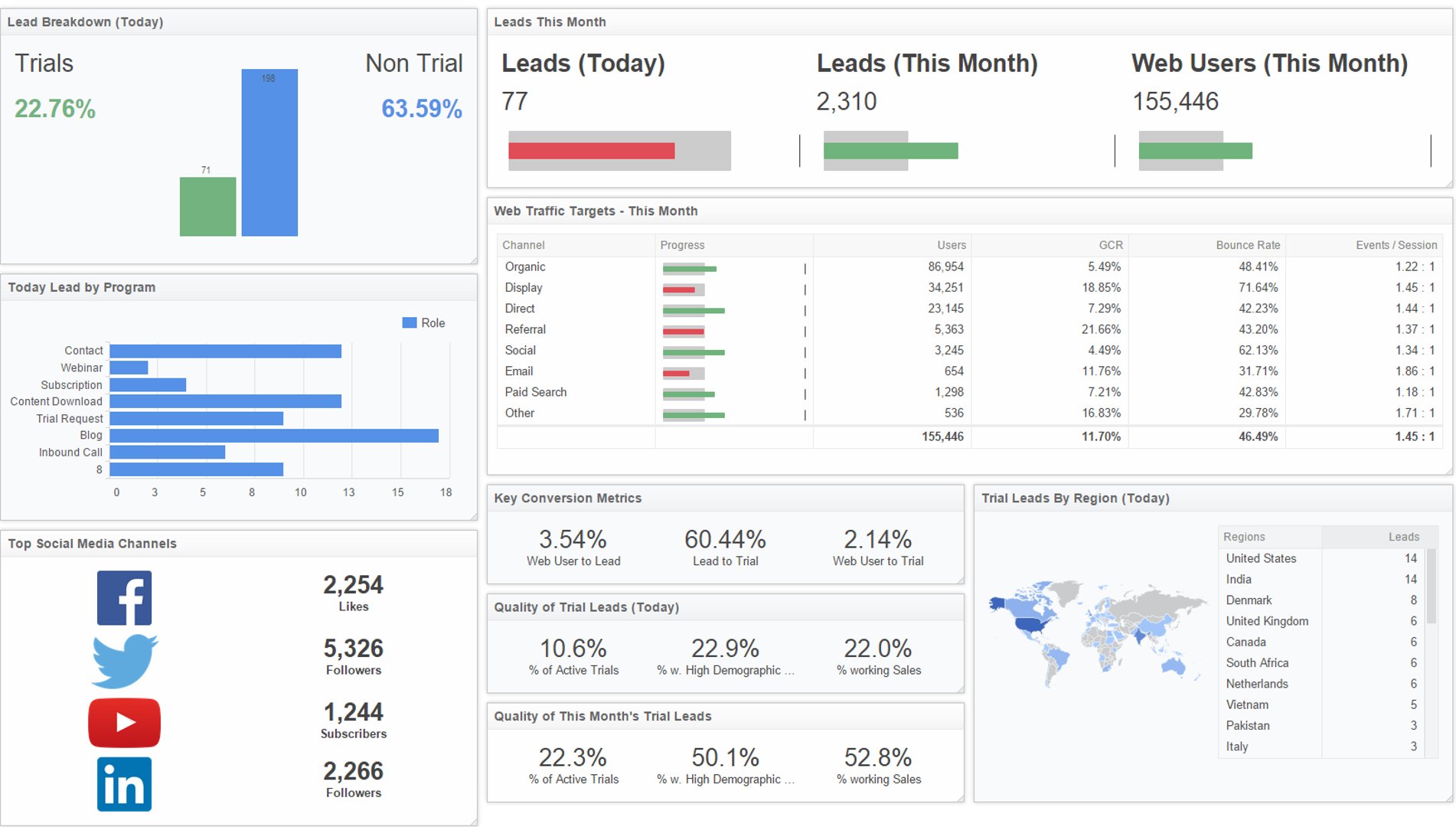 I also track our social engagement and performance on a dashboard that we rotate with the one above.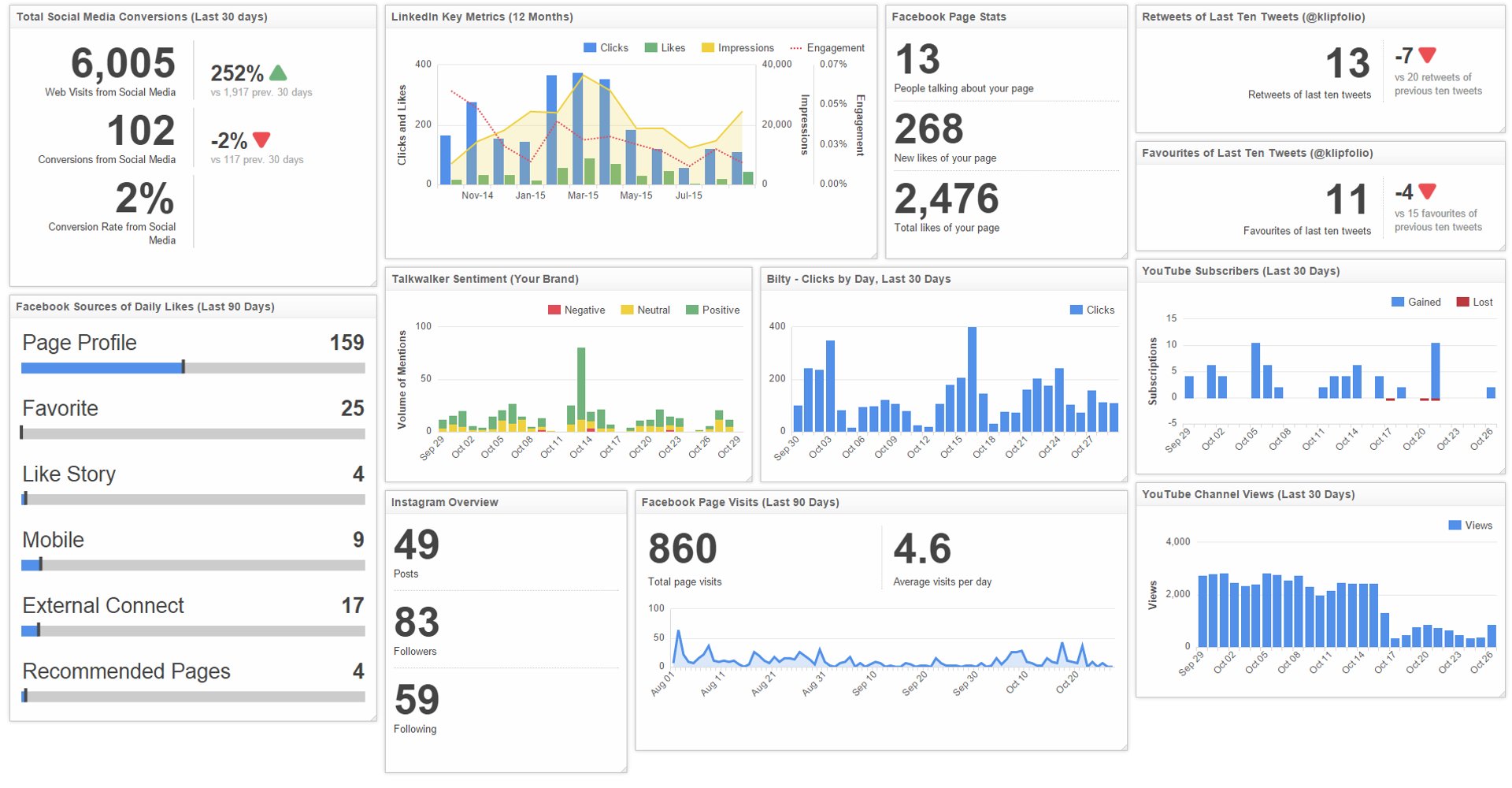 Having a marketing dashboard changed our culture from one of monthly, rear-view mirror management to one of daily — and in some cases hourly — performance optimization giving me the ability to answer my most important question how and when I need to.
If you decide to build a marketing dashboard, there are three types of investments you will need to make to be successful:
Investment in understanding what metrics you need to monitor on a regular basis. There are lots out there on marketing KPIs. Here are two to start:
Investment in on-going dashboard development. The biggest mistake most marketing departments make is assuming that they would need a resource to build their dashboard but making no assumption about ongoing development and administration. You will need a resource to own this on an ongoing basis. In some organizations, it will be a full-time role and in others it will be part-time. It depends on the volume your business moves, the time-frame your marketing campaigns change within, your sales cycle, and how digital and trackable your business is.
Technology. You'll need a platform to build and deploy your dashboards.
Search for Marketing Dashboards and you'll see there are lots of options. Three things to consider when evaluating them:
Can your marketing team build, administer, and evolve dashboards in the solution without (or with limited consultation with) IT?
Can you combine multiple data sources into a single metric? For example, a funnel metric might need data from a web analytics solution like Google Analytics, a marketing automation system like Marketo, and a CRM system like Salesforce.
Can you build derived metrics — meaning can you do calculations, perform statistic functions, and manipulate the data to get the metric you really want or are you limited to predefined widgets?
And, lastly, if you decide to build a marketing dashboard, use the following as rule of thumb:
The only KPIs you should have on your dashboard are ones that you will actually do something about if they tell you something good or bad.
Don't mix metrics that only update once a year with metrics that update hourly.
Build a dashboard for a group of users who have similar needs (senior execs, digital marketers, etc). Mixing audiences will result in dashboards that please no one.
NB: No marketing analysts were killed in the writing of this post.
Related Articles