Continuously measure, monitor and improve NPS with AskNicely and Klipfolio
Published 2016-04-07, updated 2023-02-01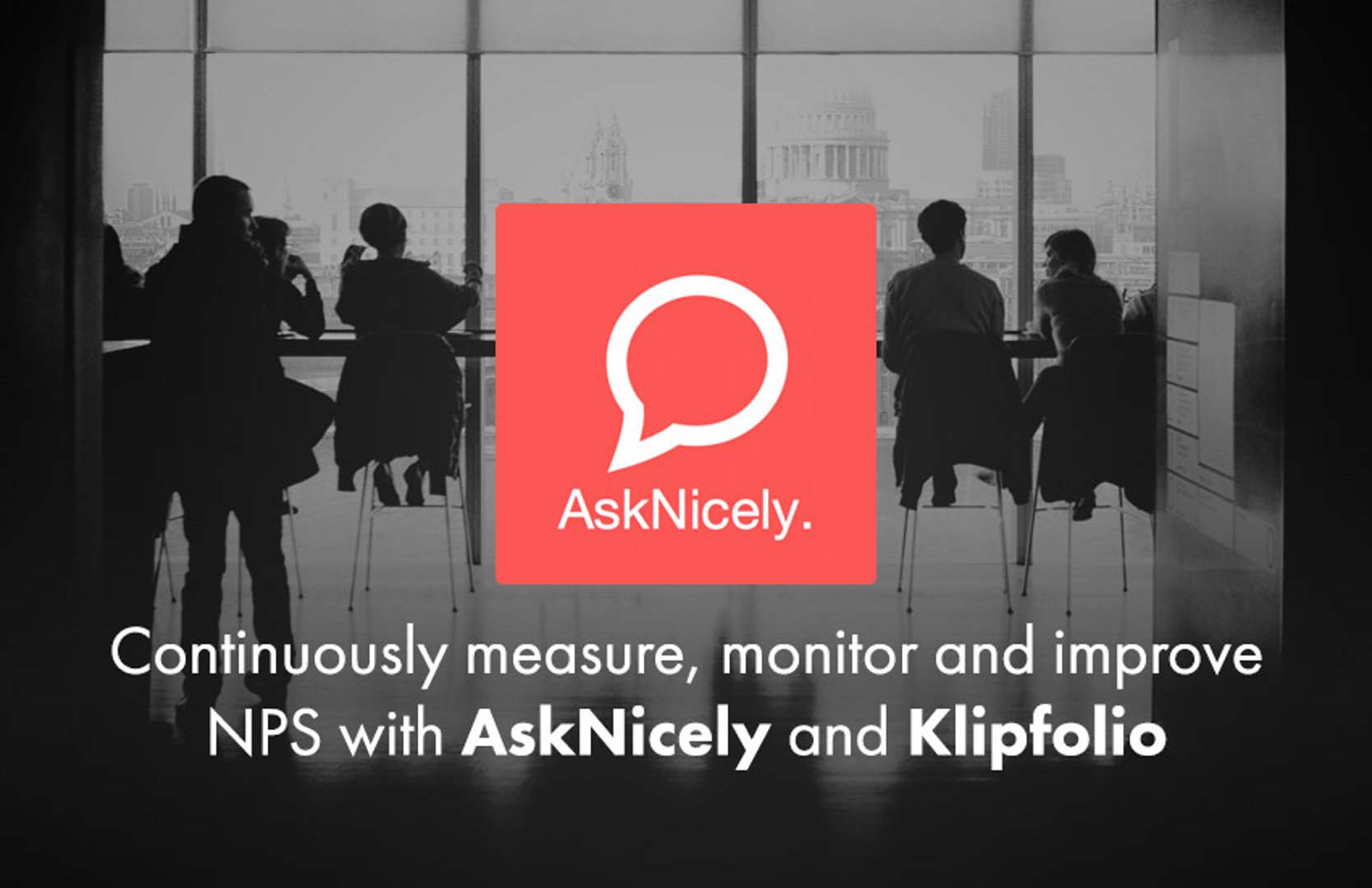 Summary - Our new integration with AskNicely makes it easier to monitor NPS alongside related KPIs in real-time, to make better business decisions.
---
How likely are your customers to recommend your product or service to someone else? Wouldn't it be great to get a reading on that question via a large proportion of your customer base? What if you could segment responses based on the department or person interacting with your customer (ie. Jon in Sales, Chris in Support, Linda in Accounting, your CEO), or by your customer's recent engagement with your product (ie. attended a webinar, completed a training program etc.)? And what if you could attain and monitor this "likely to recommend" metric continuously, alongside related metrics like Customer Referral Rate and Social Sentiment? Let's acknowledge what you're thinking: this sounds awesome - too good to be true!
Well good news, our new web app integration with AskNicely can make this Net Promoter Score (NPS) wish list a reality for your business. Below is an introduction to AskNicely, a few AskNicely + Klipfolio use cases, and a generous AskNicely promotion for Klipfolio customers.
What is AskNicely?
AskNicely is a web app that enables businesses to automatically and continuously report on customer satisfaction using the Net Promoter Score (NPS) framework. Major software features include the ability to:
Embed the NPS question directly into an email to improve response rates;
Integrate NPS responses with your CRM to inform and empower sales and support reps;
Automate surveys based on event triggers like interactions with customer support;
Segment NPS responses by survey distribution channel so you can see which segments, products or agents are performing well, and which need attention;
Publish testimonials instantly;
Set alerts when scores are low or high so you can take immediate action.
On its own, AskNicely is a powerful tool that can help take your measurement and monitoring of NPS to a much deeper level. Combined with the power of Klipfolio dashboards, what you know about customer satisfaction and loyalty, and your ability to control it, can be increased exponentially.
Klipfolio + AskNicely
Weeks ago I published a Beyond Vanity Metrics blog arguing that an NPS program that does not incite action is a waste of time and money - a vanity exercise. I also suggested ways to build value into an NPS program; mainly by combining the metric with complimentary KPIs like Customer Referral Rate (CRR), and by having processes in place to put detractors on the radar of customer retention specialists, and promoters on the radar of marketers. The recent addition of AskNicely to our lineup of all-star web apps makes a lot of this possible.
Here are two dashboard visualization combos that you may find useful:
NPS and Customer Referral Rate

Here we have NPS metrics alongside Customer Referral Rate metrics, today and over the past 30 days. Making the link between what customers are saying about your business ("I am extremely likely to refer your product to a friend or colleague") and what they do (actually promote your business) is critical. Are your customers just paying you lip service or are they true product evangelists? Are you giving your brand champions the tools and support they need to effectively refer friends and colleagues to your business? Monitoring these metrics alongside one another can help you see correlations between the metrics, and work to optimize them.
Social Sentiment and NPS

This dashboard visualization presets daily social sentiment and NPS over a 30 day period. Again, the visualization is useful to observe patterns and correlations that might exist between what is being said about your brand online, and the likelihood that your customers will promote your business to friends and colleagues. Recognizing correlations between broad social sentiment and NPS can help inform your social media and PR strategies. If you see NPS rising and falling with movements in broad social sentiment, improving the latter should result in an improvement in both metrics and, hopefully, more referred customers.
These examples are just the tip of the iceberg of what's possible with the combined power of Klipfolio and AskNicely. I've put together a quick public dashboard to showcase some of the other ideas that have come quickly to mind, and you can check that out here. I'll be building out more detailed Klips as we get deeper into our own AskNicely use case here at Klipfolio, integrating an NPS program with our CRM and marketing automation platforms. Stay tuned!
AskNicely promotion for Klipfolio customers
To commemorate the launch of their app integration with Klipfolio, AskNicely has generously offered Klipfolio customers 25% off their first 6 months of any tier plan. To redeem this offer, customers should email promo@asknice.ly and use the promo code: KLIP25.
Ready to connect AskNicely data to your Klipfolio dashboard?
Here's a demo on how to connect AskNicely to Klipfolio:
Related Articles