3 reasons why an accounting dashboard is an essential addition for any small business
Published 2016-02-16, updated 2023-04-01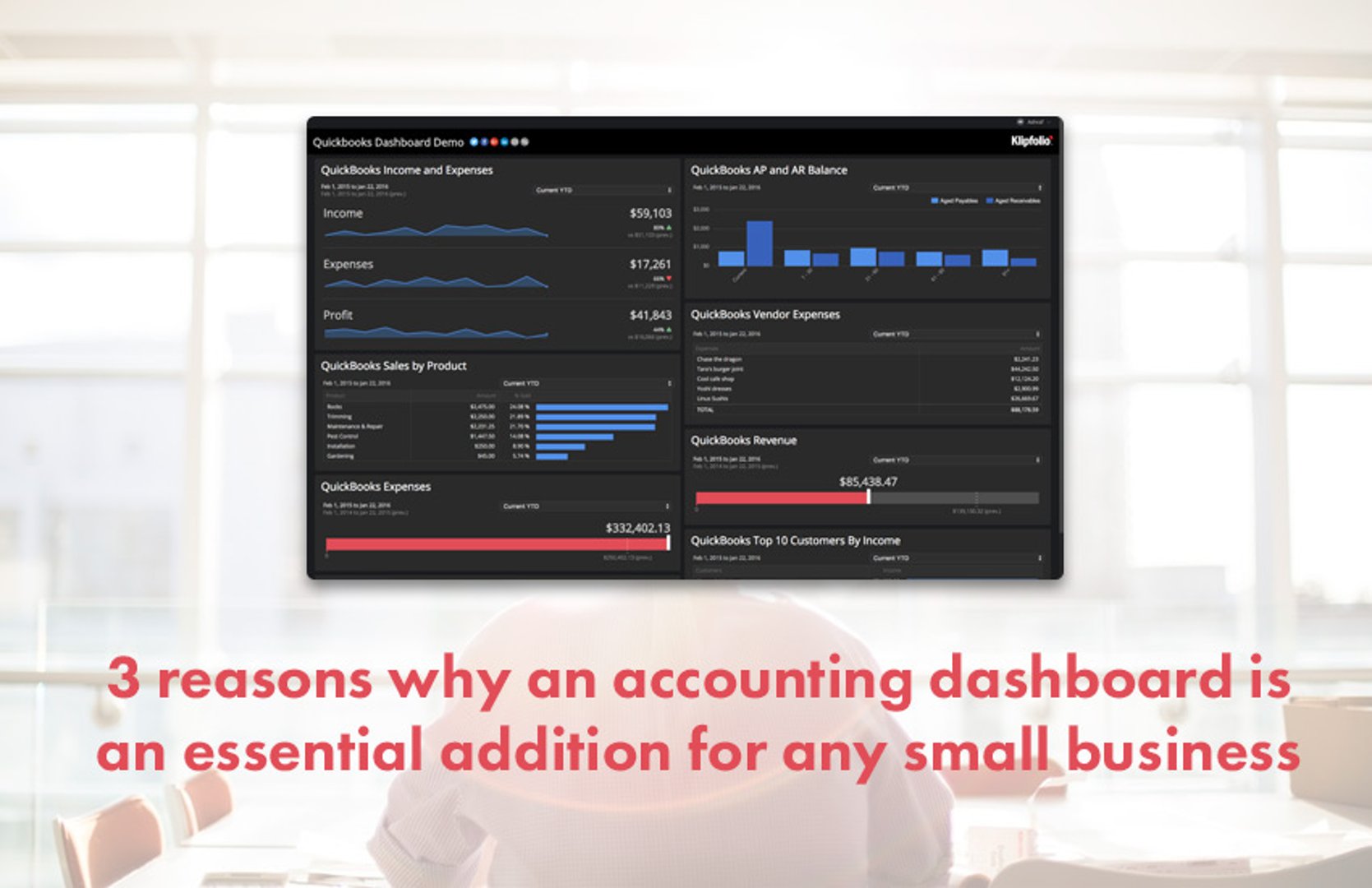 Summary - Small business owners now have access to a wealth of data. Sales metrics, marketing metrics, inventory tracking, website analytics, the list goes on.
---
With the boom of online SaaS companies in recent years, we are now able to subscribe to pretty much any business service for a monthly fee. Small business owners now have access to a whole wealth of data. Sales metrics, marketing metrics, inventory tracking, website analytics, and the list goes on and on.
Unfortunately, the accounting field is lagging behind in its attempt to keep up with this on-demand data boom. Dealing with bookkeeping and accounting is overwhelming for most small business owners, and a lot of the time, these business owners don't have an understanding of their financial results until the accountants are done with their files. This might be 45 days after month-end, or it might be 90 days after year-end. Small businesses have a small chance of survival with these response times. We are living in a fast-paced world that requires real-time monitoring if we want to survive and thrive.
There are a few small business accounting software programs that are now available online. Quickbooks and Xero have made a lot of progress over the last few years to transition accounting for small businesses to the SAAS world. Although accessing bookkeeping records online is a great step in the right direction, there is still a gap between financial records and online metrics. Why is this?
1) Accounting principles vs metrics
Accounting principles regulate the accounting world, and as a result, financial statements must be presented in formats that may not be helpful for small business owners to understand the successes or struggles of the business. A good example of this is revenue vs monthly recurring revenue. Monthly recurring revenue is a key metric to the SAAS business model, and revenue is a number that is based on accounting principles. These two numbers will never match. They should trend together, but they will never be the same number.
2) KPI requirements
A number of key performance indicators are not dependent on just one data set. Most KPIs require some piece of financial information, but they also require other data that could reside in customer databases or web analytic tools. An example of this is Customer Acquisition Costs. It is important to know the sales and marketing costs associated with this KPI, which come from your accounting records. This is why it's so important to know how to define your organization's KPIs. But it also requires customer information that may reside in other systems such as Salesforce, Freshbooks, Zuora, or a company's own software application.
3) Use of excel
Bookkeeping and accounting professionals spend a lot of time working with excel. Because of this, a lot of key data and analysis is performed within excel. And much of this data does not have a home within any online accounting software. It is great to have, but there is no integration between the two. They both operate in isolation, which can create a lot of manual work at month's end. Learn more: Excel dashboard
How Klipfolio can help small businesses bridge this accounting gap:
1) Get your small business bookkeeping online
Moving your data to an online system such as Quickbooks is easy. Their import tools make the transition very seamless. There is a monthly fee for these bookkeeping services, but the flexibility and opportunity will far out way the cost.
2) Decide what metrics are meaningful
With so many metrics to monitor, be sure to focus on the metrics that matter to the business. There are standard financial metrics that should be monitored, such as Cash, AR, Inventory levels, sales, and profitability. For more information, read my colleague Lydia's blog on the 6 QuickBooks Online metrics every small business needs to track on its accounting dashboard.
For other meaningful metrics, have a look at Klipolio's Ultimate Startup dashboard guide, which has lots of insight into what is meaningful in various departments.
3) Subscribe to Klipfolio
Explore the Klip gallery to see what SaaS dashboard templates exist. For other KPIs or more customized options, the Klip editor provides the flexibility to integrate various data sources into one Klip. Build it on your own, or hire a Ninja to help. The possibilities are endless.
4) Monitor and Share
Once the Klips are set up, they can be shared with a team. Published links are available for sharing with larger groups of people or those external to the organization. A mobile app is also available, providing an even more on-demand service for the delivery of KPIs.
Before hiring more staff in your finance department, learn how integrating your accounting software with your business metrics can save time and money.
Related Articles