Klipfolio + Zapier = A match made in business dashboard heaven
Published 2016-03-03, updated 2023-12-08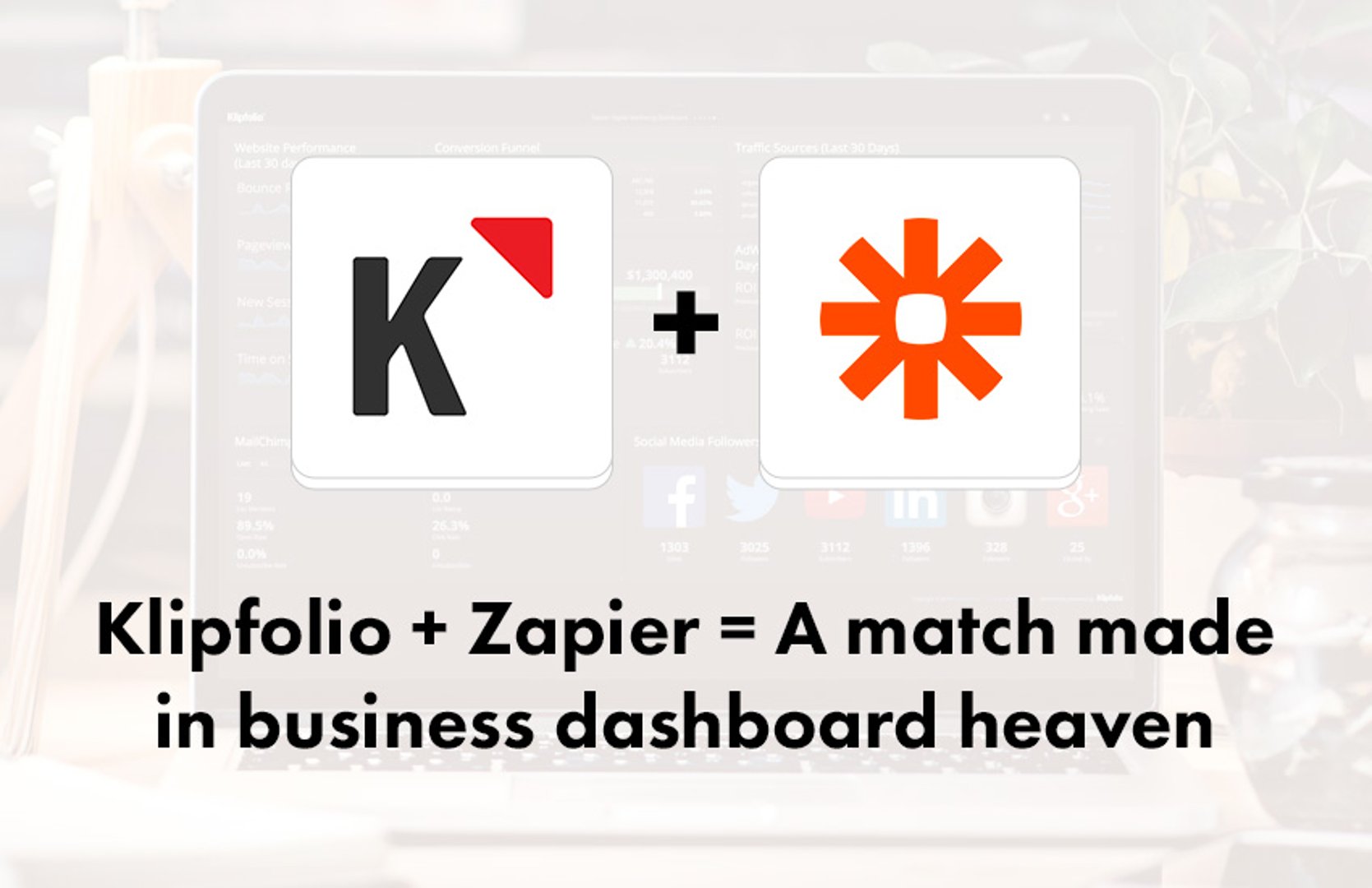 Summary - This week we've added a powerful new integration to our lineup of all star web apps that can power Klipfolio dashboards: Zapier. With Zapier, Klipfolio customers get instant access to dozens of new web services like Paypal, Reddit and Slack, as well as the ability to create event based data and dashboard updates with Zapier "triggers" (ie. something happens in one app, and it
---
This week we've added a powerful new integration to our lineup of all star web apps that can power Klipfolio dashboards: Zapier. With Zapier, Klipfolio customers get instant access to dozens of new web services like Paypal, Reddit and Slack, as well as the ability to create event based data and dashboard updates with Zapier "triggers" (ie. something happens in one app, and it triggers something to happen in another app).
The possibilities and business benefits have been multiplying in our heads for days, and I provide our brain drain below, but first let me give you more info about Zapier.
What is Zapier?
In short, Zapier is a web app that enables you to connect other web apps together, so you can transfer data between them, automate tasks, see your data update when things happen, and be more productive. In their words, Zapier is about you and your favourite web apps getting stuff done, without having to worry about code and lengthy deployment times. Learn more: Zapier: The best apps. Better together or check out this short video.
Getting started with Klipfolio and Zapier
We've put together a number of resources to help you get started with Zapier and Klipfolio. Check them out:
Video: Getting started with Klipfolio and Zapier
Zapier + Klipfolio = possibilities and business benefits
Zaps increase what's possible in terms of data retrieval and data monitoring in Klipfolio, but Klipfolio also expands what you can do with Zaps.
Here are few dashboard Zap possibilities to get your gears turning:
Gmail + Klipfolio
A VIP emails you; the email date and subject line gets displayed on your dashboard.
You star an email as important or noteworthy; it gets added to a to-do list on your dashboard.
Twitter + Klipfolio
Someone mentions your Twitter handle; the tweet gets displayed on your dashboard.
Someone mentions a hashtag or keyword of your choice on Twitter; your dashboard displays the tweet.
Slack + Klipfolio
View slack messages on your dashboard.
Map My Run + Klipfolio (my personal favourite)
You go for a run; you see your running stats on a Klipfolio dashboard.
Trello + Klipfolio
A new Trello card gets created; your workflow on your dashboard is updated.
Youtube + Klipfolio
A video matching a search string you specify gets published; the link to the video gets added to your dashboard.
A video published by a person or company you specify gets published; the link to the video gets added to your dashboard.
Paypal + Klipfolio
A sale is made; sales stats on your dashboard are updated.
Reddit + Klipfolio
Your company is mentioned on Reddit; you are notified on your dashboard.
A new post matching your search query gets published; you are notified on your dashboard.
Custom zaps and Klips, here we come!
That's just the tip of the iceberg of what's possible. Think about what you can achieve by 'Klipping' Zaps; utilizing Klipfolio features and functionality to mashup, manipulate and monitor Zaps in unique ways, to create KPIs that fit your business.
For example, you may want to Track Freshbooks or Zendesk tickets over time alongside a running NPS score.
Or you may like to know how many times your Twitter handle is mentioned in a given month, and in what context (ie. how often is my company mentioned with the hashtag "bigdata"?).
You may want to compare Reddit content stats with Hubspot, Wordpress or LinkedIn stats, or combine these stats in a pie chart that shows where you're getting the most traction.
I'm working with a Map My Run Zap in Klipfolio, aggregating my running stats with a few friends in the office to create a fun running leaderboard. I have an idea to tie fundraising to this dashboard in the future, so we can show those who pledge support to our charities what we're doing to earn it (More on my Map My Run dashboard to come in a future blog post!).
With the combined power of Zapier and Klipfolio, the sky's the limit to what you can accomplish.
We can't wait to see what you build.
Related Articles