Insurance Metrics & KPIs
Metrics & KPIs for modern insurance teams
Track all your Insurance KPIs in one place
Sign up for free and start making decisions for your business with confidence.
or
Sign up with your email
Free forever ● No credit card required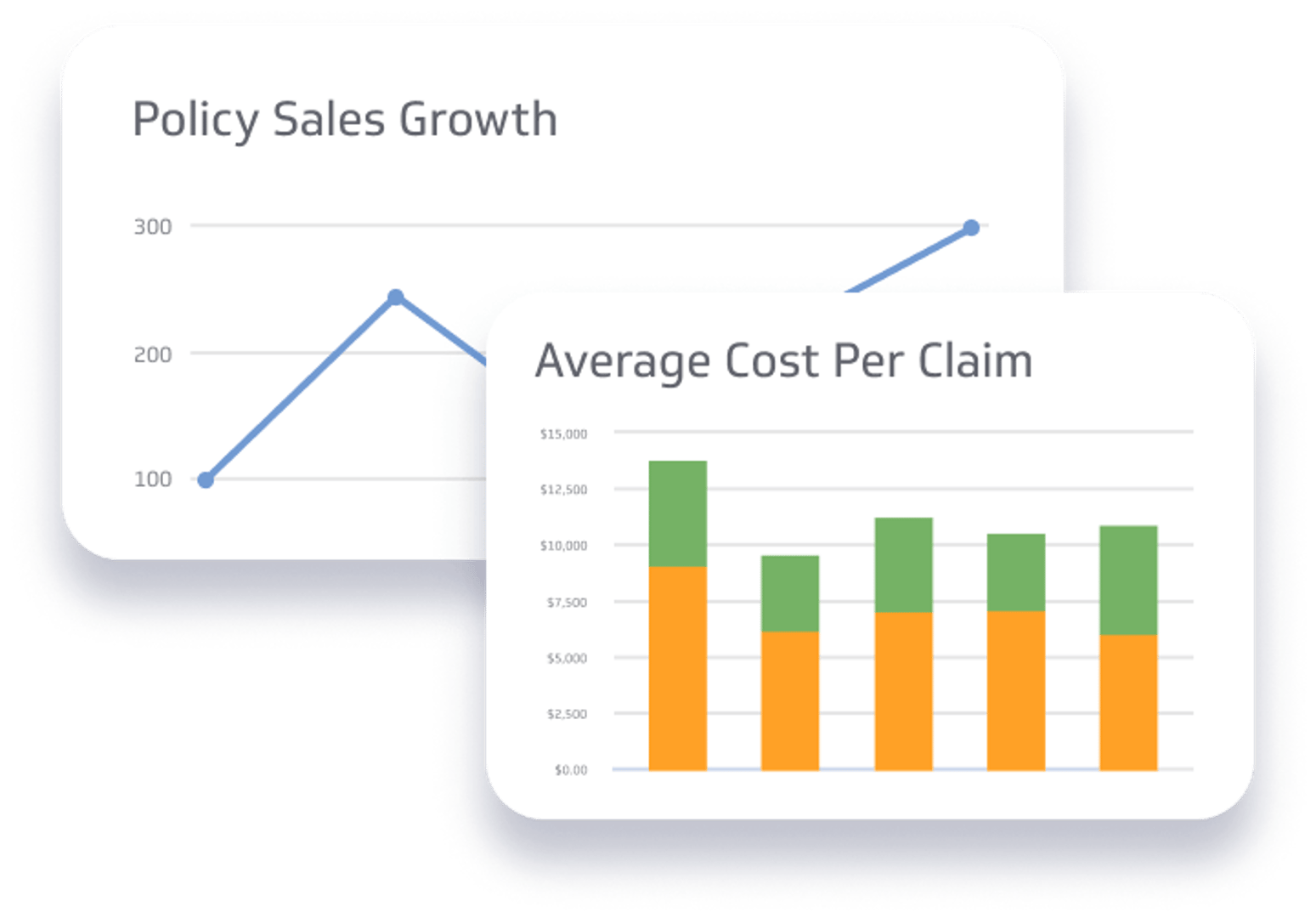 What are Insurance KPIs?
Insurance KPIs (Key Performance Indicators) are metrics insurance companies use to measure their performance and success. These indicators help companies track their progress toward achieving their goals and objectives. Insurance KPIs can vary depending on the company and its objectives, but some common ones include loss ratios, customer retention rates, claims processing times, and underwriting profit margins.
Managing risk and reward with a data-driven culture
The world's most successful insurance organizations strike a balance between short-term risks and long-term rewards. Their success is based on offering the right product, having the right people selling that product, and managing the risks associated with selling insurance policies. Use these Insurance KPIs and metrics to learn how to balance the risks and rewards that are part and parcel of the insurance business.
Leveraging the power of insurance KPIs
To fully harness the potential of insurance KPIs, it's crucial to continually develop your understanding and application of these performance indicators. By doing so, you'll be better equipped to make strategic decisions that enhance your organization's efficiency, customer satisfaction, and profitability.
To further support your efforts in mastering insurance KPIs, we encourage you to explore our KPI Examples & Templates. This comprehensive collection features a wide array of practical examples and customizable templates designed to help you effectively monitor, analyze, and optimize your insurance company's performance across various key areas, ensuring long-term success in a competitive market.
Top Insurance KPIs Based on Our Experience
By focusing on key metrics such as Gross Written Premium, Loss Ratio, Expense Ratio, Combined Ratio, Policy Renewal Rate, and Claims Settlement Ratio, you can identify areas for improvement and make data-driven decisions to drive growth and success.
Gross Written Premium (GWP): represents the total value of premiums written by the insurer before deducting reinsurance costs and commissions
Loss Ratio: measures the percentage of premiums paid out as claims and is calculated as the ratio of incurred losses to earned premiums
Expense Ratio: reflects the proportion of premiums used to cover operating expenses, such as commissions, marketing, and administrative costs
Combined Ratio: the sum of the loss ratio and the expense ratio, with a combined ratio below 100% indicating profitability
Policy Renewal Rate: represents the percentage of policyholders who renew their policies at the end of their term
Claims Settlement Ratio: measures the proportion of claims that have been settled compared to the total number of claims received
Start tracking your metrics
Level up your analytics with a free forever PowerMetrics account