Cresa automates social media reporting with all-in-one dashboards
Published 2019-05-13, updated 2023-09-27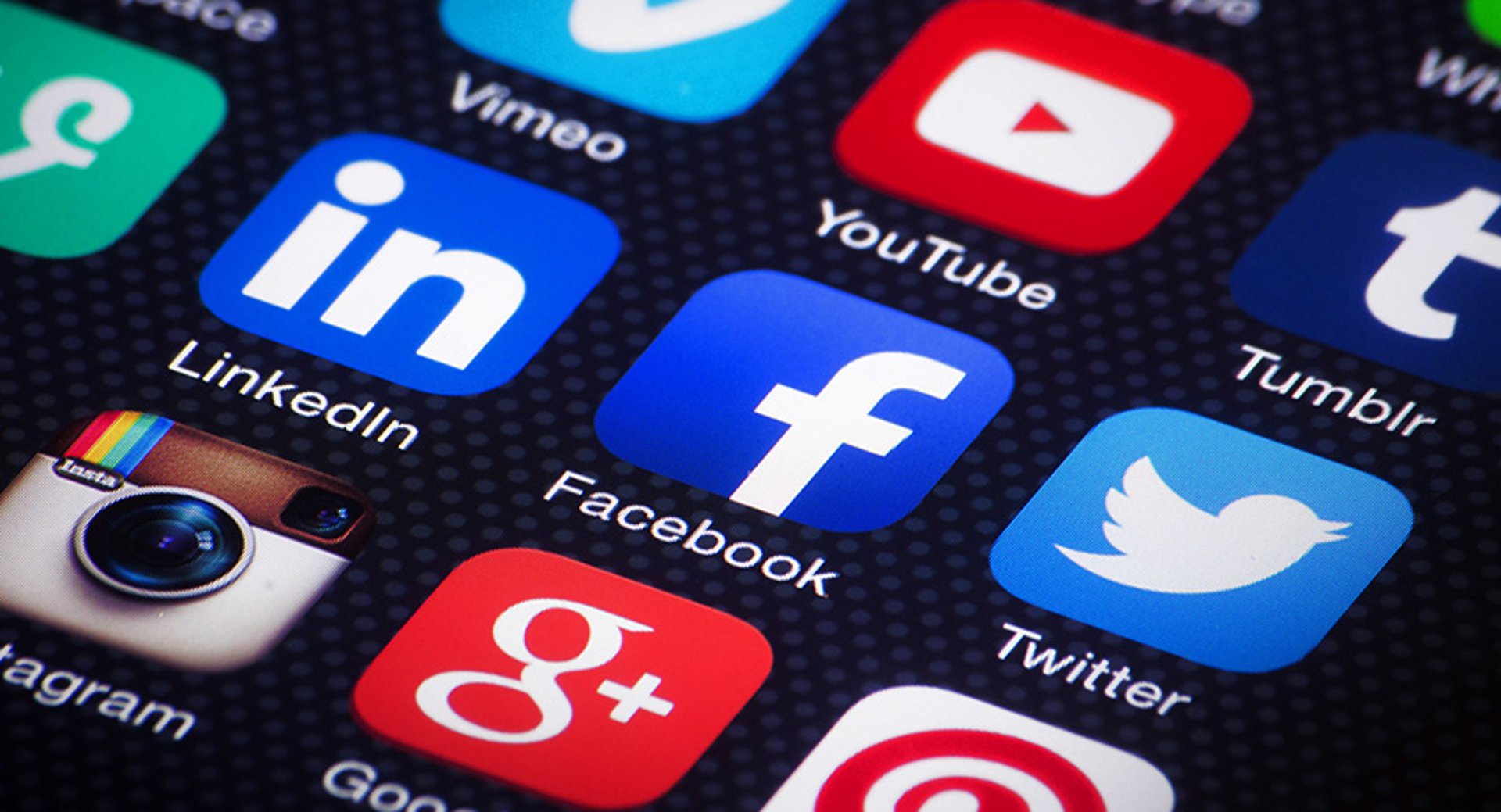 Summary - Cresa has harnessed their social media metrics with Klipfolio reporting.
---
Cresa is the world's most trusted occupier-centric commercial real estate firm. They strategize for the best possible results for occupiers everywhere.
"We think beyond space, partner without conflict, and apply our integrated expertise to make your business better."
Fun Fact: Cresa's team in Ottawa was in charge of project management for the new Klipfolio Head Office build a little over a year ago, a space our whole Klipfolio team is obsessed with.
Meet Arthur...
Arthur Boone is the Vice President of Operations at Cresa in Ottawa and has been with them for just over one year. Howdy, Neighbor!
His role has many avenues. Arthur manages the day-to-day operations of the company which include financial accounting, transaction management, marketing and social media management, and so much more.
And meet Cassandra...
Cassandra Pierre-Louis is a marketing associate with Cresa's corporate team who assists Arthur with daily social media posting. Located in Boston, MA, Cassandra's main focus is working with Cresa's various offices to develop targeted social media plans that help improve their online presence.
Aggregating social engagement data from different sources makes a big difference
Prior to using Klipfolio, Cresa's social media engagement tracking procedures were quite tedious. Arthur and his team would have to log in to each platform and review the specific visualizations one at a time.
In order to report on these metrics properly, they would gather all sorts of different visualizations and put them into one document. On top of that, they had to make it look pretty while being relevant and understandable. This was quite time consuming and the repetitive nature of this process came with a number of headaches.
They became tired of struggling with their manual reporting so they decided to try Klipfolio.
Klipfolio makes all-in-one reporting an automated breeze
Klipfolio allows you to quickly integrate your data from a number of popular services by using pre-built connectors. After creating a Klipfolio account, Arthur and Cassandra began connecting their multiple data sources. It was quick and easy thanks to Klipfolio's robust library of pre-built data connectors.
"By posting daily and engaging with other companies on their social platforms, we gradually saw our numbers improve. To keep up with our progress, we had to decide which metrics (i.e. followers gained, number of shares) were most important to track. It was time consuming to jump from one platform to the next to gather the information we wanted, but Klipfolio quickly solved that problem," Cassandra comments.
"We are using Klipfolio to track our engagement with our targeted audience along with the general public. Everything is automated," Arthur says. "While the pre-built klips are useful, we find value in being able to customize klips that follow particular metrics. For example, with the help of Klipfolio's ninja services, we built a klip that tracked our email marketing campaigns' numbers, including how many emails were sent and opened, and are able to sort this klip by list title like Broker List or Landlord List."
Now, Cresa's Ottawa team has the ultimate all-in-one social media dashboard.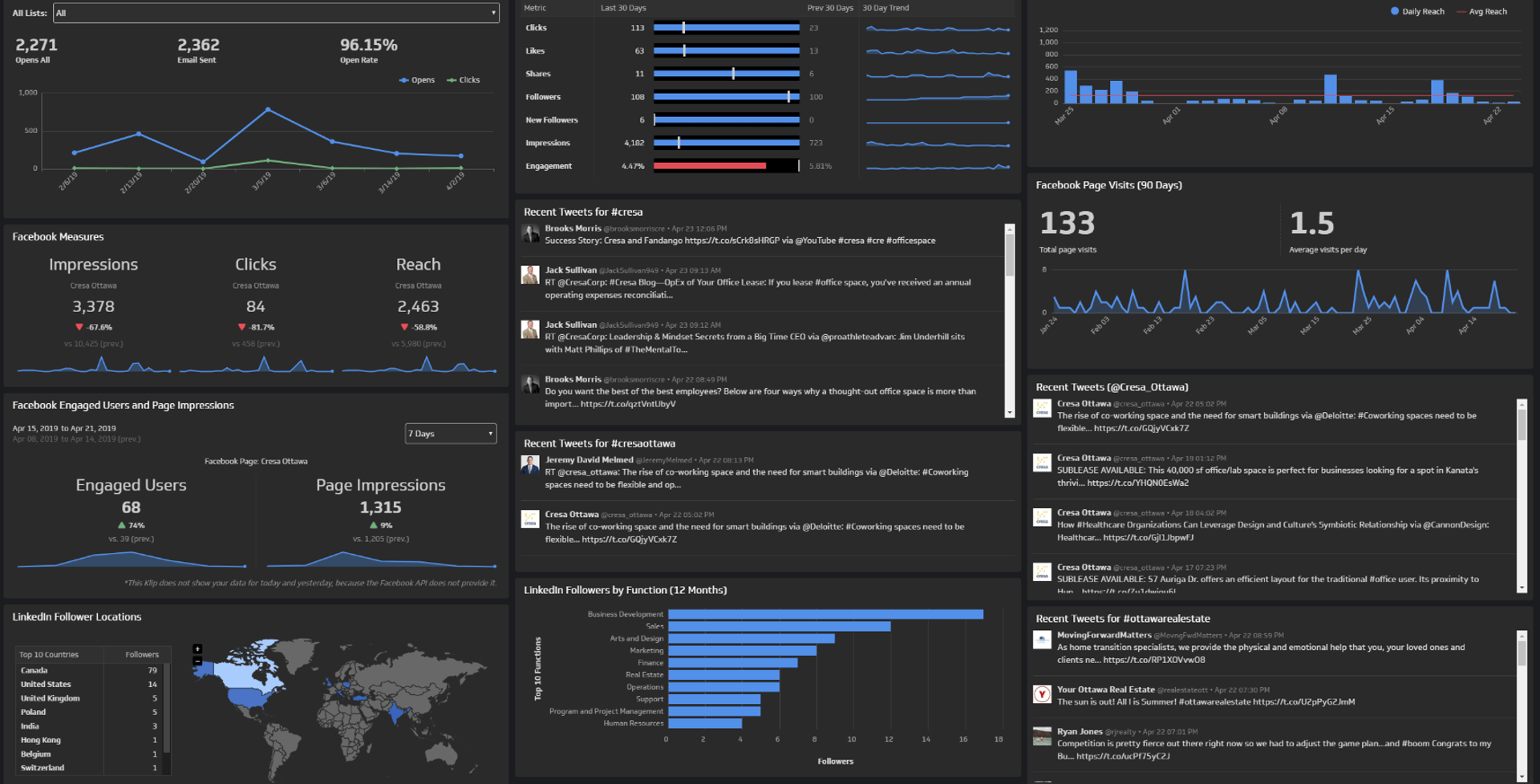 They are able to track metrics like brand mentions, active followers, shares, and engagement by pulling data from social media platforms like Facebook, Twitter, LinkedIn, and so on.
Learn more about LinkedIn Analytics
#CresaOttawa
In addition to social media KPIs, Cresa also tracks email marketing engagement.
"We like seeing the engagement that we get from our email marketing as it relates to the emails sent out and the number of openings. Also, being able to see our mentions both directly on Twitter and by way of #CresaOttawa or #Cresa is very helpful."
Putting real-time data visualizations into action
"Since we started using Klipfolio it has been amazing to be able to see the results of our team's efforts on a usable and viewable dashboard displayed on a TV in our lunch room area. It sparks conversation within the office members as well as with our clients that visit us. The data also helps us know when it is time to take action."
Monitoring dashboards on wall-mounted TVs in your office is a great way to keep the team up to speed, and working toward common goals.
"Our favourite thing about Klifpolio is seeing the results of all of our social media all in one place. The data is live, interactive and accessible to everyone in the office."

A company with a clear mission and vision
Cresa's vision: To be the preeminent partner for real estate occupiers everywhere.
Their mission: Be the advisor that brings the greatest value to occupiers.
Their values: Work together, create value, be tenacious, embrace diversity and enhance community.
When the Cresa crew in Ottawa experiences a big win they celebrate in many ways. Team lunches, staff social gatherings, 'Ringing of the Bell', and many high fives or fist bumps.
Arthur has some advice for team considering a new data-driven social engagement strategy:
"Give it a try, you won't regret what you see when your dashboard is showing you all of your engagement efforts in one place. The conversations will begin and people will become more engaged."
Related Articles