Cervinodata's 5-year partnership with Klipfolio leads to 1200% growth
Published 2019-08-26, updated 2023-02-01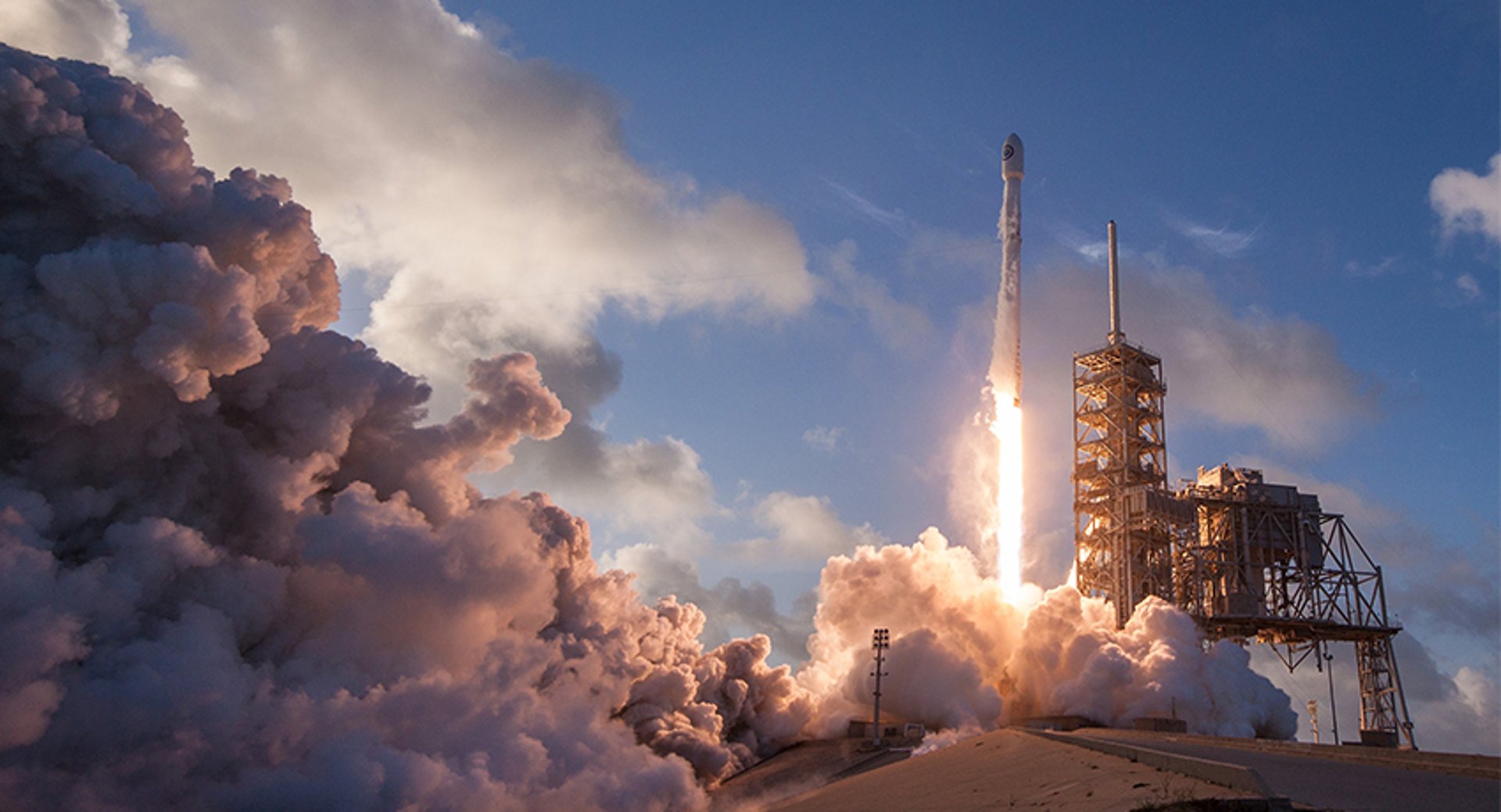 Summary - Cervino uses Klipfolio in two ways: for internal reporting and for managing their client reporting.
---
Cervinodata helps online marketing agencies and SME companies organize their online marketing data by bringing it all together and making it available for easy reporting and analysis.
Their mission is to bring data into the hands of people that need data to make decisions without needing the help of IT professionals or data scientists.
Meet Erik...
Erik van Dorp is the founder and CEO of Cervinodata. He started Cervino Marketing in 2009 as a freelance strategy consultant and asked his current business partner and CTO Jacco Drenth to join the company in 2012.
I've gotten to know Erik well over the past little while. One of the perks of my job is getting to work with awesome Klipfolio Partners like Erik on finding them new leads and executing co-marketing projects. He's a great dude, and Cervino has done some amazing work with us over the years.
Since Cervinodata is a small company, Erik wears a number of different hats. This week, for instance, he talked about strategic opportunities with the company's investors, prioritized the company's development roadmap with his team, sent out a newsletter to their base, and completed some admin work. In between these tasks he connected with customers, prospects, partners (like Klipfolio), and followers on social media.
Choosing between Geckoboard and Klipfolio
"Before we managed our reporting with Klipfolio, we were mostly using Excel spreadsheets and occasionally Powerpoint. The biggest pain we had was manually filling in new data. It was time-consuming, boring, and quite frankly, the visualizations were ugly."
Erik and his team needed a better way to produce data visualizations for themselves and for their clients.
They narrowed it down and decided to compare Geckoboard and Klipfolio
"Klipfolio stands out because of its power and flexibility, I like being able to build complex formulas. I also love the way it looks and handles from a design standpoint."
Sometimes the little things go a long way. Erik particularly appreciates the gridlines that you can use to align your Klips in a dashboard. Basic design features make data visualization building for less-technical like Erik people much easier.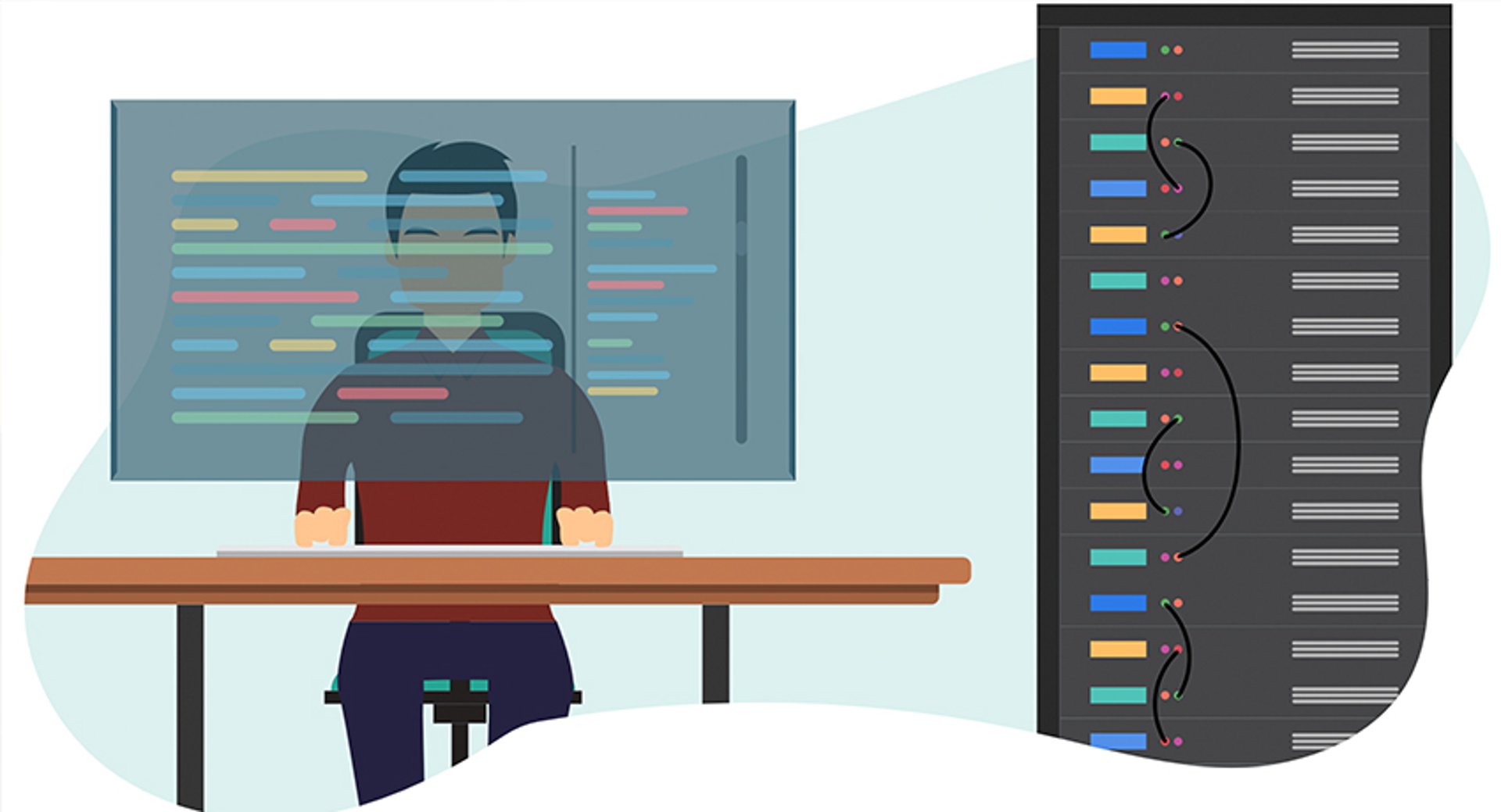 "For my technical colleagues, Klipfolio's backend flexibility is amazing. Klipfolio's API has been a major breakthrough for us."
At Klipfolio, we've built an amazing network of Partners whose sole purpose is to help their clients succeed with data.
"Upon reflection, we made the right choice between Klipfolio and Geckoboard. We've become solid Partners with Klipfolio and we intend to further deepen the relationship in the coming years."
Getting the most out of tracking real-time metrics in Klipfolio
Cervino uses Klipfolio in two ways: for internal reporting and for managing their client reporting.
"We use Klipfolio internally to track our web traffic, provide a summary of ad platforms that we use and for other stats like the number of users we have and revenue generated from license fees."
Erik and his team deploy and maintain hundreds of Klipfolio dashboards on behalf of their clients who consist mostly of agencies.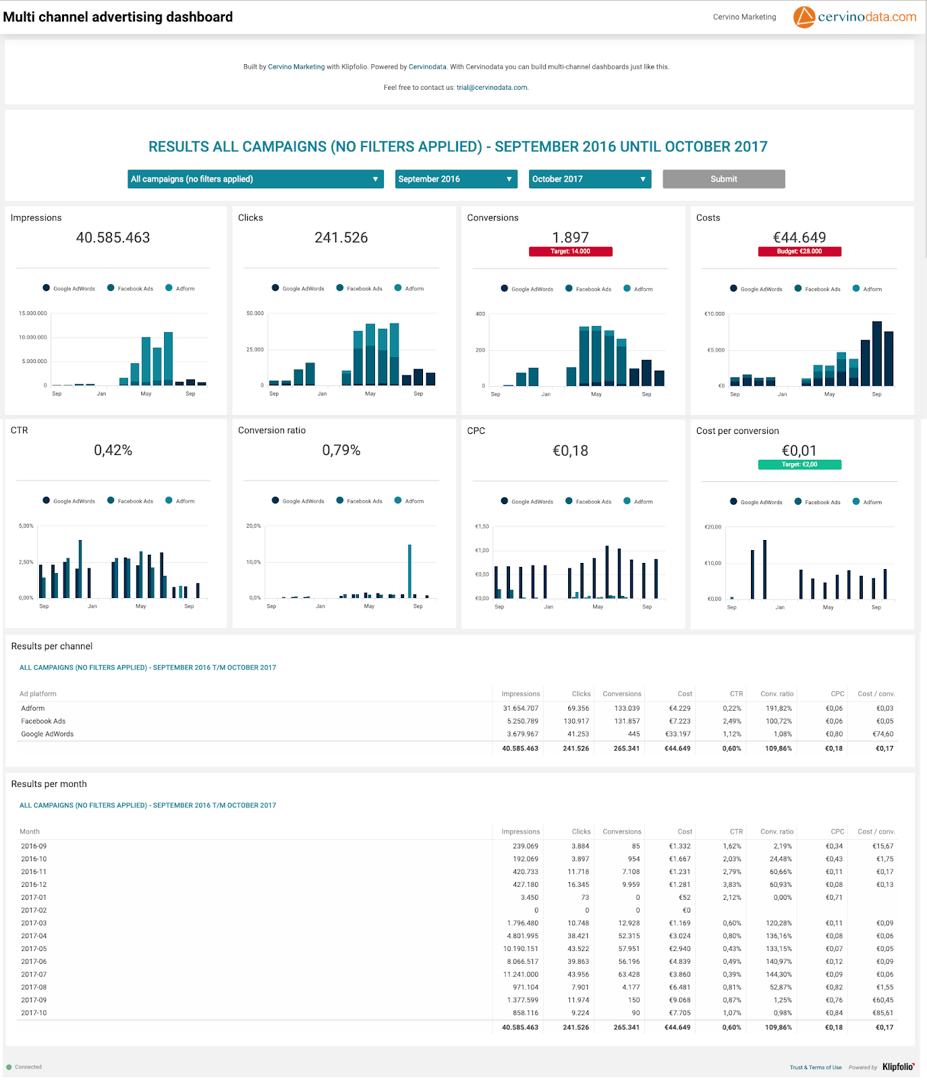 Erik's team's most impactful company metrics include:
Monthly recurring revenue from Cervinodata
Free cash position (cash in bank + invoices sent - 1 month of monthly costs)
# of sign-ups per day & per week
Unleashing the power of Cervinodata and PowerMetrics
"We've been working together with the Klipfolio team to showcase the power of Cervinodata integrated with Klipfolio, using BigQuery as the place where the data is stored."
Check out the BigQuery query builder in action:
With Cervinodata, a Klipfolio user can, for example, create a PowerMetric showing ad spend from multiple platforms, multiple accounts and if needed, multiple organizations. All this can be done in under two minutes without having to write a single line of code.
I'll encourage you to dive deeper into this brand new technology and try it for yourself. Cervinodata has done some amazing work with Klipfolio and BigQuery.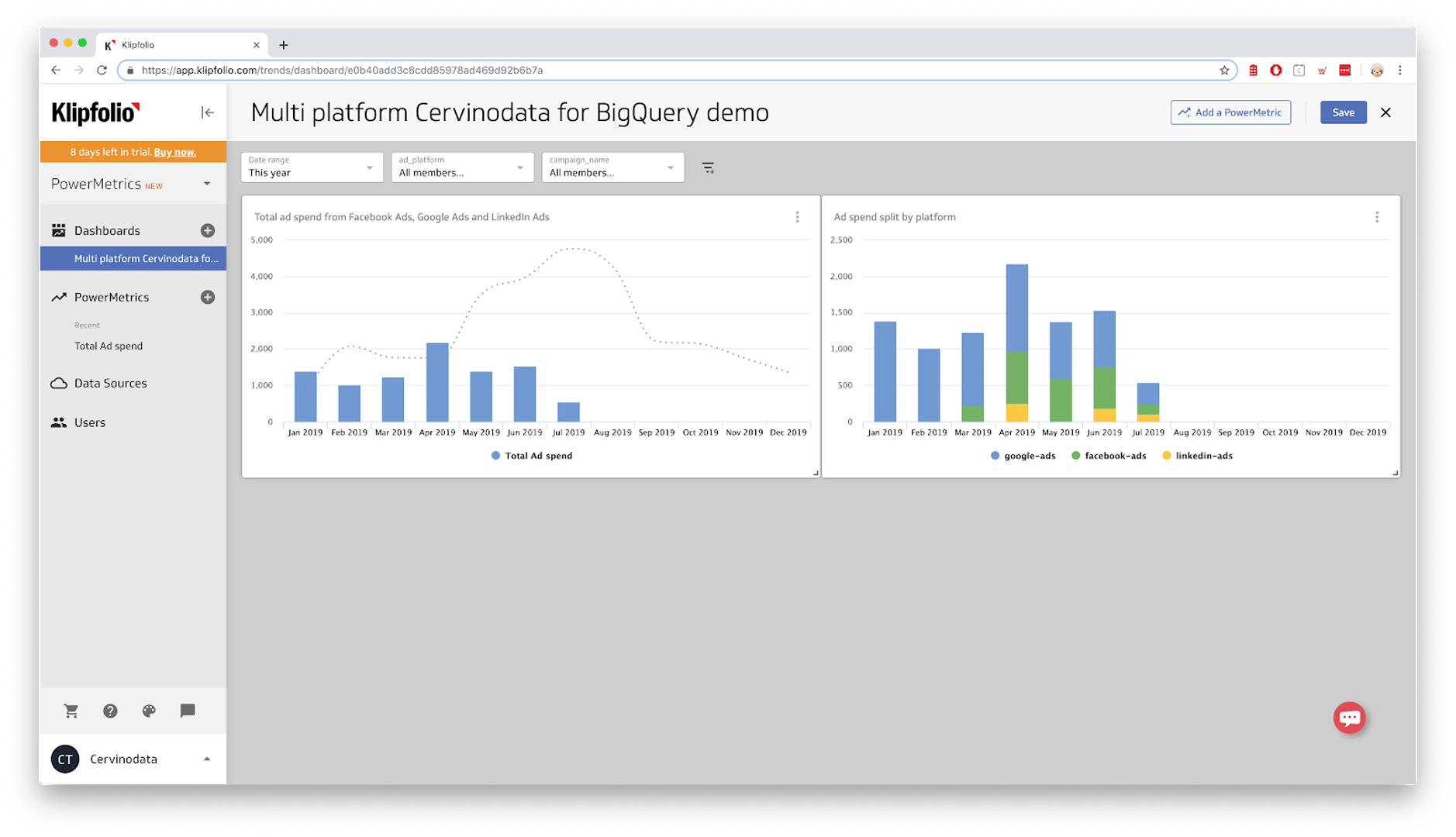 A partnership that fuels growth
"Our business is very connected to Klipfolio. Our revenue related to working with Klipfolio grew 1200% in the last 5 years."
Their Cervinoboard offering and custom dashboard work has been a key contributor to Cervino's growth.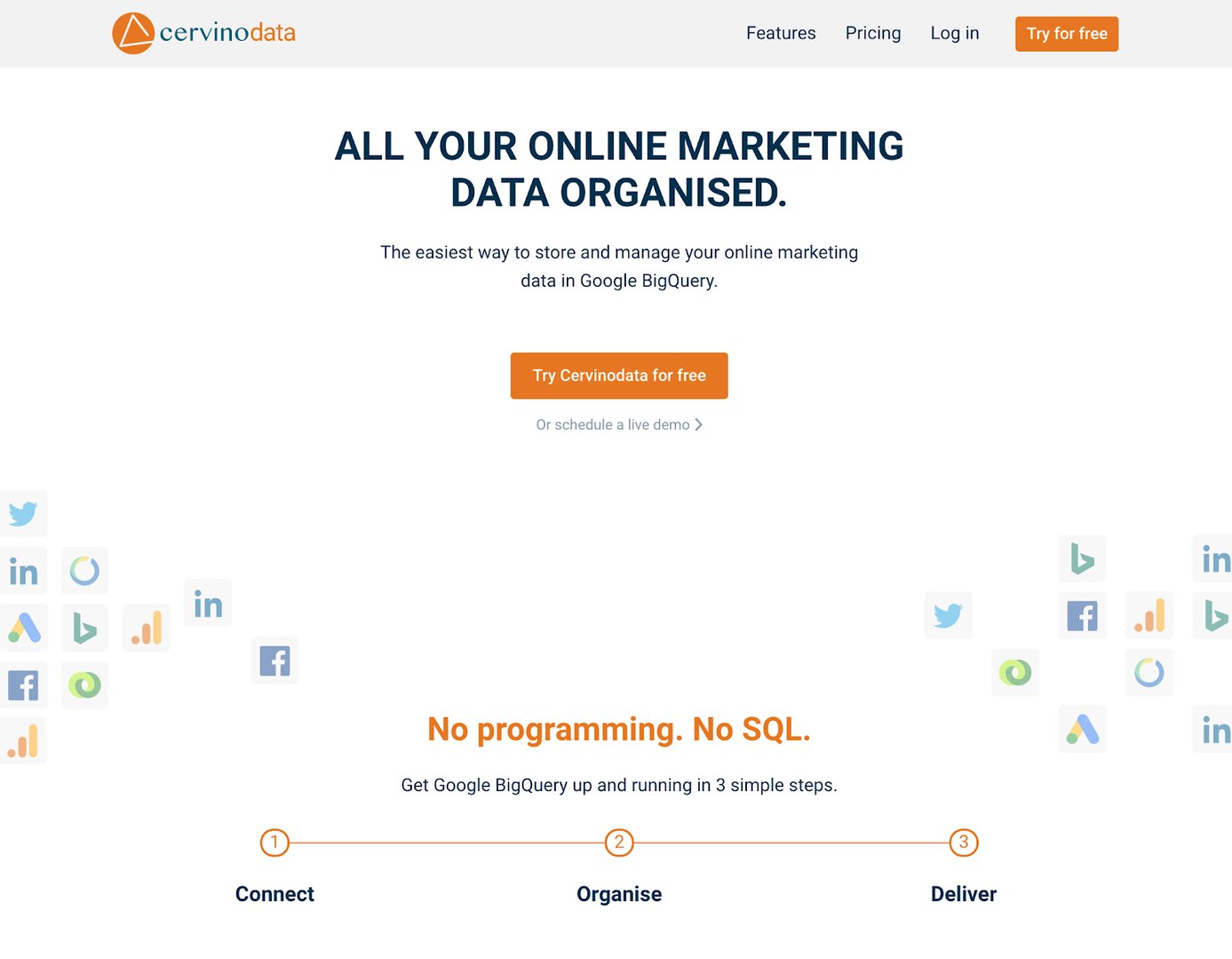 "We have bigger ambitions with Cervinodata. PowerMetrics are enhanced when combined with our Cervinodata technology. With the growing amount of ad platforms, Klipfolio users will benefit from preparing the data before using it in Klipfolio, that's where Cervinodata comes in and shines."
Using company dashboards to promote transparency
"I look at our dashboard first thing every day, with a cup of coffee. We display Klipfolio on a TV screen in the office, so everyone can see it. We discuss the data weekly as a team and our investors have a login password so they can check out the data whenever they want."
Erik's philosophy is that you can never be too transparent with data. Everyone on his team has eyes on the company's financial performance, invoices sent, MRR, expected revenue, and expected costs.
"I really like the Klipfolio team. No matter who you connect with, whether it's customer support, the CTO, CEO or account management. Everybody is responsive, friendly, dedicated and professional. Exactly the way I like it."
A K.I.S.S. culture
One of Cervino's core values is to keep it 'simply smart'. That means that they to keep things as simple as possible which, they admit, can be more challenging than making things more complex.
"One critical factor is that if someone can't explain it to me, it's too complex. Making things really simple means revising over and over until it is simple enough for the masses to understand. This requires a lot of trust and patience from the team. We think of it this way: asking critical or specific questions is not a critique, instead, it's an invitation to discuss how to make it better."
Erik likes to celebrate a big win by taking his team out for hamburgers and fries. He believes it is important to celebrate small victories too, as they happen more often. A pat on the back or a high five can go a long way.
Erik's Pro-tip for people who are new to Klipfolio:
"Check out PowerMetrics and try it. You will be surprised at how easy it is to get your data on the big screen in no time. Also, make sure to see if Cervinodata is the right fit for you."
Related Articles