The Ultimate Guide for Marketing Your Brand on TikTok
Published 2022-01-11, updated 2023-07-04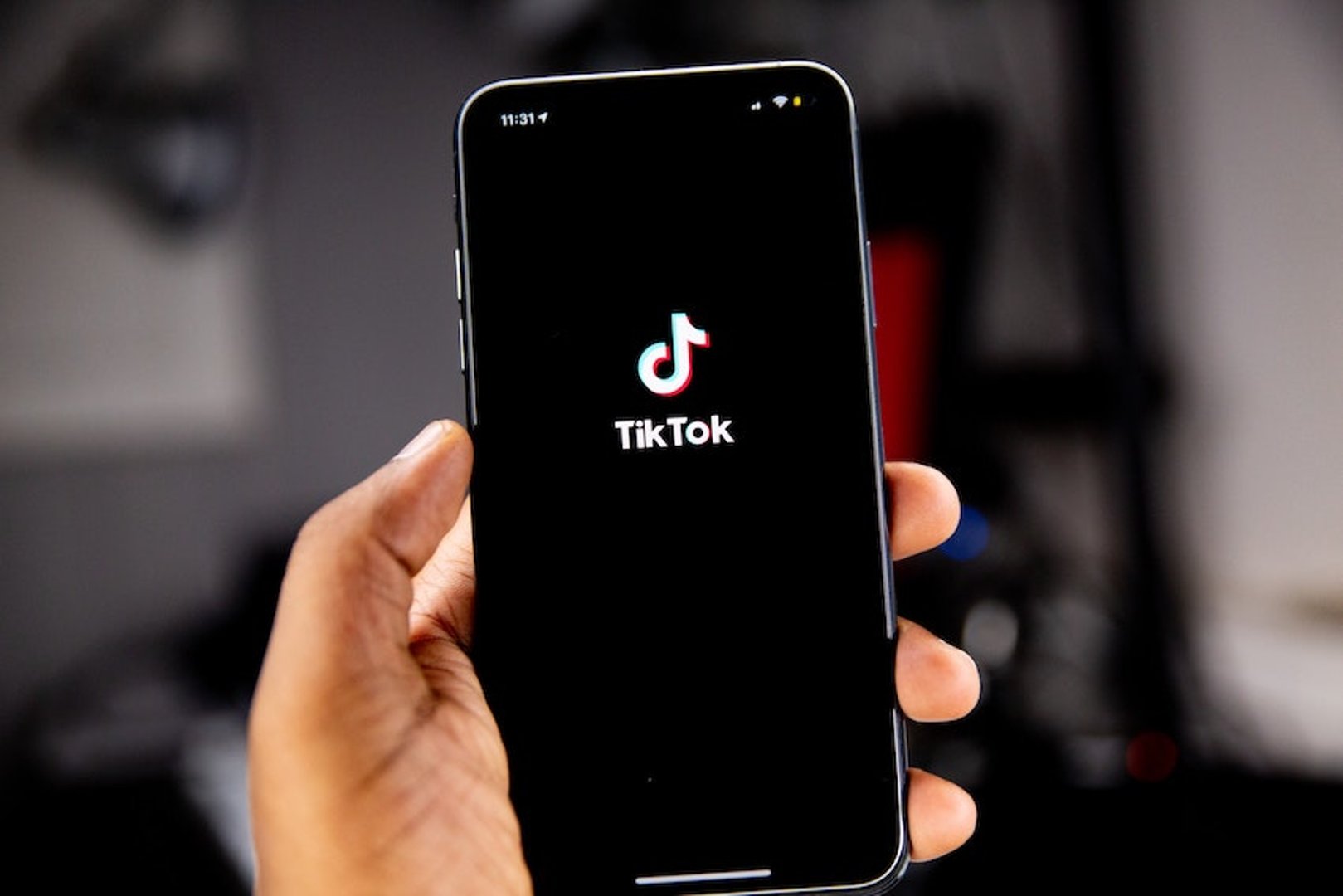 Summary - TikTok is the next generation of social media. How can brands use TikTok to build brand affinity and trust with their customers? We've got tips and tricks!
---
You've probably heard of TikTok. I started to hear chatter about it in early 2020 when friends started to say things like, "Did you see insert video here on TikTok?"
TikTok has over 1 billion monthly active users. That's a lot of potential for your brand to reach an untapped audience.
But what is TikTok? TikTok is the destination for short-form videos, typically between 15 and 60 seconds in length. In 2021, TikTok expanded the option to create videos up to 3 minutes in length.
What makes TikTok the global phenomenon that it is? TikTok has established it's foundation as the place for creators and brands alike to share their knowledge and creativity. It gives everyone equal opportunity to create content.
So, what kind of content do you see on TikTok? Well, everything. From dance routines, to home improvement hacks, to cooking videos and health and wellness tips. TikTok was even the place where skinny jeans and side-parts were declared dead (*gasps in millennial*).
What does all of this have to do with your business? TikTok is a direct line into your target audience.
It goes without saying, TikTok is the next generation of social media. And it's even more important for brands to embrace this new medium.
How to make your brand stand out on TikTok
OK, so you've downloaded TikTok and your social media manager has added it to the content calendar.
What do you do now? You can approach TikTok from two different angles: organic content or paid advertising.
Whichever avenue you choose, there is one lesson to carry with you: Tell a story. Storytelling is the foundation of TikTok. Whether it's a tutorial on how to use your product, a recipe, or a day in the life of your company mascot, your video should have a beginning, middle, and end.
Here are a few tips I've gathered to help your brand stand out on TikTok.
Break the 4th wall
This one is so important. TikTok is a direct line to your audience. Get this, TikTok notes that 33% of auction ads on the platform that have the highest view-through rate are the videos that break the 4th wall. Talk directly to your audience: ask questions, relate to them, and engage!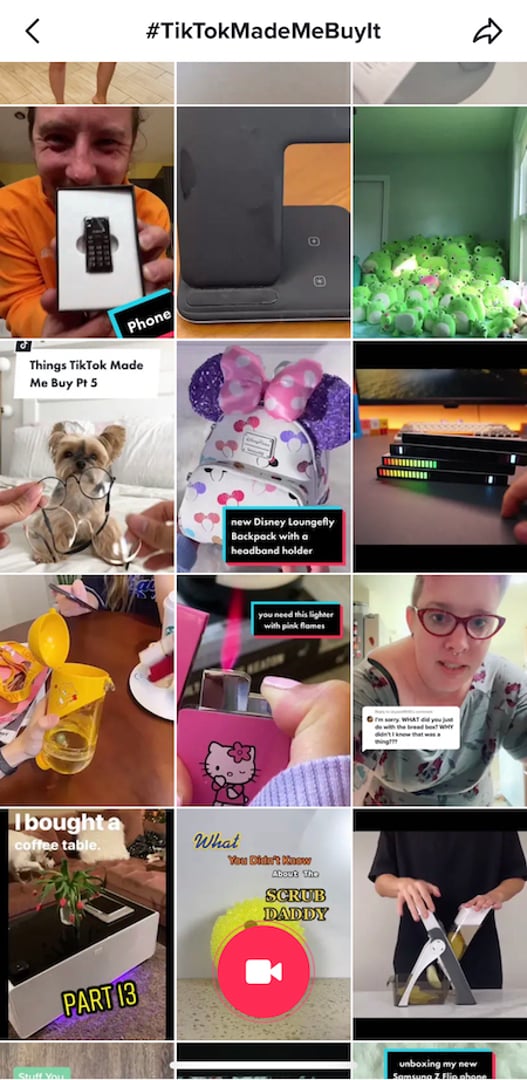 Explore trending hashtags
There's a hashtag called #TikTokMadeMeBuyIt and it's exactly what it sounds like! This hashtag has over 7 billion views and wields the power to clear shelves and sell-out products. When your brand shows up on the platform, there's always potential for virality. Show your product in action and share content that features your customers using or reviewing your products to get the halo effect.
Collaborate with your customers
TikTok has a famed duet feature: "Duets allow you to build on another user's video on TikTok by recording your own video alongside the original as it plays." This is an incredible opportunity for your brand to directly engage with customers. TikTok also offers a Stitch feature which allows you to include up to 5 seconds of another creator's video in yours.
Do you remember the viral Ocean Spray video in 2020 where a TikTok creator posted a video of himself riding a skateboard, drinking Ocean Spray cranberry juice, and listening to Dreams by Fleetwood Mac? All types of creators re-invented their own version of this video, including Mick Fleetwood and Ocean Spray's CEO. As a result, Ocean Spray garnered 15 billion media impressions and a lift in sales, putting the 90-year old company back at the forefront of people's minds. Talk about the power of collaboration.
TikTok presents an opportunity to engage your audience with your brand in a completely new and unique-to-you way. Put a name or face behind your brand so TikTok creators see that they are talking to a person, not a logo. There is power in human interaction.
Align your content with your mission and values
But it is important to note that TikTok has a large Gen Z user base. Gen Z are the true digital natives—the Internet has existed for their entire lives. Gen Z is a generation known for choosing and supporting brands that have missions and values that align with their own.
Use your content as an opportunity to share your brand's mission, values, and purpose. This will build brand loyalty, trust, and authentic connections. Purpose-driven marketing is at the core of this approach, reminding us all of the power in genuine human connection, too.
How to measure your TikTok analytics
Now that we've covered how you can use TikTok as a platform to promote your brand, let's talk about how you'll measure it.
What is TikTok analytics?
TikTok analytics are organized into four categories: Overview, Content, Followers, and LIVE. Each category displays metrics that help you measure your engagement on the platform.
To access TikTok analytics, you have to have a TikTok business account.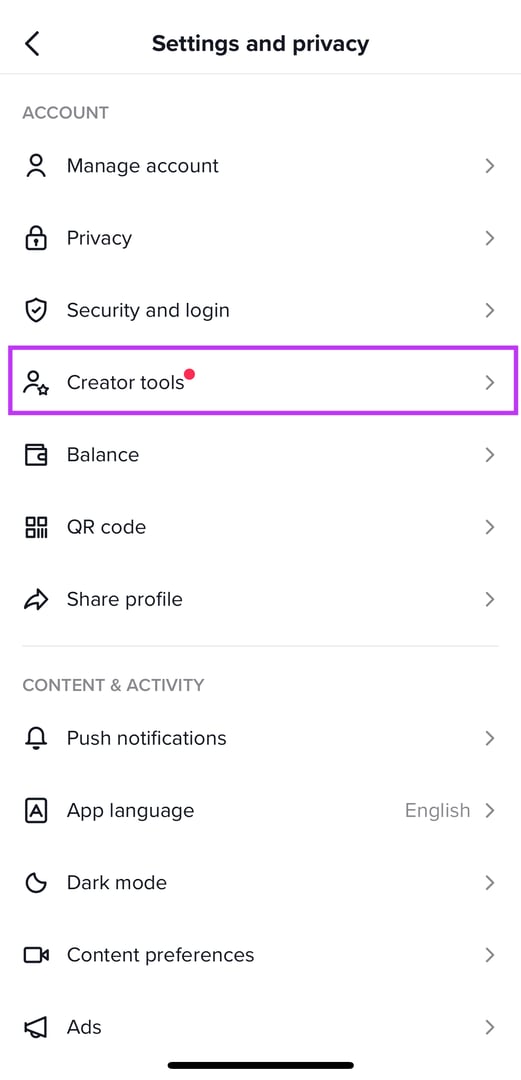 How to access your TikTok analytics on mobile:
Go to your profile and select the hamburger menu in the top right corner
Tap Creator Tools
Tap Analytics
Now that we've covered where to find your analytics, let's look at the metrics available in each of the four categories.
TikTok Overview metrics
The Overview portion of your TikTok analytics gives you just that—an overview of your overall engagement metrics such as likes, comments, shares, and followers.
Likes is the total number of likes your video has received in your specified date range.
Comments is the total number of comments on your video in your specified date range.
Followers is the total number of TikTok users that follow your account.
TikTok Content metrics
To dig deeper into your engagement metrics, look at the Content tab. Within the Content tab, you'll find metrics like:
Total Views is the total number of views on a specific TikTok video.
Total Likes measures the total number of likes on a video.
Average Watch Time is the average length of time that TikTok users watched your video. Watch this metric to understand how captivating your videos are.
Watched Full Video is the percentage of TikTok users who watched your video in full.
Traffic Source Type shows you where your views come from. This is a particularly important metric to keep an eye on to understand how users find your content, whether it's from their For You page, your profile, hashtags, or sounds.
Track the trends in your TikTok content. Keep an eye on your engagement rates over the first few days after you posted a video. According to TikTok, the "For You" page algorithm pulls videos from the last 90 days, but if your viewers continue to engage with your video, it will continue to be recommended. This makes the average watch time and watched full video metrics important.
TikTok Follower metrics
The Followers tab provides you with a look into the community you've created on TikTok. Within this tab, you'll be able to access:
Audience demographics including Gender and Top Territories. The top territories metric is an interesting one to analyze for targeted content or promotions.
The time that your followers are most active on TikTok. Use this information to plan when to post your content for maximum reach.
Follower insights like other videos they've watched or interacted with or sounds they've listened to. This will help you track what type of content resonates with your followers and provide inspiration for new content for your own account.
The Followers tab gives you access to two data history windows: 7 days and 28 days.
TikTok LIVE metrics
If you have LIVE access on TikTok, this is where you can view your metrics for the last 7 or 28 days.
This tab shows you total views, new followers, total time, and Diamonds, a gifting feature, earned over a specific time period.
Parting advice
If I can offer any parting advice when it comes to TikTok metrics, it's to not focus on a single one. Look at your metrics holistically as a way to measure your ability to tell a story.
Try pulling your TikTok data into a dashboard and combine it with Twitter, LinkedIn, Facebook, or other social media channels to get a full view of your social media performance.
And, experiment! Try new things. Put a face or name behind your brand. And have fun! Video is a breakthrough trend that is taking the marketing world by storm. Get on it now before it's too late!
Related Articles