Boost these top 3 SaaS KPIs with marketing automation
Published June 27th, 2017, updated February 1st, 2023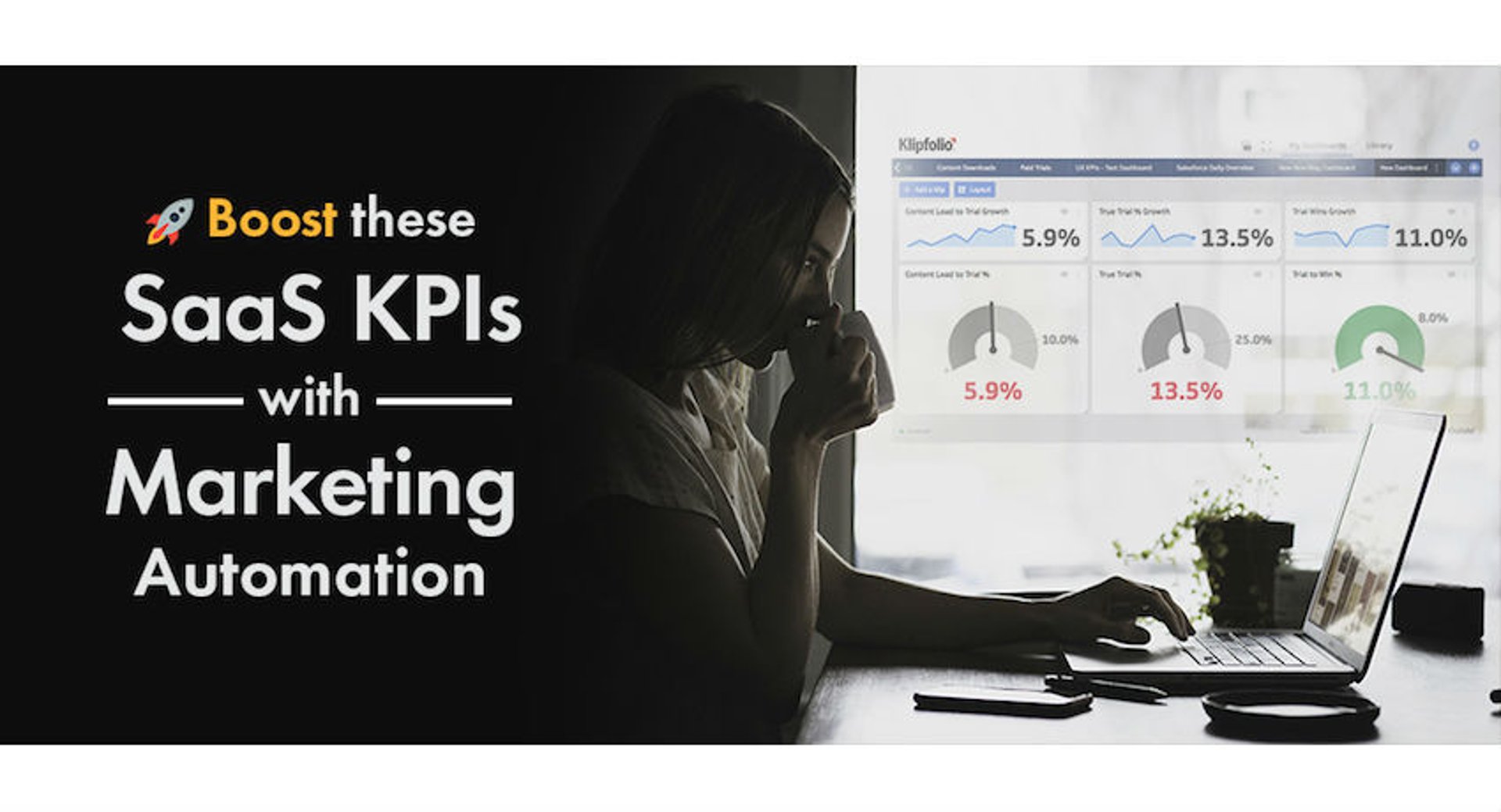 Summary - Marketing automation processes demand empathy and the ability to prove ROI. Here's how to drive toward critical SaaS KPIs with marketing automation.
---
An old classmate told me the other day that he thought marketing automation was really starting to gain momentum in marketing teams. Thankfully this former classmate is not a marketer and doesn't work for a company that is on the bleeding edge of tech. Because any marketer who tells you that marketing automation is new... is bananas.
The recent uptick of marketing automation-focused agencies is evidence of this. Consulting agencies that focus on marketing automation tools (like Marketo or Pardot) and the associated processes seem to be making a great living.
But my old classmate was right. Each day, young marketing teams are going all-in on marketing automation, often jumping back and forth between tools until they find one with the functionality and pricepoint that meets their needs.
Truth is, there is not a more exciting time to be in marketing. But only if you are constantly willing to learn and adapt to rapid technology changes. And only if you embrace the fundamental concept of tracking your performance at every step of the way.
If you've read this far, you're probably using a marketing automation system. If that's the case, you know how much effort you and your team have put into this platform already. You're likely allocating a sizable chunk of your marketing budget to it, and you've spent and continue to spend time and effort in the platform.
But how are you, as your team's marketing automation specialist, proving ROI?
First things first: Define your marketing automation KPIs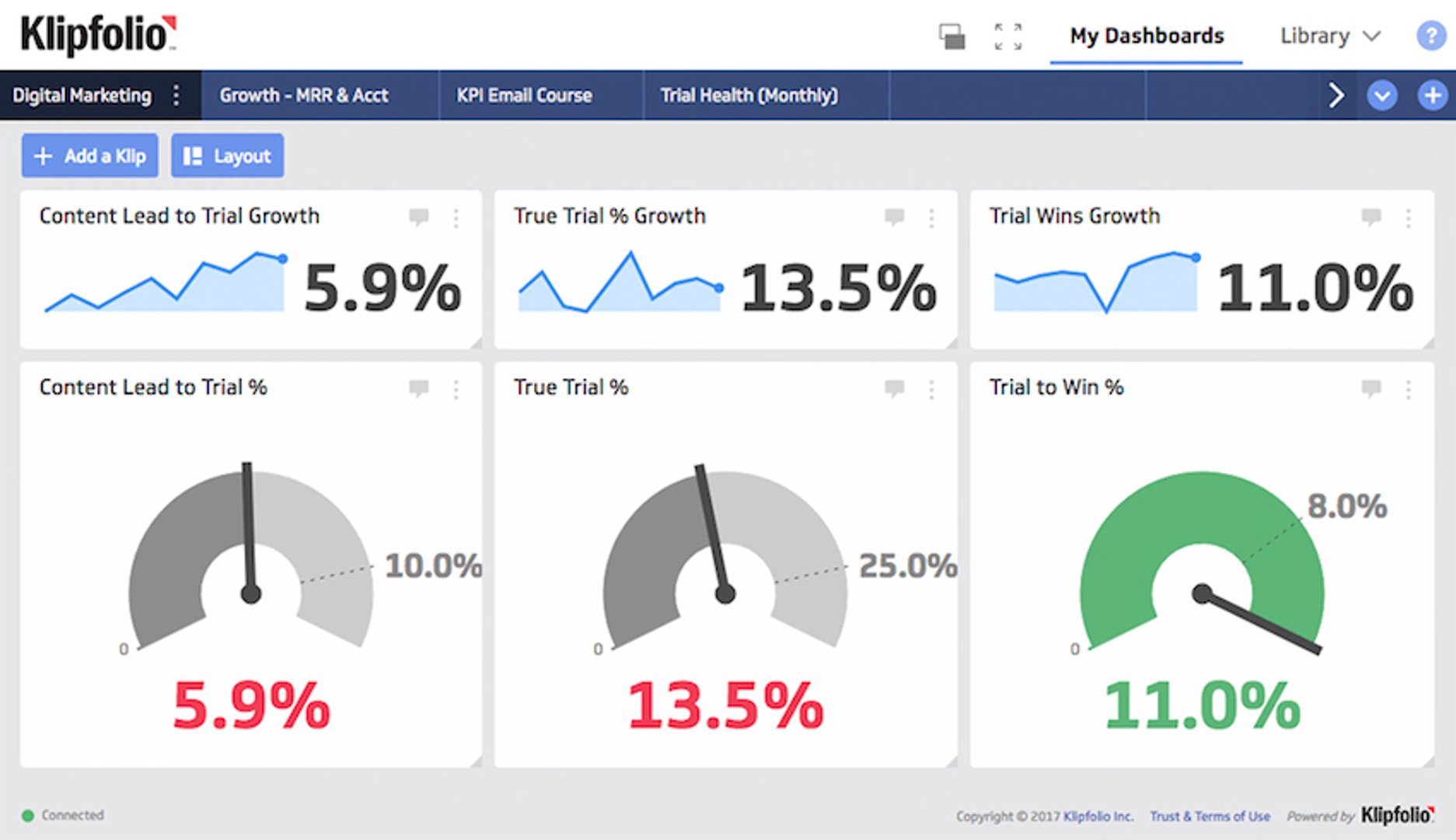 Defining your conditions for success is one of the most critical steps in deploying marketing technologies. At Klipfolio, we have a few experts in-house who know a thing or two about how to define your organization's KPIs. Here are the top 3 marketing automation KPIs for SaaS:
Content to Trial Lead Conversion %
True trial %
Trial to Win Conversion %
Before we go deeper into those, it's important to understand why those three in particular are so critical. The success of any marketing automation effort—especially in a high-growth SaaS company focused on inbound marketing—rests on its ability to nurture prospects along the funnel.
Naturally, then, the most important KPIs deal with conversion rates through different parts of that funnel. Just so we're on the same page here, let's quickly cover the important SaaS funnel metrics:
Typical SaaS funnel metrics
The typical SaaS funnel metrics are pretty straight forward:
Visitors: everything starts with a web page visit;
Content leads: visitors or prospects become content leads after signing up for the blog or downloading a piece of content;
Trial leads: visitors or content leads graduate to trial leads by starting a free trial;
Wins: those who started a trial convert into customers.
With those funnel metrics in mind, let's dive into the top 3 SaaS KPIs that you can influence with marketing automation.
1. Content to Trial Lead Conversion %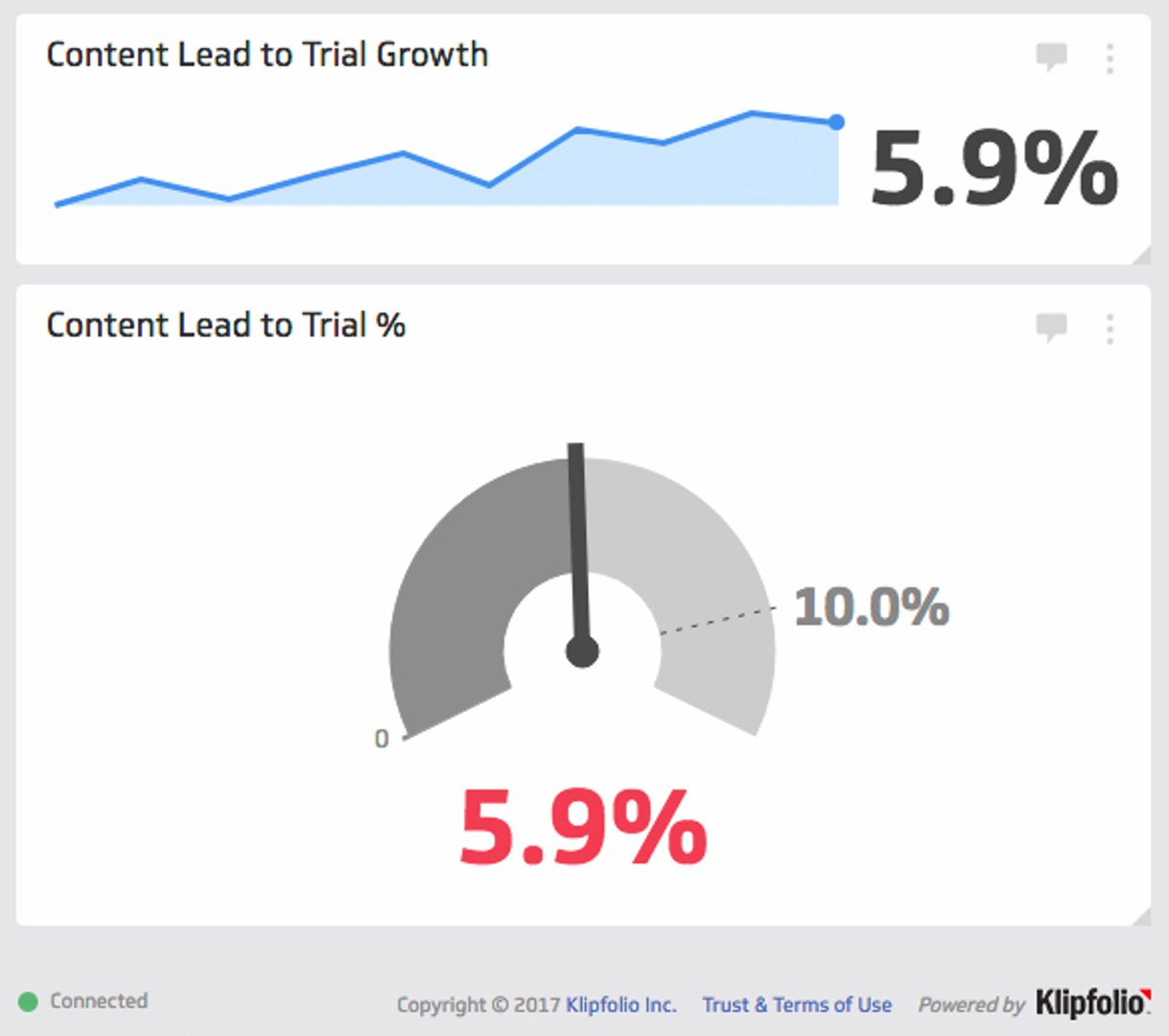 This KPI answers: "How many leads started a trial?"
Content to trial lead conversion % is quite simply the number of leads converting to trial.
On top of generating brand awareness and driving traffic to your site, a world-class content strategy helps convert leads into trials. This starts with top-of-the-funnel content, and realizing that potential customers typically aren't ready to buy on their first site visit.
Let's say a web visitor was on your site but she is very early in her buying cycle so she's not yet ready for a free trial. This visitor might, however, be interested in educational content.
So let's say she downloads a whitepaper or a guide. She is now a "content lead" and you can start nurturing her and slowly nudging her into a trial once you've gained her trust with enough valuable content and established that your product could be a fit for her needs.
How can marketing automation help bolster this KPI?
Marketing automation steps in to bolster your content engagement. If a content lead downloaded a guide on digital marketing KPIs, for example, he might be interested in receiving related content pieces as he progresses through his journey.
Understanding this journey and mapping content to specific stages is a key role for marketing automation. It's all about delivering the right piece of content at precisely the right time.
I have the immense pleasure of working with great marketing writers, but not every SaaS company can say that content marketing is one of their strengths.
In fact, creating quality original content continues to be a struggle for many marketing teams. That said, if generating new content isn't an option for you, repurposing existing content can always serve as a solid fall back.
For example, rather than spending weeks developing a new 20-page top-of-the-funnel guide for leads, try this:
Pull together your top performing blog posts from the past few months, break them into bite-sized lessons, and package them into an email course. This is one way of many that lean content marketing teams can extract maximum value from their existing content.
To continue with this example, our most popular integration here at Klipfolio is Google Analytics, which means some of our top performing blogs dive deep into HTML and how to connect social platforms to GA. Here are 5 of them:
From there, and after pruning and updating those blog posts, I could create an email course titled 5 Tips for getting the most out of Google Analytics. The lessons could look something like this:
Lesson #1: Essential HTML tags
Lesson #2: Web traffic source metrics
Lesson #3: Using GA Query Explorer
Lesson #4: Connecting YouTube to GA
Lesson #5: Connecting Facebook Ads to GA
This is one of several tactics to increase engagement with your subscribers by providing them valuable and actionable content. It's a strategy that can eventually build the kind of trust necessary for them to one day decide to give your free trial a spin.
2. True trial %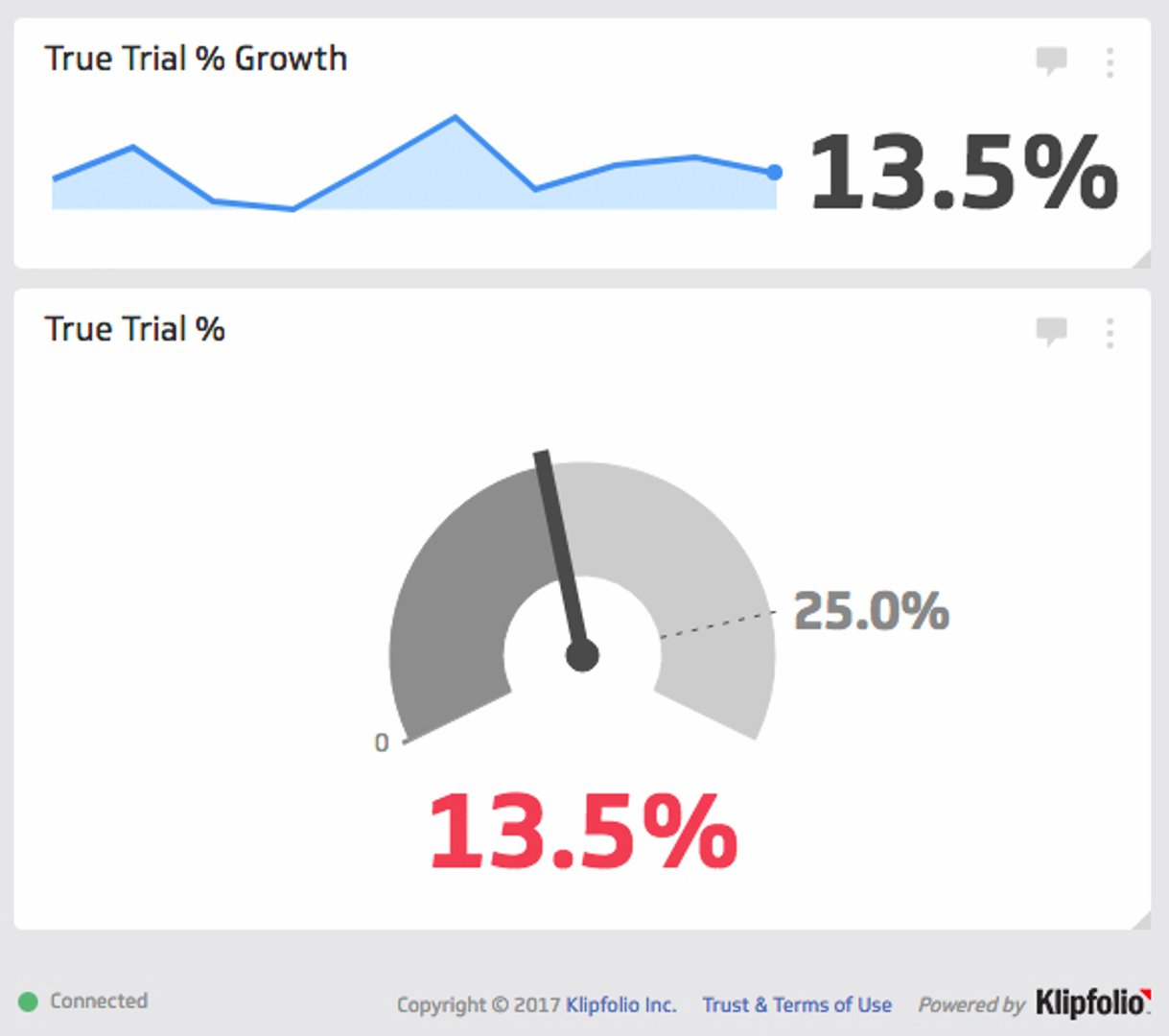 This KPI answers: "What's the quality of my trials?"
So you've figured out a few content marketing programs that seem to be driving leads to trial? Nice. The next step is converting those trials into wins, right? Time out.
Before we jump ahead to trial to win %, let's dive into a trial specific metric: true trial %.
All trials are not created equal. In fact, get this:
70% of trial leads are often accidental sign ups who won't engage with your software.
And then this:
10% of trial leads are potential evaluators who are not active.
Which leaves us with this:
20% of trial leads are actual evaluators.
So what's a true trial? A true trial is a metric to track activity early in trial. This can vary by industry, but our definition of a true trial is when a user logs in at least once on day 2 of their trial.
In other words, true trial % represents the total number of active trial users that have logged back into their trial 24 hours after signing up.
Note: Trial users that are active in the first 3 days after signing up are 4x more likely to convert.
So there's immense value in monitoring that number and seeing whether you can influence it.
This number of trial starts represents a more accurate metric of the quality of trials. The fun part about this metric is that it's an easy one to influence with marketing automation.
How can marketing automation help bolster this KPI?
Depending on your marketing tech stack, you might be deploying marketing communications through a single marketing automation instance like Marketo or Pardot. You might also be deploying marketing communications through several different platforms, such as HubSpot, Salesforce and Intercom.
Whichever is the case, messaging trial leads early in trial is a critical role for marketing automation.
The old school way was using email to nurture trial leads along a specific drip cadence. If you're still doing that don't worry, you're still ahead of the curve. But consider what the new kids are doing: trigger-based communication.
We use Mixpanel to track what our users do in-app. So we have a pretty good understanding of what successful customers look like early in trial. We've mapped out specific success paths that lead to moments of delight.
So instead of sending all of our trial starts the same drip sequence of emails, we're starting to use marketing automation to remind and nudge trial users to perform specific actions in-app.
All of which is to say: You may want to consider going from a sequence that looks like this:
Day 1: send welcome email
Day 2: send helpful tips email
Day 5: send webinar email
To something that looks like this:
Trigger: Trial start -> send welcome email
Trigger: Creates first visualization -> send congrats email
Trigger: User has not logged in on Day 2 -> send nudge email
Trigger: User has not had a demo call -> send nudge email
Trigger: Formula error -> send support nudge
3. Trial to Win Conversion %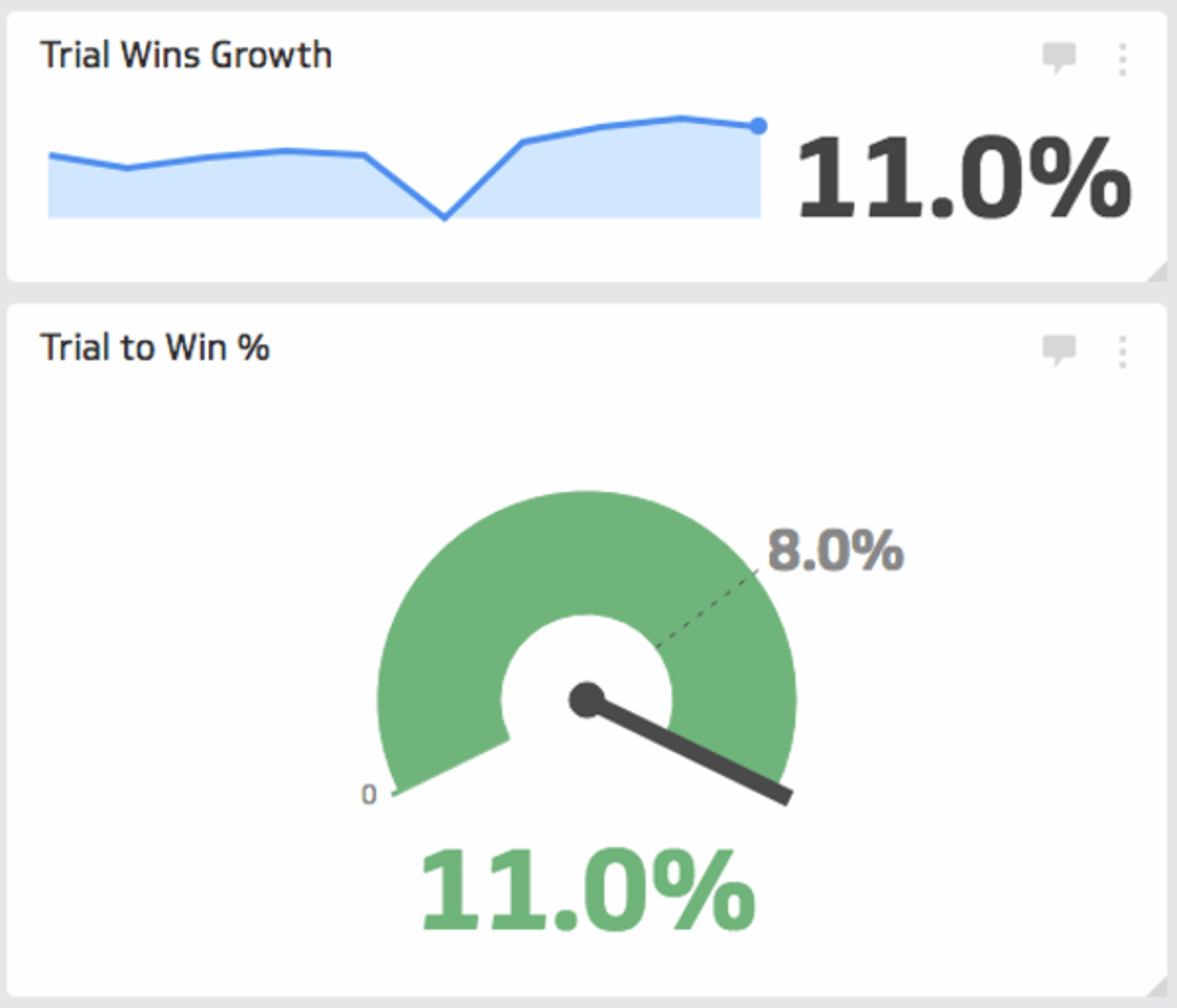 This KPI answers: "How many free trials are now customers?"
Converting trial leads into customers is the ultimate goal. Of all the leads that were interested enough to start a free trial, how many of them decided to sign up and become a paying customer? That's trial to win conversion %.
Understanding your customer's hurdles and buying decisions is critical in using marketing automation. It's this type of empathy that will best allow you to deliver the personalized touch points that will guide potential customers to the moments of delight they'll need to experience before converting to customers.
How can marketing automation help bolster this KPI?
Although it depends on the length of your free trial, the strength of your approach to nudging trial users into paying customers typically gets stronger towards the end of the trial.
Use marketing automation to personalize offers to trial users to instill an urgency to buy. Dive into your pricing platform and make it as simple as possible for your users to convert. Offer trial extensions and demos to some of your most active trial leads that didn't convert—maybe they just ran out of time!
Ideally, customers convert before trials expire, but not everyone will. That's where the importance of an exhausted nurture stream comes into play.
Now that you know a bit more about this trial user, you can use that information to personalize future communications with this person. Maybe she wasn't ready to buy just yet. Invite them to become blog subscribers or check out webinars.
Final thoughts
Marketing automation and digital marketers often get a bad reputation because there are tons of "experts" that do a great job of being annoying, untimely and invasive in their communications to leads. Don't be that marketer.
Step out of the mold and take a closer, more mindful look at your potential customers.
Step into their shoes, understand their jobs and what they're trying to accomplish and, most importantly, understand their pain points. What keeps them up at night? You shouldn't just know this; you should actually develop the capacity to feel it.
Be empathic about understanding their obstacles, and deliver content of value to them if they become subscribers.
Eventually they may take your software for a spin. And even if they don't, at least you left a potential customer with a positive impression of your company.
Here are some additional resources I recommend:
Related Articles