Data retrieval and
prep
Retrieve and perfect your data for continuous metric updates using data feeds – an all-in-one visual query builder and data transformation tool.
Get Started Free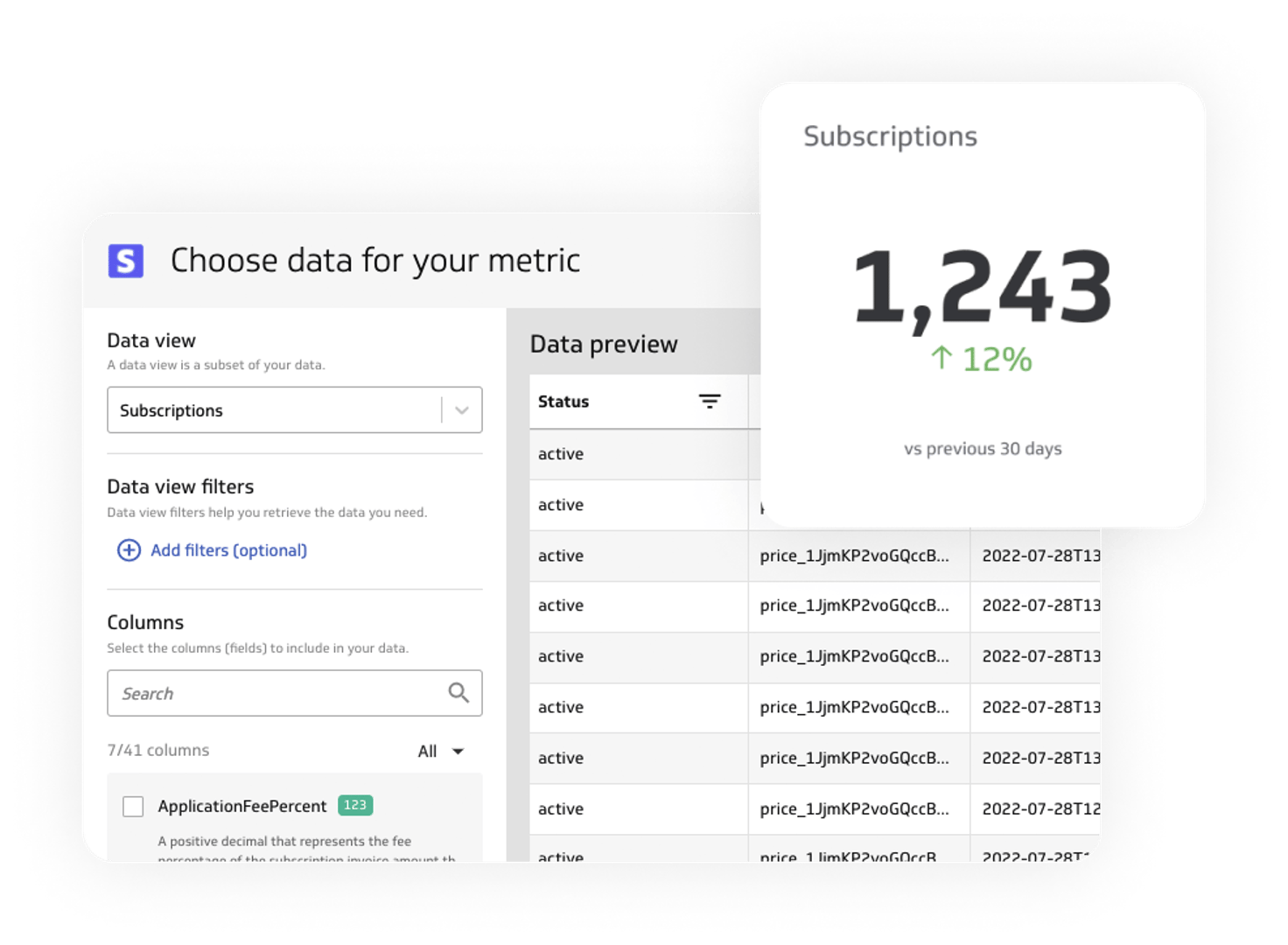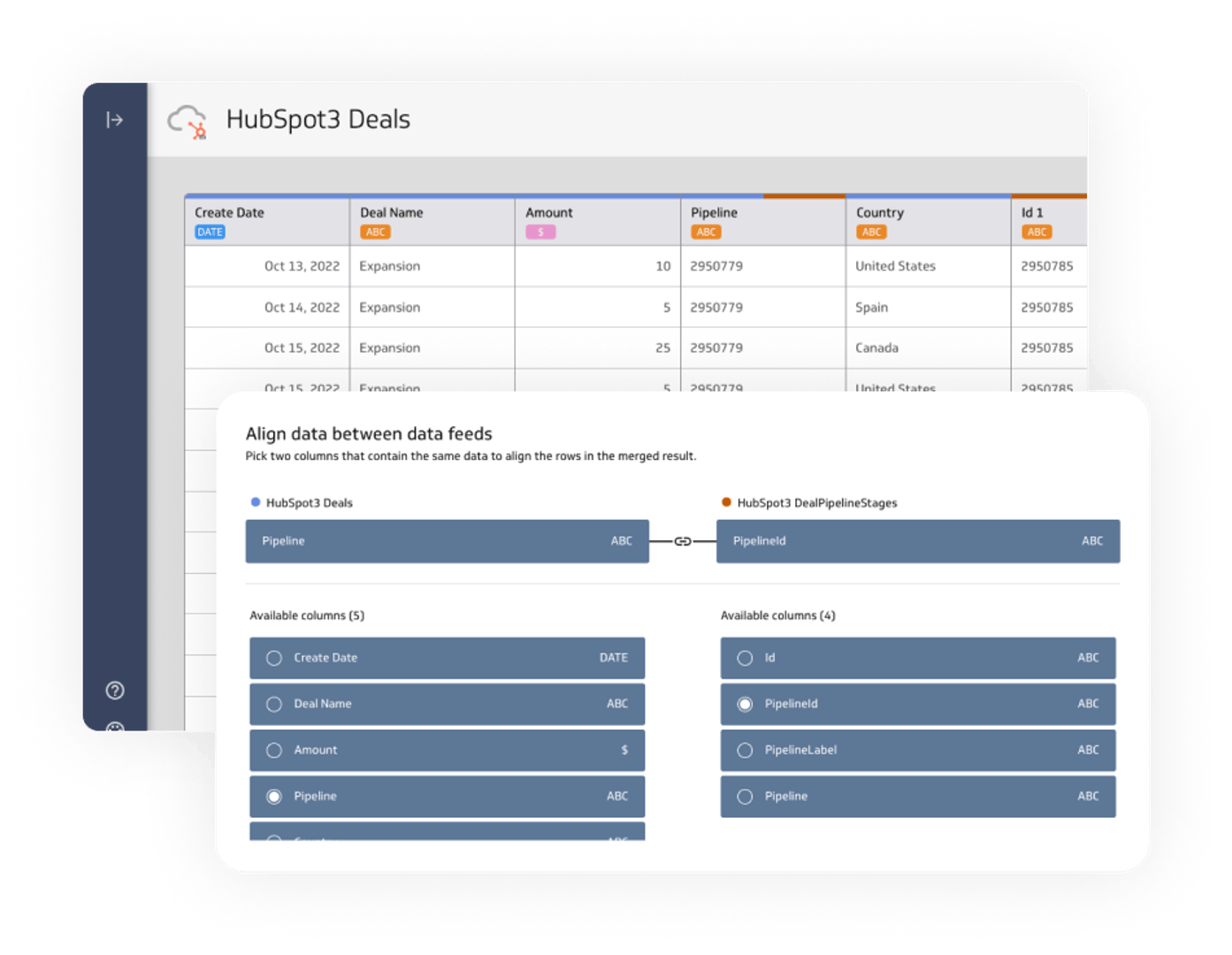 Control and
convenience
Data feeds offer a unique and powerful way to manage the flow of data into your metrics. Retrieve the precise data you're looking for with our visual query builder. Transform and prep messy, incomplete, or complicated source data with our comprehensive data feed editor. Write formulas using familiar Excel-like functions, unpivot columns, join data from different data sources and more.
Save time – Connect to your data once and build one or more feeds to reuse across multiple metrics. Turn tree-structured data into tabular, automatically. Trust your data is always up to date. With refresh on auto-pilot, new data is automatically added to all metrics that are tied to data feeds.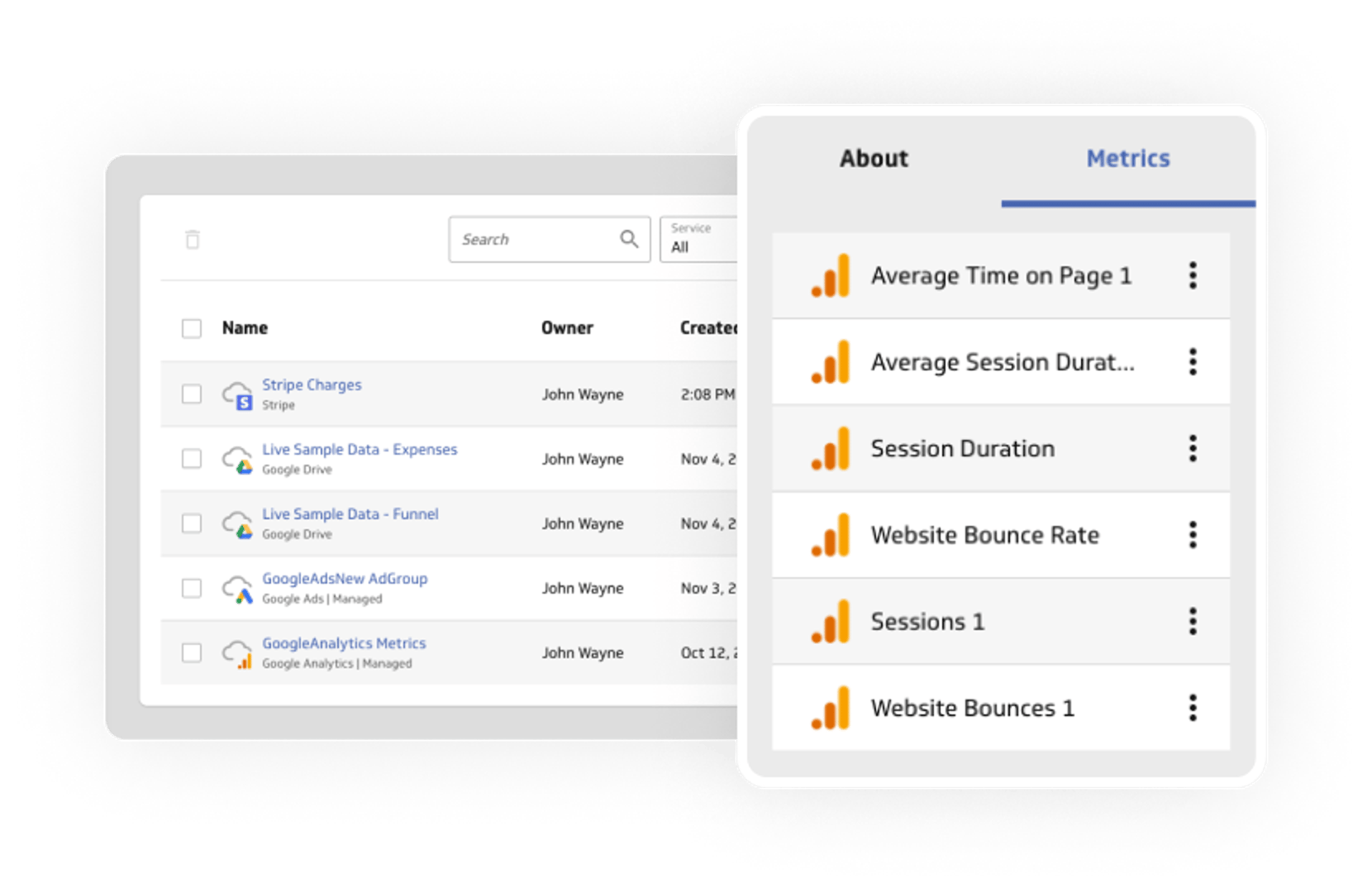 Empower your
team
Data feeds make it straightforward for everyone on your team to create custom metrics, regardless of their technical experience. Complex or dense source data is retrieved, filtered, and prepped to create easily-managed data feeds. From there, simply share the feeds with your team and the action of creating custom metrics becomes accessible to everyone. Controllable rights allow you to share data feeds with your team with confidence and create a safe environment to build and explore business data.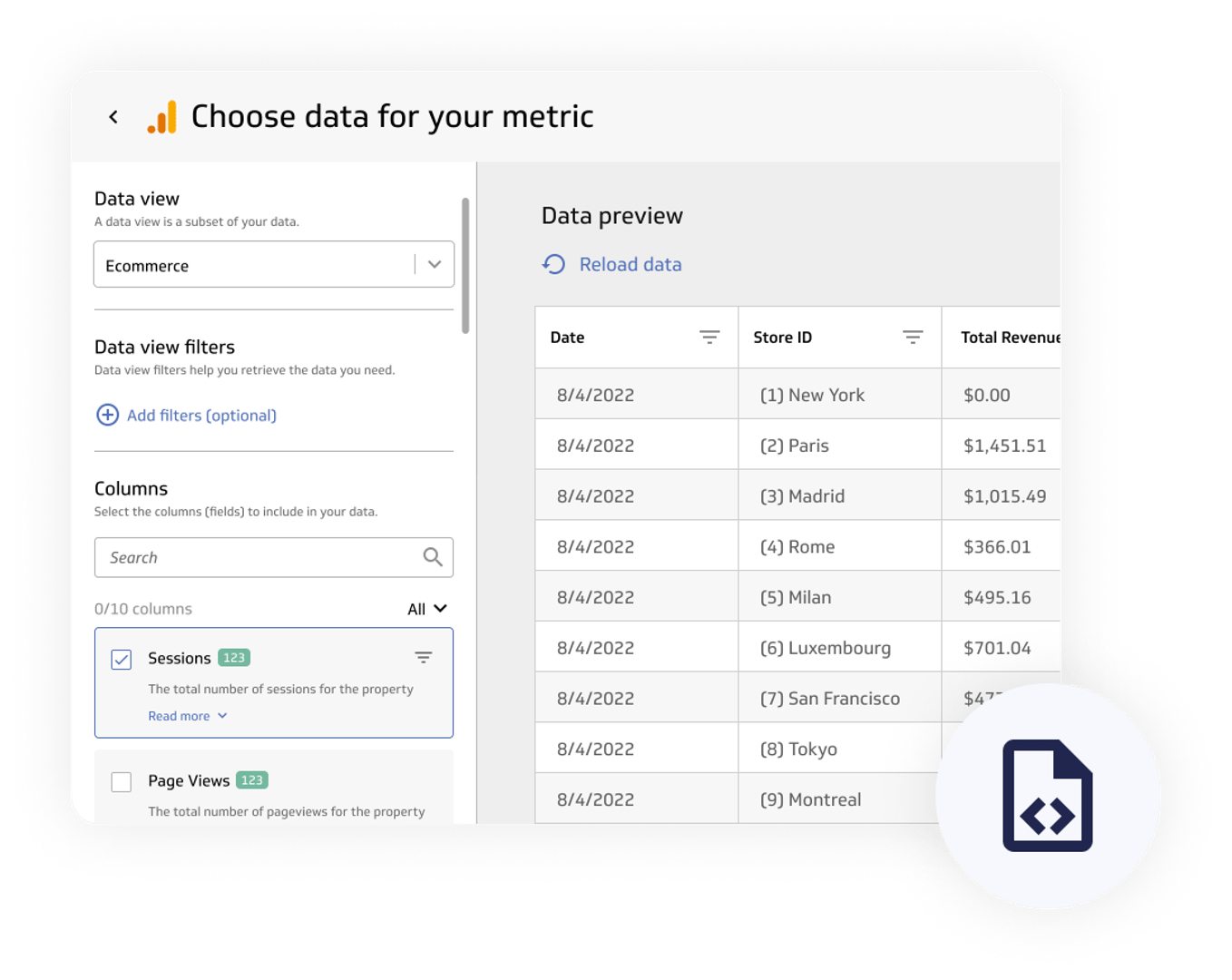 Query
Builder
Query Builder is a powerful visual interface for data retrieval and preparation.
Choose from standard and custom fields to pinpoint the data to retrieve.

Filter your query by date range or text and numeric columns.
Automatically handle pagination and flatten JSON or XML structured data into tabular data.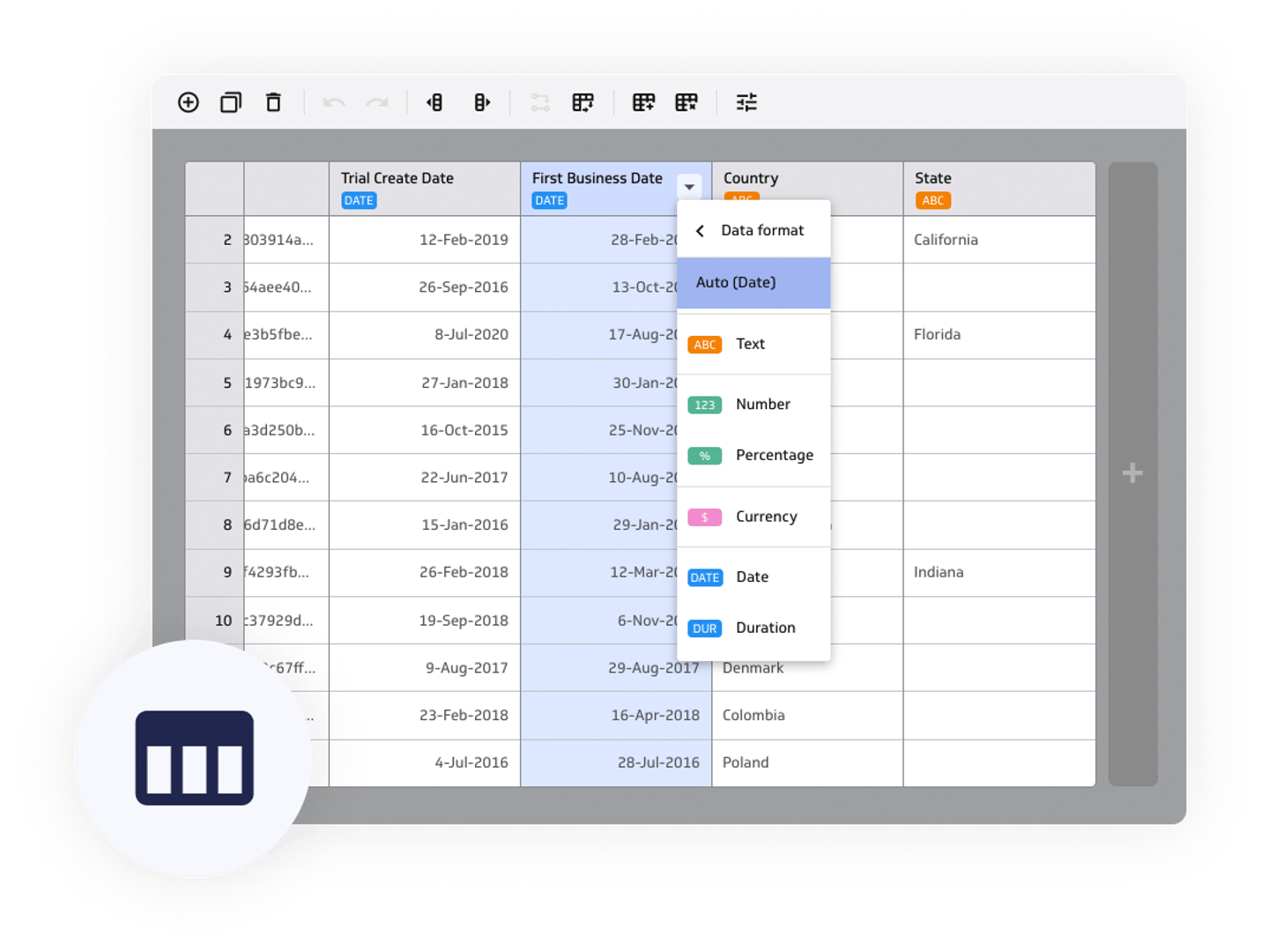 Data
transformation
Take messy, real-world data and transform it into concise, clean data that you can reuse as you build metrics.
Streamline spreadsheets, join data sources, flatten XML or JSON files.

Format text or remove null values.
Set up rules (unpivot, join, flatten) to be applied automatically every time new data is retrieved.
Ways you can
prep your data
The data feed editor makes it easy for you to restructure and bring simplicity to your source data. Here are just a few of the many features you'll find there.
Unpivot
Put your data into a metric-friendly format, for example, collapse multiple date columns into a single date column and a second column of labels.
Merge
Bring data from different data services together into a single model without manually writing formulas (also known as joining data).
Formulas
A powerful way to group, map, and transform your data, add lookups or text manipulation, and apply formatting to new columns in your model for metric creation.
Formatting
Control the precision of numerical values, change numbers to percentages, or change the date display format.
Turn your data
into insights
Next:

Data Storage and History
Improve collaboration and accessibility when you store all of your data in one place.
Learn more