SaaS Executive Dashboard
Executives at SaaS companies and startups require visibility into metrics across the organization.
Track all your SaaS Executive KPIs in one place
Sign up for free and start making decisions for your business with confidence.
or
Sign up with your email
Free forever ● No credit card required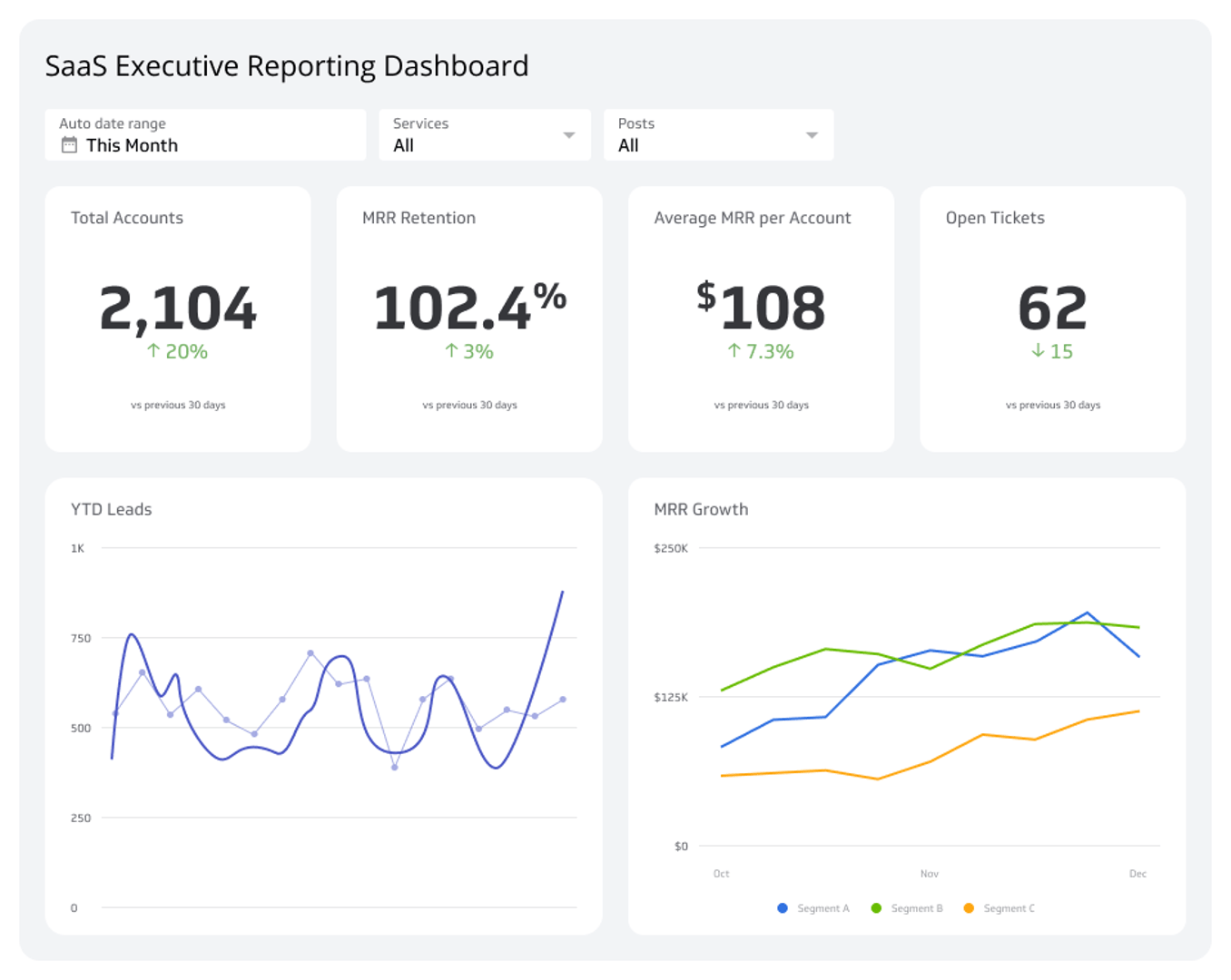 What is a SaaS Executive Dashboard?
A SaaS Executive Dashboard is a comprehensive visual tool designed to provide real-time insights into critical business metrics across various departments, including marketing, sales, support, user experience, product, and finance. 
At the top of the executive dashboard are an array of key SaaS metrics like monthly recurring revenue (MRR), average MRR per account, retention rate, and lead-to-win conversion rates. This SaaS dashboard in particular was designed with SaaS startups in mind, and, as such, each performance metric is compared to the startup's plan. Performance relative to the plan may have a big impact if and when a startup pitch to venture capitalists in hopes of getting a new round of funding.
Why use a SaaS Executive Dashboard?
Designed specifically for SaaS startups, this dashboard provides real-time visibility into your most crucial business metrics across all departments.
Key Features:
Holistic Overview: Gain a complete understanding of your business performance with metrics from marketing, sales, support, user experience, product, and finance.
Essential Metrics: Track vital KPIs such as Monthly Recurring Revenue (MRR), Average MRR per Account, Retention Rate, and Lead-to-Win Conversion Rates.
Performance Benchmarking: Compare your actual performance against your startup's plan to identify areas for improvement and showcase your progress to potential investors.
Customizable and Scalable: Tailor the dashboard to your unique business needs and scale it as your startup grows.
Actionable Insights: Each displayed metric serves to answer the critical question, "How are we performing right now?" enabling you to make informed decisions and drive business growth.
User-Friendly Interface: Our intuitive, visually appealing dashboard design ensures ease of use for your entire team.
Seamless Integration: Effortlessly connect the SaaS Executive Dashboard to your existing data sources and tools, ensuring smooth and accurate data transfer.
Secure Access: Keep your sensitive business data secure with our robust access controls and data protection measures.
Unlock Your Startup's Potential
By implementing our SaaS Executive Dashboard, you'll not only gain a comprehensive understanding of your startup's performance but also be better equipped to pitch to venture capitalists, secure funding, and accelerate your growth.
Don't miss out on the opportunity to optimize your SaaS startup's performance. Get started with our SaaS Executive Dashboard today and experience the benefits of data-driven decision-making. Contact us now to schedule a live demo or to learn more about our pricing plans and features.
Related Dashboard Examples
Start tracking your metrics
Level up your analytics with a free forever PowerMetrics account