User Experience (UX) Dashboard
Gain control of your user experience.
Track all your User Experience KPIs in one place
Sign up for free and start making decisions for your business with confidence.
or
Sign up with your email
Free forever ● No credit card required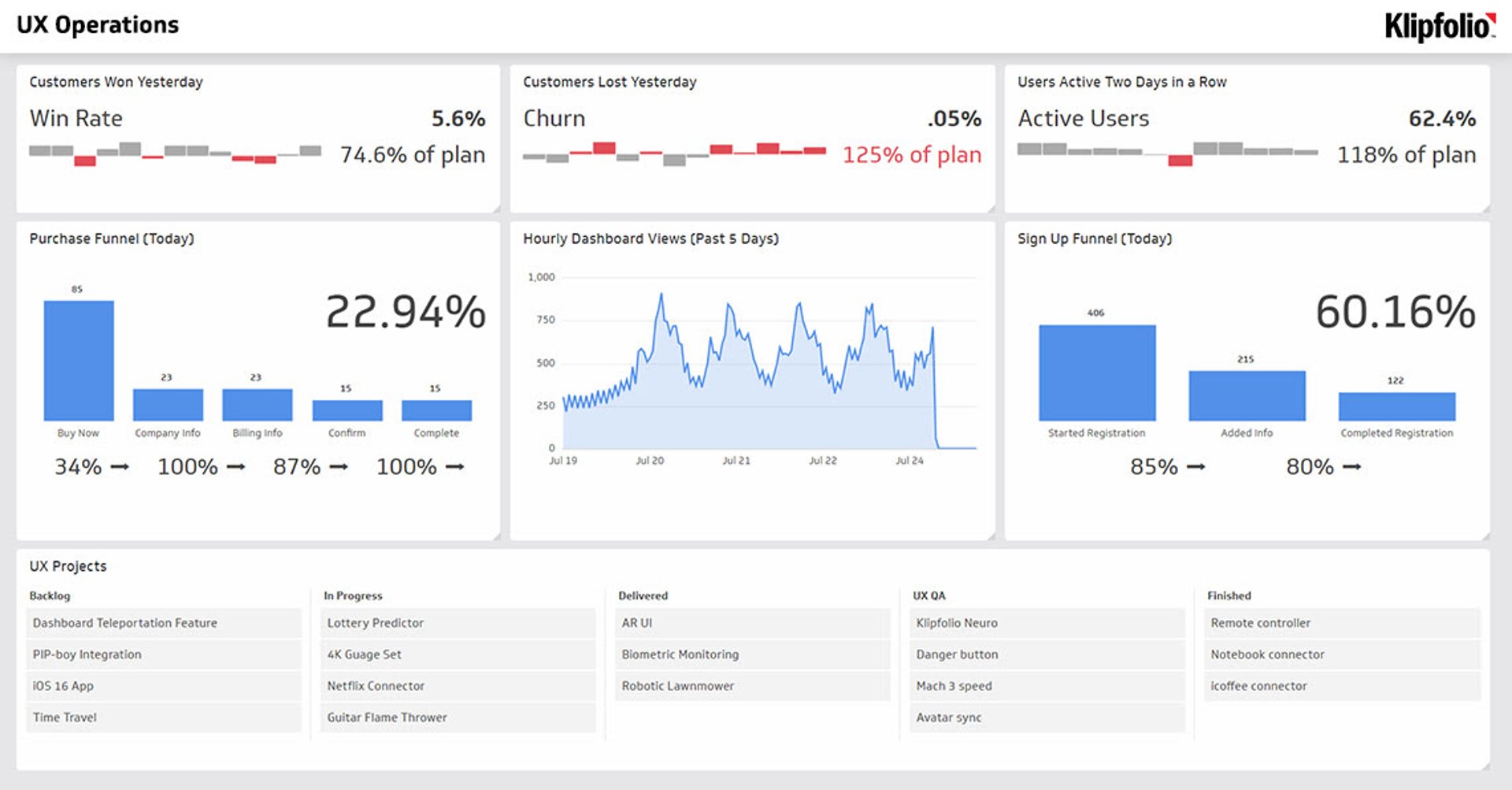 What is a User Experience Dashboard?
A UX dashboard is a visual tool that provides a view into how users are interacting with your product while giving you access to top-line metrics like win rates and customer churn. Tracking various user funnels helps you understand task completion rates for events such as purchasing or subscribing to product update notifications.
User experience is a critical point for any business. Without a streamlined UX, you risk losing business.
You're constantly tracking how people interact with your product and how engagement fluctuates with changes to your product, but how much time are you wasting trying to get these insights?
User interaction data comes from multiple locations, and a UX dashboard can help manage that. A UX dashboard pulls in data from Mixpanel, online surveys, Trello, Basecamp, etc., to view all your key performance data points on one dynamic page, saving you time to conquer the things that matter.
This SaaS dashboard displays user interaction KPIs for your product on a single display. Ideally, you'd be able to see how users behave in your product, general experience sentiment, and track key interactions with your product.
What we find to be most effective is having 2 UX dashboards to display on rotation throughout the day: an A/B Test Dashboard and a UX Operations Dashboard.
Why use a UX Dashboard?
You want to be able to quantify your results. As we said, user experience drives business success, so paying attention to user patterns and how they interact with your product is a must. But keeping an eye on all your data housing platforms takes time and can get confusing. Having a dashboard that pulls together all your UX Operations data or your A/B testing data saves you and your team tons of time and gets everyone on the same page. While we're sure your intuition is bang-on, it always helps to be able to back up your decisions with data. A dashboard does this for you. All you need to do is point to your dashboard to prove it.
Metrics Featured in this Dashboard
Customers Won Yesterday
Customers Lost Yesterday
Users Active Two Days in a Row
Purchase Funnel (Today)
Hourly Dashboard Views (Past 5 Days)
Sign Up Funnel (Today)
UX Projects
Related Dashboard Examples
Start tracking your metrics
Level up your analytics with a free forever PowerMetrics account