Website Traffic Lead Ratio
Measure how many of your website visitors convert to leads.
Track all your Digital Marketing KPIs in one place
Sign up for free and start making decisions for your business with confidence.
or
Sign up with your email
Free forever ● No credit card required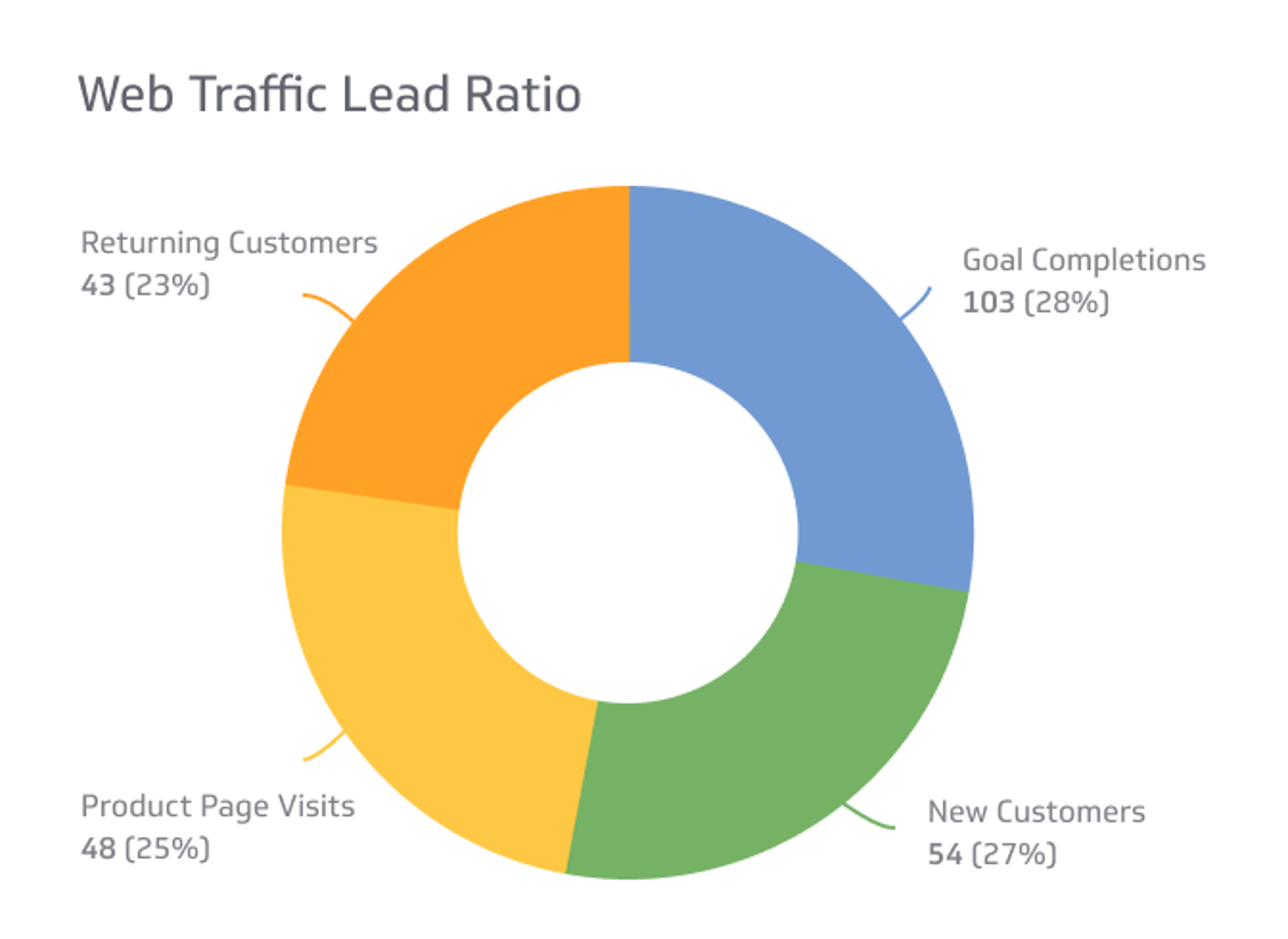 Website Traffic: Leads From Website
What is  Traffic Lead Ratio?
The Website Traffic Lead Ratio tells you how many of your website visitors convert to leads. It is also known as the Lead Conversion Rate. This KPI is useful because it tells you the quality of your website traffic. It is especially important for businesses in which your website serves as a major business tool, such as e-commerce or SaaS. You can be fooled by the growing popularity of your website, which is actually leading to no susceptible financial changes. So, you've got to know how targeted the traffic is by tracking the number of visits that convert into leads.
Website Traffic Lead Ratio Example
The following is an example of how to calculate your Website Traffic Lead Ratio:
100,000 Website Visitors: 5,000 leads
= 5% conversion
Website Traffic Lead Ratio Benchmark
Dima Lazarchuk, Head of Marketing Department, MagneticOne
If the ratio is no less than 2-4%, then your content strategy is working to attract potential customers instead of simply driving people to your website, thanks to the viral content without any other perspectives.
Website Traffic Lead Ratio Challenges
The biggest challenge with the Website Traffic Lead Ratio is that it does give you the full picture of your website performance. This metric is extremely useful for keeping an eye on your website performance, but it is essential to monitor this metric alongside the Online Conversion Metric and Web Traffic Sources Metric to take immediate action if the Website Traffic Lead Ratio is lower than it should be.
Website Traffic Lead Ratio Best Practices
Chuck McMahon, Inbound Marketing - Content Marketing Manager, Vital Design
What is important for the Website Traffic to Lead Ratio is to get a baseline, what is this ratio currently? And what can you do to improve it? Many times, focusing on improving the website's conversion rate is an easy way to improve this ratio.
Deepak Kanakaraju, Digital Marketing Manager at Razorpay, Digital Marketing Blogger at DigitalDeepak.com
Landing Pages. While the purpose of many content pages on websites is to provide information, landing pages are designed for collecting contact information. Very effective landing pages combined with targeted traffic can give a conversion ratio of as high as 50-60% and, in some rare cases, even more than that.

Different landing pages are attractive to different people or groups, and hence one should never rely on only one landing page. And it's often a good idea to send traffic to the landing page via a blog and then measure which landing page performs better. HubSpot.com, a leader in Inbound marketing software and methodology, recommends that a business should have as many as 40-50 landing pages with different offers.
Cristy Marecki, SEO, and SMM Consulting and Strategy, New Start Business Consultants INC
If your traffic is steady or increasing, but your traffic-to-lead ratio is low or decreasing, that's a surefire sign that something is missing on-page.
How to Website Traffic Lead Ratio in Real-time
The Website Traffic Lead Ratio should be coupled with related digital marketing metrics to provide a complete view of your website's performance. Consider tracking this metric alongside the first visit metric and online conversions metric on a Google Analytics dashboard.
Learn more about how to track your Traffic Lead Ratio on a Digital Marketing Dashboard.
Website Traffic Lead Ratio: Top Resources
The 16 Marketing KPIs You Should Be Measuring (But Probably Aren't), Chuck McMahon
The Great 8: Marketing KPIs You Absolutely Should Be Measuring, Dima Lazarchuk
7 Powerful Ways to Convert Website Traffic Into Leads, Deepak Kanakaraju
Start tracking your metrics
Level up your analytics with a free forever PowerMetrics account