Real-time dashboards: Actionable data insight for CMOs
Published 2018-09-06, updated 2023-06-15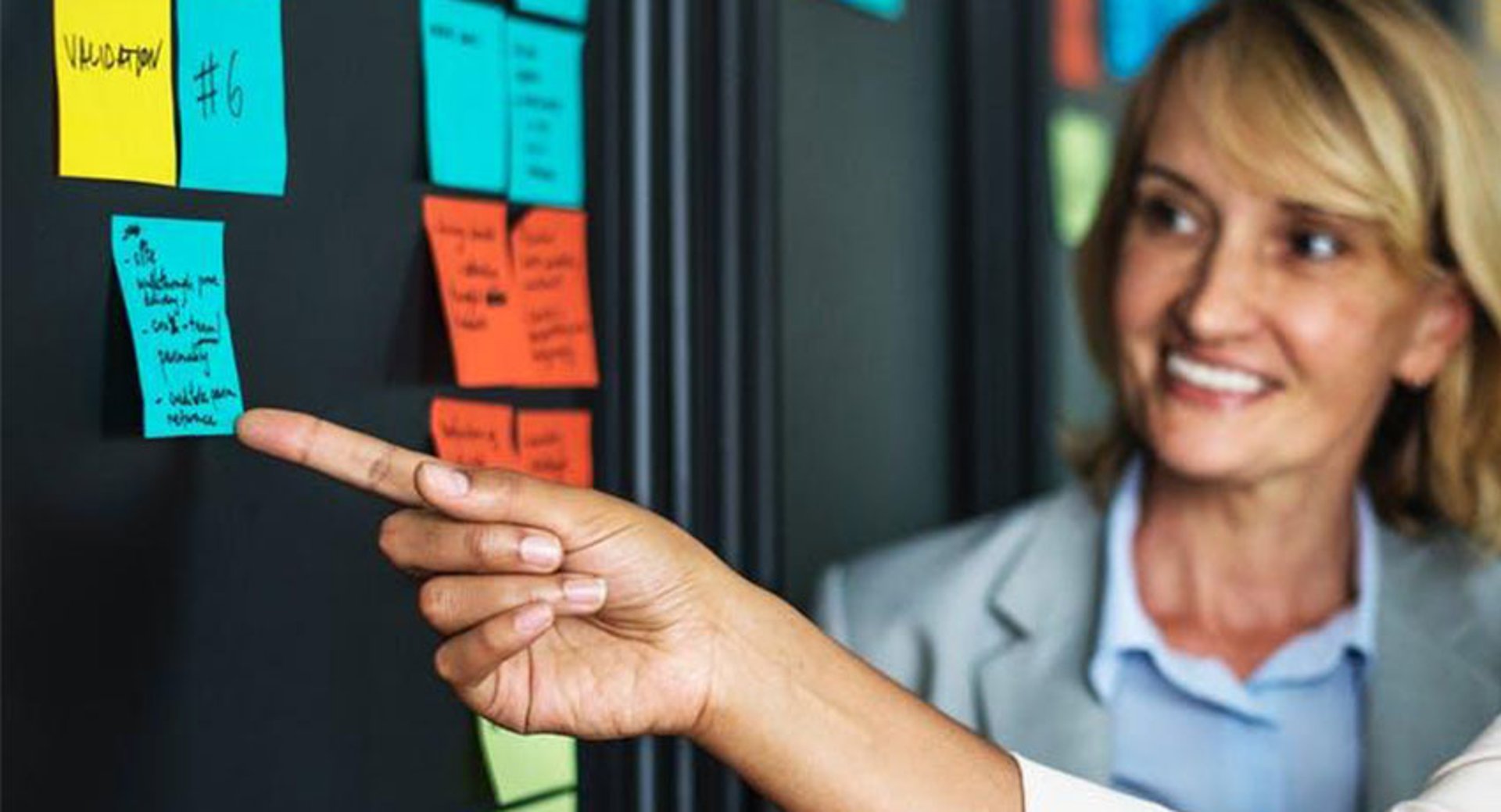 Summary - Modern CMO's use a number of marketing technology and tools. Learn a simple 5-step approach to get you up and running with your own CMO control centre.
---
As a modern Chief Marketing Officer (CMO) you're using all kinds of marketing technology and online tools. Heck, the average marketer uses around 90 cloud tools (source: chiefmartech.com) in their marketing stack.
The marketing landscape is changing faster than ever and the focus on data is enormous, which calls for constant focus on strategy and tactical plans (which results in a long list of daily to-dos). We are all very familiar with the lists in Asana, Wunderlist, or Trello.
Overall, it's safe to say that the CMO has a lot to manage; this never-ending list of projects calls for a CMO dashboard which can display to-dos in a way that is easy to digest. By making project data available to stakeholders in real-time, you can save previous time that you would otherwise use to build weekly and monthly reports.
Read on to learn a simple 5-step approach to get you up and running with your own CMO control centre.
Step 1: define your core KPI's
From Google Analytics and Ads to SEO and email marketing, each tool provides you with multiple indicators. With all of the data available from these many tools it's easy to lose sight and focus of what really matters.
In order to select which figures matter most, you should first analyze your marketing and overall organizational goals; these are different for every business and usually defined at the C-level.
The next step in this process is to setup a meeting with the various teams responsible for the projects and define 4 to 6 key performance indicators to measure your success. KPI stands for Key Performance Indicator (KPI), a measurable value that demonstrates how effectively a company is achieving key business objectives. Organizations use KPIs to evaluate their success at reaching targets.
Examples of KPIs you could consider include:
# of Marketing and/or Sales Qualified Leads (MQL / SQL)
# of downloads / trials
Conversion rate
Top performing content on your website
# Website visitors
# of keywords ranking on first page of Google
$ revenue generated online
Top-of-funnel leads or number of email subscribers
When you have successfully defined your top KPIs, define monthly, quarterly, and yearly quotas. This way, you can effectively define a goal, month-to-day realization, and GAP.
Step 2: What data sources should be used, and which tools will you use?
Once you have defined your KPIs, the next step is to find the appropriate data sources that will retrieve the relevant data to support them. For marketers, the sources typically used include:
CRM (like Salesforce.com, Microsoft CRM, Sugar CRM, or Netsuite)
Marketing automation platforms (Marketo, Pardot, Hubspot, Eloqua, Marketo, or any of the contenders)
Email marketing platforms (Mailchimp, Aweber, Campaign Monitor, or a different tool)
Google Ads (mainly conversions)
Google Analytics
Google Search Console
SEO Monitoring tools (like SEMrush or Searchmetrics)
All of these online tools have APIs or other export possibilities to extract data from automatically. Don't bother about the technical details now, first let's focus on how to achieve your KPIs!
Step 3: Setup a weekly tactical meeting with the right team
A good online marketing approach demands a clear strategy and people to define tactical measures based on relevant data. Because this data is available in real-time, it is essential to review your tactical approach on a weekly basis, in order to avoid falling behind. In the past your actions were most likely based on monthly or quarterly reports, now you can act faster!
It's key to have a team comprised of individuals equipped with the necessary tools and expertise to that mine the data and suggest or take appropriate measures. These teams usually include the CMO, marketing automation managers, online marketing consultants, and lead generation and conversion specialists from agencies.
Once the tactics are defined, this will result in to-dos for the marketing department, external marketing agencies, and consultants that help you in specific areas. All these people can easily work together in a collaboration tool like Trello, Wunderlist or Asana. These tools enable you to define tasks, team members responsible, and due dates.
Step 4: Visualize your data in a dashboard
The data that is generated in steps 1 to 3 can be visualized in a real-time dashboard, like Klipfolio. This enables you as a CMO to have all essential data in one place, giving you insight into:
Top 5-7 KPIs
Weekly key tactics and strategies
Daily to-dos
In order to display your data, Klipfolio has hundreds of integrations available through APIs and pre-built Klips. You can either choose to build the dashboard yourself or use one of their multiple partners who will build them for you, like Marketing Guys.
Step 5: Make your dashboard visible and communicate results
The last step is making your dashboard visible to the marketing department. It's easy to connect a Google Chrome box to a LED TV set and stream the dashboard in real-time. You'll quickly see how data transparency will foster a data-driven mindset for all the members of your team. Result driven marketing, that's what it's all about!
At Marketing Guys we have our CMO Control Center always on: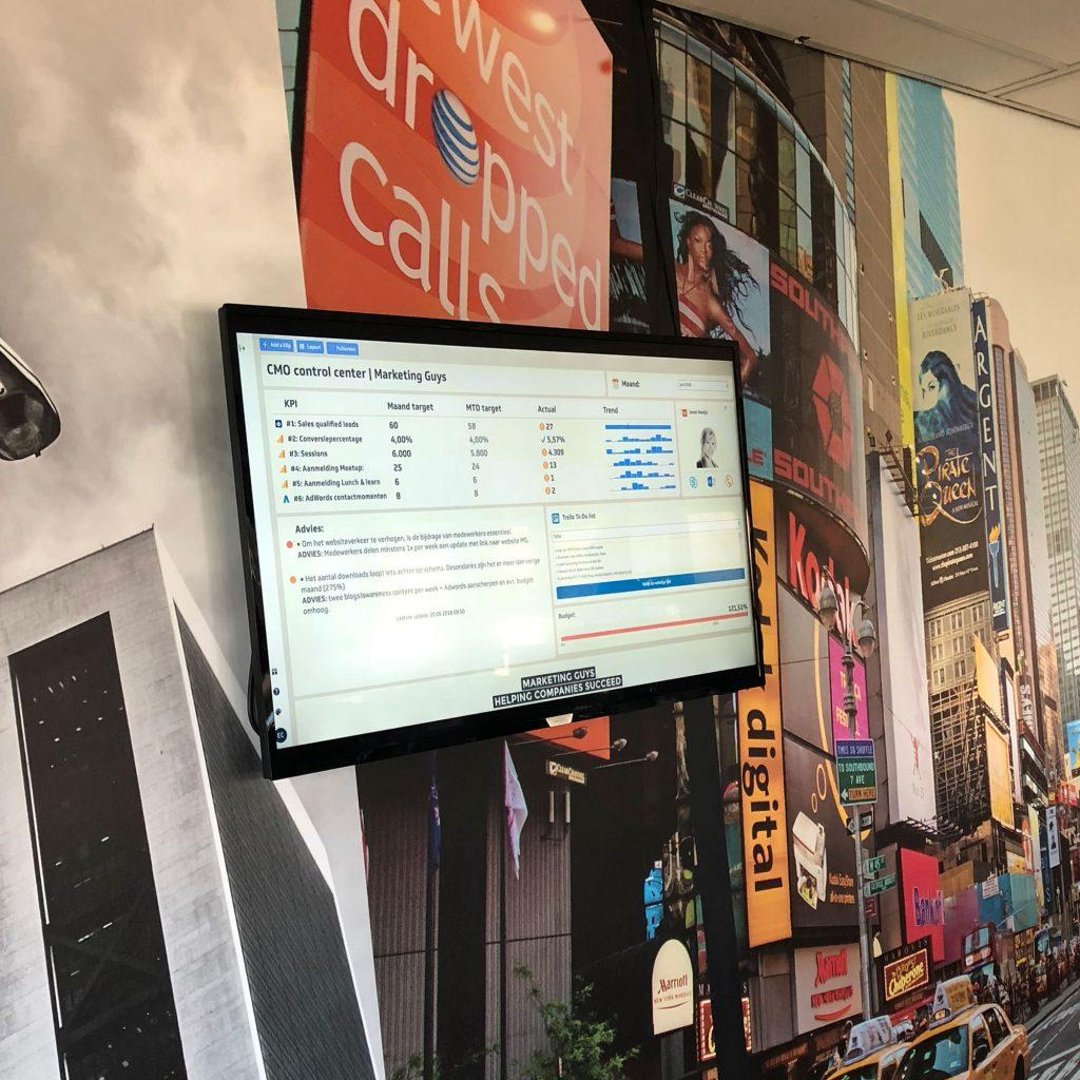 Tip:
Of course, your CMO dashboard shows relevant data to you as the CMO. Sometimes however, you might want to dig into the data to get detailed information on each KPI. In this case it's useful to build extra dashboards, for example per focus area: a lead generation dashboard, SEO/SEA dashboard, or an automation dashboard. These dashboards could be made accessible easily by clicking the data in your CMO Dashboard.
This blog was written by Elias Crum, founder and CEO of Marketing Guys, a data driven online marketing agency based in The Netherlands. Elias is a marketing technology specialist and is host for the Marketing Technology Podcast and organizer of Marketing Technology Day.
Related Articles