What makes a good lead generation dashboard?
Published 2017-06-24, updated 2023-06-26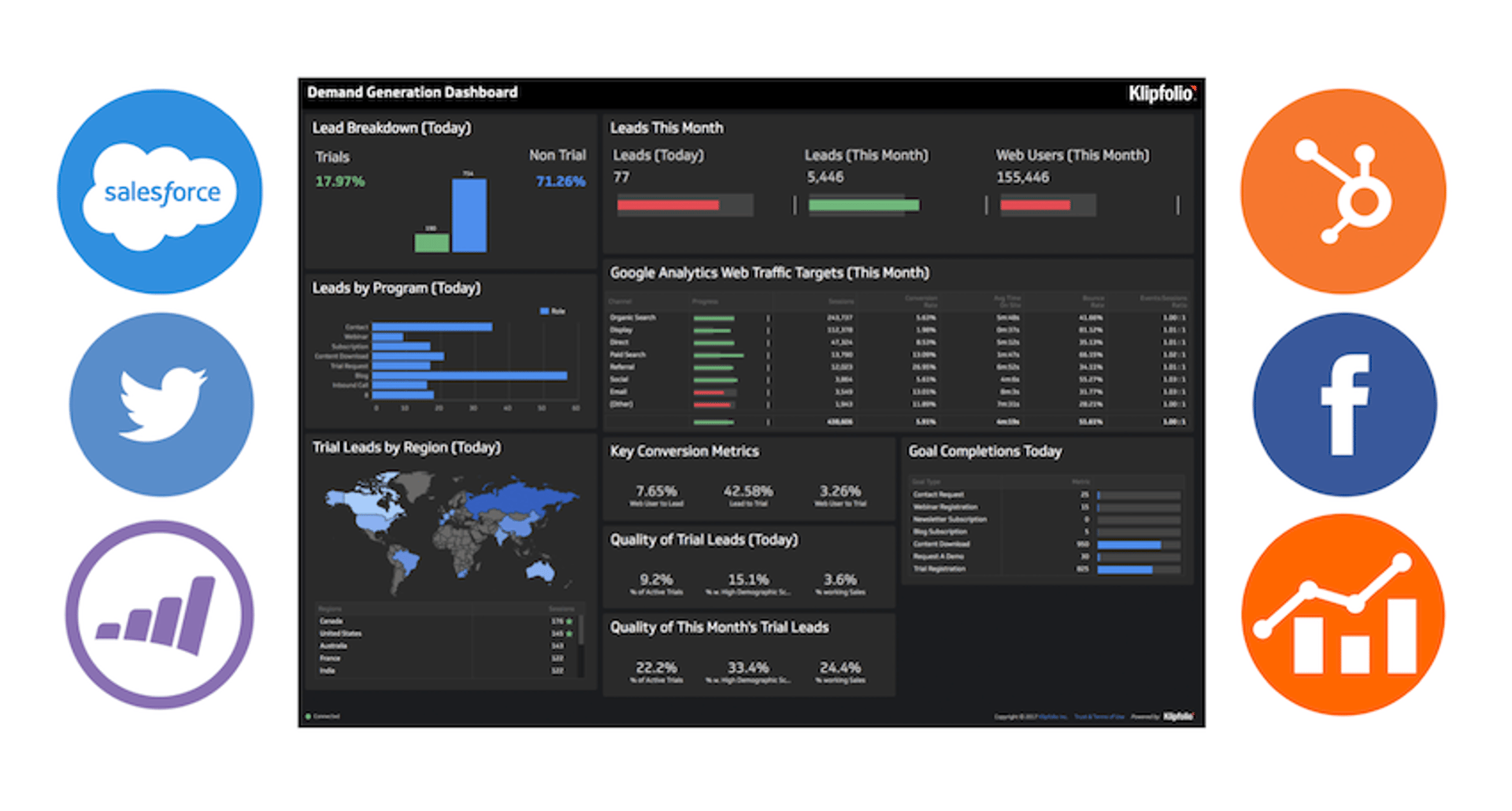 Summary - Lead generation dashboards come in all shapes and sizes. The best of them, however, contain the perfect blend of real-time metrics, integrations, and visualizations.
---
As your company's lead generation expert, you probably have an intuitive understanding of your lead lifecycle and lead management processes.
But explaining this to others within your organization can feel like you're speaking another language. Even though lead gen management may be second nature to you, it's actually pretty sophisticated stuff.
To make sure we're on the same page here, our friends at HubSpot see lead generation as fitting into the "convert" stage of this diagram:

Note: For a deeper glimpse and to help get your teammates up to speed, it's worth checking out their lead generation guide.
A good lead generation dashboard, as it not only helps you articulate the value of your marketing campaigns but also makes it easier for you to track these metrics, is therefore often a critical component of great lead gen strategies. A dashboard has the unique ability to surface metrics to your entire team and translate data into insight.
Even the simple act of sharing these metrics means you're creating a culture of continuous transparency and improvement.
In short, a good lead gen dashboard is an effective tool when it comes to increasing the visibility of metrics for your entire team and simplifying your own reporting efforts.
How is lead generation measured?
Leads are individuals who have shown interest in your product or service. Lead generation is measured by the count of inbound or outbound leads, also known as prospects, in your pipeline. 
What is a good lead conversion rate?
According to MetricHQ, a good lead conversion rate is 2.4% globally for the average webpage. A specific lead generation landing page can have a conversion rate of 4%. 
So what makes a good lead generation dashboard?
An effective lead generation dashboard enhances visibility into your lead lifecycle. Your lead gen dashboard should answer the following six questions, among others:
Are you generating enough MQLs (Marketing Qualified Leads) for your sales team?
Which campaigns are generating the most leads?
Which campaigns are generating the most qualified leads?
Are there any leaky spots in your lead funnel?
Where are your leads coming from?
Are your key lead gen metrics trending up or down over time?
When you consider the value of being able to continuously monitor the performance of your lead lifecycle and you're sharing that data with your entire team, you can see how answering these questions could easily be worth millions of dollars.
Suddenly you've got the ability to make slight course corrections and incremental improvements—such as improving your ability to convert MQLs into paying customers.
Here are 4 lead generation metrics to consider including in any lead generation dashboard:
Lifecycle Over time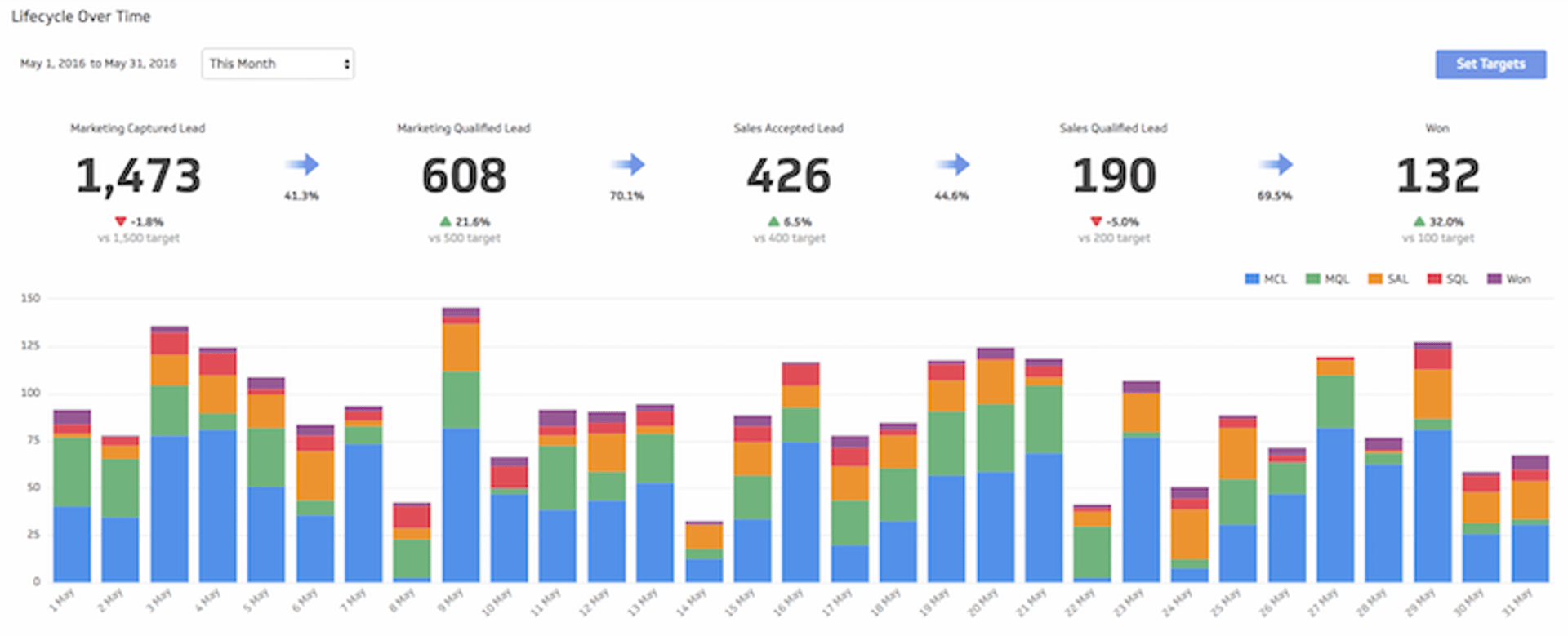 This metric should be the centerpiece of any lead generation dashboard.
The lifecycle allows marketers to track a lead's progress through the purchase funnel and measure conversion rates from one stage to the next. You may even have internal targets for producing a certain number of MQLs for your sales team.
More importantly, your ability to influence conversion rates throughout the lifecycle provides a valuable lever of growth for your business.
New Leads by Source

For most marketers, the first measure of a campaign's success is its ability to generate new leads for the business. It follows that understanding a lead's original source is critical to evaluating program success.
This goes for inbound marketing efforts like SEO (search engine optimization), digital advertising, and social media. It also applies to outbound efforts like email outreach, tradeshows, and conferences.
Add this Klip
Leads by Region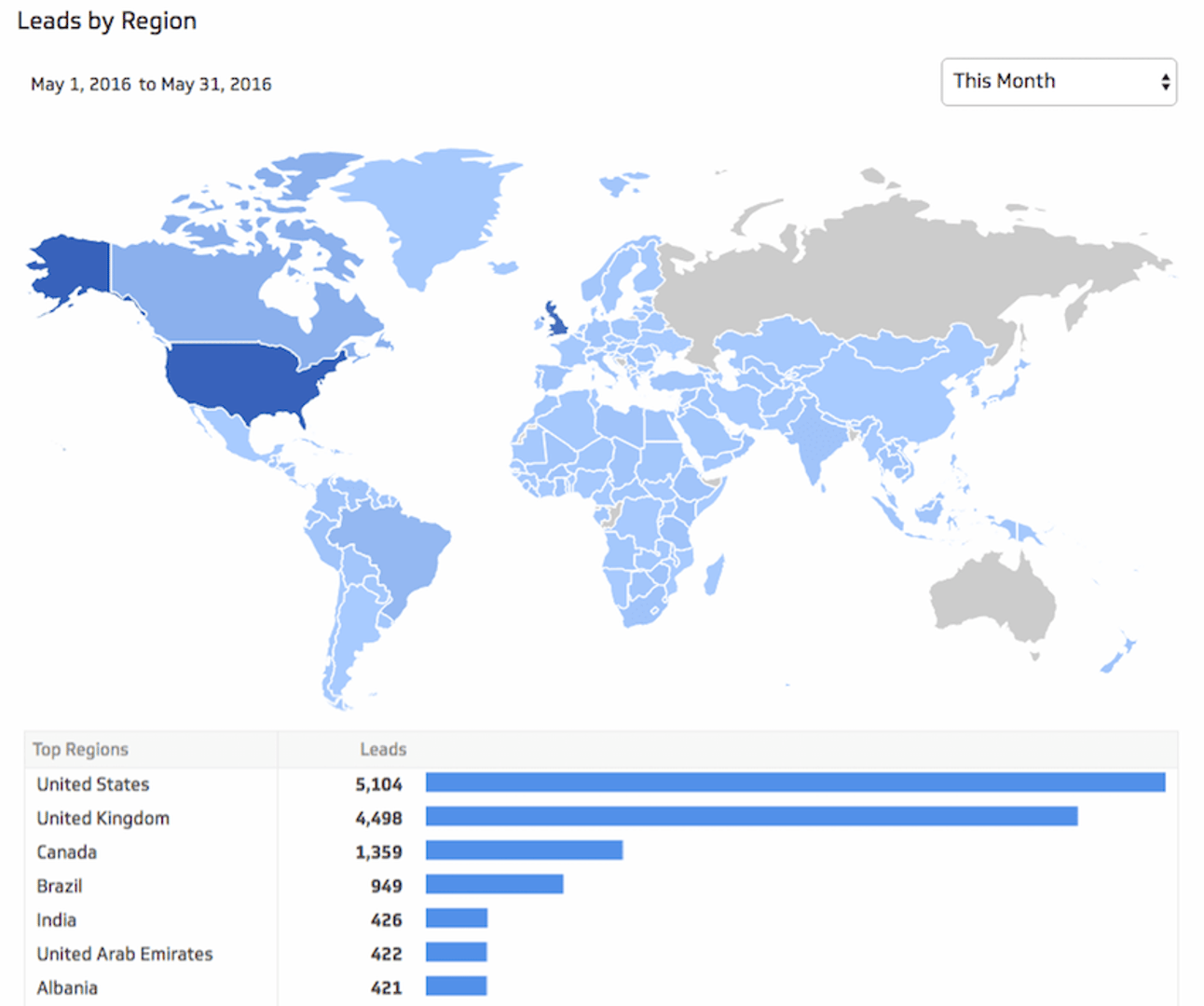 While lead volume is awesome and often causes for celebration, ultimately, you're in the business of generating high-quality leads for the business. Each organization will define quality very differently. Some organizations may capture a number of qualification fields like role, industry, department, and company size and then qualify leads based on those responses.
But most organizations, in addition to those previously mentioned, are targeting specific geographies. So that's often a great place to start when qualifying leads.
Current Leads by Stage

While compiling all the necessary details for the Lifecycle Over Time metric, be sure to split out the Current Leads by Stage segment. This allows you to see the details of your most recent leads, which can allow you to quickly spot trends and optimize your lead gen efforts accordingly.
The Current Leads by Stage metric, because it lets you zoom in on a slice of the process, is especially important if you're running a high-performance inbound marketing team that is generating new leads at a steady clip.
How to build a lead generation dashboard
When it comes to building a lead generation dashboard (or any other type of marketing dashboard), you will want to follow this rough 4-step process:
Establish what metrics matter for your lead generation efforts
Identify where the data currently resides (a marketing automation platform or CRM)
Pull that data into a dashboard software application
Create data visualizations and dashboards for your team
What's next?
Ready to build a lead generation dashboard? Great! We recommend checking out these services to get started:
Related Articles