3 Reasons Why Your Google Ads Don't Work (And How To Fix It)
Published 2020-03-24, updated 2023-02-21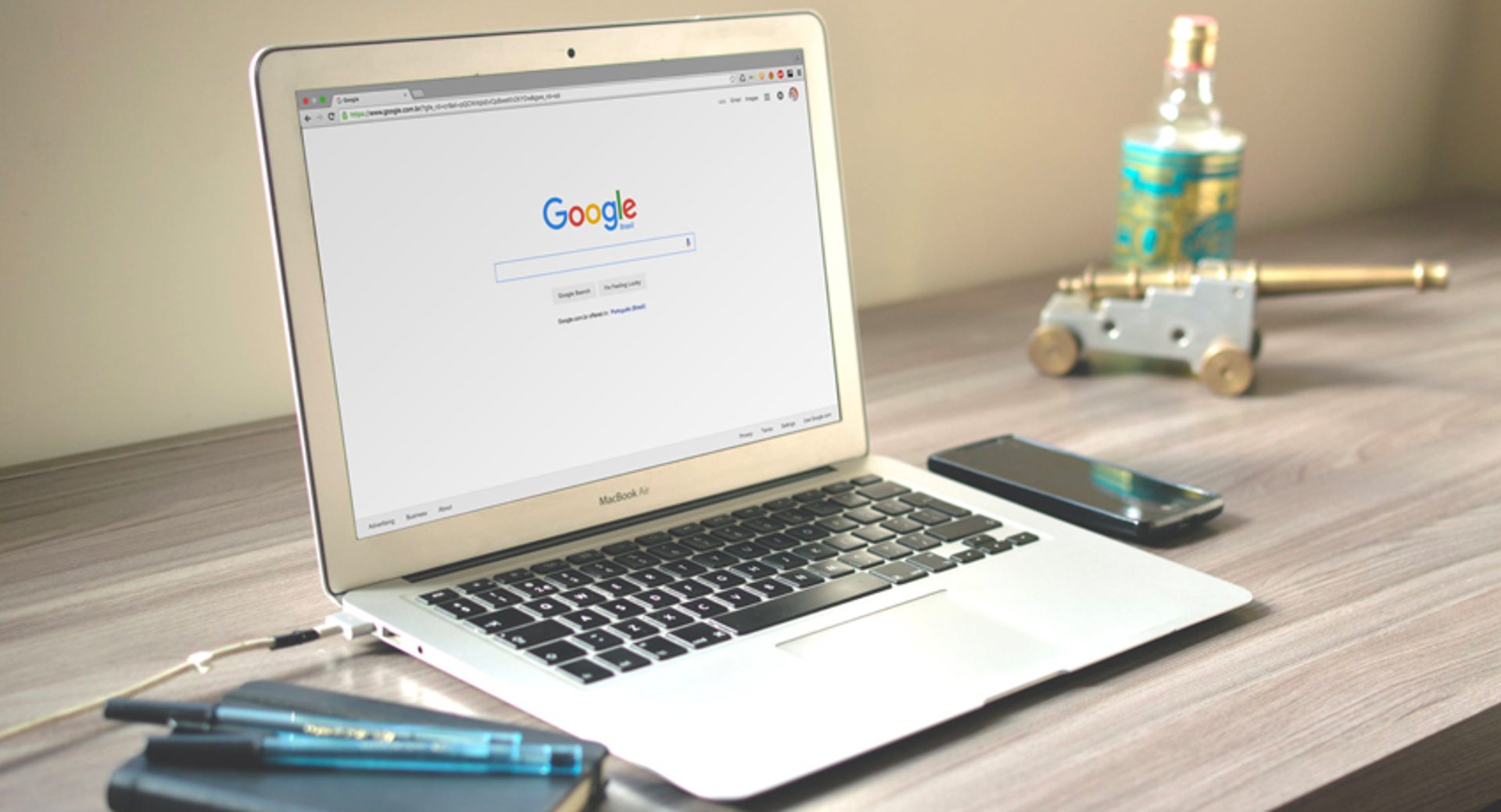 Summary - "Why aren't my Google Ads working?" This blog will break down what you are doing wrong with your Google Ads campaigns and how you can fix it.
---
We frequently turn to Google to find a solution to a problem or an answer to a question. Although whenever we conduct a search, sometimes the first result is a paid advertisement.
Many businesses use Google ads to drive more traffic and lead more visitors to their websites.
Here's an example of search results for the keyword "hotel":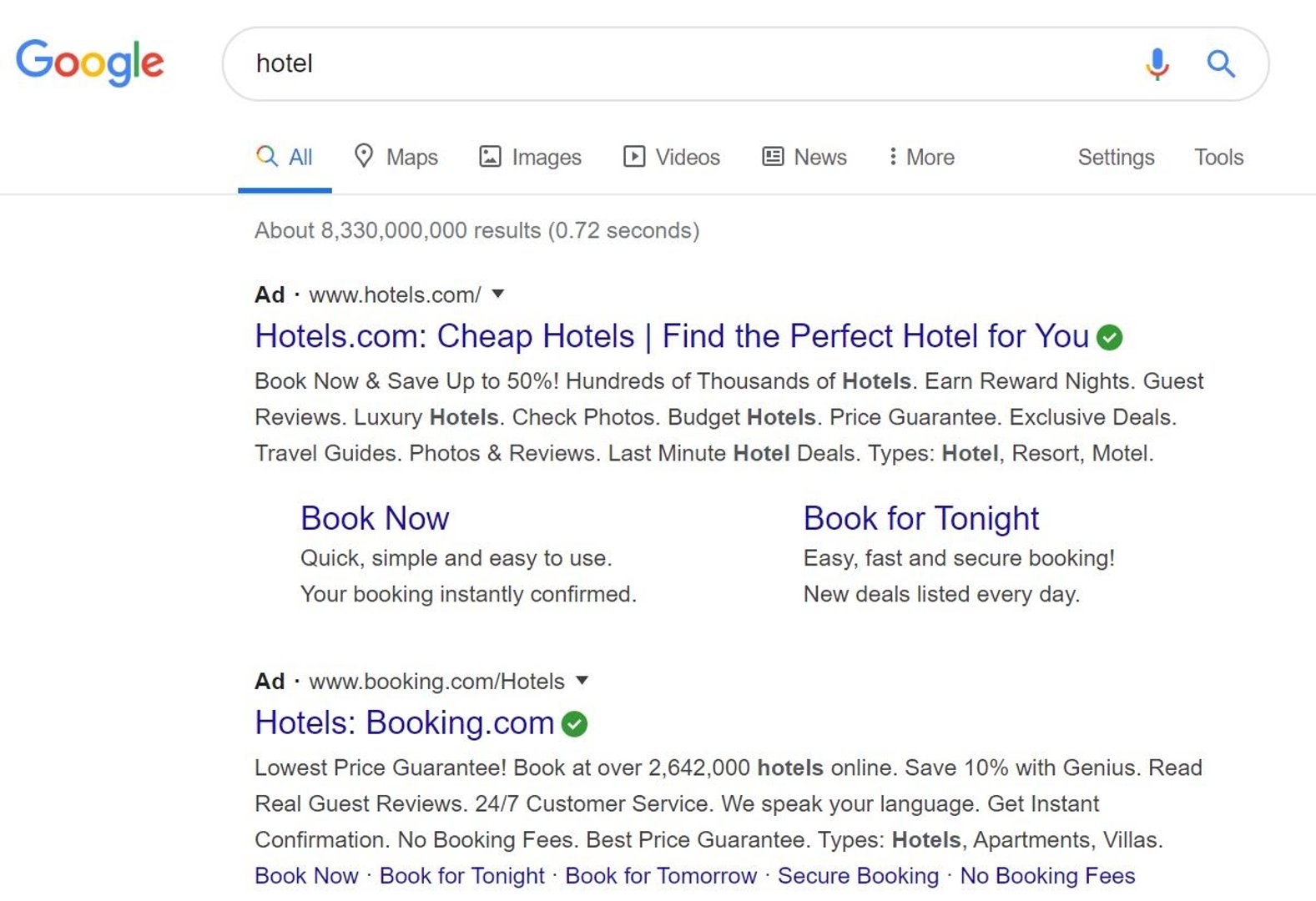 The top search results are ads for Hotels.com and Booking.com. These sites allow visitors to find a place to stay for their next vacation.
These ads can be effective at generating conversions. In fact, visitors who click on ads are 50% more likely to make a purchase. Additionally, online ads can boost brand awareness by 80%.
If you've launched an ad, then you may be skeptical when you don't get good results. However, experienced marketers will know that it takes more than an ad to get users to visit a website.
The truth is you need the right keywords, copy and strategy to create high-converting Google Ads.
Now, why were your Google Ads not working? In this article, we'll tackle common mistakes that you can be making and how you can fix it.
Mistake #1: Using the Wrong Keyword Match type
Many marketers target long-tail keywords to generate conversions, but you may be setting the wrong keyword match types.
For starters, a match type lets you choose the kind of searches which will trigger your ad.
There are three main keyword matching options:
Broad match

Phrase match

Exact match
Understanding the keyword match types to target lets your ads reach leads that are more likely to convert. Here's what you need to know about these three matching options:
Broad Match
Broad match is the default matching option for all keywords. An ad may appear on searches with synonyms, related searches, misspelling, and other variations. So if you're targeting the keyword "hotel los angeles", someone searching a misspelled keyword like "hotel new york" or a related keyword like "manhattan hotel" will see your ad.
A broad keyword match means that your ad appears regardless of a user's intent. The user may not be interested in buying a product. If they make a related search similar to your keyword, then they could see your ad.
Broad match keywords are ideal for those that want to raise awareness. Search Engine Land reports that accounts that invest in broad match keywords drive twice as many of their conversions from long-tail keywords. And, more than 85 percent of all long-tail conversions come from broad match keywords.
Phrase Match
Phrase match lets ads show on searches that contain the exact order of the phrase or close variations of the phrase. The keywords only appear if users type the exact order of the phrase.
If you conduct a search with the phrase "best restaurants in nyc", the ad won't appear if you type "nyc best restaurants" or "best nyc restaurants".
However, it can show up if there are additional words before or after the phrase. So, the ad will appear for a search like "best restaurants in nyc 2020", "best restaurants in nyc with a view", or "best restaurants in nyc for kids".
It is usually designated with quotation marks such as "best restaurants in nyc" on Google Adwords.
Exact Match Keywords
Exact match keywords lets ads show on searches with the exact term or close variations of the exact term. Close variants include searches that have the same meaning with the exact keywords.
An ad for "best restaurants in nyc" will only show up for searches with these exact keywords.
Unlike phrase match keywords, the ads won't appear on searches like "best restaurants in nyc 2020" or "best restaurants in nyc with a view".
To assign an exact keyword match, designate the keyword with the brackets [best restaurants in nyc].
Mistake #2: Not Launching Ads with High-Converting Copy
You don't get more conversions through random copy. Instead, create a
high-converting copy that will fit with Google's guidelines and grab the attention of your audience.
Anatomy of a Google Ad
To create an ad that converts, you need to understand the main components of an ad.
Here's a list of the main parts that you need to know:
Headline. Google allows up to 3 headlines with up to 30 characters each. These are known as Headline 1, Headline 2 and Headline 3.

Description. Google allows up to two descriptions with up to 90 characters for each. They are known as Description 1 and Description 2.

Display URL. This is composed of the main website URL, Path 1 and Path 2. Google allows each path to have 15 characters each.

Sitelink extensions. Takes visitors to particular pages on your website. There is a 15 character limit per sitelink. The site must have a minimum of four sitelinks so it can be displayed.

Sitelink description. The description for the page featured in the sitelink extension. It has a 35 character limit.

Callout extension. Extra information you can add to the Google Ad to help it stand out.

Snippets. Short description that provides a preview of your products and services.
Here's an example of a Google Ad: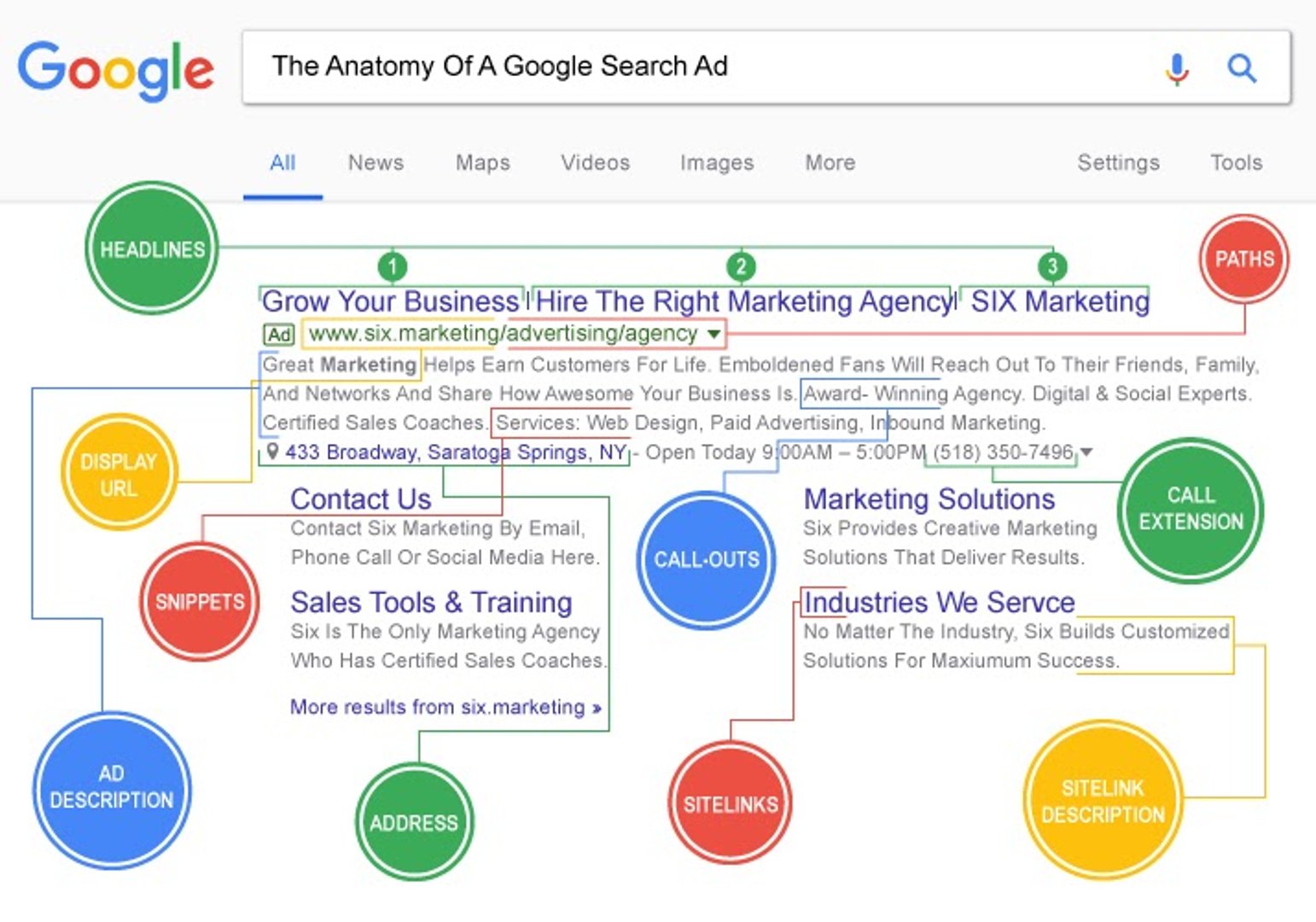 Tips for Writing Better Ads
Understanding the main components of an ad allows you to launch paid ads that are worth your buck.
Tip #1: Place Keywords in Ad Copy
Place relevant keywords that match the searcher's query.
After all, we assess Google's search results by checking out if the description mirrors the keywords that we've used. This way, we know we're on the right website.
When adding keywords, avoid stuffing them in the copy. The overall description should be convincing to the reader so they'll be compelled to click your ad.
Let's take a look at the ad below for the search query "hotel in maldives".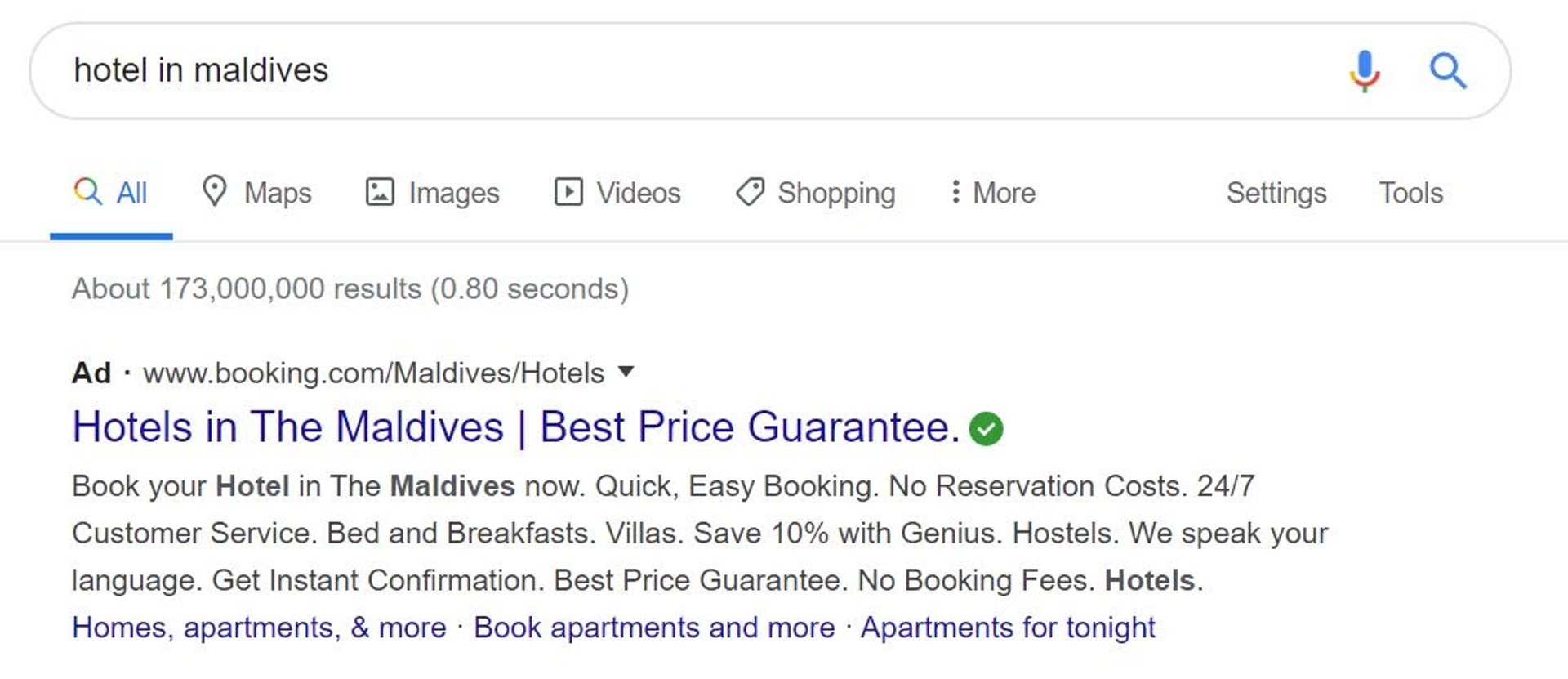 The main headline "Hotels in The Maldives" is an exact match of the search query. Hence, readers know that they'll reach their desired website.
The description mentions the same keyword, but there are also details about their service. Visitors can find information on villas, bed and breakfast, 24/7 customer service and easy booking.
The short description attracts customers making plans for their next vacation.
Tip #2: Add a Compelling CTA
The main purpose of a Google Ad is to compel users to take action. Some ads promote a free trial. Others aim to sell products by showing off their discounted prices. Regardless of the purpose of your ad, it's important to add actionable phrases that show your purpose.
For example, this bag by Michael Kors promotes their discounted handbags, crossbodies and shoulder bags which encourage customers to shop.

Alternatively, customers that want to design their own website can check out Wix's website where they can get started for free.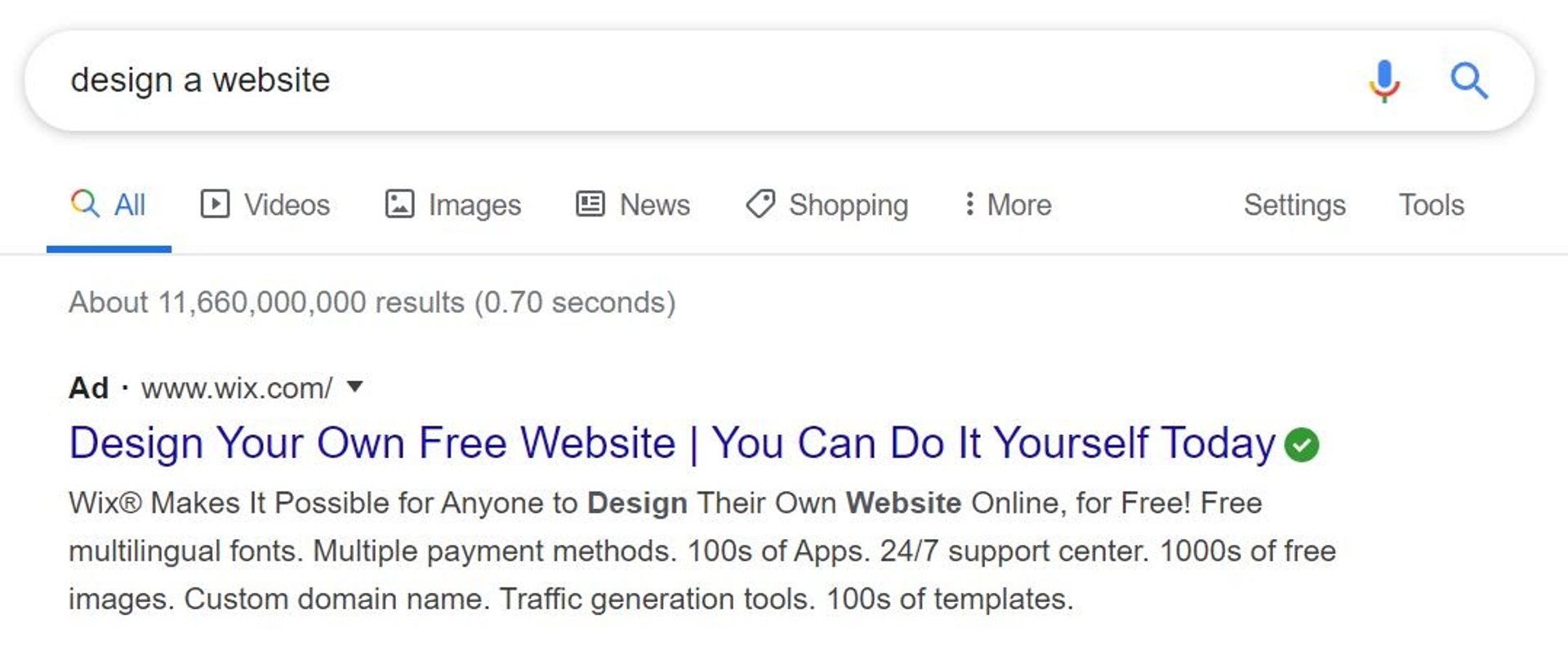 Tip #3: Test Psychological Approaches
Leverage psychological advertising approaches that resonate with your audience.
Here are a few main types to consider:
Features. Showcases the benefits aspects of your product or service. (Example: Award-winning web design)

Benefits. Highlights the advantages of using your product or service. (Example: 24/7 customer support)

Solution. Describes how your product or service can solve a problem or issue. (Example: Try our website builder)

Problem. Describes the problem that your potential customers want to overcome. (Example: Tired of boring websites?)
It's important to experiment with different psychological approaches to find out what works best for your business.
Mistake #3: Not Bidding on Brand Name or Keywords
Bid on your brand name or keywords.
Brand name keywords include:
Your company name & URL

Your product names
Getting on the first page of the search results for your brand is crucial to your business.
This is because 90% of users don't go past the first page of Google's search results. Additionally, 89% of users are more likely to visit your website if it's on the first page of search results.
It's important to rank high by bidding for the keywords that matter to your business the most. Be careful to keep your Search Lost Impression Share (Rank) low in order to rank high for your keyword.
If Amazon's website didn't appear on the first page results, then would you reach their online store? Definitely not!
Also, an ad for your brand name lets you get more real estate on the first page search results for your brand.
For example, Rolex dominates the search results for its business by placing two ads for their website and official retailer.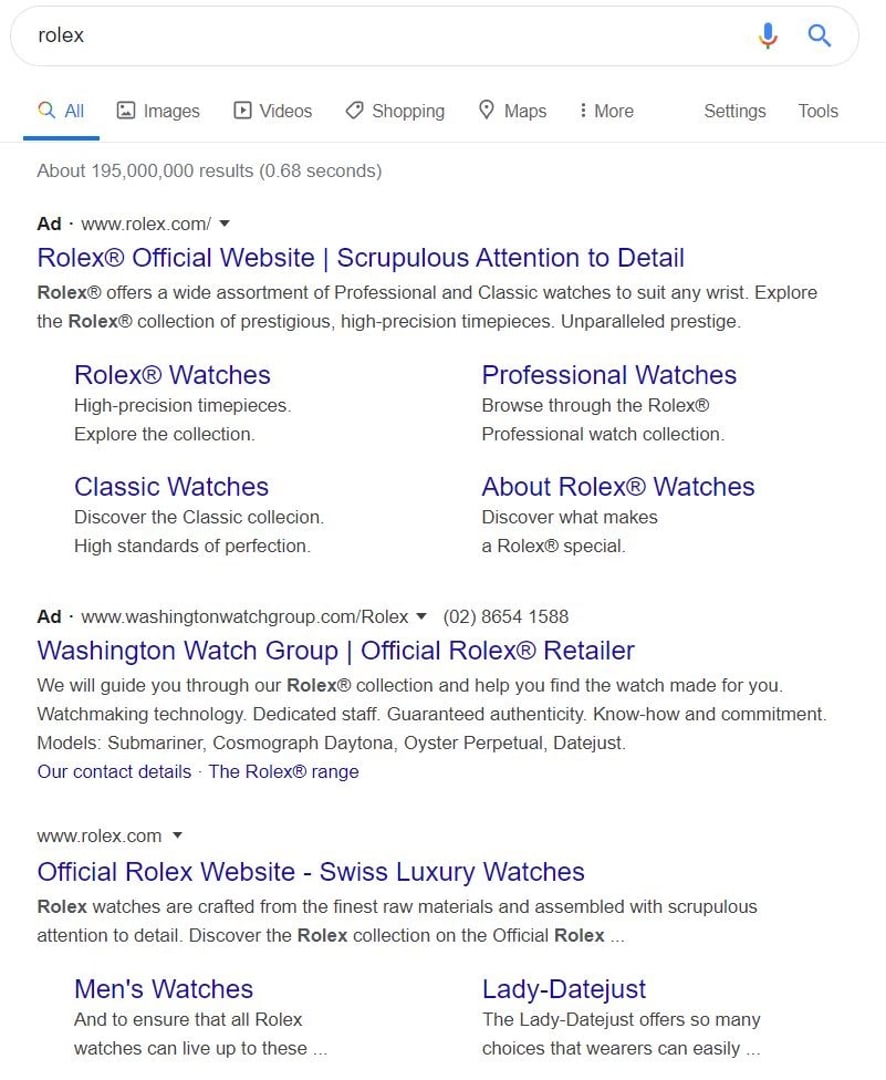 Bidding on your brand name lets you protect your business from competitors that want to curb traffic from your website. A competitor could bid for your product's name to redirect traffic towards a similar product that they own.
For example, typing the word "Hubspot" leads to their ad followed by another ad from Active Campaign.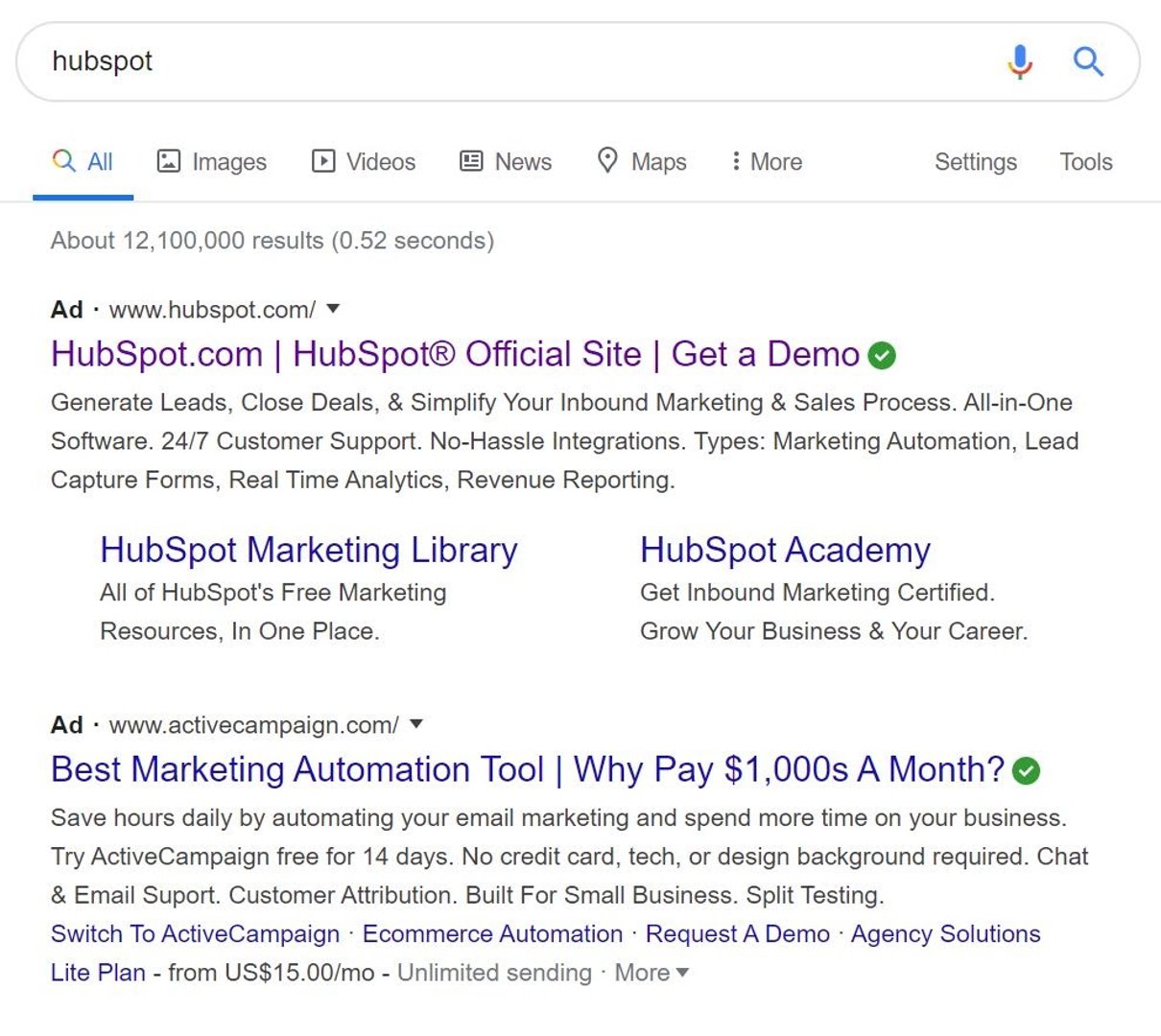 Imagine if Hubspot wasn't the highest bidder for their brand name. The top page of the search results will be for their competitor Active Campaign instead.
Conclusion
We hope that these tips help you understand what you're doing wrong, and how you can fix it.
By following these tips you can create high-converting Google Ads that generate results. When you put your Google Ads metrics on a PowerMetrics dashboard, you can easily track how to boost conversions, generate traffic and improve web performance.
About The Author
Emil Kristensen is the CMO and co-founder of Sleeknote: a company that helps e-commerce brands turn their website browsers into buyers—without hurting the user experience.
Related Articles