Dashboards
and reports
Make your metrics accessible to your team, no matter their technical abilities. Encourage a data-driven culture, align your team on goals, and drive change.
Get Started Free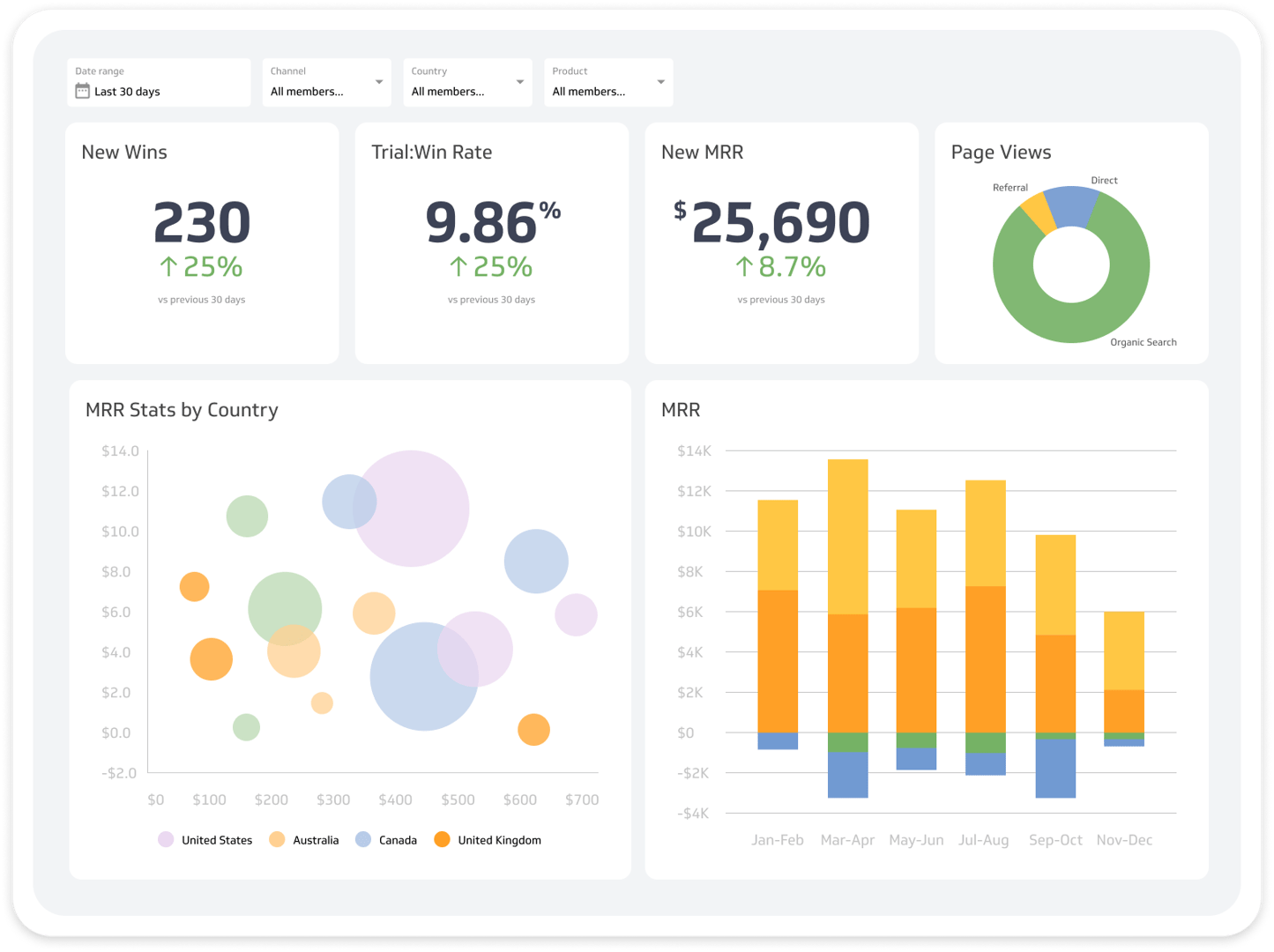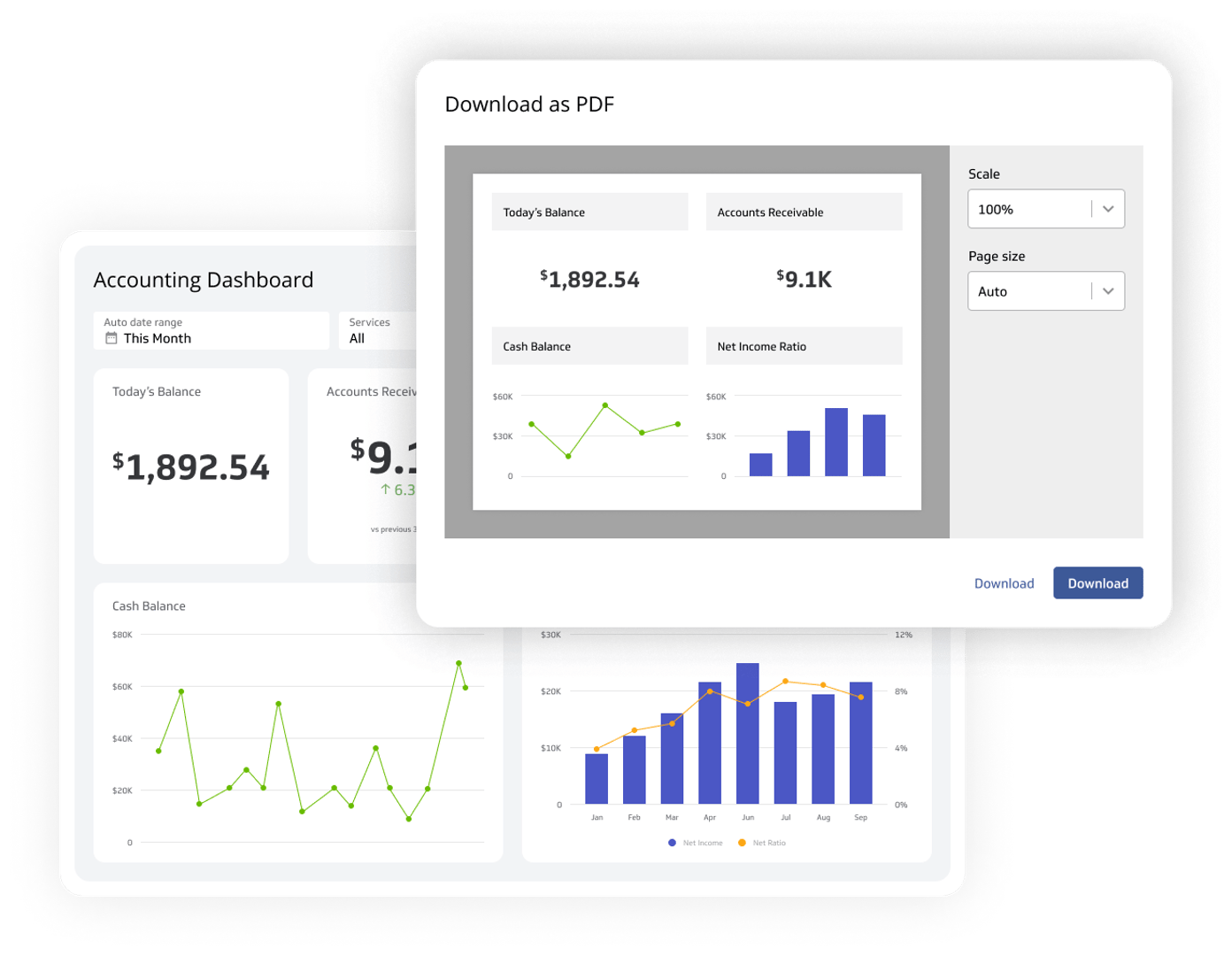 Build powerful dashboards
for you and your team
Business decisions aren't made based on a single metric. Add your metrics to a dashboard to communicate business goals and empower your team to make decisions with confidence. Skip the manual effort of compiling reports in spreadsheets, juggling multiple application windows, or copying and pasting into slide decks. Everything you need to make business decisions is waiting for you on your PowerMetrics dashboard.
Date Range and Filters
You (and everyone with shared access) can modify date range and filter settings without affecting the original dashboard. You're free to dig in, make changes and see what you can learn.
Sharing and Access
We make it easy to share with your team. Add users to the account, organize them into groups, assign them roles and grant access rights. Our built-in options include all the common permission sets you need.
Auto-refresh
All metrics are automatically updated across your dashboards. Refresh rates range from every 15 minutes to every 4 hours depending on your pricing plan.
Add Context
Set the stage for your data story by adding text and images to your dashboards.
Customization
Create a cohesive and visually stunning dashboard using our preset chart colour options or your own custom colours. Then add your company logo and a light, slate or dark dashboard theme.
Published Views
Present your data to people inside and outside your account by easily and securely sharing links to a view of your dashboard. Display them on any screen – including TVs throughout the office – and keep everyone on the same page.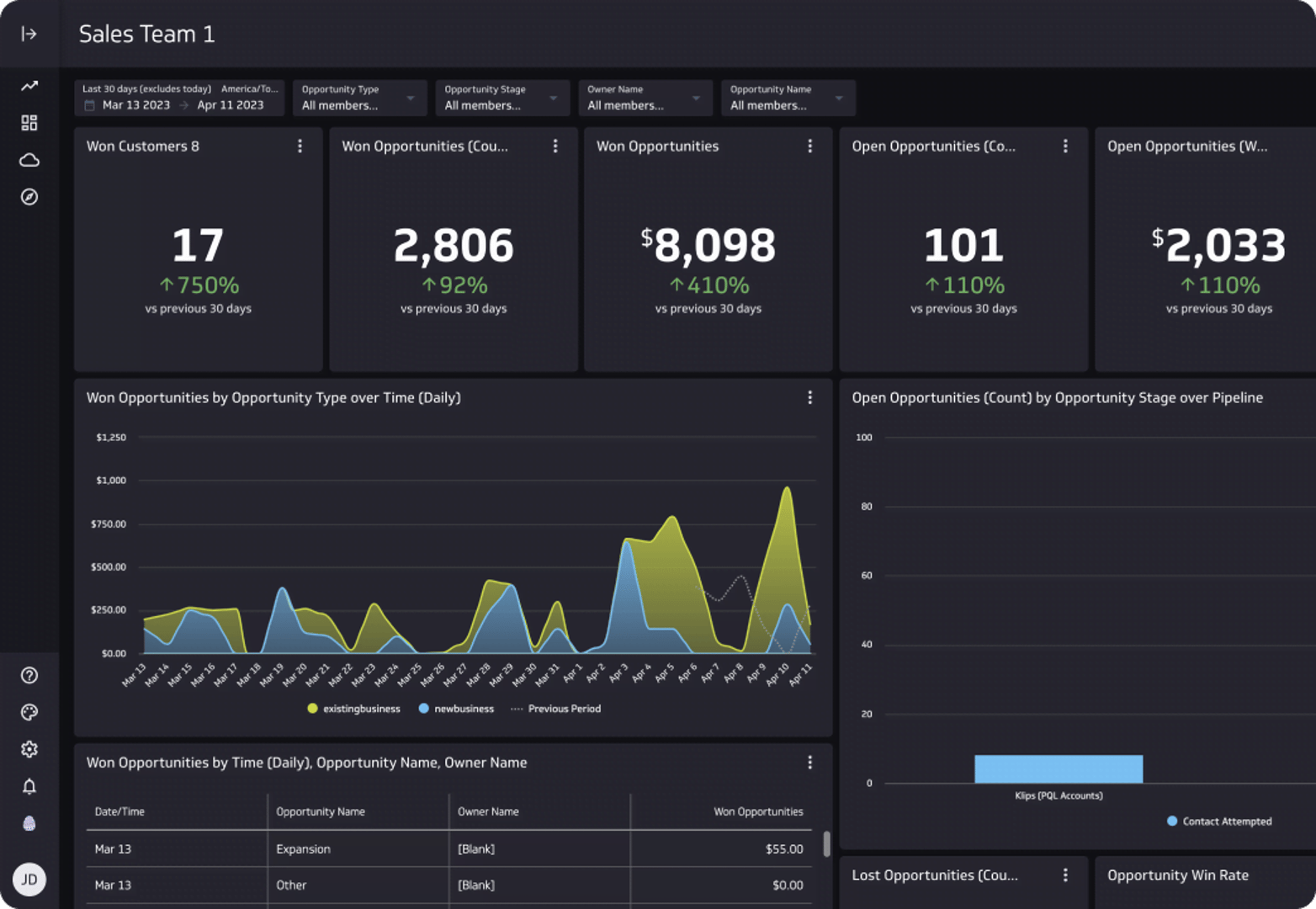 Sharing dashboards
and reports
Discover the ways you can share and present your data so you and your team can use your metrics and dashboards as a single source of truth.
Published views: Extend the reach of your dashboards by sharing with internal or external stakeholders. Choose from public access or require a passcode. Published views aren't indexed by search engines so you can be sure your dashboards are only shared with intended viewers. Dashboard views can be displayed on mobile devices, tablets, and browsers and on large TVs. They're also perfect for presentations when you want to tell your data story to others. With automatic hourly refreshes you and your team will always be on top of changes in your data.
Download as PDF: For in-the-moment views of your data, PowerMetrics automatically formats PDF reports of your dashboards. Simply download to share with your team in chat or email or add them to your presentations.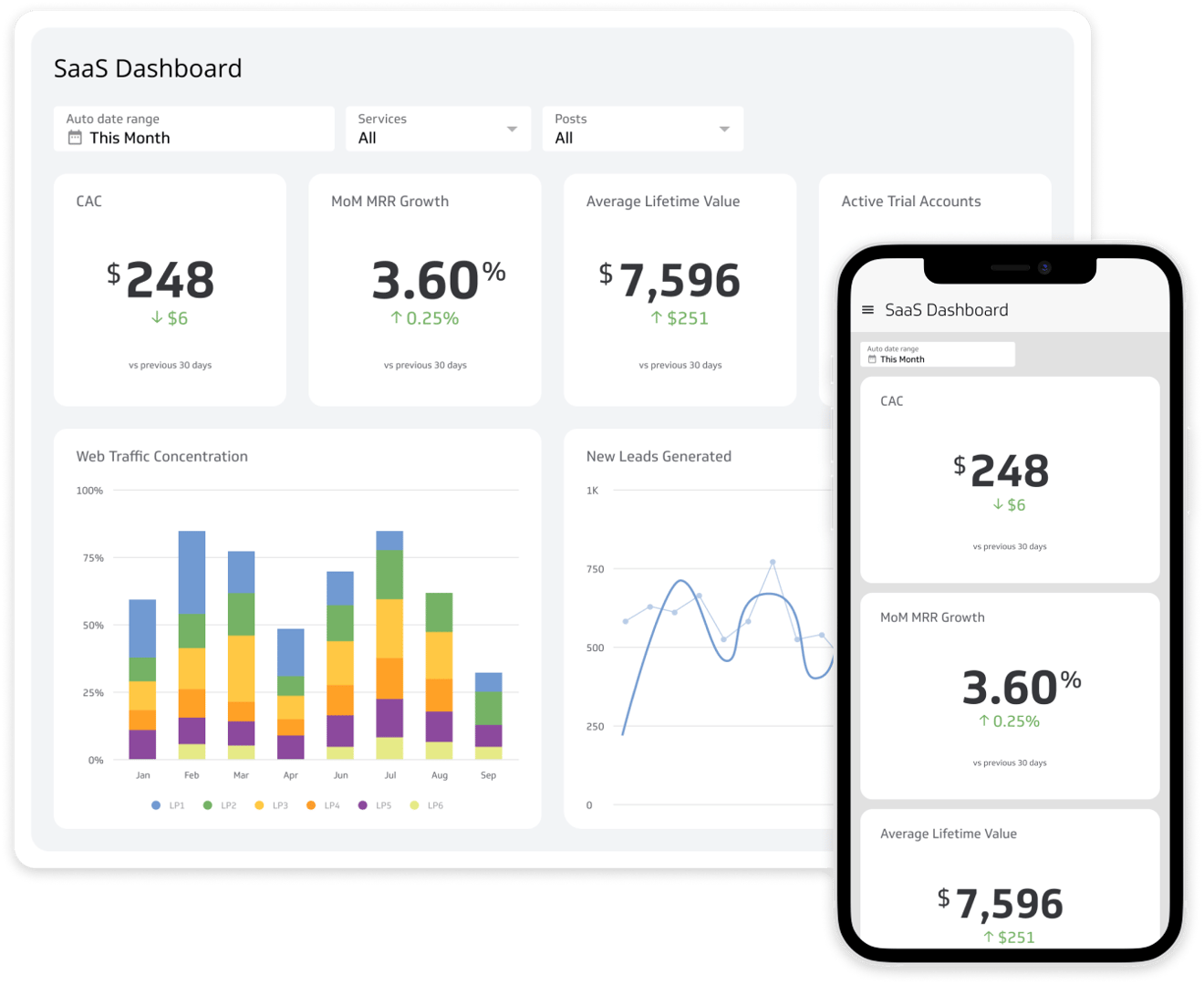 Access your dashboards
and reports anywhere, anytime
Access metrics, dashboards, and notifications using your mobile web browser. It's fast, responsive, and has the same full feature set as desktop.
Get notified by email or in-app when your metric goals are met or if you missed the mark.
Keep your team on the same page by displaying published dashboard views on TVs throughout the office.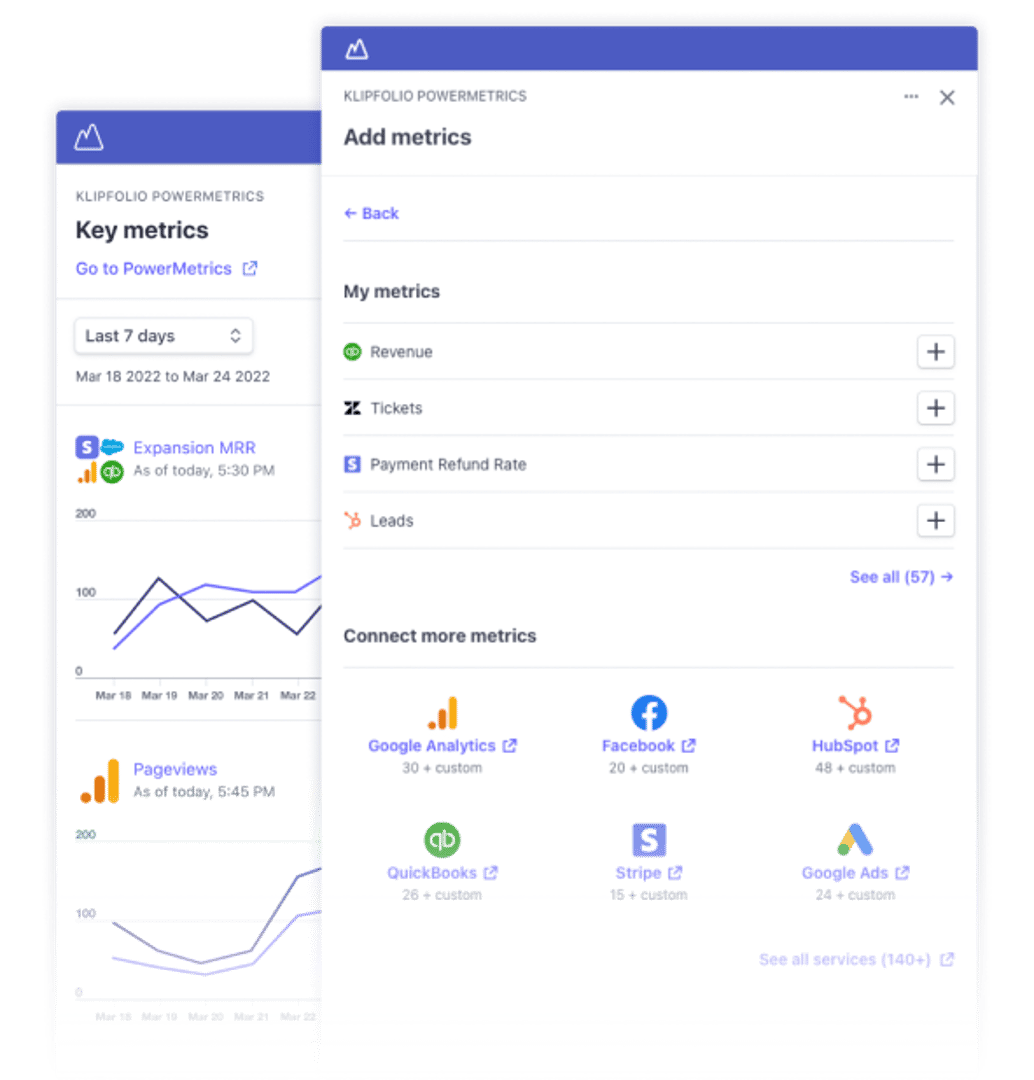 PowerMetrics
and Stripe
Are you a Stripe user? Track everything from the money in your bank account to the traffic on your website – all in your Stripe Dashboard.
Get the best of both worlds – online payment processing and subscription management with Stripe and in-depth business analytics with PowerMetrics! Install PowerMetrics for Stripe, connect to popular services like QuickBooks, Google Analytics, HubSpot, and Shopify and start tracking all your business metrics in one place.
Learn more about PowerMetrics for Stripe
Turn your data
into insights
Next:

Goals and Notifications
The control you need over your metrics to drive business growth and the data strategy that makes it possible.
Learn more