Keyword Performance
Measure keyword rankings to understand how effective your SEO efforts are at driving traffic to your website.
Track all your Digital Marketing KPIs in one place
Sign up for free and start making decisions for your business with confidence.
or
Sign up with your email
Free forever ● No credit card required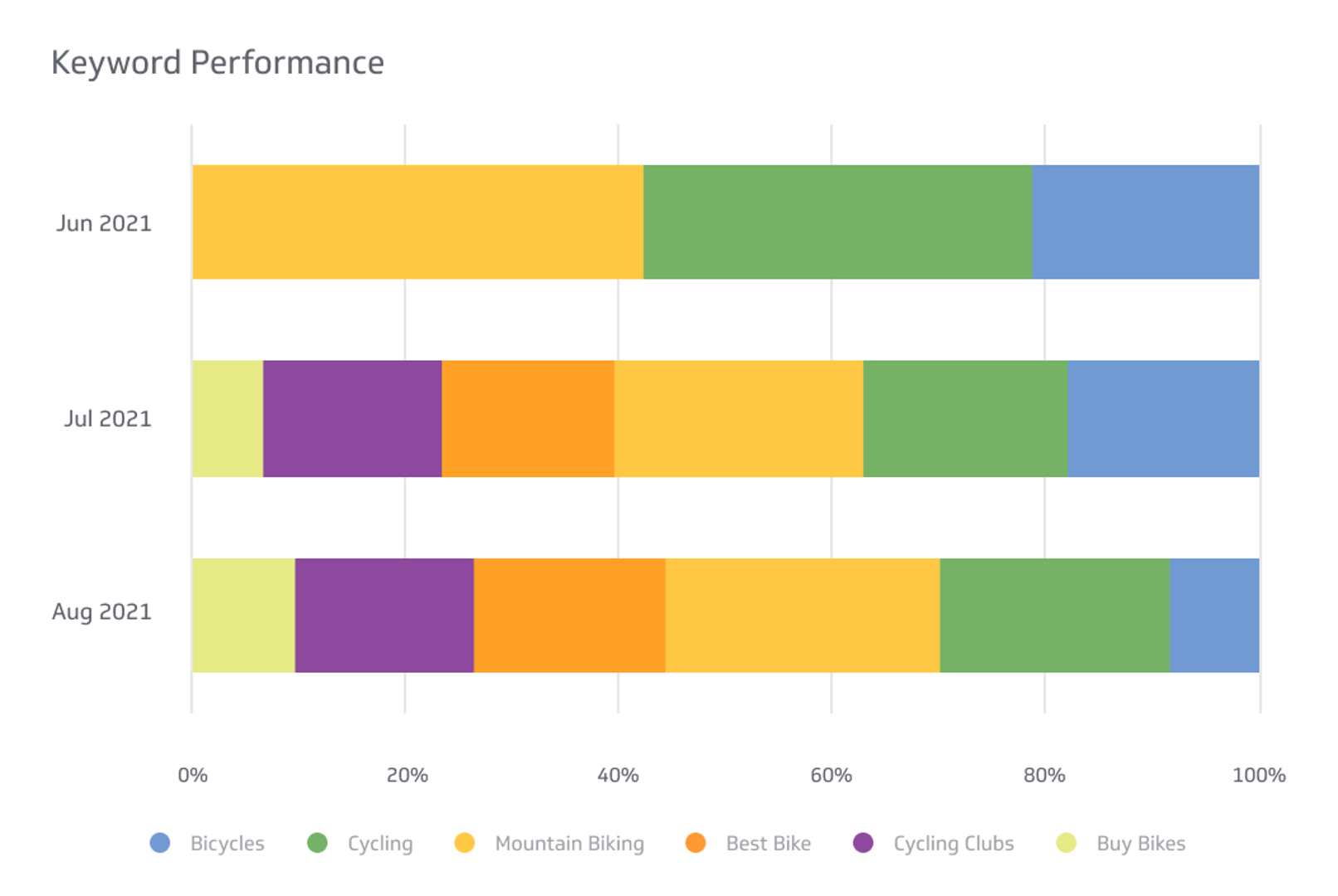 Keyword Performance Definition
The Keyword Ranking Performance metric measures your keyword rankings to understand how effective your SEO efforts are at driving organic search traffic to your website. Keyword rankings is a leading indicator which provides valuable information about your ability to improve on existing rankings or rank on new keywords. That said, SEO efforts need to account for the "big" marketing picture and analyze other factors such as goal completion rate and return on marketing investment. Learn more about how you can add Keyword Performance to your SEO performance dashboard.
Key Terms
Keyword: A search term that is entered into a search engine like Google or Bing.
Click-through rate (CTR): The percentage of people that click on a search listing compared to the number of impressions or the number of times the listing appear in search results. According HubSpot, most PPC (pay per click) experts agree that CTR is the most important PPC metric to pay attention to because it is one of the most important factors in determining Quality Score and tells you whether or not your ads are relevant to searchers.
Goals: A marketing objective for your audience to complete, such as subscribing to a mailing list.
Completion rate: The number of web visitors divided by the number of goals completed.
Keyword Performance Success Indicators
Improving rankings for a keyword or keyword group.
Improving click-through rates for ranked keywords.
Improving goal completion rates for organic traffic visitors.
Keyword Performance Challenges
The search engine marketing landscape has been transformed in recent years as Google continues to release key updates such as Panda, Penguin, and Hummingbird. The net result of these updates is to counter so-called "black hat" tactics, such as questionable link building tactics and keyword stuffing, in favour of "white hat" tactics, such as social sharing and creating high quality content. As search engine marketing matures, the importance placed on keyword rankings will diminish (but not disappear), while the importance of other key metrics surrounding keyword performance will increase.
Keyword Performance Best Practices
Update, update, UPDATE! A stagnant keyword list is dangerous as it neglects trends and information on new products or developments.
Monitor your organic traffic to your landing pages to determine if the keywords that you're trying to rank for are effectively driving traffic to the site.
How to monitor Keyword Performance in Real-time
Once you have established metrics for Keyword Performance, you'll want to establish processes to monitor this and other digital marketing KPIs. Dashboards can be critical in this regard.
Learn more about how to track your Keyword Performance on a Digital Marketing Dashboard.
Keyword Performance: Top Resources
14 Tips for Improving Your Organic Search Performance on Google, Blair Symes
We've Got You Covered with Our New Guide to Keywords - Google Best Practices, Google Adwords
5 Key Metrics to Measure Success of Paid Search Campaigns, Pamela Vaughan
Start tracking your metrics
Level up your analytics with a free forever PowerMetrics account