5 common dashboards among over 800 digital agencies
Published 2017-07-21, updated 2023-03-10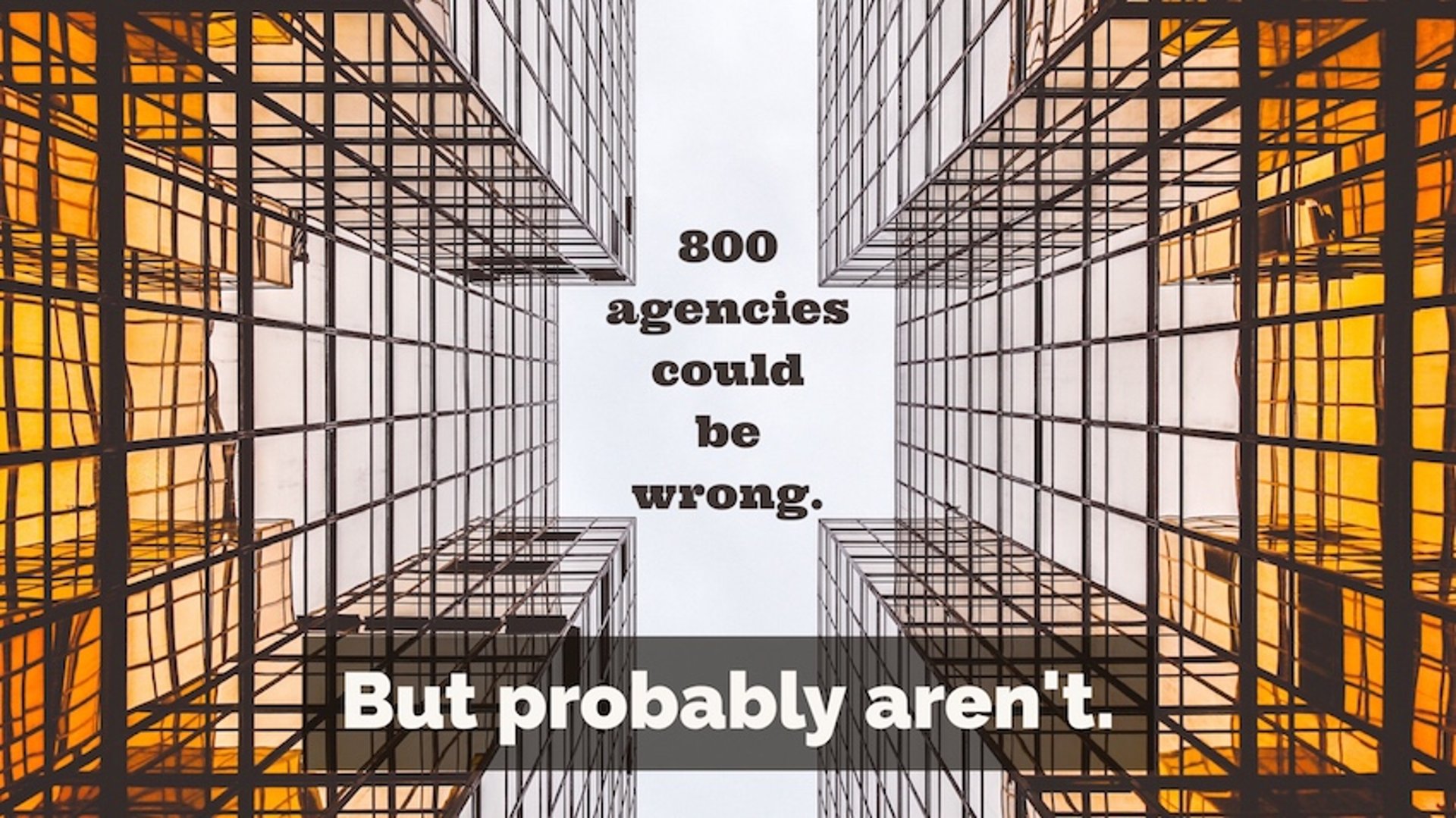 Summary - See how digital agencies are differentiating themselves and improving client relationships with 5 common dashboard examples.
---
Digital marketing agencies are constantly innovating how they provide value to their clients. Dashboards are a differentiator. They are about results.
And nothing says results like data.
With over 800 agencies using Klipfolio, we've seen first-hand how digital agencies are differentiating themselves and improving client relationships with dashboards.
On differentiating: it increasingly feels archaic to send clients a massive pile of numbers, even if those numbers are organized and highlighted to show predictive growth trends.
Modern agencies deliver modern reports. They choose living dashboards over dead screenshots.
Want to know if you're working with an elite agency? Ask them how they deliver reports.
This single aspect can serve as a microcosm for what their performance is like in all other facets.
What is an agency dashboard?
An agency dashboard is a visual reporting tool to bring all of your client's marketing campaign data together in one place. An agency dashboard provides a unified experience for your clients to view and understand campaign performance.
From a software perspective, client management represents a unique opportunity to automate reporting. Think about it: instead of cutting and pasting numbers into report templates in Excel or PowerPoint, an agency can point clients to a dynamic, real-time dashboard.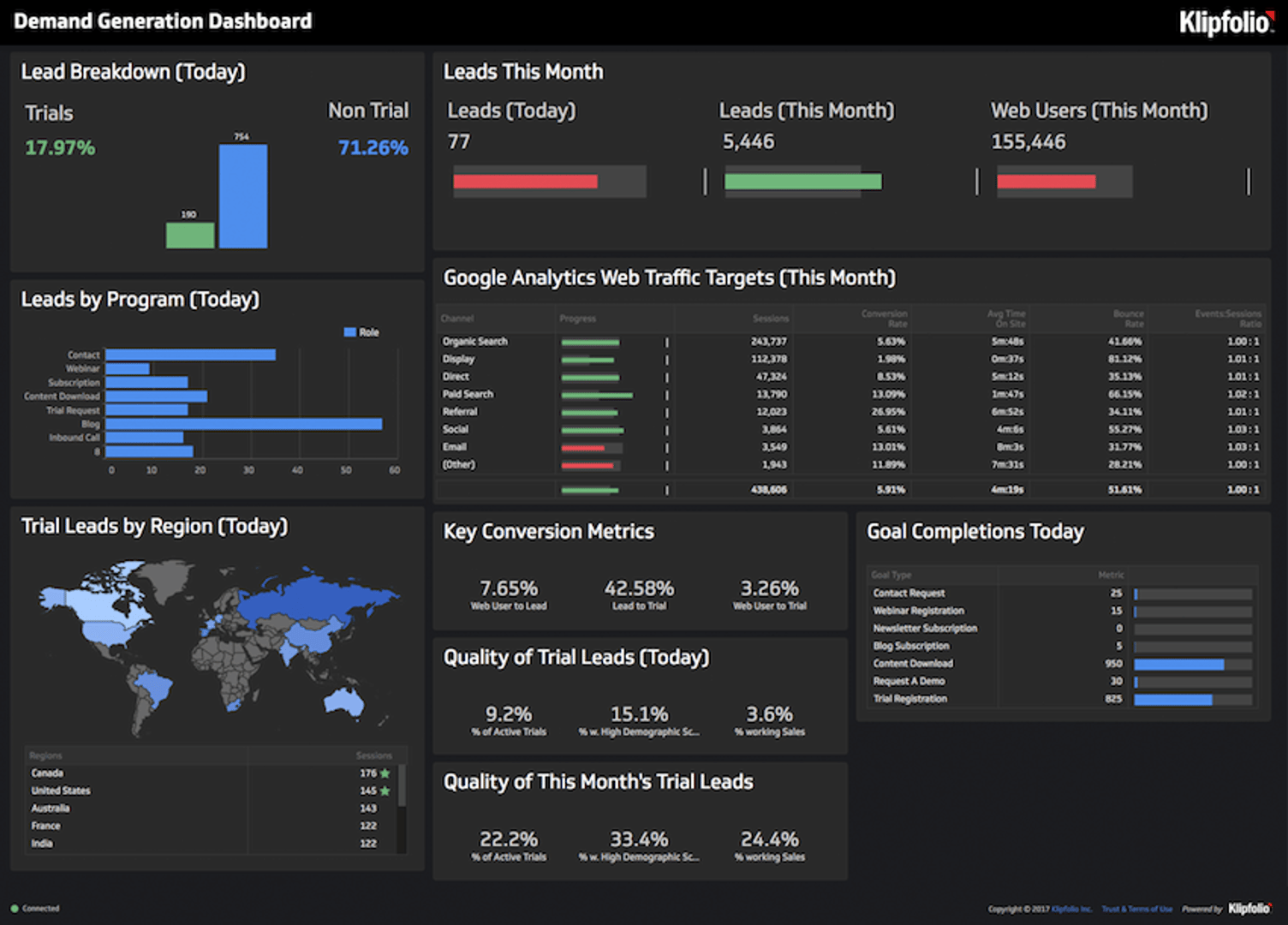 In other words, the agency is presenting a report that their client can understand in seconds.
Every agency I've worked with remembers winning their first client. They remember the hustle and thrill, but they also remember the care and concern they showed that first client at every step of the way.
This attention to detail and quality is notoriously difficult to maintain as agencies grow their portfolio. Again, this is where automated dashboards come in.
They take time to build, but once they're live and even "templatized" they can allow agencies to maintain top-notch reporting across their entire client base.
But digital agencies aren't just using dashboards for their clients.
Used internally, dashboards allow agencies to increase productivity and foster a culture of data transparency that can ultimately drive value across their firm.
While we provide lots of examples of how agencies can display marketing dashboards for their clients, I thought it'd be valuable to show five different dashboards that agencies are using to monitor their own business.
Financial Management Dashboard
Project Management Dashboard
Inbound Prospecting Dashboard
Client Alerts Dashboard
Marketing Performance Dashboard
1. Financial Management Dashboard
Let's take it from the top. Agencies must manage the billing side of their client relationships.
Juggling multiple clients and different account types requires systems and processes, and a financial management dashboard paves the way for both.
It's a useful way to inform everyone on the team about opportunities to improve the numbers. I recommend focusing this dashboard around the following metrics:
Adjusted Gross Income (AGI)
Client Income (Actual vs. Estimated)
Accounts Receivable Aging
Number of Proposals Submitted
Pipeline by Expected Close Date
KPI Sample: Client Income (Actual vs. Estimated)
How are individual clients contributing to the business? Agencies must track not only how much income each client drives, but if each client is increasing or decreasing their commitments.
2. Project Management Dashboard
Process management and project management allow creative teams to thrive. Growing agencies are often managing dozens of projects across multiple clients and, well, keeping that straight is a Herculean task.
Enter the project management dashboard. It consolidates their process into a single view, and allows them to associate targets with their deliverables.
Agencies typically track the following metrics on this dashboard:
Project Updates
Billable vs. Unbillable Hours per Employee, Per Team/Project
Lost Hours Report
New Business Opportunities by Rep
Number of Data-Driven Audits Completed
KPI Sample: Project Updates

Who's doing what and when? Project management tools like Trello, Asana, and Basecamp make it easy to track progress. And tracking progress is made even easier when everyone on your team has complete visibility.
3. Inbound Prospecting Dashboard
How do agencies find new clients? The truth of agency growth is that it requires quite a bit of hustle.
It's time-consuming and an essential part of the business, but many agencies neglect to implement any formal processes around how they do it, let alone organize what the data is telling them about their performance.
I've watched marketing agencies grow sustainably and over the long-term when they create an editorial-like level of organization around their inbound efforts.
Agencies should consider the following metrics for their prospecting dashboard:
Visits
Average Time on Site by Device
Session Duration
Goal Conversions by Page
Keyword Ranking on Top Terms
Conversion Rate
Page Performance
Website Performance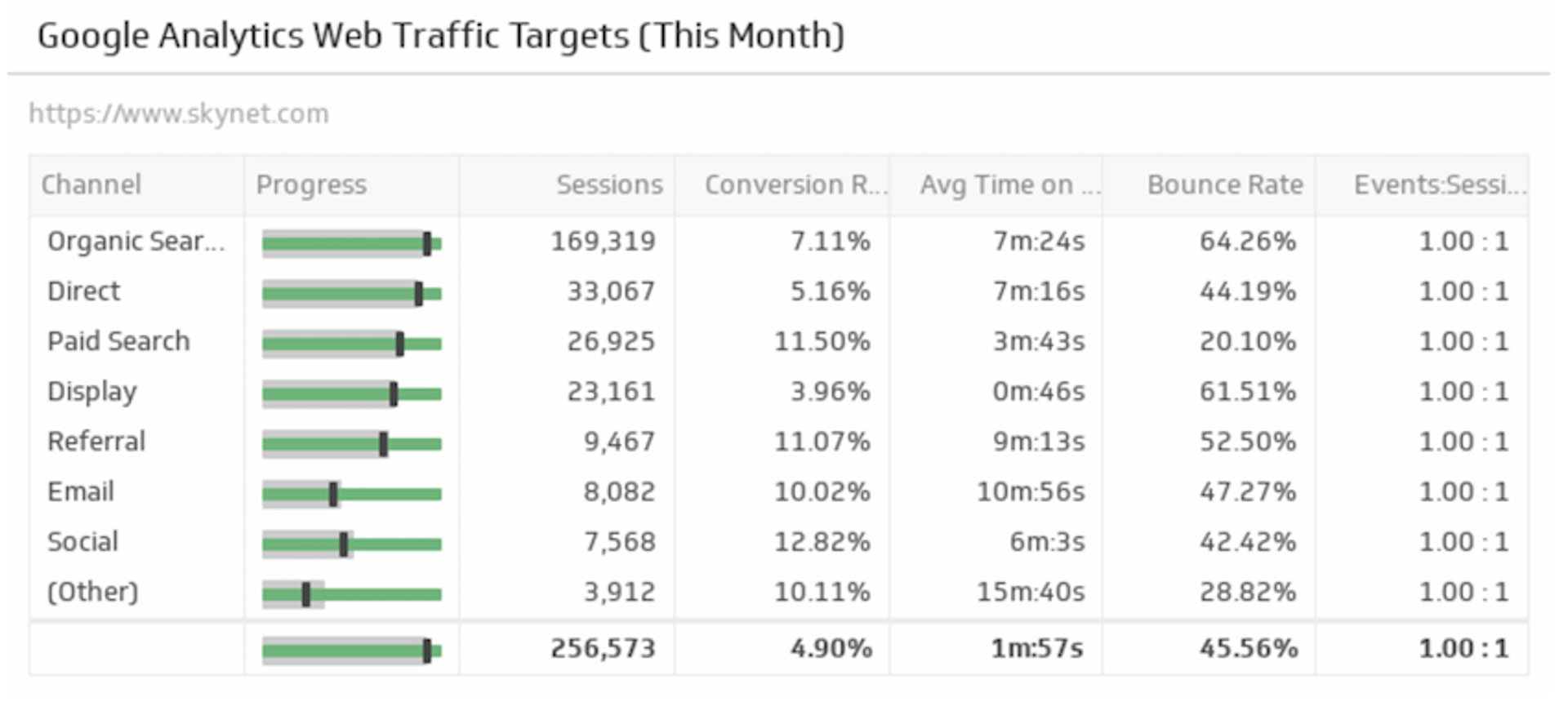 Ground-zero for any inbound strategy is your website. Understanding acquisition channels is critical to sustained growth. Bonus: this is a metric an agency's clients will want as well.
4. Client Alerts Dashboard
Digital agencies can get creative here. Some display a TV dashboard of their client's social channels, while others use TV dashboards to highlight client growth metrics.
Here are a few metrics I've seen agencies showcase on their dashboards:
Social Media Handles
Google News Alerts (Using IFTTT)
Client Case Studies
Client Testimonials and NPS Score
Social Media Command Centre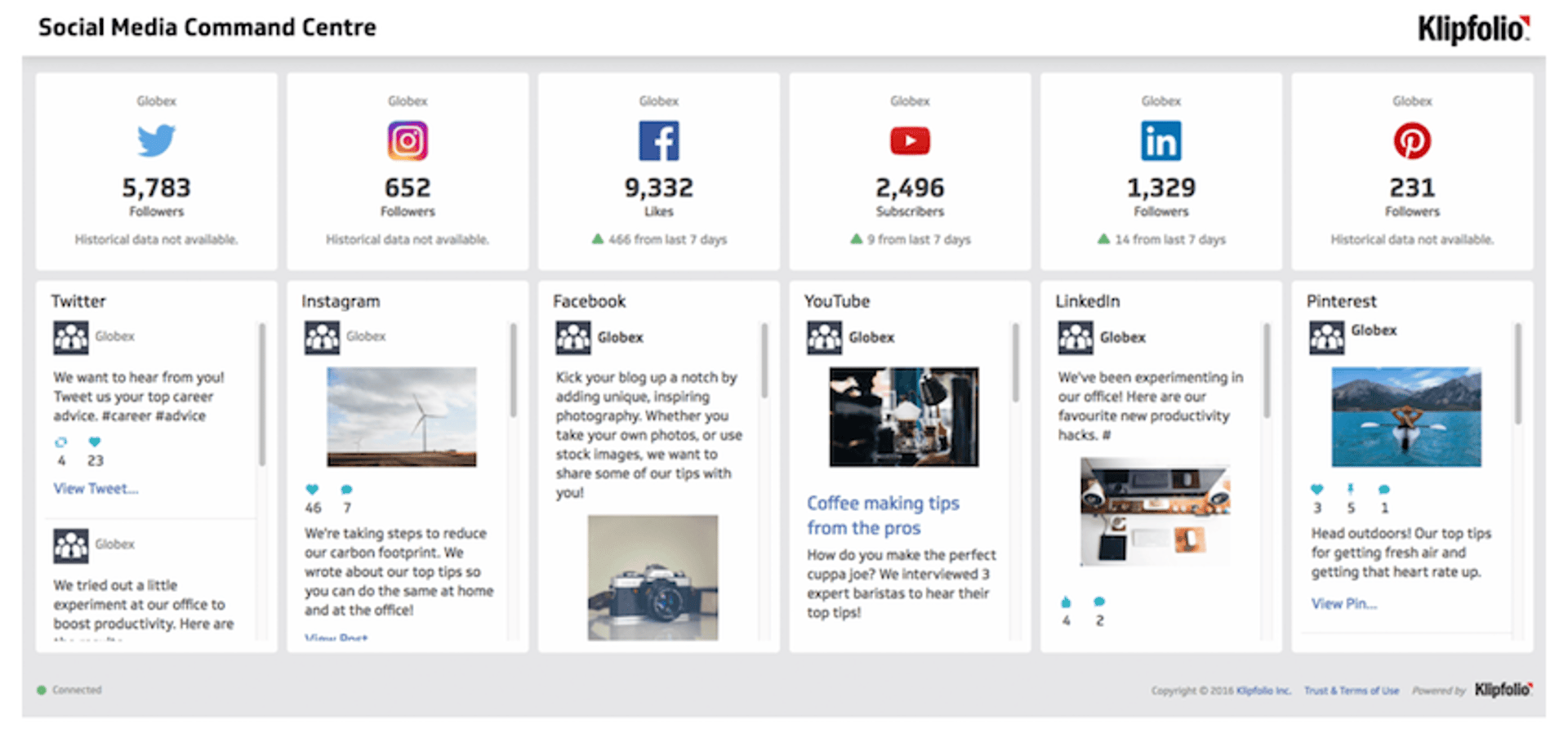 Easy to set up (thanks to a pre-built connection) and even easier to use, the Social Command Centre helps digital agencies keep their client's front and center. Simple as that.
5. Marketing Performance Dashboard
While agencies, of course, must keep their clients front and center, they'll need to take their own marketing performance just as seriously. Here are a few metrics many agencies use to track their own marketing metrics:
Traffic & Lead Conversion
Channel Effectiveness
Content Effectiveness
Campaign Performance
Search Engine Marketing
Social & Community Engagement
Digital Advertising
Content Effectiveness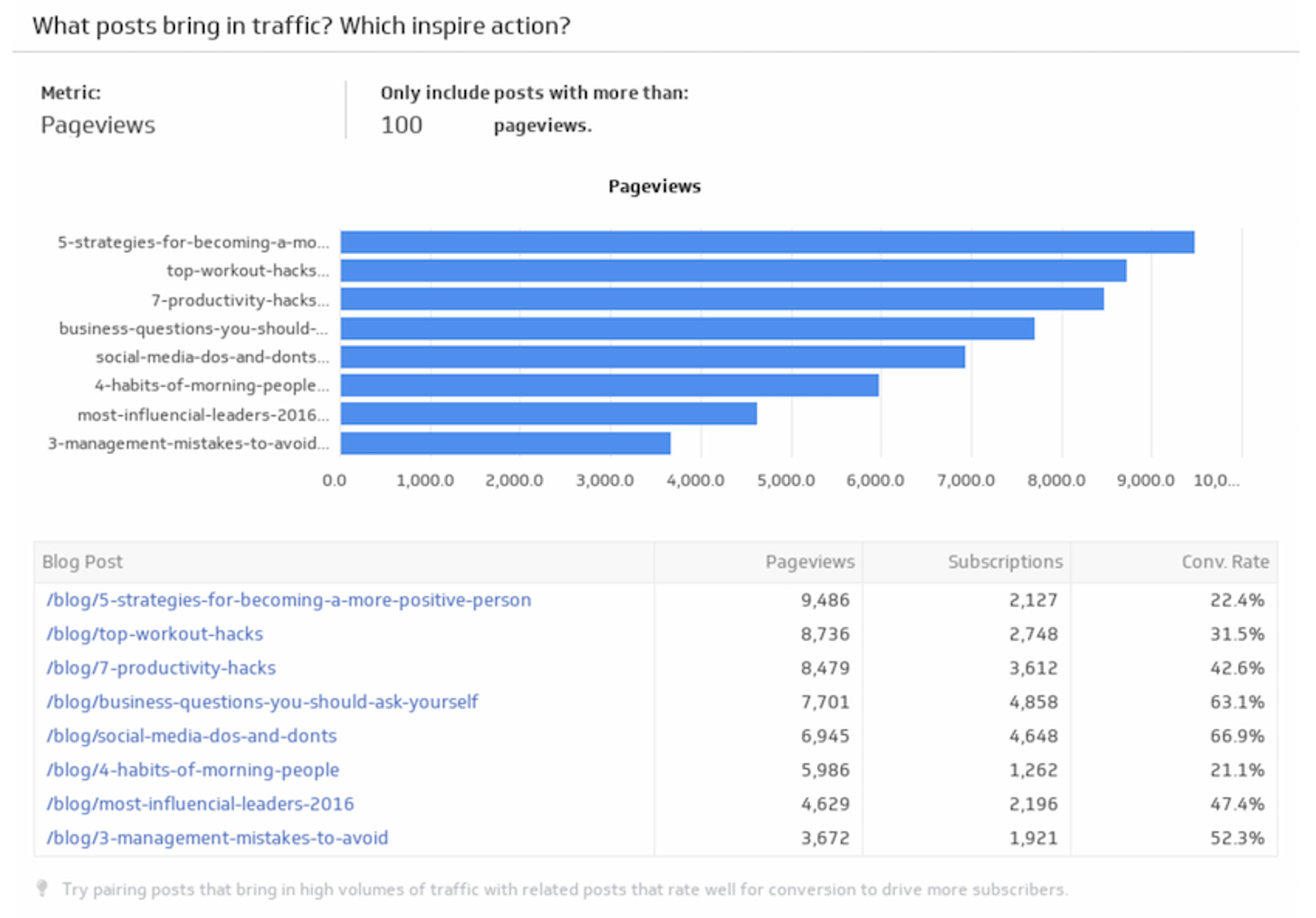 When you pair content marketing and SEO, you get the dynamic duo of inbound marketing. Andy Crestodina helped us prototype (this dashboard) and agencies love it because it allows them to see which content is attracting and converting visitors, as well as what opportunities exist.
Lastly, how do agencies find their data?
So where does all this data come from? Here are some common Marketing Agency Tool Stacks that we see (Minimum Agency Toolkit):
Website: (Hotjar, Google Analytics)
SEO: (SEM Rush/Moz/Ahrefs)
CRM: (HubSpot/Marketo/Salesforce/Mailchimp/Pipedrive)
Ads: (Facebook/Google)
Dashboarding/Monitoring: (Klipfolio of course!)
Accounting/Financing: (Infusionsoft, QuickBooks)
Billing/Project Management: (Asana, Trello, Basecamp, Airtable)
See Also:
Klipfolio for Marketing Agencies
Related Articles