The control you want, the data you need.
All your operations metrics and KPIs in one dashboard reporting tool.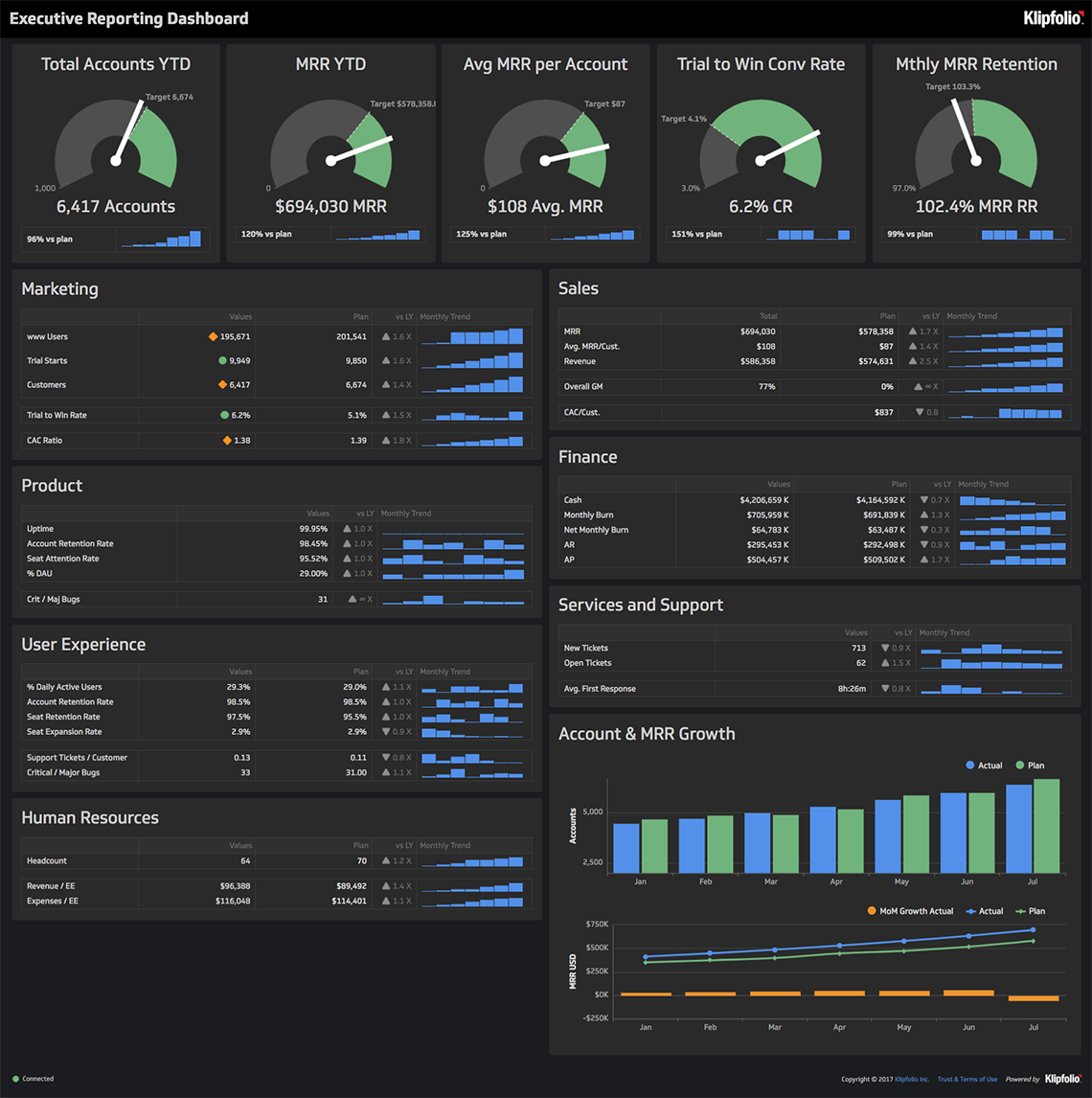 "It's not a coincidence that our firm saw pretty explosive growth after properly implementing Klipfolio. We're not taking guesses on any of our business decisions because we have a real-time barometer that will guide us in our process."
Brian Dainis
CEO at Curotec
A cloud-based reporting solution for leading operations teams
As the leading team-member responsible for ensuring that everyone understands the bigger picture of the business, Klipfolio can help! You're making sure all systems are running smoothly, but does the rest of the business know what's going on? With Klipfolio, sharing key business results is easy.
Create dashboards your team can rally around
Klipfolio can help you display and calculate all the core metrics that are driving the performance of the business. With Klipfolio, you can monitor and share your KPIs in an easy to understand dashboard.
Leverage your favourite tools to build dashboards
With Klipfolio you can easily build custom reports by connecting to all your favourite data sources including Mixpanel, Google Sheets, Salesforce, BambooHR, and more.
Build and schedule reports for all the departments in your organization
Don't wait until the end of the month to share data with your organizatio. Provide departments with the data they need to understand what is working.
Operations dashboard examples
Curious to see what you can track in Klipfolio? Here are just a few examples of the operations dashboards you can build. View the live dashboard examples to get a better look.
Get an interactive view of how your entire organization is performing
Track your departmental performance and see where you can improve results
Give your investors an easy view into your overall performance
Get an instant view into your sales performance
Stay on top of your operational metrics and make data driven decisions
Get your company rallying around your numbers by sharing an operational dashboard
How to track your operations metrics with Klipfolio
Klipfolio allows you to pull in data from all of the different operation services you use to track your performance—and display precisely what you need in a single interactive dashboard. What does this mean for you? No more piecemeal reports or Excel sheets with multiple versions. And you can get started with just a few clicks.
Pre-built Metrics
Here are a few pre-built operations metrics.
Click each icon to see what's possible.
Discover dashboard builder's delight
Our customers in operations roles love Klipfolio because it empowers them to build their own dashboards. Sure, it takes time to get it right, but it's absolutely worth it.
Connecting your data
You've got an impressive tech stack, but how do those puzzle pieces fit together? Klipfolio is an API machine with 100s of connections to the core services you use to help grow your business.
Browse the 100+ services you can connect to
The Editor
Love to tinker and build but tired of using Excel or Google Sheets to share your key results and metrics? The Klip Editor is where you bring your data story to life. Build custom data visualizations that you can share with your whole organization.
Custom visualizations
Drag-and-drop visualizations from the palette to start assembling your custom dashboard. Choose from standard data visualizations like charts, bullet charts, and scatter plots. Or get creative and inject custom HTML into your dashboard. The choice is yours.
Sharing
Data is meant to be shared. A dashboard without any viewers is, well, kind of sad. Wouldn't you agree?
Which is exactly why we make sure you can share with your team multiple ways.
TV dashboard display
Our customers love showing off their dashboards on wall-mounted TVs throughout the office. It's a great way for executives to nurture a culture of data transparency and the team to see their performance at a glance. Plus, it looks super cool.
Slack, email snapshots, and links
Send Klips or entire dashboards via Slack, setup manual or recurring email snapshots, and share links to your live dashboard.
Client management
Still sending spreadsheets to your clients? You'll improve your service offerings and their business performance by instead giving them direct access to beautifully visualized live data.
Client 1
✔ Executive Reporting Dashboard
✔ Web Metrics Dashboard
✔ Sales Performance Dashboard
✔ Accounts Health Dashboard
✔ Social Media Status Dashboard
Client 2
✔ Support Tickets
✔ Call Status
✔ Account Health
✔ MRR & Accounts Dashboard