Set goals and hit your business targets in PowerMetrics
Published 2022-05-18, updated 2023-02-01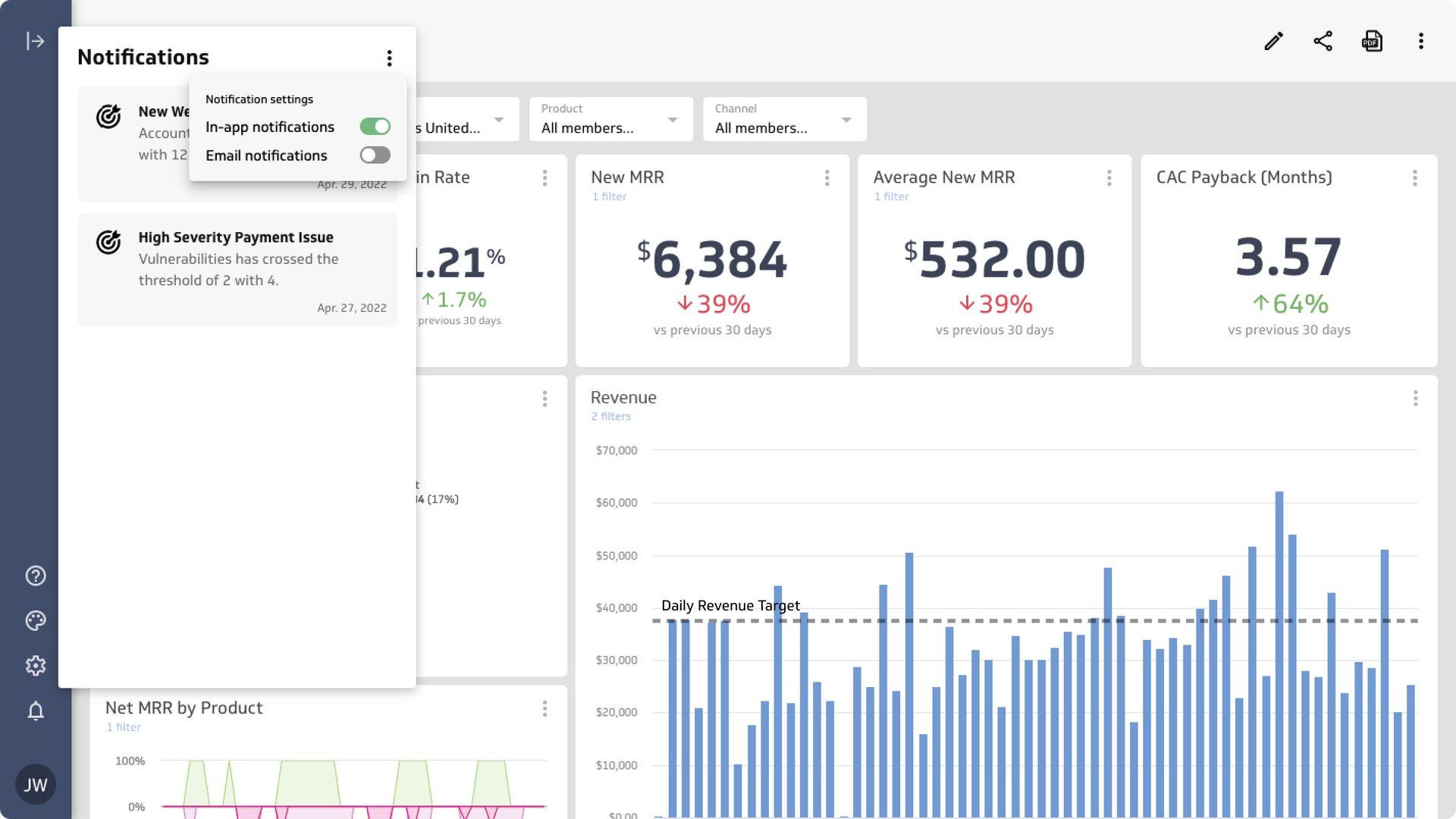 Summary - With the Goals feature, you can now add an essential layer of context to every metric in PowerMetrics. Are you hitting your business targets? In the hierarchy of reporting and analytics needs, this is the first and most important question.
---
PowerMetrics just got a huge update: Goals & Notifications is live.
This feature is a big deal for how you work with metrics in your PowerMetrics account. Metrics are already robust and dynamic – you can toggle between data visualizations, apply filters to segment the data, and get a rich data history.
With the Goals feature, you can now add an essential layer of context to every metric in PowerMetrics. Are you hitting your business targets? In the hierarchy of reporting and analytics needs, this is the first and most important question.
Our objective with this feature is to give you the ability to add targets to any metric you're tracking. This provides a boost in context and understanding, and a frame of reference that can be turned into a competitive advantage.
It's not the data you have, it's how you use it. The Goals feature gives you the control you need to confidently lead your business or team.
There's a lot of depth to this feature; let's dig in and take a closer look.
Notifications are an early warning system
The backbone of the goals feature is the ability to send notifications to the users in your PowerMetrics account. Notifications can be configured for any goal, and can be sent within the application or via email (or both). Notifications are sent to all users who have access to the metric – and you don't even need to log into PowerMetrics for email notifications to stay informed. Within PowerMetrics, notifications will appear in real-time as you cross thresholds. Each notification will provide a link for you to see the metric in context of the goal so you can see why you were notified and take action immediately.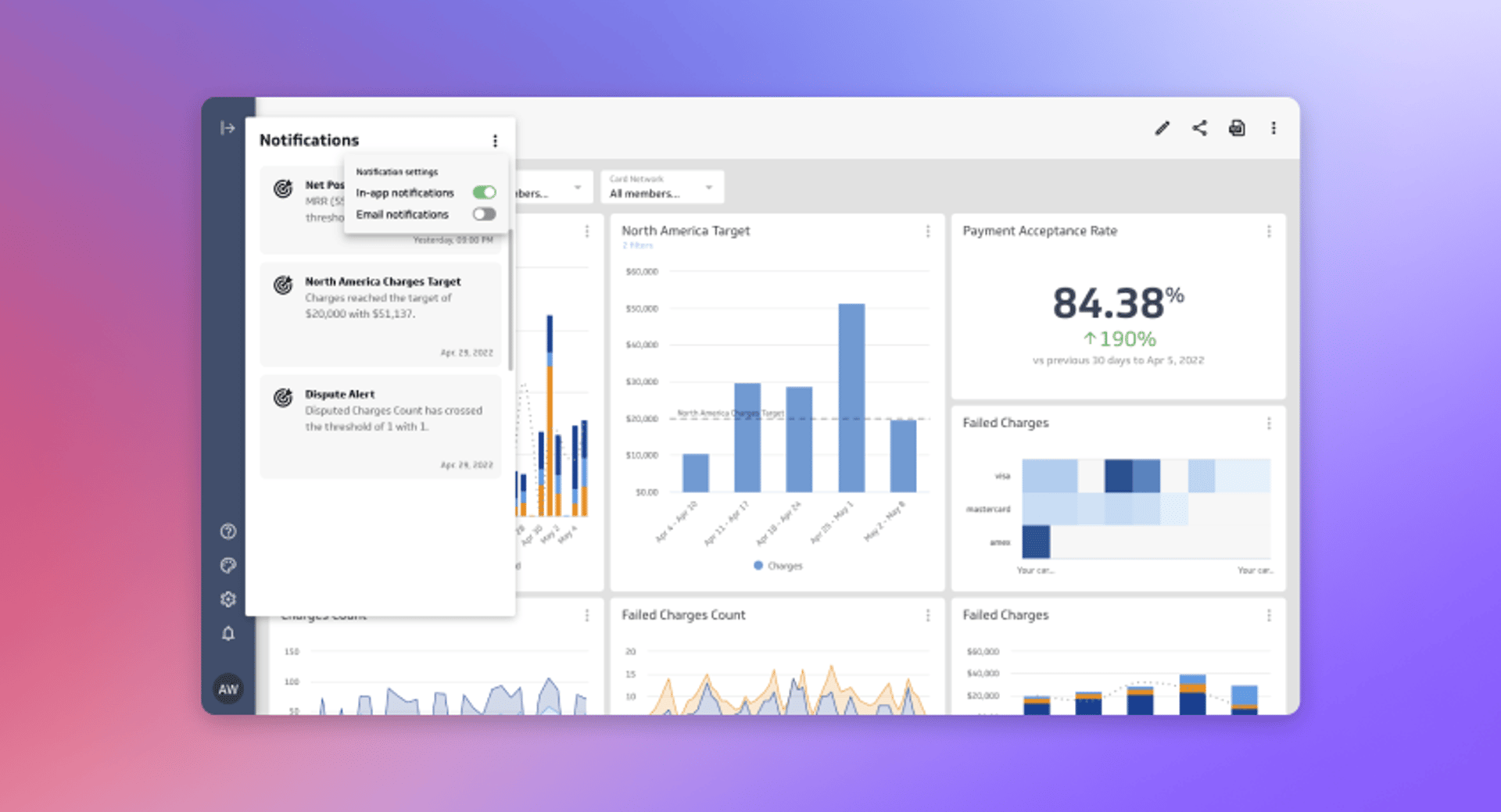 Threshold and Recurring Goals
There are two types of goals supported in PowerMetrics: recurring and threshold goals. 
Recurring goals are designed to track your progress toward a target based on a time period. For example, you want to hit a Daily Web Users goal to see if your digital marketing efforts are generating more website traffic. You will be notified immediately but only once within the time frame you specify. Since metrics support multiple goals, you could use a daily goal and a monthly goal. 
For a recurring goal, you will be notified when you achieve your goal. If you achieve your daily goal at 3pm, then you will be notified at the same time. If you don't achieve your goal (you miss your target), then you will be notified at the end of the target time frame (so 12:00AM). Since metrics support multiple goals, you could add daily, weekly, and monthly goals to a single metric.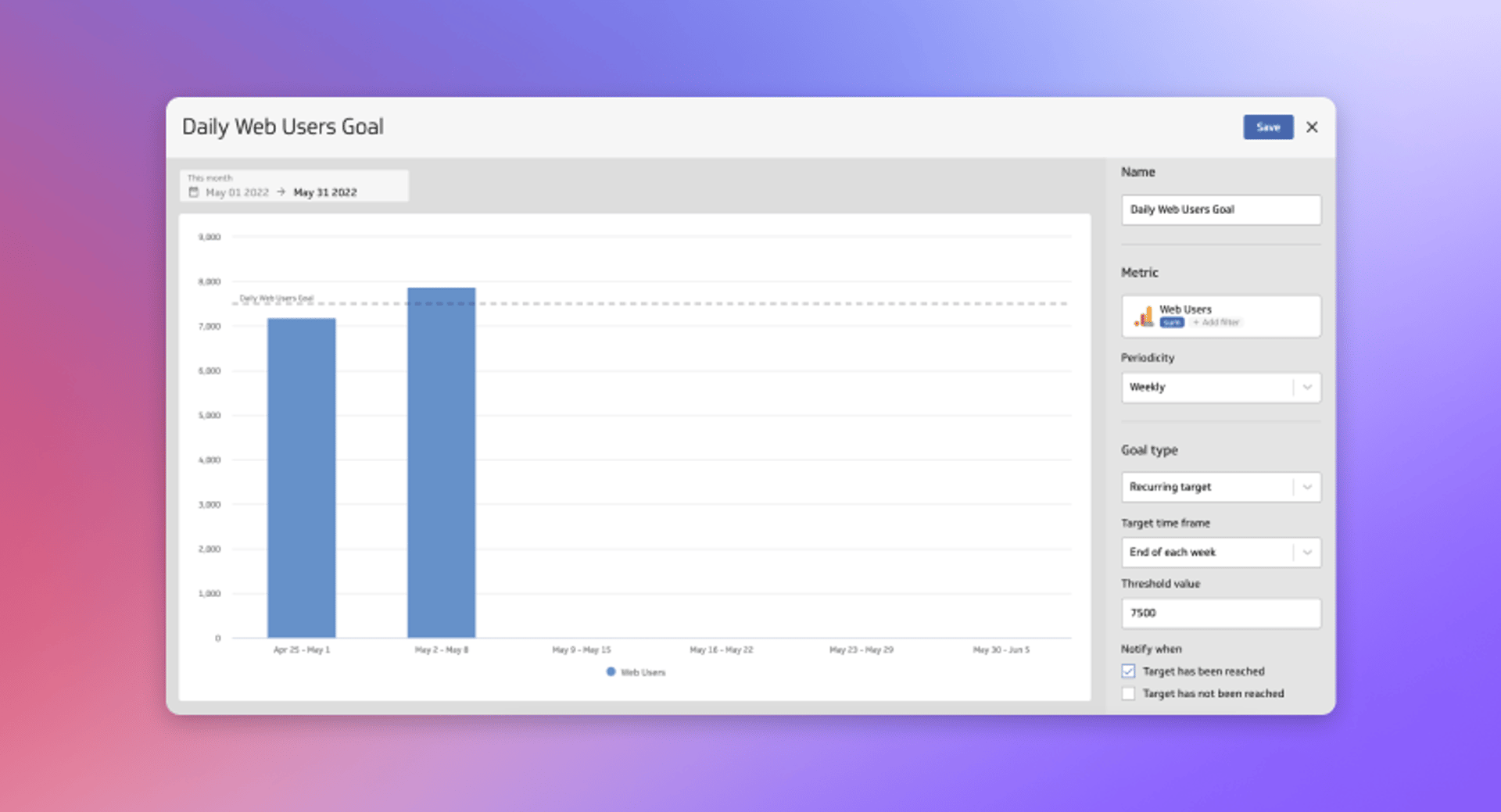 Threshold goals show you how close you are to achieving a goal. They are fluid in the sense that they monitor if you've gone above or below your goal value. Whereas the recurring goal moves in a linear fashion towards the target, the threshold goal is designed to track exceptions in your metric. For example, you could set up a goal that measures if MQL volume drops below a certain value. Since this could have upstream implications on your sales pipeline, real time notification is key to honing in on the exception and formulating a response.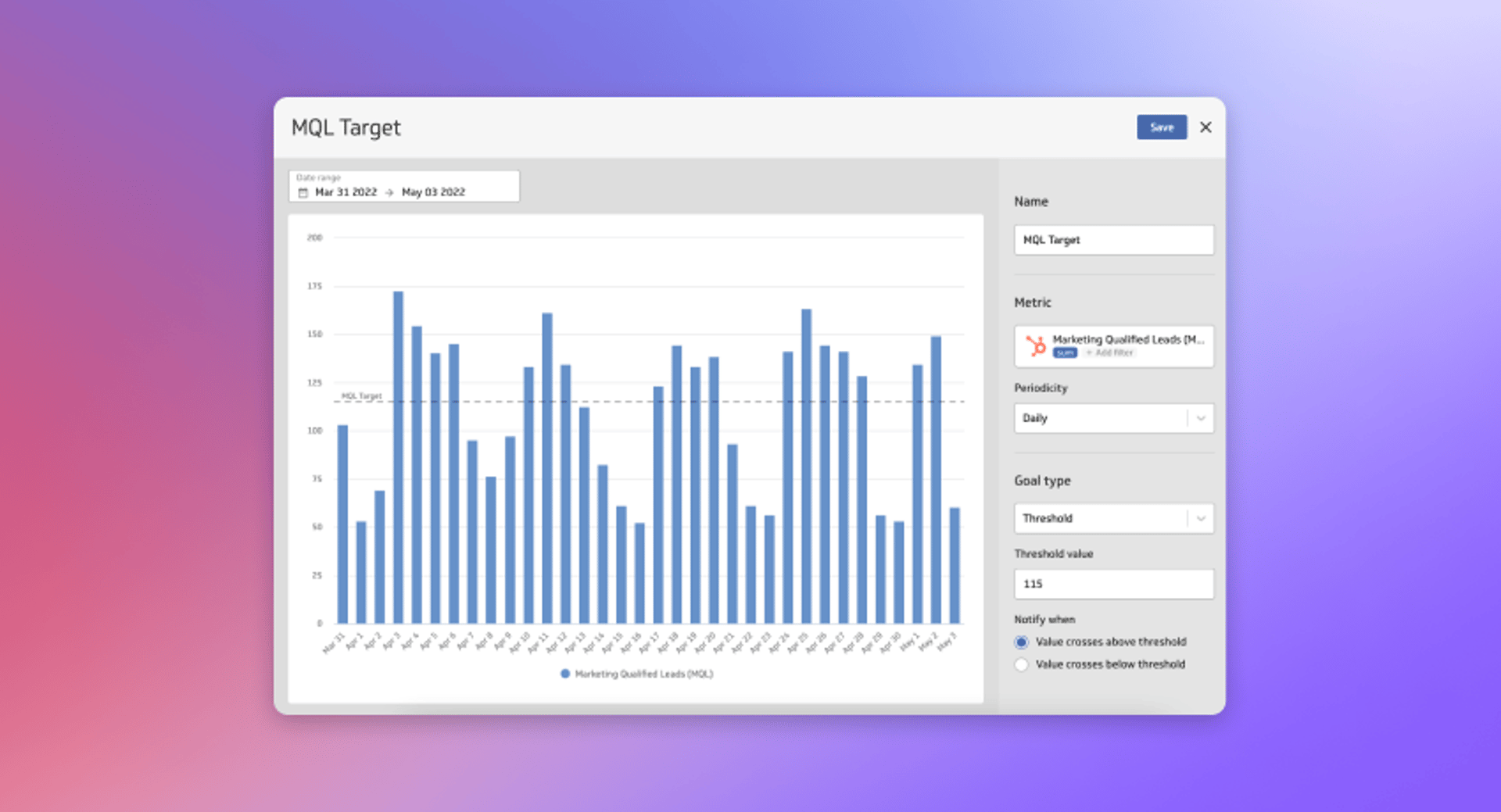 Set a goal with instant, custom, or calculated metrics
Goals works with all metrics, including instant, custom or calculated metrics. Let's take a look at how goals work with calculated metrics. 
Calculated metrics are one of the most important features in PowerMetrics. Calculated metrics allow you to create a metric by using one or more metrics in a formula (read our blog post on calculated metrics). For example, if you want to set a goal for your LTV:CAC ratio, you could create a calculated metric and set a threshold or recurring goal for your desired value.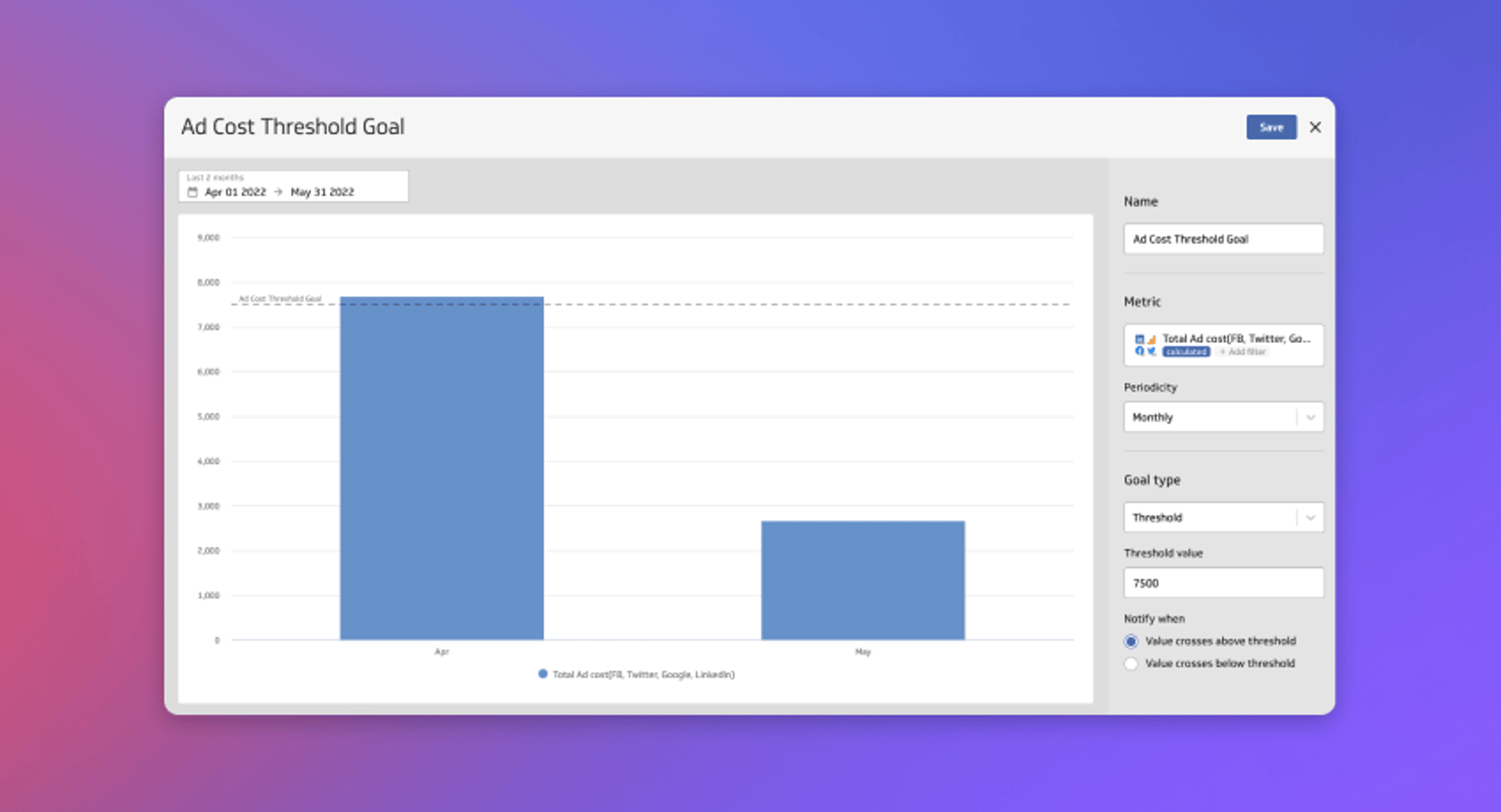 View goals on your dashboards 
Goals can be added to the dashboards you create in PowerMetrics and help to add context to the metrics you are monitoring. Goals can be added to any metric and displayed or viewed when viewing the metric as a line chart or bar chart. Here's an example of a goal on a dashboard tracking Stripe metrics.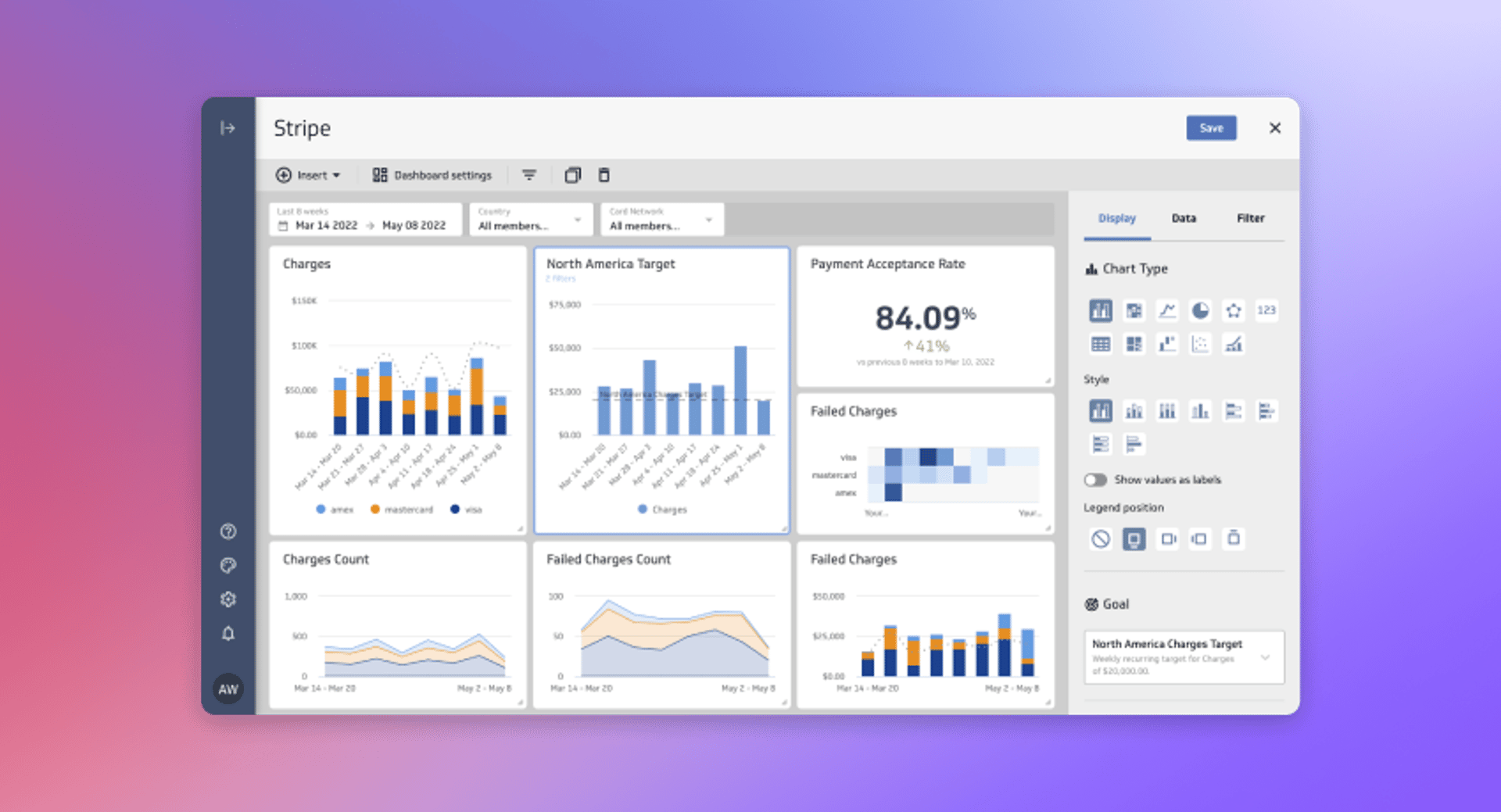 Use filters to set up specific goals
Goals have the ability to filter on a dimension to set up a precise goal. As you select the dimension, the goal preview will update to compare your goal value against the current values displayed in the metrics. This allows you to fine tune your goals to measure specific processes represented within a single metric. You can set up to 10 goals per metric, so you may find yourself wanting to add multiple flavors of a similar goal to a single metric for deeper analysis. 
When other users view that goal on a metric, the metric will automatically update filters to maintain the correct context for your goal. It's a small touch, but one that makes viewing goals across your team a streamlined experience.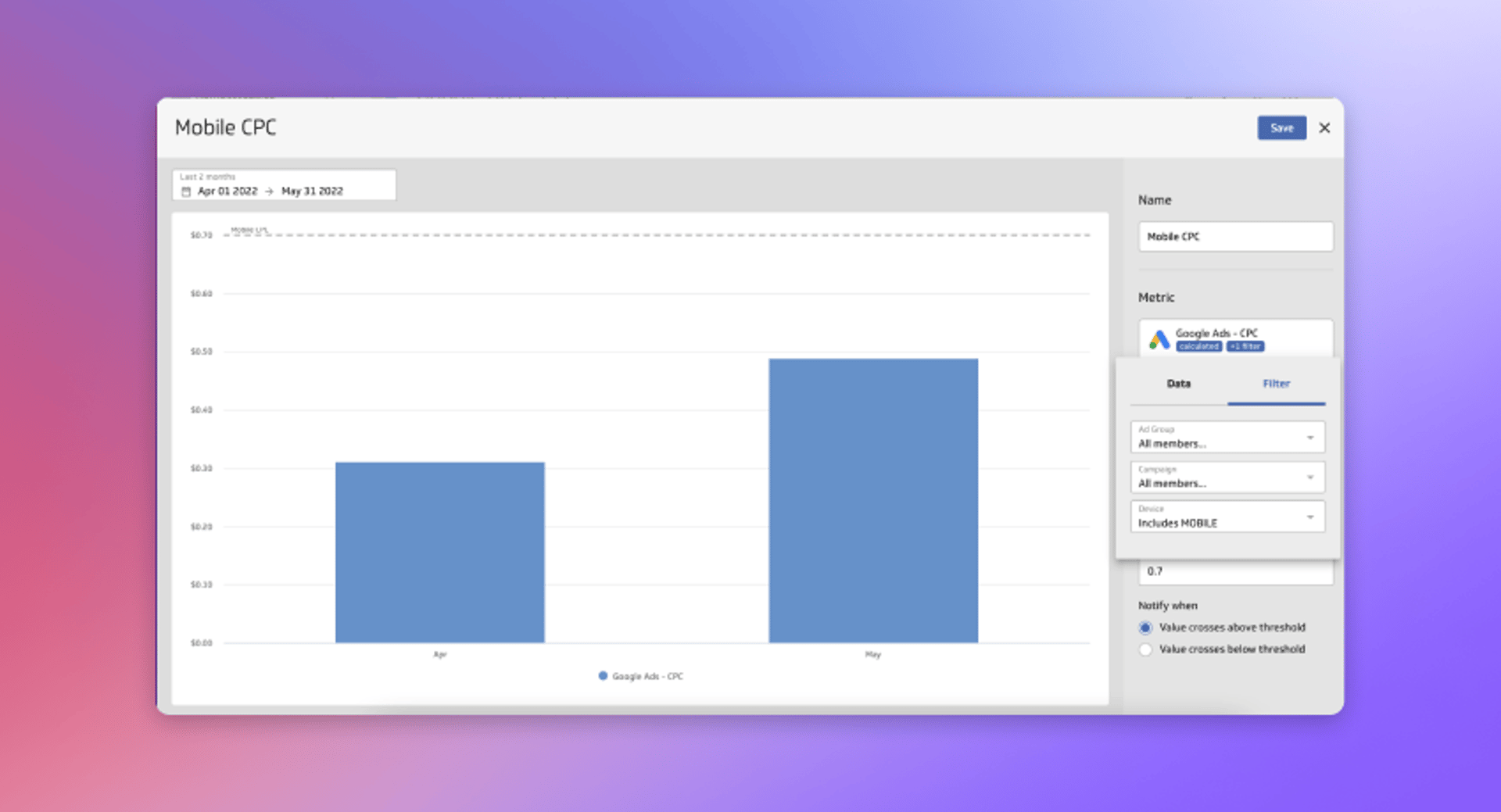 Adding goals to your metrics
Adding a goal to your metric is a fast and effective process. Any metric you create in PowerMetrics supports goals, even those created in the past. To ensure you can make better business decisions with your data, we've made it so you can add multiple types of goals to your metrics. This feature will help teams like yours get more out of your metrics and alert everyone on your team when it's time to act on your data.  
A first look at goals
Watch the full demo of this powerful new feature with CEO, Allan Wille.
Achieve your potential; start tracking goals today. Log into PowerMetrics to start creating goals.
Related Articles