Designing effective BI dashboards for a mobile workforce
Mobile business intelligence (BI) dashboards have introduced new considerations for how organizations monitor their KPIs (key performance indicators) and other metrics. A recent study by Gartner found that by 2013, one-third of BI users will be accessing their dashboards from a mobile device. Clearly, mobile BI is catching on and is starting to be used in ways that the data analytics community has been predicting for years now.
The challenge of designing a dashboard for mobile BI users is providing relevant content that is easily processed on a mobile device. Traditional, on-premise desktop solutions are a great way to give users content-rich dashboards by visualizing a wide variety of KPIs and other important metrics. Mobile BI shouldn't compete with desktop dashboard solutions; mobile BI should compliment desktop solutions by providing anywhere/anytime access to KPIs. In other words, a mobile BI dashboard doesn't need to cover all your bases.
Mobile BI dashboards — Who uses them and why?
First things first, business intelligence users are just as immersed in consumer culture as any other user. That culture demands that mobile apps be user-friendly, fast, and simple.
For business users and for organizations that have spent time, effort, and money deploying a mobile BI solution, these are lessons that are worth remembering. BI and dashboard vendors need to live up to the hype and deliver solutions that are fast and simple, but I will discuss that a bit later on.
Understanding that BI users are also consumers with all the associated expectations, we can start to frame a use-case that exemplifies the challenges of designing an effective mobile dashboard. Let's consider a warehouse manager responsible for keeping tabs on a variety of supply chain metrics, including stock levels, shipping schedules, inventory turnover, etc. Turnover rates are relevant in certain situations, such as weekly or monthly meetings with other managers and decision-makers; stock levels and shipping schedules impact decisions made on a daily basis.
Working on the warehouse floor, it is apparent that the warehouse manager only needs to access operational KPIs and metrics. The analytical data is incredibly important, and will ultimately guide which operational metrics are evaluated, and are best viewed in an environment that encourages analysis. This is further reinforced by the device that he is using to access his KPIs. A desktop dashboard promotes deep analysis while a smart-phone is designed for quick consumption with minimal effort.
Designing an effective mobile BI dashboard
Designing an effective mobile dashboard is, at least in part, the responsibility of the organization deploying it. Obviously, the degree to which organizations can design their dashboard depends on the tools and on a thorough understanding of user roles, scenarios, and goals.
As is the case with the warehouse manager, the majority of mobile workers have little need for analytical data on their mobile dashboard. This comes down to the fact that the limited screen size of a smartphone just doesn't lend itself to in-depth analysis. Couple this with the fact that many mobile users won't even be sitting down when they access their dashboards and it becomes apparent that certain types of data just won't be monitored on mobile devices. Analytical data visualization is often saved for boardroom meetings where trends are spotted and decisions made based on those trends.
Want some more insight on designing for mobile? Check out our blog on mobile design tips!
Developing an effective mobile BI dashboard
Before you think that I put too much emphasis on the role of the organization in developing effective dashboards, I want to discuss the role of vendors.
Vendors need to consider the different scenarios that come with accessing dashboards on different devices as much as the organizations they service. One way that vendors have responded to this challenge is limiting dashboard functionality depending on the device used to access the mobile dashboard.
Limiting functionality instinctively sounds like a bad term that many will associate with a sub-par product. That's not the intended meaning at all. The device (desktop, tablet, smart-phone) and usually the use case that maps to the device, determines the type of experience users expect.
Dashboard Access in Desktop vs Tablet vs Smartphone
BI dashboards — Desktop Access
Business intelligence dashboards today are often hosted in the cloud meaning that they can be accessed and managed by desktop users working via their browser.
Desktop access carries with it all the connotations attached to on-premise solutions, which means that people expect full control over the dashboard. Desktop users expect to be able to integrate their data, build and edit reports, view and manage KPIs, and perform other administrative tasks. Desktop users are also more likely to engage analytical exploration for a variety of reasons, not least of which is that they will be sitting down and able to focus on the task for a longer period of time.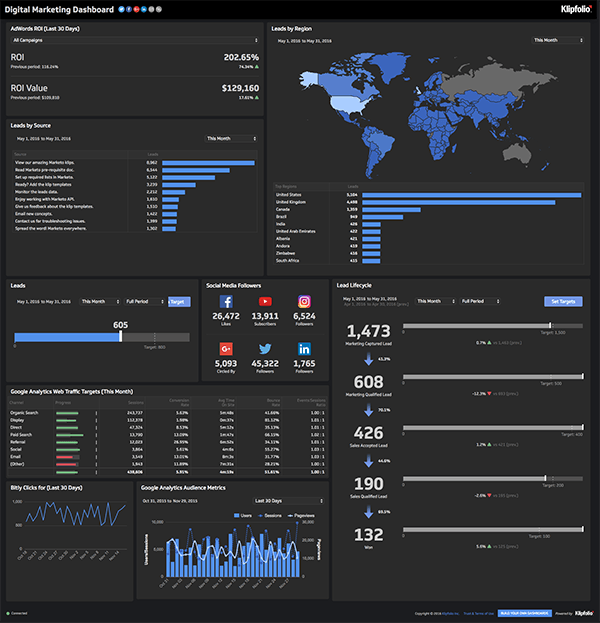 BI dashboards — Tablet Access
Business intelligence users accessing their dashboards on a tablet need information about operational performance metrics because it can be consumed quickly and lead to immediate action.
The type of functionality expected on a tablet is much more limited than on a desktop, but still should provide users with options. The smaller screen size and lack of input devices (keyboard, mouse) is reason enough to do away with data integration. At the same time, the ability to build or edit KPIs and reports should still be possible. In particular, sharing and adjusting certain KPIs on a tablet is a task that many users will find handy as they travel to work on the bus, for example. Of course, being able to view and monitor their dashboard in a user-friendly way is the number one concern for tablet users.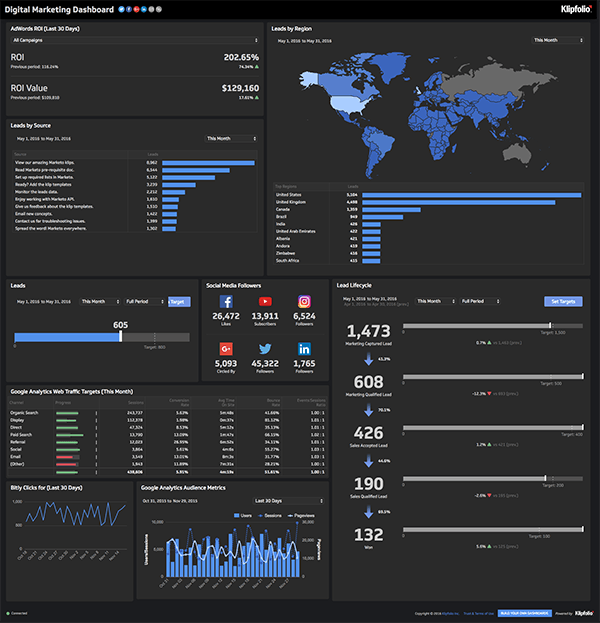 BI dashboards — Smartphone Access
Users accessing their dashboard on a smartphone are in the same situation as tablet users, in that they primarily want to monitor meaningful and actionable information.
Operational performance is the one and only concern for this type of user, since they are viewing information on a small screen and lack traditional interfaces.
This is more true of smartphones than tablets, and I would recommend that vendors keep this consideration front and center. Limiting functionality to just viewing KPIs may be a bit extreme, but it speaks to the need for a streamlined approach to displaying mobile BI dashboards.
Conclusion
As I stated at the beginning of this article, mobile BI dashboards have introduced a new paradigm for monitoring KPIs and metrics. The mobile workforce looks to BI tools with the same incredulous eyes that examine the myriad of mobile apps out there. Mobile dashboards need to provide the right information to the right people in different scenarios. I am an advocate of using mobile dashboards to monitor operational performance, because that type of data synergizes with the here and now atmosphere associated with mobile devices. It's up to the vendors and the organizations to work together to deliver on the promise of real-time data and informed, mobile decision making.