The most important marketing agency KPIs
Published 2017-07-12, updated 2023-09-11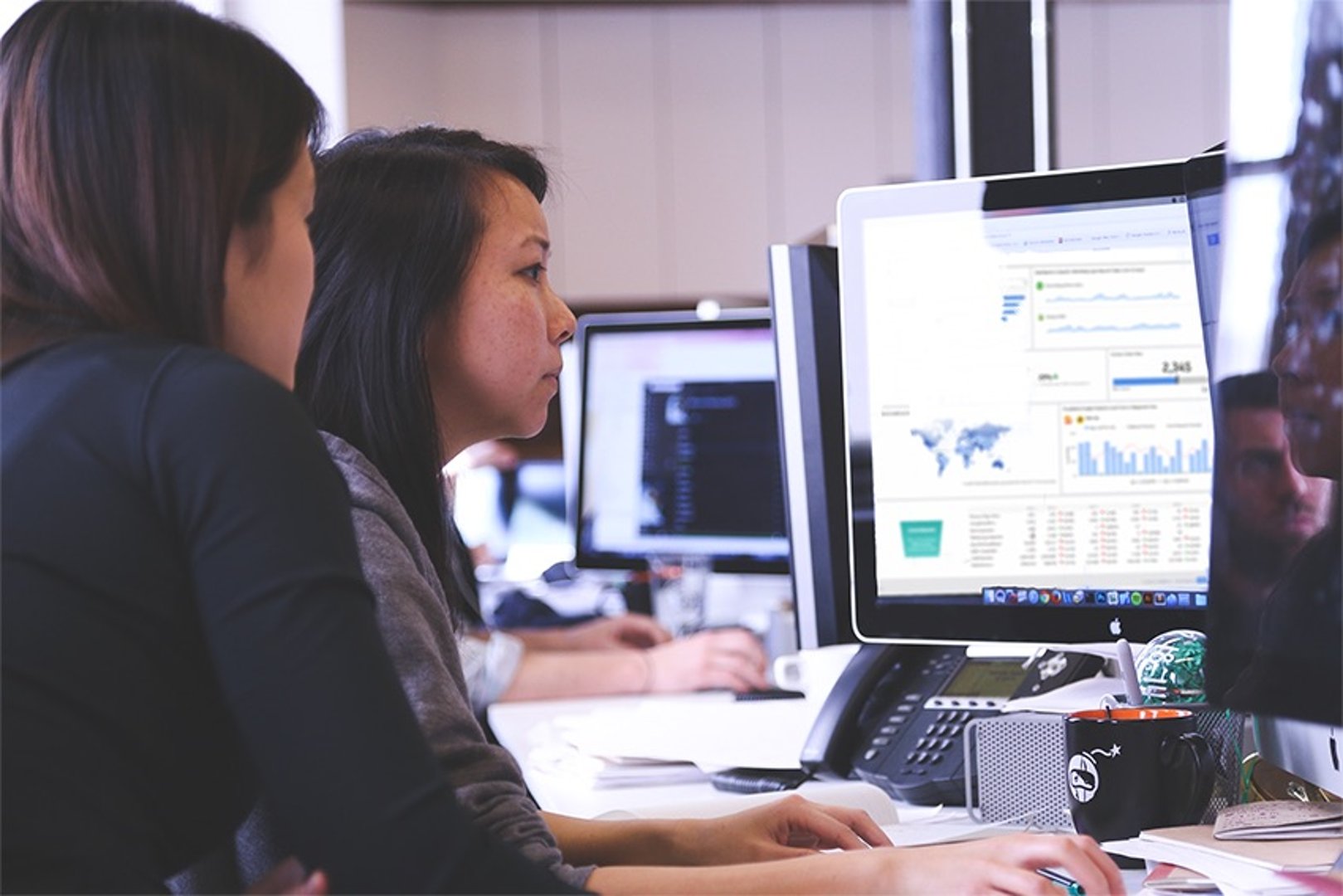 Summary - Which KPIs are most important for marketing agencies? Here are 26 experts answering that exact question.
---
Search Google for "marketing agency" and you'll likely see only ads for major national or international agencies before the scroll, followed by a competitive scramble for agencies in or around your current location after the scroll.
It's an ultra competitive space, one where evolving to meet client needs isn't enough. Today's elite marketing agencies do not simply evolve, they evolve first and quickly develop mastery in new domains.
When, for example, Facebook began rolling out ads inside Messenger, many digital marketing agencies had to not just know the news of it but actually understand the feature enough to be able to successfully integrate it into a larger marketing strategy when their clients asked them to.
So while we cover all aspects of metrics and KPIs here at Mindful Metrics (we've even covered ice cream shop KPIs), on the marketing front we've primarily only covered marketing KPIs and all of their subcategories, such as SEO and content metrics.
As I scrolled through our many articles, it occurred to me: What better way to get inside the inner business workings of a marketing agency than to see which KPIs are most important for their success?
So, using Help a Reporter Out, I asked a simple question: What are the most important marketing agency KPIs?
You may want to grab the beverage of your choice for this one. I received many responses (I chose 26 here) and they came from a wide array of marketing minds—from the marketing agency CEOs and founders themselves to senior-level marketing managers in a variety of industries.
You may not agree with all of the following responses, but I think you'll find in their collectivity a few insights for your own marketing department or agency:
1. Brianna Valleskey, owner of Brave Inc, a Detroit-based marketing and PR firm specializing in helping SMBs:
"One of the most important marketing agency KPIs is Wins by Lead Source. The KPI tracks the source for each lead that resulted in a sale. Lead sources are typically broken down into categories such as prospecting, website, eBook, checklist, webinar, demo request, etc. Wins by Lead Source not only allows marketers to demonstrate the ROI of their content (i.e. that the content is bringing in new business), but also enables them to strategically adapt and refine their marketing strategy based on what types of lead sources the KPI shows work well and don't work well."
2. Rodger Roeser, CEO of the The Eisen Agency, customer acquisition and engagement firm:
"In reality, there's only one KPI that matters – end of year, bottom line profitability percentage."
3. Alex Markov, founder of Refersion, a sales tracking SaaS app:
"One of the most difficult items to manage in any marketing agency is time vs. the price you quote. It is immensely important to track how long you spend working on a project against how much you are getting paid for it. Over time you will improve and be able to estimate better."
4. Scott Romney, president/co-founder of LoSoMo Inc., a location-based digital marketing company:
"You're not a top-notch marketer if you're not measuring the one metric that actually makes a difference: Cost per Acquisition (CPA). It won't matter if you have X number of clicks or views or likes; it only matters if it's generating revenue. Leads feed a business, new clients grow a business, and low cost-per-acquisitions scale a business."
5. Lindsey Havens, senior marketing manager at PhishLabs, a cybersecurity firm:
"As a marketing manager, I find that when evaluating our company's KPI it's important to first evaluate the revenue brought in from inbound marketing campaigns. Another important KPI is the average cost per lead. How much is going out on both inbound and outbound marketing versus customer acquisition?"
6. Dan Salganik, co-founder of VisualFizz, an experiential digital marketing agency:
"In my opinion, one of the most important KPIs, which is unfortunately immeasurable, is loyalty. Loyalty toward a company is vital for the growth of the brand due to their connection with their customers."
7. Luca Cusolito, founder of Creative Enabler, a marketing consultancy:
"I believe lead conversion, social media engagement, and in-bound linking are solid KPIs. The KPIs are measurable, and the strategy can be adjusted as needed to reach the intended goals."
8. Adam Gingery, SEO specialist at DMi Partners, a digital marketing agency based in Philadelphia:
"I'll come at this from an agency SEO perspective: keep an eye on organic conversions. Excellent keyword rankings, traffic influxes, or impression shares are meaningless if they don't lead to real conversions and revenue!"
9. Tim Hickle, author of The Future-Proof Marketing Playbook:
"I've found that the most effective KPIs to measure an agency against usually vary by industry, but they universally tie back to business objectives. Instead of focusing on more top-funnel metrics like leads generated or visibility, I prefer to focus on metrics like Agency-Sourced Pipeline in Play or Lifetime Value of Agency-Sourced Clients to Cost of Acquisition. This aligns my agency with the rest of the marketing department's efforts."
10. Brad Shaw, founder and owner at SEO Expert Brad, a local SEO consultancy:
"Traffic-to-Lead Ratio Is a KPI we focus on with our clients. Understanding your website traffic is extremely important. Is it organic? Direct? Social media? Referrals? If website traffic is steady or increasing; however, your traffic-to-lead ratio is low or decreasing, something is missing on the website. Tracking this KPI will help you determine if you need to make a change on your website."
11. Kritika Prashant, director of product marketing at Mettl, an online talent assessment platform:
"While hiring a marketing agency, one major aspect I look for is their willingness to understand my audience before committing on what they can deliver. If you don't know where to find my target and how it differs from your other assignments, then you will never be able to generate an ROI for me."
12. Dan Roberge, president of Maintenance Care, a free computerized maintenance management software solution:
"Goal completions are a really important KPI that should be tracked. So for example, if you have customers who are coming to your website, you should have a goal at the end of your marketing funnel which could be something as simple as a customer providing their email address in exchange for a free download. This can be set up in Google Analytics and should be monitored month to month and year over year so you can see the progression."
13. Lauren Tanzer, president & executive producer of Summerjax, a marketing agency based in Los Angeles:
"Without clients, there is no marketing agency. With that in mind, the most important KPIs revolve around the client.
Number of repeat clients: How many clients do you have return for another project/monthly retainer/yearly contract?
Incremental business from existing clients: Do your contracts with long-term clients continue to grow?
Efficiency of account teams across multiple clients: Have you been able to scale your business without dramatically increasing staffing costs?"
14. Scott Bauer, marketing director at Navigator Multimedia Inc, a web design and digital marketing agency:
Cost-per-aquisition (CPA) - Not every lead will turn into a paying customer. CPA should be considered when assessing the quality of leads by source.
Lifetime value (LTV) - after acquiring the customer, how likely are they to buy from you again? LTV should be considered as a part of the ROI equation."
15. David James, founder of Business Growth Digital Marketing, a digital marketing agency:
"Clients want to be able to make money at a discount. Especially if it is their own money that they are investing. So the KPI that is the most important is ROI. Especially if it is from direct response activities.
Their ideal model is to see $2 or more for every $1 that gets spent on their marketing activities.
The second is the increase in leads. As long as there are leads that are measured as conversion enquiries that will allow the business to close sales, they will genuinely be happy.
The third KPI is growth. Whether it is traffic, sales, leads or market demand. If there's growth, there's the promise of more revenue and wealth for the business."
16. Tom Brodbeck, director of digital media at Site Strategics and co-host of Edge of the Web:
"The most important KPI is conversions. All your marketing efforts should be to increase your conversions."
17. Leigh Dow, CEO of 48 West Agency, a marketing and advertising agency:
"The most important KPI we track is Lifetime Customer Value. We track the value our clients bring over the lifetime of their account with us. That does not necessarily mean the amount they pay in fees vs. the services they receive. We recognize our clients aren't transactions, but a relationship that is more valuable. Because of our focus on the relationship and the value we deliver to each other, 90% of our work comes from account growth and referrals from current clients."
18. Liz Holmquist social media manager at QNY Creative, an integrated creative agency:
"Ultimately, the best KPI is conversion rate to sales, but most people don't realize that it tends to be process to get there. As a Social Media Manager, I'd say that the best KPIs for newer and smaller brands are those that measure the success of brand awareness, such as reach, follower growth, and impressions (especially if you're running an advertisement or campaign). It's also extremely important that Social and Marketing managers explain their KPIs to clients in terms of ROIs so they can understand their investments."
19. William Gadea, creative director and founder of IdeaRocket, an animation studio based in NYC:
"Of course, the right KPIs to follow will vary from agency to agency. For us, however, the important figures to follow are Number of Leads and Cost per Lead to measure our marketing; Closing Ratio to measure our sales process; and Gross Margin to measure the efficiency of our production efforts. Finally, our Return Business Ratio tells us whether we're making customers happy enough to come back to us."
20. Kevin Sides, CMO at ShipMonk, a fulfillment and inventory management solution:
"When it comes to KPIs the best advice is to keep it simple. With that said, you want to have enough data to give you actionable feedback.
We have a rule for the KPIs that we track: If the KPI will not drive you to take action, you don't need it.
So many marketers read articles on a bunch of KPIs and although they may give indicators towards certain aspects of your growth, they don't tell the full story or give you unwavering insight into how you can optimize your efforts.
Here are some we track diligently:
Cost Per Acquisition (all marketing and sales expenses/total new users)
LTV (you should always segment this into cohorts based on pricing tiers or customer type)
MQLs to Active (marketing qualified leads to active customer to track your sales team's performance)
Referrals (if you are not getting a lot of referrals the chances are your product sucks)"
21. Anthony Kane, senior SEO strategist at 1SEO, an SEO and web marketing agency:
"From a digital marketing standpoint the most important KPI is conversion rate. Even though every business sees a different aspect of their campaign as a conversion, the conversion rate is a universal metric that can be trusted when making marketing decisions. Whether your end-goal is for your users to fill out a contact form, watch a video, sign up for a demo or make a purchase, a high conversion rate guarantees success."
22. Kyle Golding, CEO & chief strategic idealist at The Golding Group, a business process management and marketing integration agency:
"Conversion is the only marketing metric that matters. Audience attention is the beginning of the process, but worthless without conversion. Economics come from transactions which won't happen without conversion."
23. Dmitri Tymos, founder of LearnZilla.com, a Google AdWords and Google Analytics training company:
"Cost of Customer Acquisition is a high priority KPI that is essential to any agency. It measures how much an agency must spend to acquire a new client, and thus know how much it can invest into new technology and staff. Similarly, Clients Quoted to Closed Ratio determines the success of your marketing as well as sales team and how efficient they are. Last but not least, marketing agencies base all of the other metrics and efforts around sales: if this is the one metric that performs, the agency's performance is satisfactory."
24. David Moncur, principal of Moncur branding + digital agency:
"For a marketing agency, success goals revolve around sales, recruiting and culture. While it is not possible, in my opinion, to draw a direct correlation between marketing activities and KPIs that directly relate to those success goals, the engagements and interactions from individual marketing communications are measureable. Therefore, an agency's ability to generate results in marketing communications related to sales, recruiting and culture will indicate the success of their performance."
25. Justin Nowroozi, CMO at OWDT, a Houston-based web design company:
"The most important KPI's for a marketing agency are the cost of customer acquisition and response time, especially when dealing B2B. You may want that high-profile client, however the amount your company spends to acquire the client may not make sense; in the big picture it would be smarter to acquire 2 or 3 smaller clients that require less acquisition costs. Response time is also an important KPI to marketing agencies, because prospective clients may also be communicating with your direct competition and get a faster response from them, putting your competition ahead in terms of perceived reliability."
26. Bob Bentz, president of mobile-first digital agency Purplegator:
"At the end of the day, the most important KPI for any business is sales. But, if you are doing organic posting or a paid social media campaign, I rely on the early stage KPI of shares. A share is a vote for your company or your content so it is far more powerful than a Like or comment."
Final thoughts on KPIs for marketing agencies
There are many KPIs for a marketing agency to measure, but this roundup and the many other responses I received but didn't include here paint a clear picture: customer acquisition cost, conversions, customer lifetime value and sales seem to be the most important.
In the SaaS world, for example, cost per trial is frequently discussed. It's also often debated between departments, as cheap trials might not necessarily convert well.
But in the digital agency and PR space, where contracts are often based on a per project or minimum 3-month basis, knowing how much it typically costs to land a client (and, better yet, to land a client/project of a certain size) is one aspect of many that will help modern marketing agencies survive in an increasingly competitive landscape.
See also:
How digital marketing agencies can leverage business dashboards
Related Articles