How to set up a TV dashboard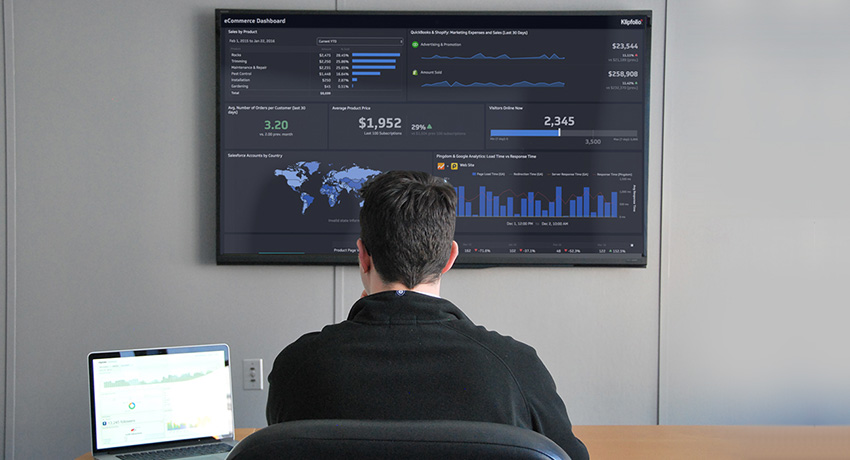 Caffeine first, dashboards second—the anthem of the data-driven.
TV dashboards adorn the offices of the cool and the informed. For a data-driven business, success is the message. And there is perhaps no better way to both show and continue propelling that success than by setting up a TV dashboard.
A TV dashboard set up improves business transparency, promotes departmental alignment, and nurtures a culture of open communication that leads to improved decision-making. It's hard to ignore the numbers when they are right in front of you.
Setting up a TV dashboard is simple. Follow these success steps to get it right on your first try:
Determine your use case
Select your dashboard software
Design your dashboard
Select your hardware
Start casting and drive engagement
Determine your use case
While you'll certainly come up with ideas as you build out and design your dashboard, it's important to first sketch out some of your potential use cases.
Here are a few:
You want to better engage/inform foot traffic at your school, business or event
You want to display your real-time business metrics for all to see
You want to make it easier for departments within your business to align around goals
From there, you'll want to break these down into specifics. For example, let's say you want your sales team to know, in a glance, their own and each other's performance. You could sketch out what the best sales dashboard for your team might look like.
Here's one example from our Chief Customer Success Officer:
Select your dashboard software
What software are you going to use to display your dashboard on a TV? You'll want to take into consideration the flexibility, UX, and price of the dashboard software.
Here's what to look for:
How does the dashboard software look on a TV?
How easy is it to put the dashboard into TV mode?
Is there a mobile version?
Is there a desktop version?
Does the dashboard software support custom CSS?
How does the vendor account for multi-tenancy and licensing fees?
Since you're on the Happy Dashboarding blog, and we're confident you'll like our software, we'll use our own platform for this tutorial. If you want to follow these steps with us, you can start your free trial account. Here's our pricing page for more details.
Design your dashboard
A beautiful TV dashboard is all about making sure all is good under the hood. This of course means the dashboard software itself is optimized for the experience, but it also means you've taken the time to learn the best practices of building and designing dashboards.
If you've started a free trial, take a shortcut to success by using our Dashboard Gallery and Klip Gallery to rapidly build out a dashboard with your data. For example, you can set up a rich Salesforce dashboard in just a few minutes.
You're going to want to customize that later on, but we like quick wins—particularly when it comes to getting team or company-wide buy-in to display TV dashboards in your office.
TV dashboard design tips
A well-designed dashboard can speak volumes. It can provide in a single screen what may have otherwise taken five opened tabs and three spreadsheets to adequately convey.
In addition, if you've pulled your data in a way that allows it to update in real-time, you may actually be able to free yourself from ever needing to open those tabs or spreadsheets.
Let your TV dashboard do the talking by following these design tips.
Trim content on the dashboard
It can be difficult to see and understand many fine details on a TV dashboard display. Consider making a version of your dashboard that is TV-only. Reduce the clutter on the dashboard and stick to the essential information you want to show.
Adjust your browser zoom level
For televisions with viewers within 20 feet of the TV, 150% to 175% is ideal.
Use suffixes on big numbers
Limit mental math and speed up dissemination by using suffixes. For example, use $34.2M instead of $34,231,342.23.
Make heights consistent
It can be visually jarring to follow the peaks and valleys of metric alignment. Strive for consistency with height and spacing and you'll greatly enhance readability.
Select your hardware
Airtame is a small wireless HDMI device that plugs into the HDMI port of any TV screen or projector. It allows you to stream content to the TV from any computer, tablet, or smartphone.
Airtame is ideal for schools and businesses that need an easy way to both stream content and display dashboards to a shared TV/projector.
Rise Vision
Rise Vision is a free, web-based digital signage platform. It allows you to display dashboards, calendars, spreadsheets, webpages, RSS feeds, and YouTube videos. All you'll need is a media player, some kind of display monitor, and a free account.
Rise Vision is great for organizations who want a simple way to show dashboards and manage their displays from a free, easy-to-use web app.
truDigital
truDigital offers a cloud-based digital signage solution that is quick to learn and powerful to use. Display graphics, videos, PowerPoint presentations, local weather, social media feeds, live news, KPI dashboards and more—all starting at $29/month with no contracts. Free training and VIP support are included with all of their plans.
truDigital Signage serves industries such as automotive, corporate, education, financial, government, healthcare, manufacturing, restaurants, and retail, among others.
ScreenCloud
ScreenCloud is an incredibly easy-to-use cloud-based digital signage software for any screen. With free access to their App Store, you can upload dashboards, graphics, notices and social media feeds in minutes.
ScreenCloud works on consumer grade hardware (such as normal TVs and media dongles) and is $20/month with no contract obligations, making it perfect for both small and large enterprises.
Start casting and drive engagement
We've all shared a document, sent an email, or made a phone call without getting any kind of response.
Don't deploy your dashboard to an unresponsive audience.
Check your team's pulse at every step of the way by including them in those early "sketch" conversations and by giving them a detailed walk-through of how best you want them (or your shared audiences) to engage with the TV dashboard.
If you're using a TV dashboard to make data-driven decisions to help drive your business forward, challenge each team to take ownership of what they see and improve their numbers.
For that, you will need to dive into your key performance indicators and get to the heart of what you want to measure, track, and improve.
Originally published June 19, 2017, updated Nov, 04 2020
Related Articles