6 dashboards I use daily - with live links
Published 2015-09-11, updated 2023-02-01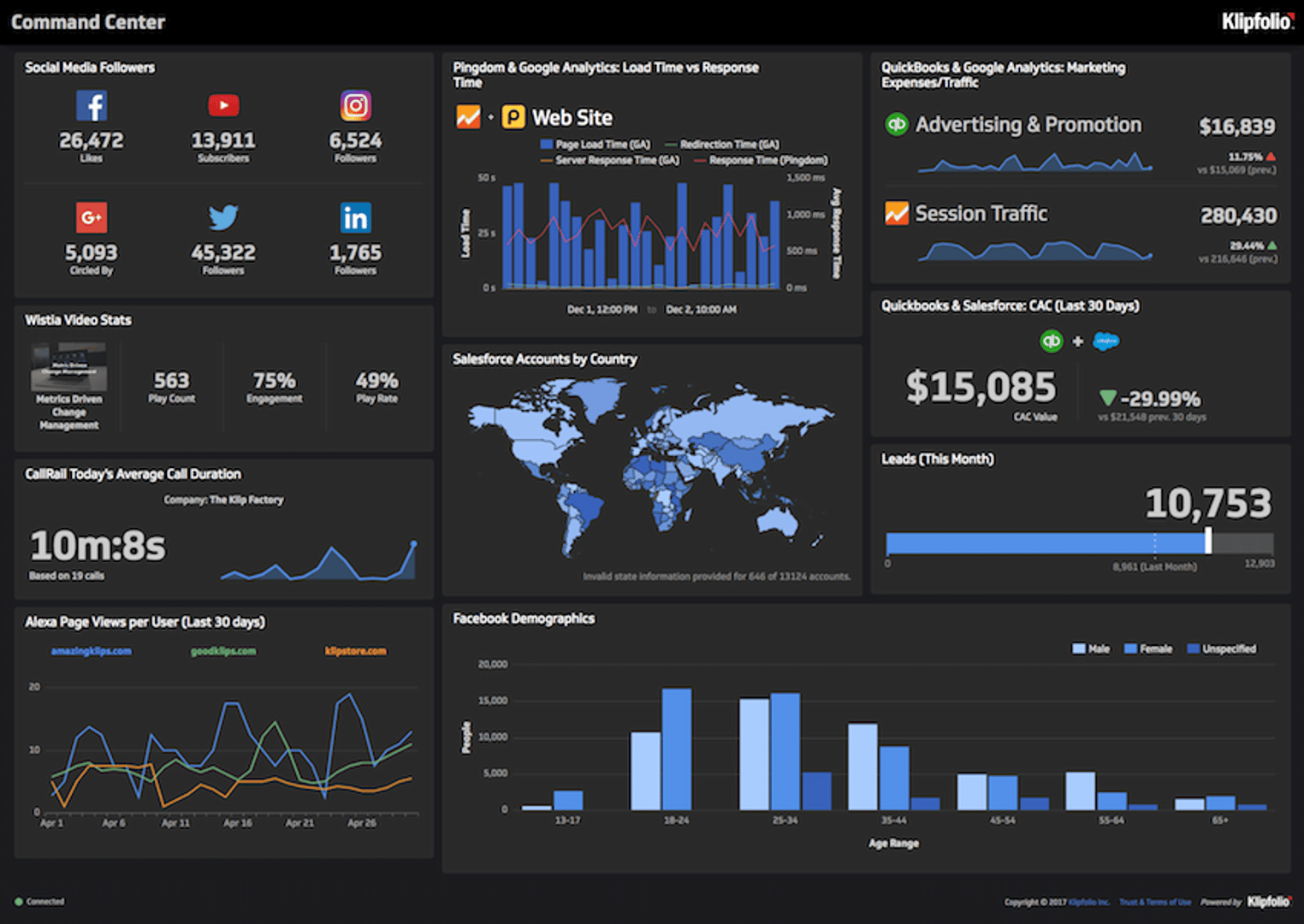 Summary - As Co-Founder of Klipfolio, I'm going to share our own dashboards. Some are very specific to a cloud-based SaaS business but many apply to any business. I hope that you get inspiration from them to become more data-driven.
---
In order to succeed, we need to create value and grow. Sound familiar? In a fast-paced startup, the business environment is always in flux. You need to be able to course correct at a moment's notice, and make changes to products, programs, campaigns, and internal activities based on insight from your data. But it isn't good enough to just make data available - you need to build a culture where everyone has metrics that they track and manage and that they are held accountable for.
At Klipfolio we do this using dashboards. Everyone in every department refers to dashboards daily, hourly, and in some cases minute by minute, to keep us on target. And the most important of these dashboards are displayed on 6 LCD TVs throughout our office. This provides motivation, keeps us focused on what is most important and drives accountability. They are also not just about monitoring metrics, when a number goes from green to red - we act.
In this post I'm going to share our own dashboards. Some are very specific to a cloud based SaaS business but many apply to any business. I hope that you get inspiration from them.
Dashboard #1: My CEO's Dashboard
My dashboard helps me track operational KPIs defined for every department in your organization, in a single view. It gives me instant visibility into our progress towards key growth targets. As CEO of a SaaS startup, I track key business metrics such as total accounts, MRR, MRR per account, lead to win rates, and retention.
Each department contributes to these high level goals by achieving objectives such as number of visitors and leads (marketing); new wins and average MRR (sales); active users and account retention (UX); monthly burn rates (finances); product uptime (development); and new and open tickets (support).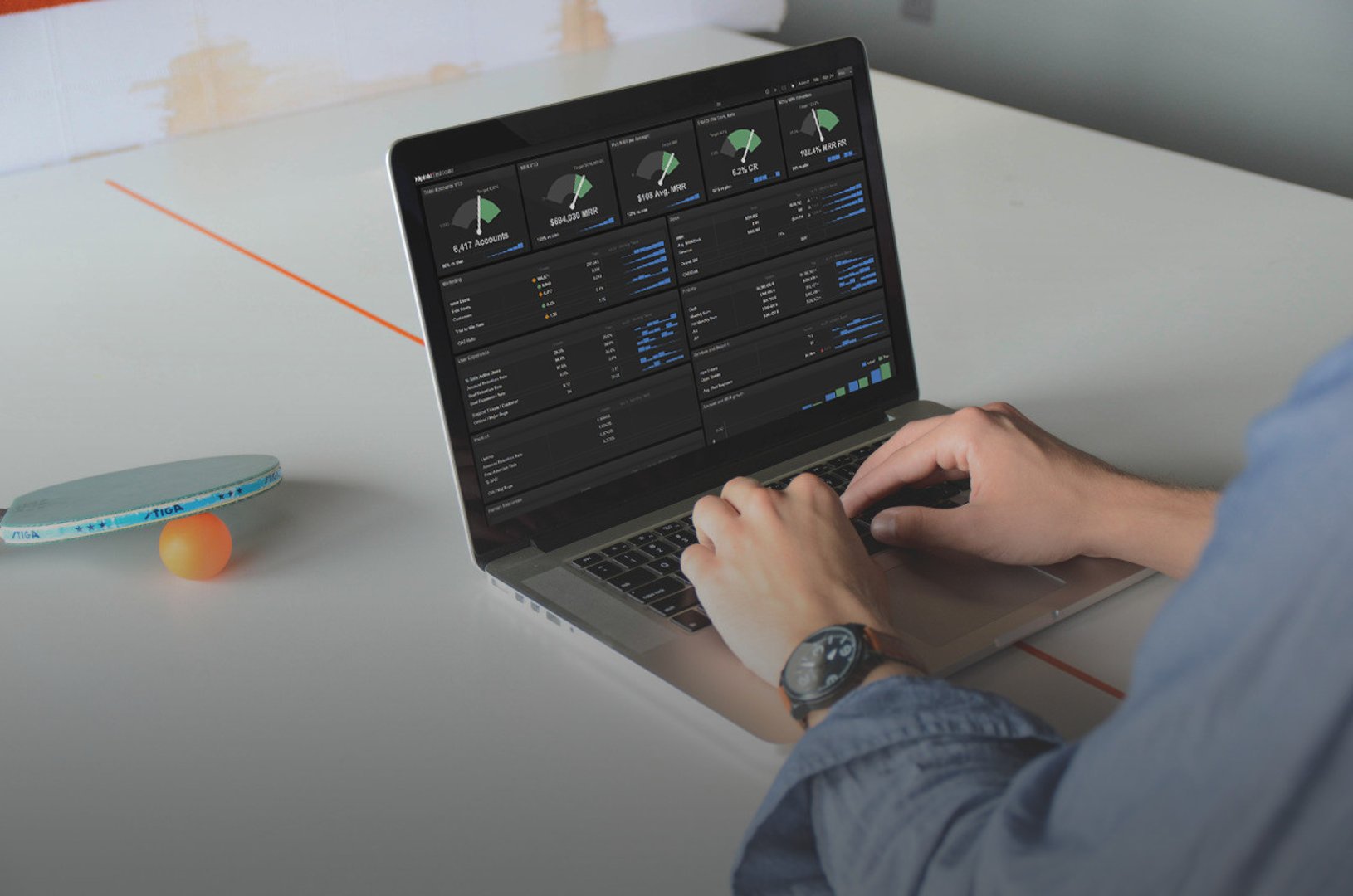 Click here to see my dashboard and the metrics I monitor. NB. What you'll see is an exact replica of my dashboard -- but the data is not real. Ditto for all the other dashboards in this post.
Dashboard #2: Sales
Sales at Klipfolio are all inbound, low asp, mostly credit card based and occurring 24X7. Given that, our sales dashboards monitor daily targets (as well as monthly totals) and if we are off track, all hands are on deck to understand and fix any problems. By the way, we use Salesforce data in our dashboards.
Click below to see the two sales dashboards we rotate on our wall boards:
Dashboard #3: Marketing
Like many of you, our marketing is continuously evolving and we've adopted the latest, greatest digital marketing tools available. As a result, our metrics which change as we try new software and run new campaigns are calculated by combining data from all those services.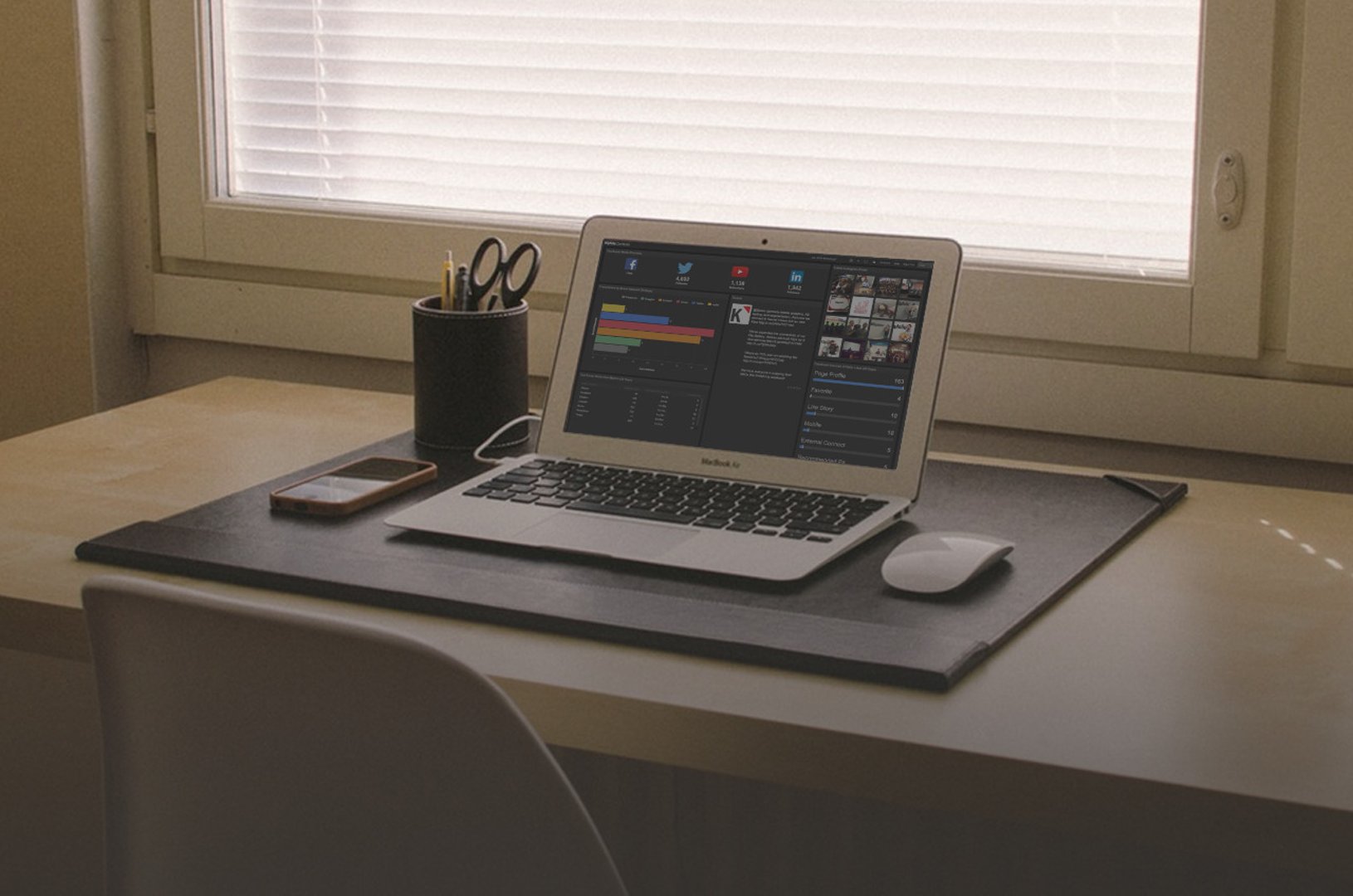 The team rotates three dashboards on their wall board:
Dashboard #4: Support
My support team uses their wallboard to monitor daily support tickets and documentation trends. By paying close attention to these metrics, they can see if we're hitting our response time targets, if we are resourced appropriately, and where our users are looking for help.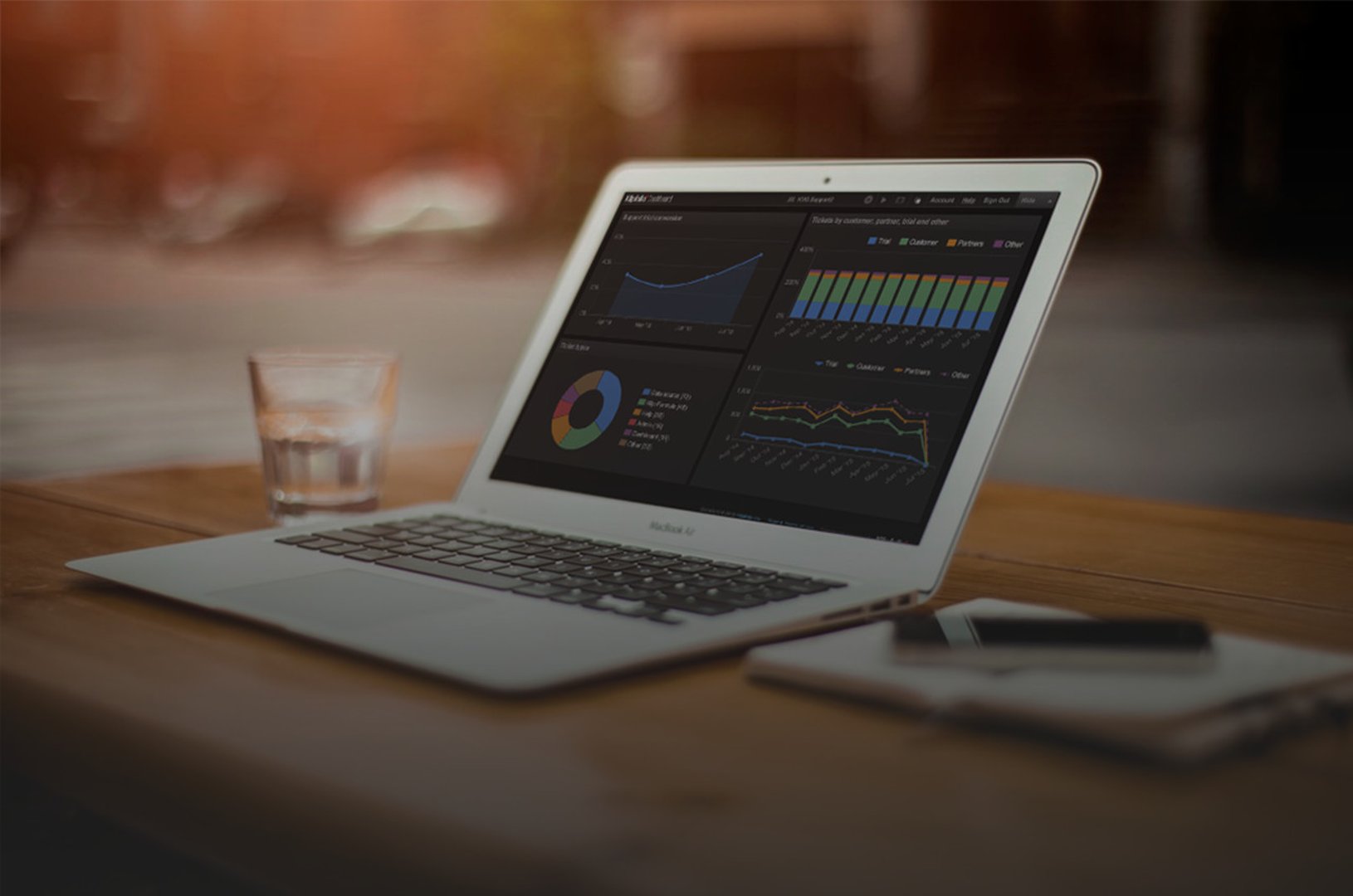 Dashboard #5 UX
The UX team's dashboard helps them monitor and improve our user's experience within the product. Their goal is to provide customers and prospects with the best experience possible.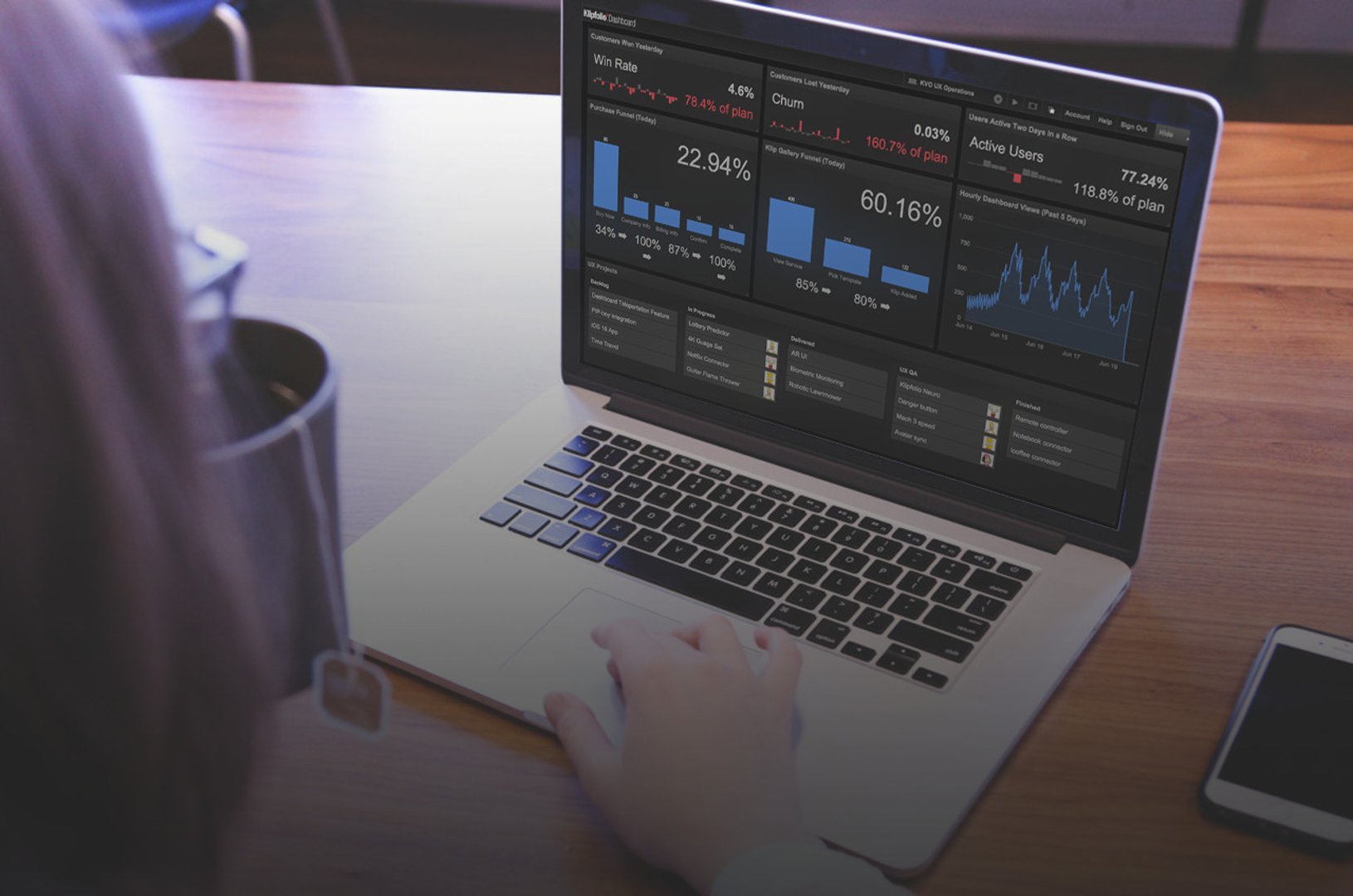 The UX team's dashboard tracks metrics on a daily cadence against the backdrop of historic averages to account for oddities or sudden changes in the data. In terms of leading indicators, the UX team measures the number of daily active users and key user journeys. This dashboard plays a key role in aligning the UX and product teams around customer-facing initiatives. Sometimes the dashboard flags issues that are immediately actionable, while other times it's used to provide context and real-time stats for strategic planning.
Dashboard # 6 Development
The development team uses their dashboards to monitor and take action on important resourcing and project KPIs, as well as to monitor application performance and uptime.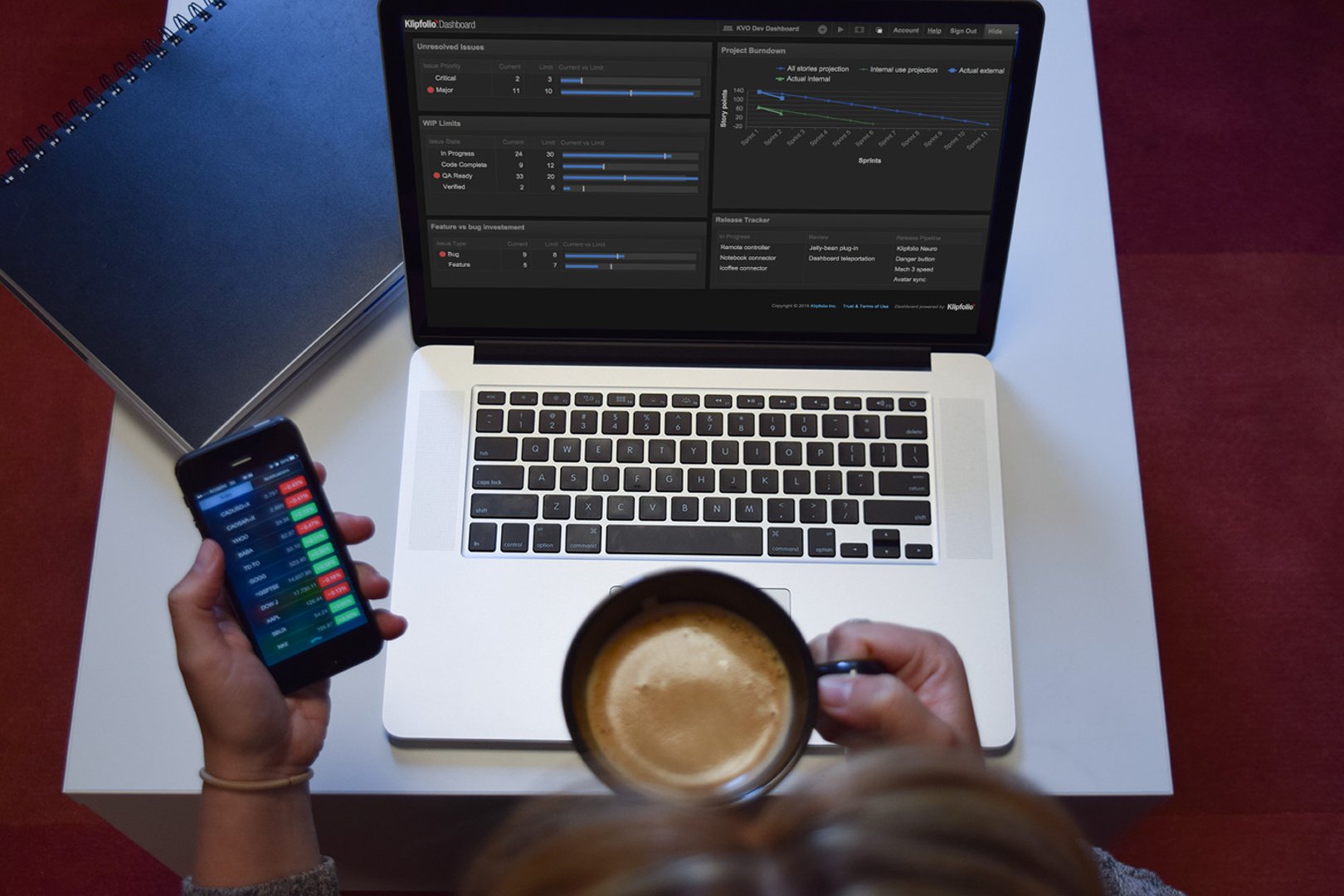 Metrics you monitor evolve as you do
These dashboards/metrics have been months in the making and continue to be an iterative process. As we have shared our own experiences here, I hope it provides some insight into how we do things, and motivates you to manage your business through metrics. Do this, iterate, and stick with it, and you and your colleagues will make better decisions, more quickly.
I love hearing successes from other companies. If you monitor different metrics than we do and are willing to share, I'd love to hear from you.
Allan Wille is a co-founder of Klipfolio, and its president and CEO. He's also a designer, a cyclist, a father and a resolute optimist.
Related Articles