What is a data dashboard?
Published 2021-08-04, updated 2023-11-27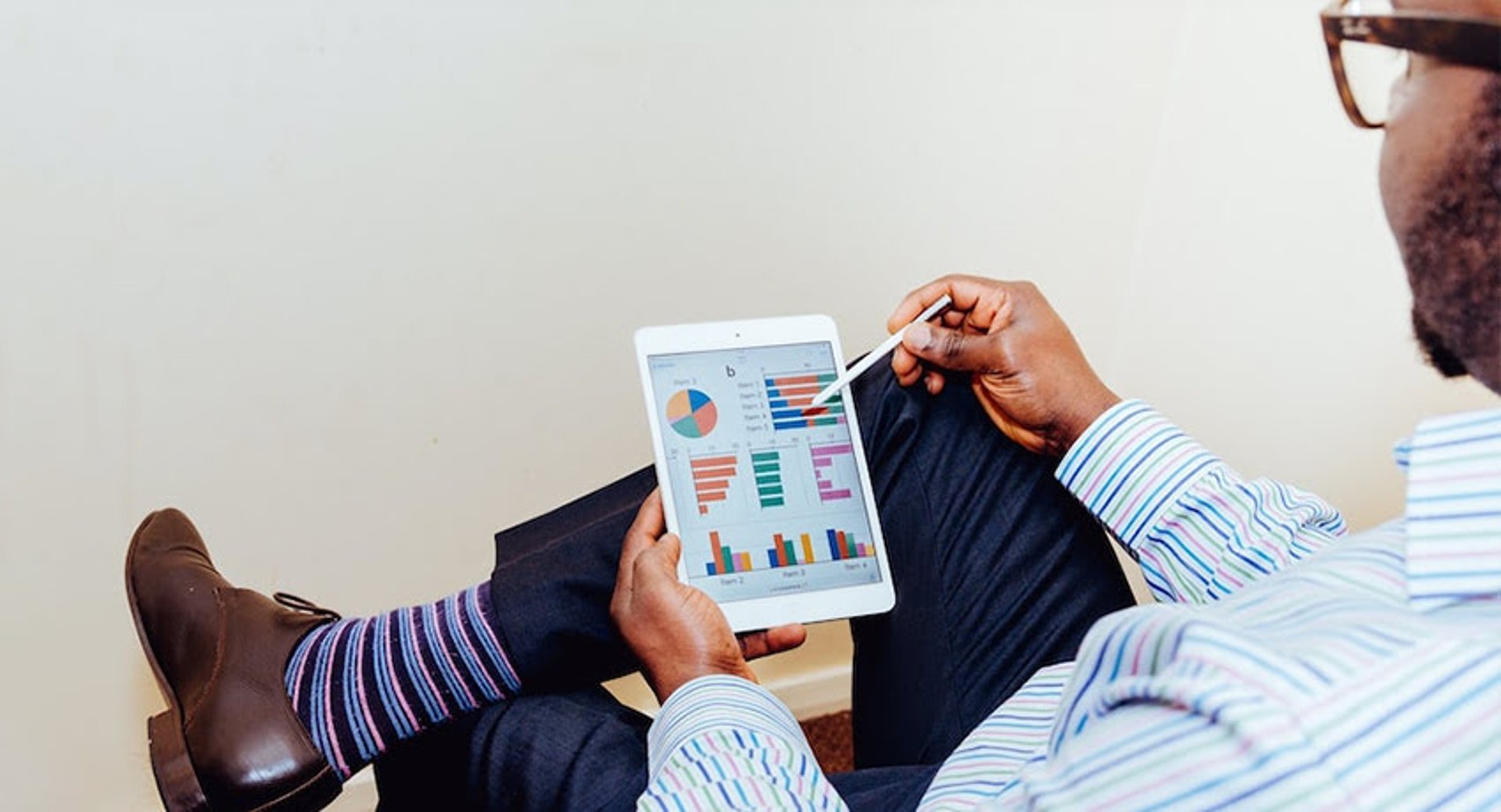 Summary - Design, customize and share dashboards to monitor the health of your business, department, or processes with a lightweight BI tool like PowerMetrics.
---
Our mission at Klipfolio is to help people succeed with data. And part of my personal mission is to provide you with the tools and resources you need to help you to do just that.
In our Starter Guide to Dashboards, I took a deep dive into the types of dashboards, their features, and how to build one to make data-driven decisions. In our Starter Guide to Dashboard Design, I answered frequently-pondered dashboard design questions to help you create the ultimate dashboard for your business needs.
But one piece of the puzzle is still missing; an in-depth answer to an FAQ "What is a data dashboard?"
In this article, I'll cover:
Let's get into it!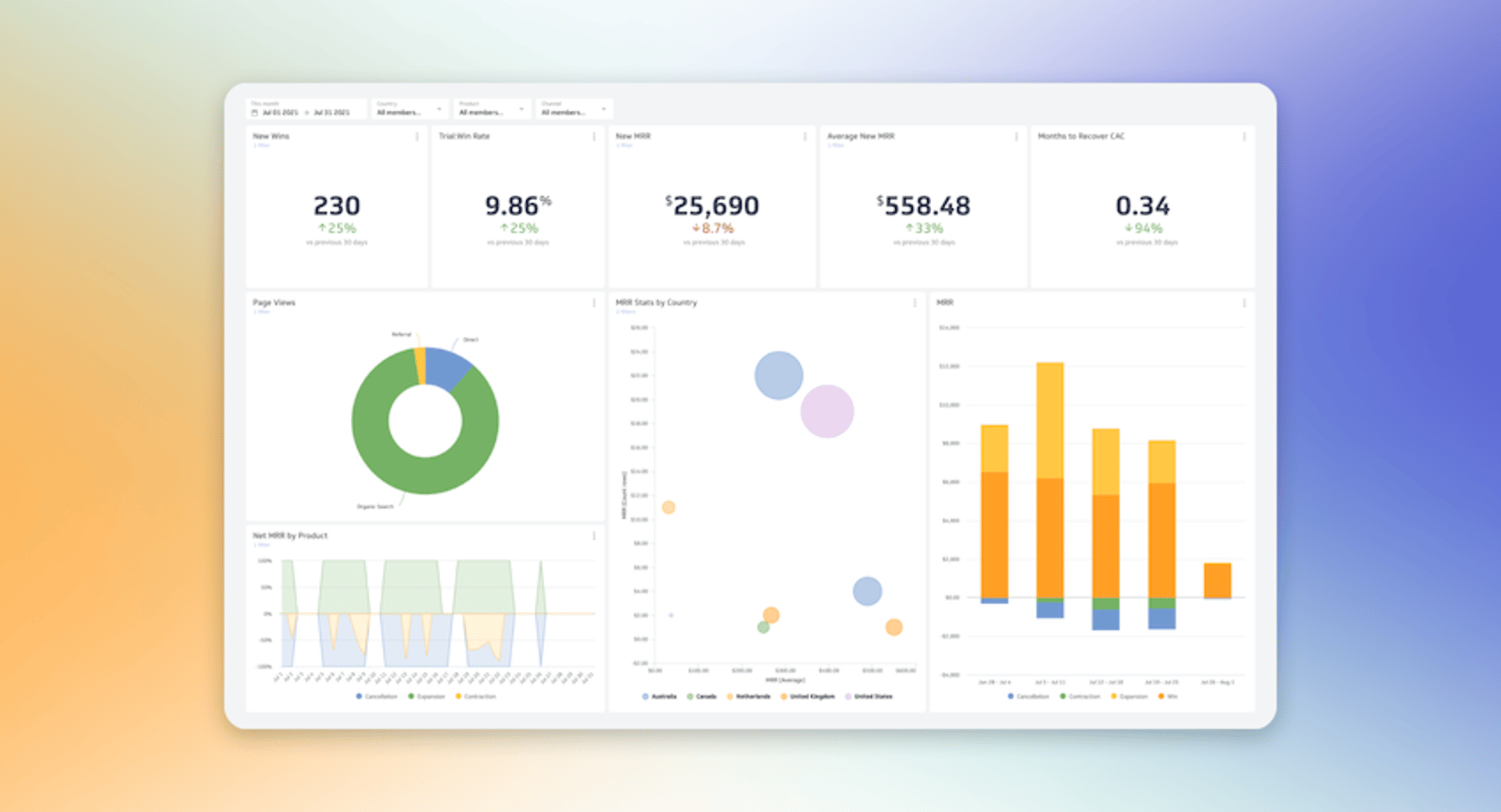 What is a data dashboard?
A data dashboard is an information management tool used to track, analyze, and display key performance indicators, metrics, and data points. You can use a dashboard to monitor the overall health of your business, department, or a specific process.
Dashboards are customizable, too. You can build a dashboard that supports the specific needs of your users. If you're a founder or executive, your dashboard could display SaaS metrics. If you're a digital marketer, your dashboard could display marketing metrics.
What powers a dashboard and the data visualizations on it? Behind the scenes, a dashboard software connects to your files (like an Excel spreadsheet or Google sheet), attachments, services (like QuickBooks or HubSpot), and APIs. A dashboard transforms the raw data into something human-readable. Instead of sifting through columns or rows in a spreadsheet, you can analyze your data in a table, line chart, bubble chart, or bar chart, just to name a few options.
Why should you use a dashboard?
Dashboards aggregate data from multiple data sources. A dashboard isn't just about saving time but seeing all of your data together in one place. The connection between your data isn't another API call—it's you and the expertise you bring to the metrics that are the power behind your business performance.
Now you may be wondering, what's the difference between a dashboard and a report?
Dashboards versus reports: What's the difference?
What's the difference between a dashboard and a report—and why does it matter? Why not only build reports or invest solely in dashboards? The difference is about the shift in perspective from periodic reporting (like quarterly or yearly) to continued monitoring (like daily or weekly). What makes dashboards and reports so valuable is how you and your team use them to your advantage.
Similarities between dashboards and reports
Access to historical data
Trend analysis to see what's worked (or what hasn't) in the past to shift your approach for the future
Bring multiple metrics together
Visualize your data
Differences between dashboards and reports
Dashboards are interactive—you can segment, filter, and visualize your data
Dashboards display live, dynamically updated real time data (as your data source updates, your dashboard does too)
Reports share information on known areas of interest or goals
Dashboards monitor known areas of interest or goals
There's certainly a time and place for a dashboard and a report, but dashboards are the next level for data-driven teams. 
Benefits of using a dashboard for your business
Dashboards serve different purposes for different roles. There is no such thing as a one-size-fits-all dashboard. Well-designed dashboards answer business questions and provide meaningful insights before your team even has to ask for them.
Benefits of using a dashboard for your business:
Monitor multiple metrics and key performance indicators (KPIs) at once to derive data-driven insights
Easy to read
Identify trends
Data visualization
Save time by reducing or eliminating manual reporting tasks
Consistent and timely cross-functional communication
Let's look at each benefit in a little more detail.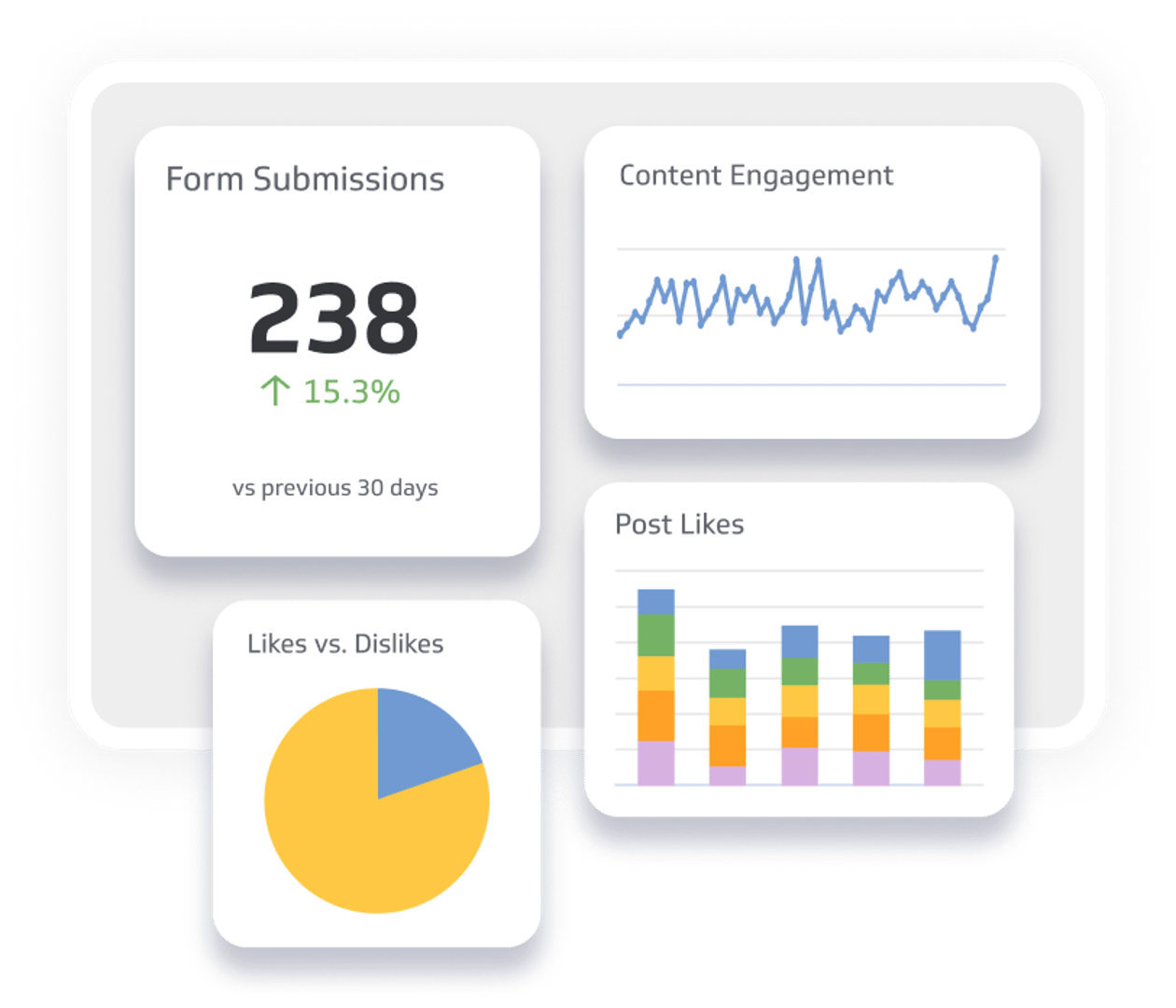 Monitor multiple metrics and KPIs at once
When a change happens within a department, whether it's good or bad, it can have a ripple effect on your business. And putting your valuable data on a dashboard makes everything a lot easier.
Use a KPI dashboard to your advantage to dig deeper and draw a correlation between your metrics and KPIs to understand what's working — and what's not. Monitor your metrics and KPIs on a central dashboard, and make adjustments to your business practices in real time.
Hear how some of Canada's fastest-growing startups are using analytical dashboards to grow and scale their businesses on the Metric Stack podcast.
Easy to read
You don't have to be a big data analyst to use and understand a data analytics dashboard. Operational dashboards should be easy to read. When you apply the principles and best practices of dashboard design, you can call out important data points that anyone can observe and understand at-a-glance. Your dashboard should be designed so that even if you don't work in marketing or finance, you can still understand the data analysis being presented.
Save time by reducing or eliminating manual reporting tasks
It's no secret - data dashboards organize and save time. You no longer have to go to multiple services or spreadsheets to retrieve your data and put it into a report. Dashboards do all the heavy lifting for you!
Invest the time up-front to set up and design a dashboard that will pay back that time investment 10x over. Automatically generate reports with your data anytime, anywhere.
Consistent and timely cross-functional communication
Strategic dashboards allow everyone in the business to make and validate business decisions and create greater synergy across the organization.
With the data readily available on an executive dashboard, executives and leaders no longer have to request information from a data analyst. Analysts can work in the background while users can access the information they need at any time. It's a win-win!
Which metrics and KPIs should I put on a dashboard?
Choosing the business metrics and KPIs to track is an important part of the dashboard design process. KPI dashboards are built as a direct response to the needs of your team or business.
Business dashboards are versatile, too, which makes them useful for any industry or department.
Before you build a dashboard, it's important that you understand which metrics and KPIs you want to track. Answer the following three questions as a starting point.
What kind of business questions does my dashboard need to address?
What type of dashboard do I use to display my critical data?
Will my dashboard be interactive for readers?
It's a good idea to structure your dashboard around questions and answers. For example:
What is our Customer Acquisition Cost? Display this metric on your dashboard for a quick answer.
Are we filling our sales funnel with fewer leads this month compared to last month? Display this metric on your dashboard and add a comparison value to get the full picture.
Is the website we built on par with the industry standard? Visualize this metric so you can refine your website retention strategy before it's too late.
What's next for your dashboards?
Try building a dashboard in PowerMetrics, our lightweight BI tool that will help you level up your analytics. Use our Starter Guides to dashboards and dashboard design to help you get started.
Need inspiration for the key metrics to put on your dashboard? Visit MetricHQ, our online dictionary of dashboard examples, metrics, and KPIs. On MetricHQ, you can search for a specific metric, or search for new metrics by category or service or add Instant Metrics.
Related Articles