Digital advertising dashboards in the age of digital ad blocking
Published 2017-06-26, updated 2023-10-08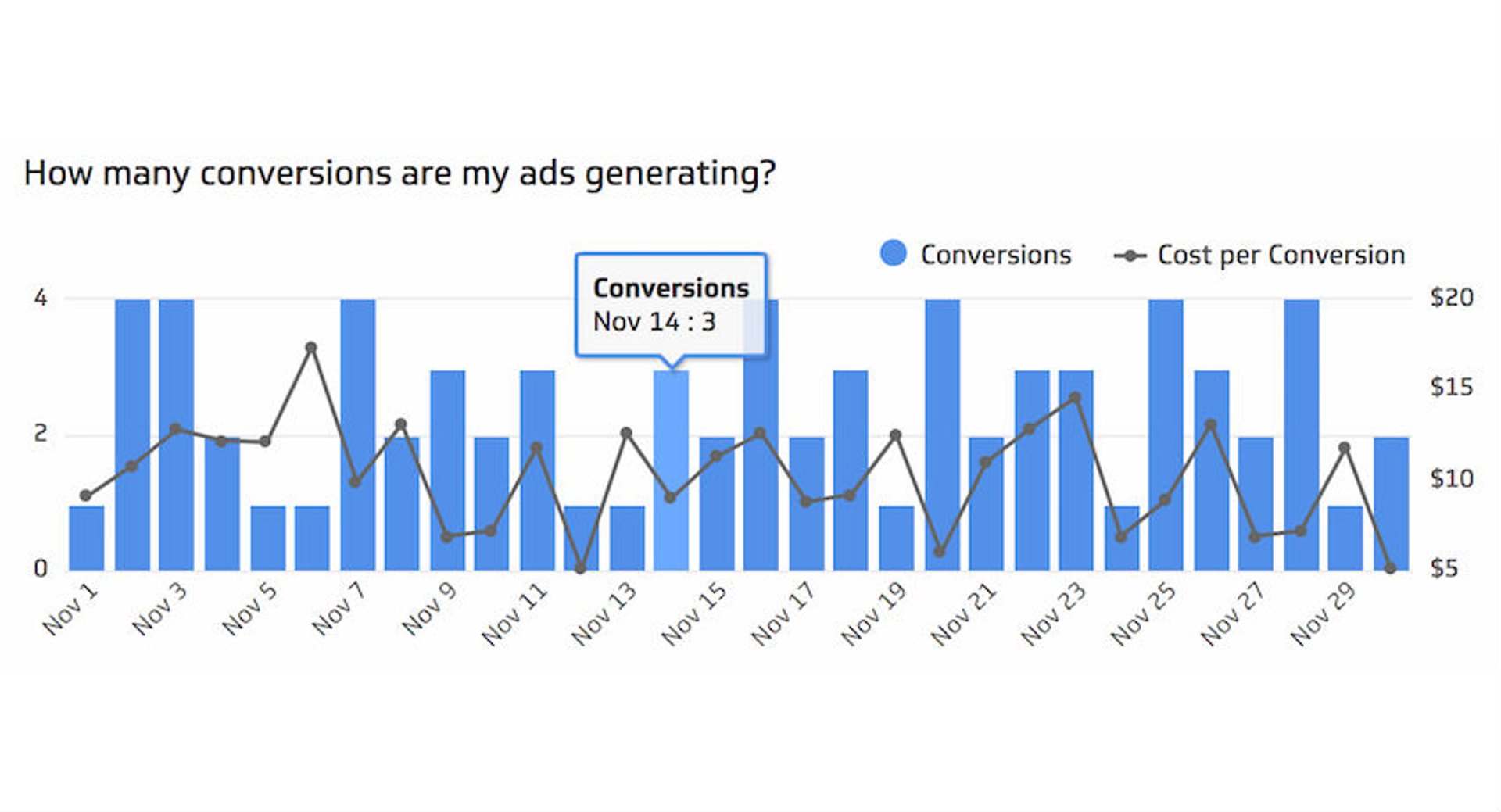 Summary - Research on ad blocking doesn't match the rise of fear associated with it. Still, digital advertising dashboards can help agencies assuage this fear by providing transparency and a real-time glimpse into their data.
---
On Saturday, Martin Kratky-Katz of Blockthrough opened his guest post at VentureBeat like this:
"I've spent the last two years fighting in the ad-block trenches."
He then went on to eloquently detail what Google's announcement of bringing ad blocking options to Chrome (Google refers to them as "filters") will mean for a variety of groups—from the content consumers and the publishers whose revenue models rely on ads, to other ad-blocking companies competing in this space. Read more: From Cookies to Cohorts: The end of third-party cookies and what it means for marketers
But what might this mean, especially when viewed as a small piece of this current age of mobile ad blocking, for digital advertising and marketing agencies?
For starters, it means there must be an increased focus on creativity, quality, and relevance—truly keeping empathy for the content consumer top of mind during the entire ad creation process.
No, not like this.
It also means digital agencies must think more critically than ever before about everything from the quality of ad assets to the dimensions of and demographics on the digital platforms where, in one way or another, they'll likely be creating an interruptive experience.
The current state of ad blocking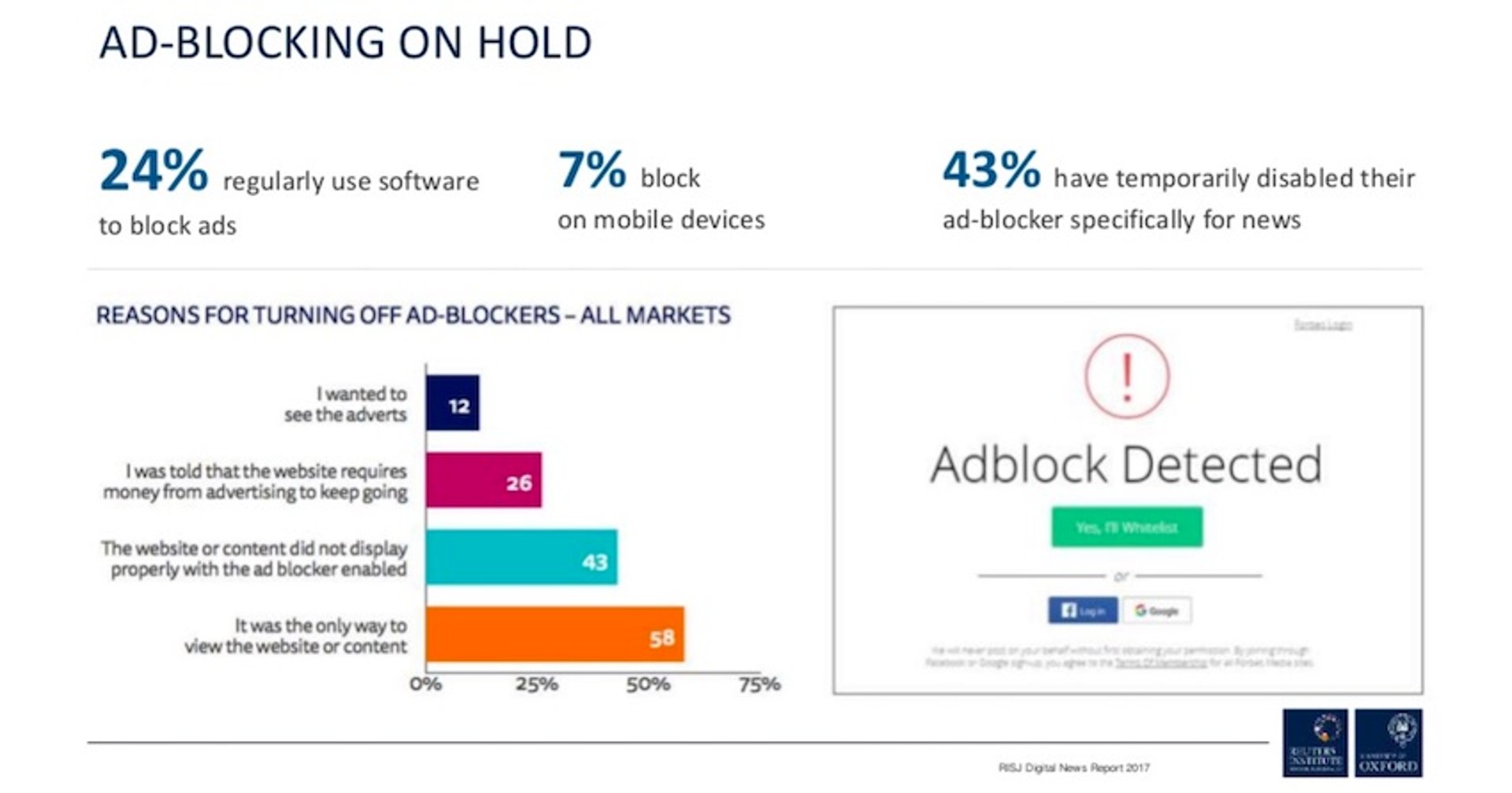 According to a 2017 report from the University of Oxford and the Reuters Institute for the Study of Journalism, ad blocking—despite its seeming increase in popularity—has essentially reached a standstill on desktop and is at only 7% on mobile devices.
"Our data show that there has been no significant increase in ad-blocking over the last year."
Additionally, it's worth noting that ad blocker use varies by age (with 18-24 being the highest % of users) and by country:
Source: Reuters Institute
But perhaps most fascinating for agencies creating content is this: according to the 1500 UK respondents in the study, most people could remember the path through which they found the content (Google, Facebook, etc.) but less than half could remember the name of the publisher.
What might this mean for ad and marketing agencies?
While it can be easy to echo the "don't build your house on rented land" motto of the content marketing industry, i.e., publish content on your own domain rather than advertising on someone else's, I believe there is a balance to be struck here.
A digital agency's clients, in hearing all of this ad-blocking news, may increasingly want to publish content on their own domain. But this strategy demands editorial resources, consistency, and time to build an audience. It's typically a longer term game.
But Google and Facebook (to name only the two biggest players) have created brilliant playgrounds for short-term games, where digital agencies can drill down better than ever before to target the perfect audience for their client's ads.
Which of course means agencies have an advantage when it comes to digital advertising: they can quickly and directly attribute new revenue, leads, and brand awareness to their efforts. And unlike traditional media buys, this attribution is nearly instantaneous, provided the agency has the proper data monitoring practices in place.
Yes, such platforms are volatile and can change their algorithm at any time, but in this short-term play, they provide advertisers and marketers with real-time feedback mechanisms that help them measure results, reduce risk, and continuously optimize.
Even with all this news about ad blocking.
And what about the digital agency's clients?
Many clients are becoming increasingly scared about what kind of impact they can expect from their ad spend. And rightfully so.
They see it like this: If major media companies are taking a hit and struggling, what hope is there for us?
As a result, many companies are cutting out digital agencies altogether, vowing instead to try to build out an internal team that can learn the ropes of digital advertising and experiments with a few campaigns through Google AdWords or Facebook Ads.
However, those sticking with and trusting digital agencies are no longer simply demanding results. They are demanding transparency. And they are demanding visualizations.
Screenshots from antiquated PowerPoint presentations aren't going to cut it. The clients of digital agencies increasingly want a real-time glimpse into performance so they can immediately see what's working and even help course correct when things aren't looking so good.
This is where digital advertising dashboards come in
Dashboards can be a complementary software solution to digital advertising efforts, and help funnel real-time data both to clients and to an agency's team. While an agency's analytics team may feel at home in advertising interfaces like Google AdWords and Facebook, their clients and members on their creative team may find these interfaces confusing.
A digital advertising dashboard (yes, like ours but there are many others out there), allow for the broad consumption and continuous monitoring of those key advertising campaign metrics. Plus they allow for those metrics to be "mashed up" with or simply paired beside metrics from other data sources.
For example, you can pull in a particular data point from Google Analytics and place it in a dashboard beside data from Salesforce and Twitter—or whatever data sources best help you capture the performance insights you need. As the saying goes, what you measure, you improve.
Additionally, this visibility into an ad campaign's metrics provides the basis for incremental improvements throughout the duration of a campaign. For example, identifying and fixing issues with click-through rates early in a campaign can have a big impact on your end results. Learn more: Ad Clicks vs Ad Impressions
For agencies this can make for far happier and more trusting clients. Happier because there are better results. More trusting because the real-time results aren't hidden—the agency can simply share with their client the live link to the campaign dashboard.
Let's take a closer look at two digital advertising dashboard examples, using the two giants we mentioned earlier.
When someone types in a term like "Buy Shoes" in a search engine like Google, it's easy to understand the intent behind that keyword. The searcher intends to buy a pair of shoes. For an advertiser, this represents an opportunity to serve up a relevant ad that addresses that intent. The ability to match user intent is what makes Google AdWords such an effective digital advertising platform.
The AdWords Keyword Performance dashboard analyzes cost-per-click (CPC) keyword metrics like click-through rates, conversion rates, and cost per conversion, while allowing for audits of campaign performance at the keyword level.
Building the AdWords Keyword Performance Dashboard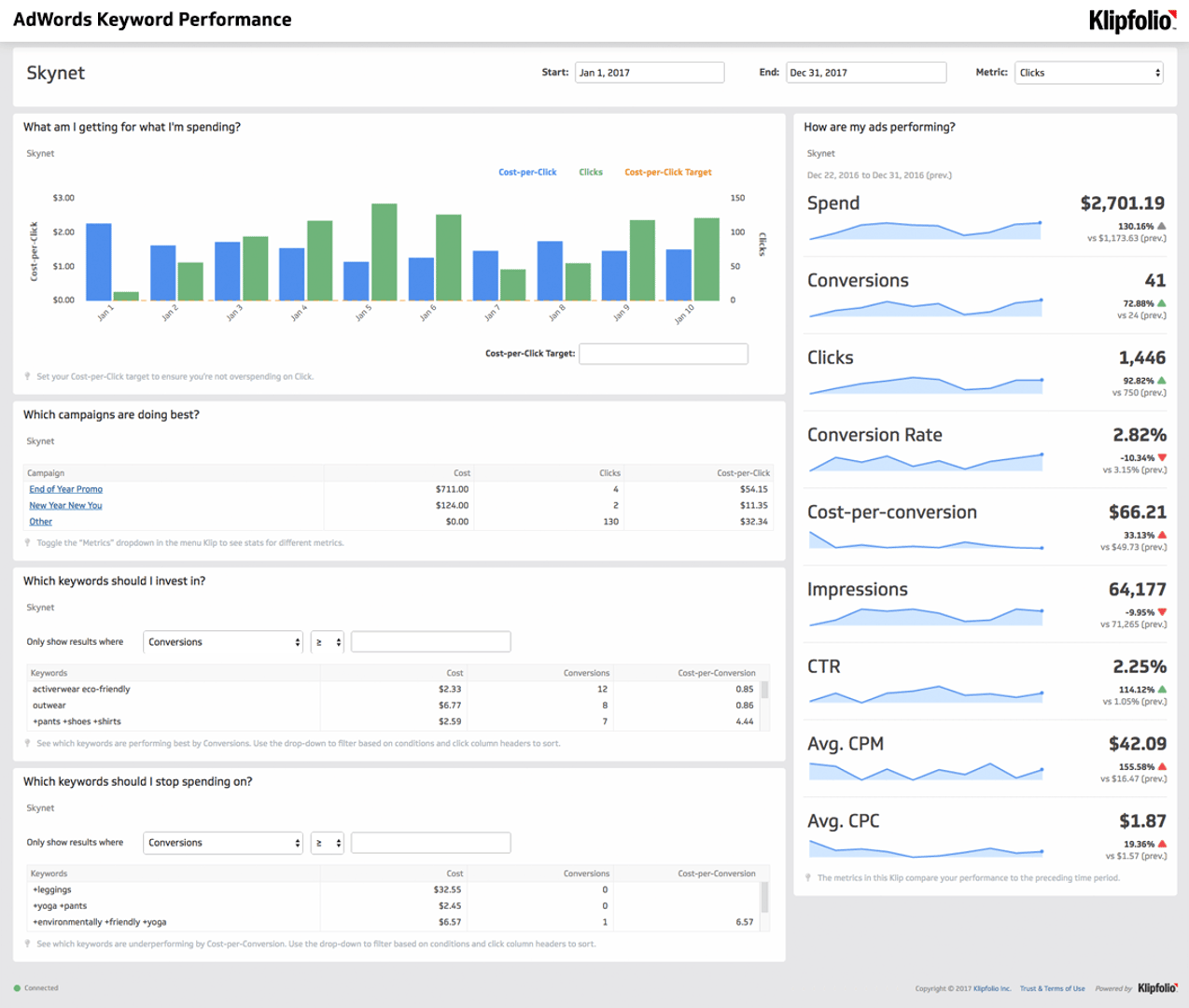 The dashboard above is just one example of what digital agencies can build and share with their clients. It's also a pre-built dashboard, which means they just have to sign up and connect their client's credentials.
But Klipfolio also allows agencies to build custom Google AdWords dashboards for their clients. Learn more about that here.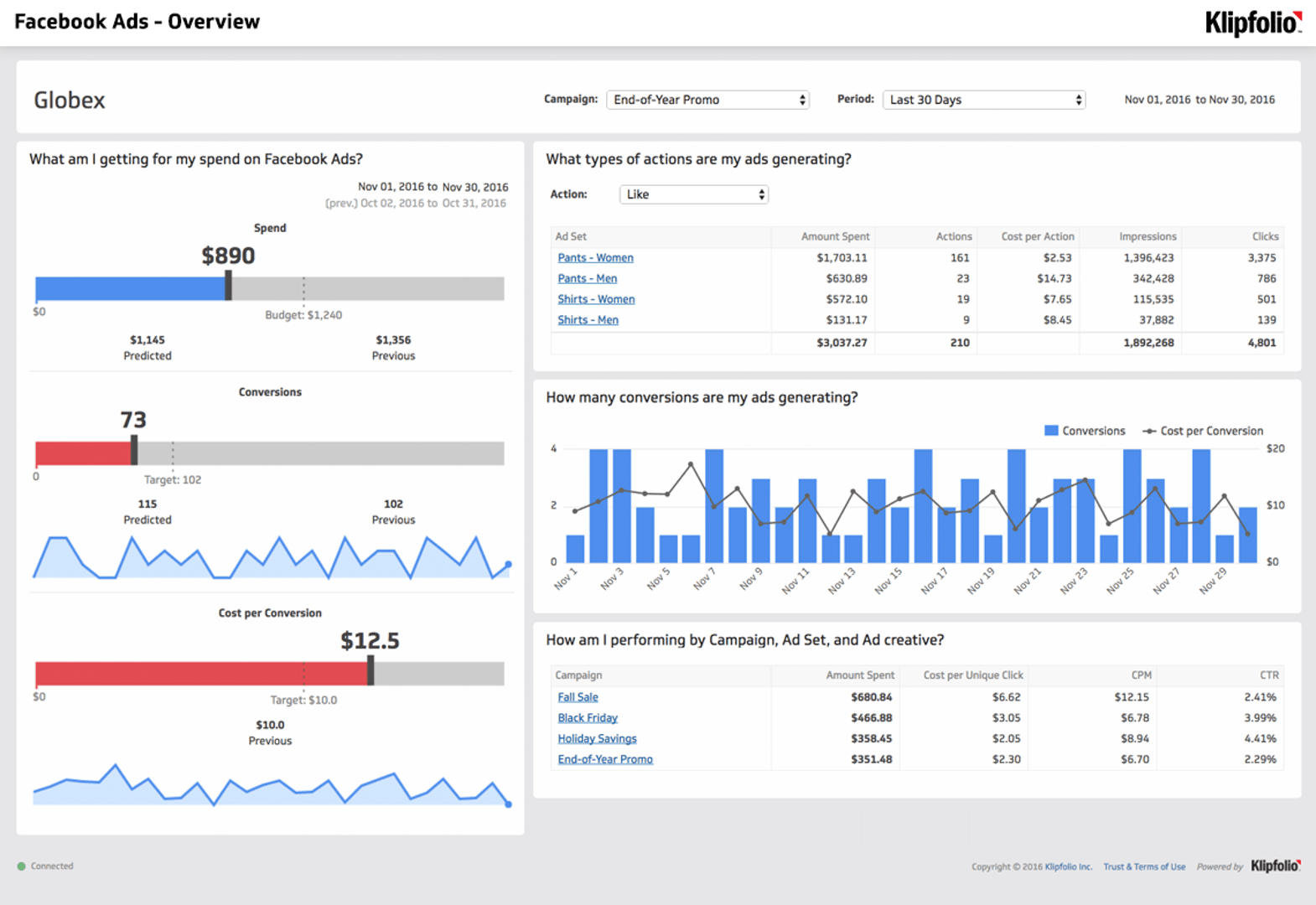 Facebook is one of the most exciting digital advertising opportunities today. It combines in-depth audience profiling and demographic targeting with state-of-the-art advertiser controls and multimedia support.
That doesn't mean this platform is free from challenges. Facebook is as much a content sharing platform as it is a social media platform. Advertisers must contend with content shared from news media, friends and family, and other advertisers competing for attention.
Still, the possibility of success for even small B2B organizations is compelling. Data is the equalizer for all digital advertisers on Facebook. Closely monitoring Facebook metrics like cost per action and ad frequency provide advertisers with a tactical advantage. And a digital advertising dashboard makes it easier than ever for ad agencies to continuously monitor, optimize and share campaigns.
Facebook ads metrics can be analyzed at three levels:
At the campaign level to determine the overall health and success of a particular advertising initiative;
At the adset level to optimize a group of advertisements focused on a specific audience;
At the ad level to optimize messaging, images, and landing pages.
Build the Facebook Ads Performance Dashboard
Advertisers looking to share a high-level overview of Facebook Ads performance with their clients and team may want to consider building a dashboard. Like the AdWords dashboard, this Facebook Ads Performance dashboard is pre-built and assembles itself once data is connected. Learn more about this here.
Final thoughts on ad blocking and dashboards
Sure, Google likely sees its "filter" updates as a profitable pursuit. But it's also one that could lead to a better experience for everyone.
"By default," Kratky-Katz began, "Chrome will prevent all ads from loading on any website that doesn't conform to the Initial Better Ads Standards published by the Coalition for Better Ads. These standards aim to eliminate ad formats that block content, disrupt the user's experience, or generally annoy users."
Advertising and marketing agencies would do well, then, to take a page from this book by creating a better, more transparent experience for their clients. They can do this—and differentiate themselves from other agencies in the process—by leveraging digital advertising dashboards.
No, dashboards aren't a solution to ad-blocking. But they are a solution to the challenges of transparency, communication, and analytics that more quietly plague most advertising campaigns.
Marc Rand, co-founder and president of SearchWarrant, said it like this:
"Klipfolio dashboards have delivered strong ROI for our agency. It's much easier to present data to clients, and in skipping the 'questions' and the quest of continuously looking for data, our teams have more time to focus on strategy."
There are some fantastic dashboard software options out there, and I encourage all digital agencies to take their time to research the strengths and weaknesses of each.
***
For information about how we work with agencies, check out our Partner Program.
Learn more about digital advertising metrics
Related Articles