How to prepare a killer package for your board
Published 2016-06-17, updated 2023-03-21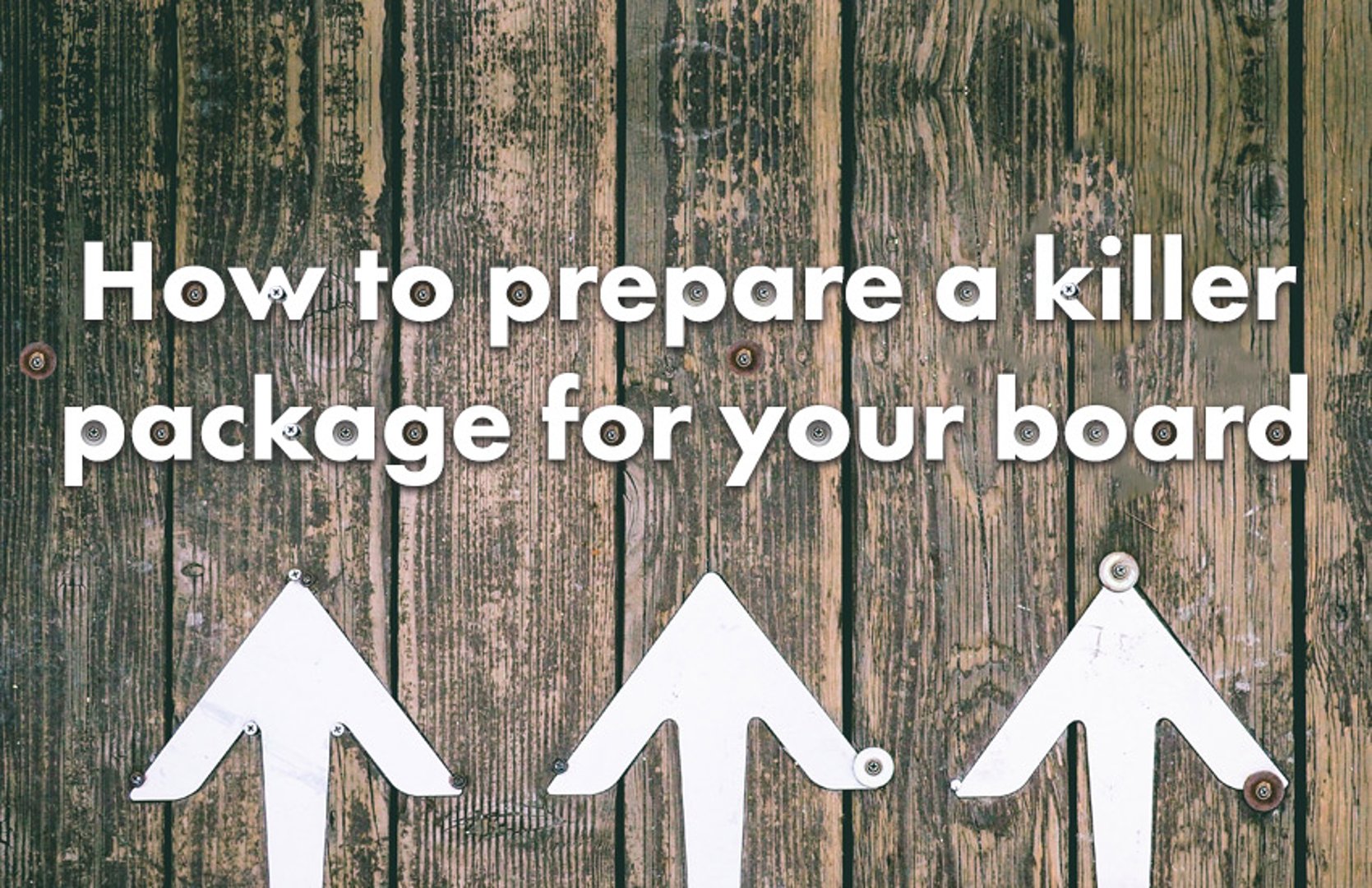 Summary - Putting together a good package of material for your board of directors is no easy task. But if your board of directors is to function well, and if it is to have confidence in you and your company, it needs the right material, presented in a useful way. Here's my guide – based on my own experience – to creating a good board package, and using it to run a strong and impactful
---
I meet with our board of directors four times a year, at the end of each quarter.
It's customary to prepare a package of information for board members in advance of each meeting.The first time I put together that package I scrambled to figure out what it should contain.
I did a lot of research, and took a lot of advice about what a board needs to know – and how it should be presented. And the feedback I am getting from our board members – who also sit on other boards – tells me we're doing a good job of giving them the essentials.
Here are my tips on preparing a good information package for your board of directors.
1. Customize the board package for your company
As I found out, there's a lot of material out there on what to give a board of directors. But some of it is for public boards, and some of it is for multi-billion-dollar companies. Much of what I read did not apply to Klipfolio. I needed to create a package that would suit a quickly growing company with annual revenues between $1 million and $10 million. That's what I'm describing here.
2. Send it in advance
We send the package out four to seven business days ahead of the board meeting to give board members a chance to read and digest it. Then I call them individually to see if they have questions and to hear their initial comments. The reason: I don't want any surprises at the board meeting and nor do the board members. If there's a concern, I want to know about it beforehand so I can arrive prepared.
The package goes not only go to the board (which consists of me and three others) but also to members of the executive and any observers we have invited. The actual board members, however, are the ones I call in advance. Usually. I find it's good practice to keep people in the loop who need to be in the loop, and often that means calling an observer too.
3. Make sure it's complete
With time, I have learned that a good package for Klipfolio's board contains the following items:
the agenda;
a narrative that includes an executive summary (written and signed by me), and a departmental summary that explains what's happened during the last quarter;
the minutes from the previous board meeting, signed by the secretary;
a waterfall chart of our performance metrics that provides rolling budget estimates and actual figures per quarter. We include this as the first page of the "Financials" section, as it provides an easy to read overview of how we're tracking;
An example of Waterfall reports, check out this article to learn more
financial statements that include the quarter being discussed, comparative statements for the previous quarter, and a statement comparing the quarter to the budget;
the cap table - a table that shows who owns shares in the company as well as any changes in ownership;
a statutory declaration, signed by me, that declares that all items for which the directors can be personally liable, such as employee payroll and vacation time, taxes, and any environmental activities, are current and being managed properly;
a list of any employee option grants that need to be approved or that fell back into the pool; and
any other material as needed – a report from the compensation or the audit committee, for example.
Financials aside, the most important item on this list is the second item, the narrative.
It is the story of how we're doing, told according to specific guidelines. I have each department prepare a one-page summary of activity over the last quarter. The summary contains performance metrics specific to that department, and answers three questions: What happened? What's next? What are the challenges?
Having each department prepare the summary is a good way of getting them to own their own story. I then take the information from each department and prepare an executive summary that looks at the entire company from a high-level point of view.
The narrative helps educate the board – and the employees. We share it with all employees (except for material on human resources) after each board meeting. It puts everyone on the same page as to where the company is going. It also forces department heads (and me) to take some time to look at where things are headed.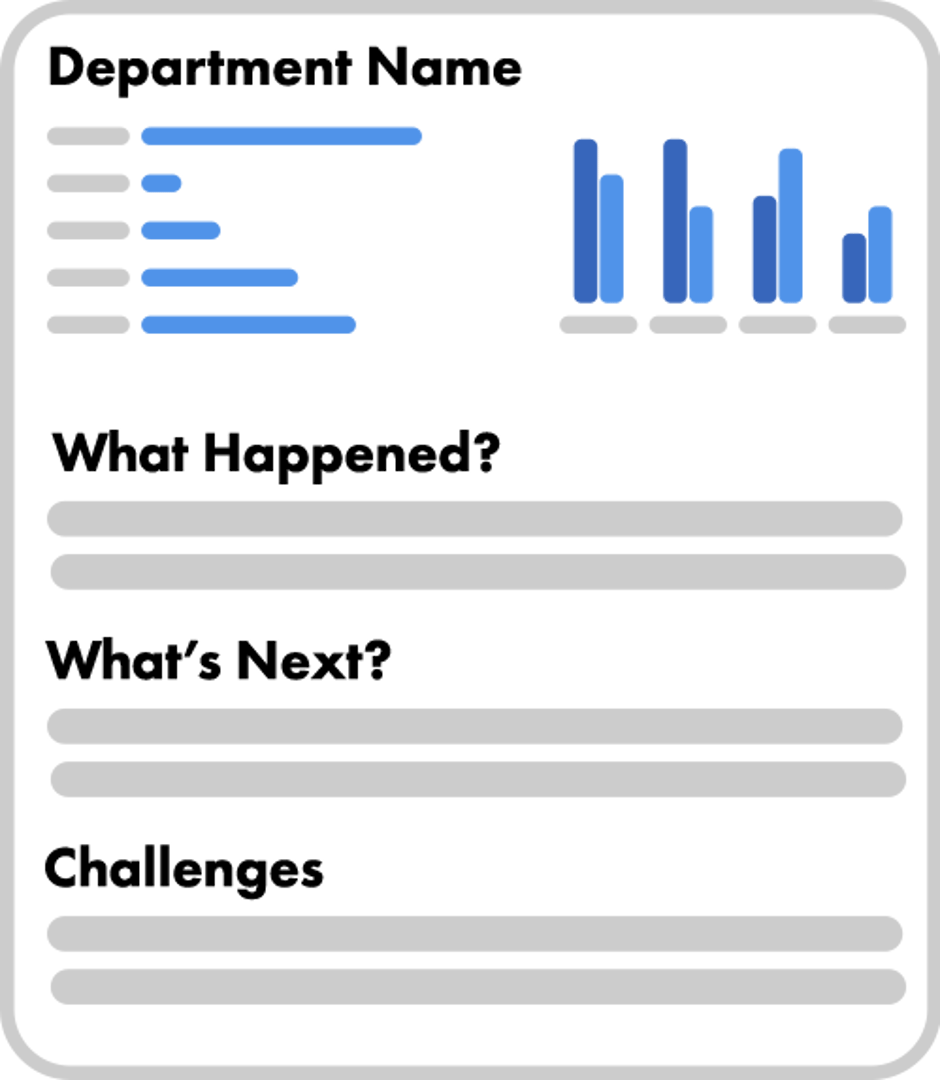 The result is a picture that is more complete than any financial statement can give you. Even the best financial statement won't tell you that a new competitor has entered your market, or that you've just shipped a great new feature.
All this is in advance of the meeting.
There are some important things to do at the meeting itself. Here is what works best for us.
4. Craft a board deck to focus the meeting
Our board meetings last for two hours. Everyone arrives prepared. I act as chair, and as chair I set out a five-point agenda that moves things along smoothly.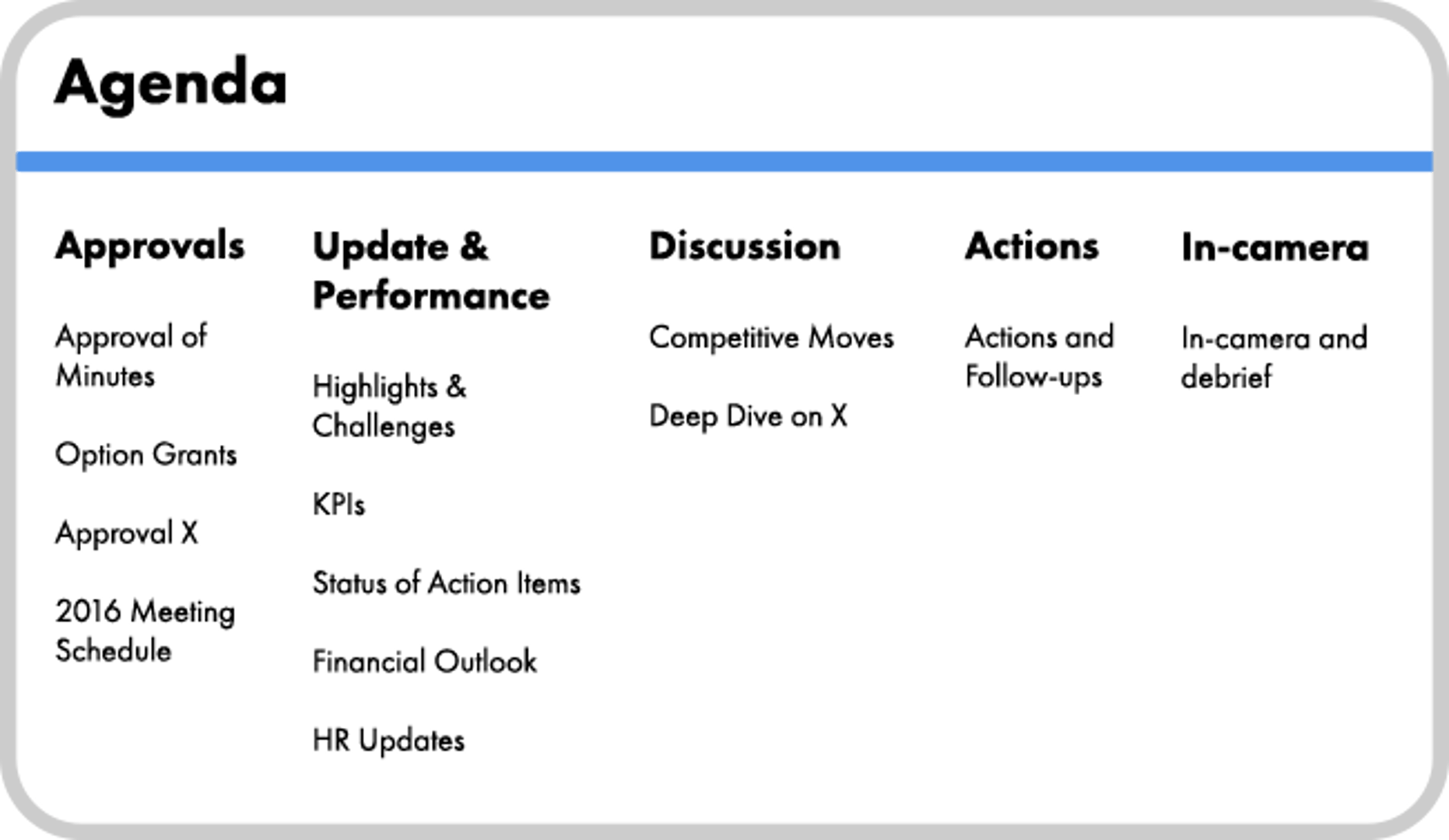 First, with only the board and observers present, we take 15 minutes to deal with approvals. These are administrative issues that are necessary from a governance perspective. We approve the minutes of the previous meeting, options grants, compensation packages, significant budget items, financing engagements and meeting schedules.
Next, I present an update on the company and a report on our performance to board members, observers and members of the executive team who come in at this point. This presentation is based on a deck I have prepared but not sent out in advance. It looks at highlights and challenges; key performance indicators; the status of board-level action items; financial performance and guidance; and our hiring plan and current organizational chart. This part of the meeting is all about reporting. It lasts about 45 minutes, and follows to some extent the story in the narrative.
Next comes a discussion. For our business, it's important to ensure we understand the competitive landscape, so we start with a short discussion on key movements, acquisitions, and financing within our market. We then invite a member of the executive to lead a deep dive on a specific topic - such as our product strategy and roadmap, a discussion on financing options or our go-to-market initiatives. Although we are often the subject matter experts, the forum is a valuable sounding board and often leads to important insights. This lasts another 45 minutes or so.
Just before closing, we have a look at our rolling list of action items and add to it as needed.
Then I leave and the three other board members meet in-camera to talk amongst themselves, including my performance, since as CEO I am responsible to them. I am invited back in and debrief with them. Together the action items and in-camera session last about 15 minutes.
Then we're done and I sync up with my management team for a retrospective.
In my experience, a board meeting that turns around a free-form discussion doesn't lend itself to building the confidence the board and the CEO need.
A board of directors works best when it and the CEO trust each other. If you put the right structure in place, present a clear package of information and create a process to elicit proper feedback, board meetings go more smoothly and more quickly, and the board will have more confidence in you and your company.
A confident and informed board of directors will help your company continue to grow.
Allan Wille is a Co-Founder and Chief Innovation Officer of Klipfolio. He's also a designer, a cyclist, a father and a resolute optimist.
Related Articles