The top Salesforce reporting tools
Published 2017-09-02, updated 2023-03-14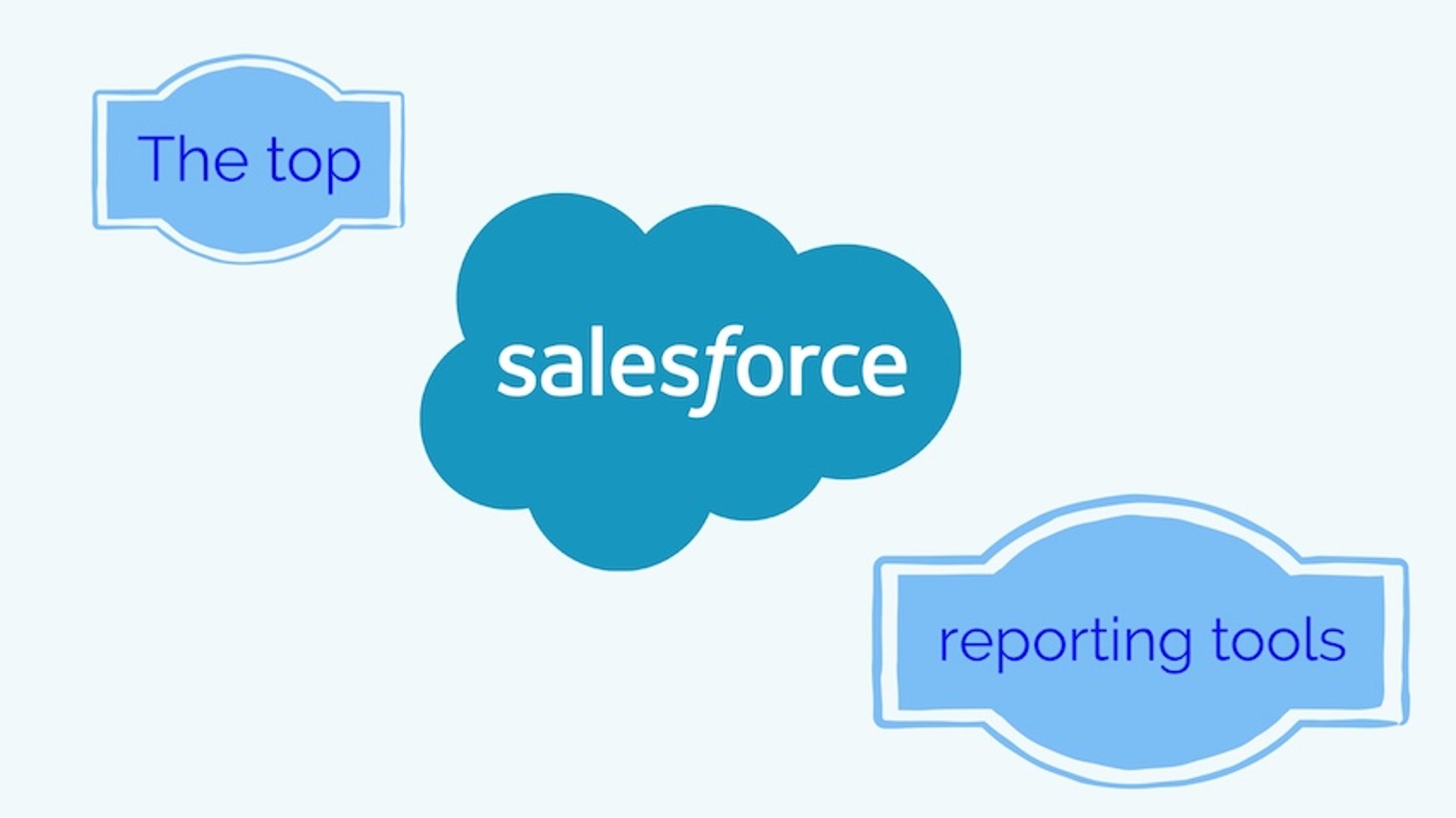 Summary - There are severe limitations to reporting within Salesforce. Here's a glimpse into the top reporting tools available.
---
Salesforce is a leading CRM that is the "one source of truth" surrounding sales activity for many businesses, including ours.
But another truth (that I'm sure you know if you're a Salesforce user) is that there are some very real limitations in creating and deploying Salesforce dashboards, which for most organizations is critical.
In short, the challenges of Salesforce reporting within Salesforce are that:
It's a manual process that can be repetitive and time-consuming;
You can't join external data with SFDC (SalesForceDotCom) data in a single SFDC report (heterogeneous mashing);
Joining Salesforce data silos is difficult if you're not a developer;
Many non-SFDC licensees in your organization may want to access SFDC reports, but reports can only be created by and sent to other Salesforce users;
You can only send 200 reports a month (Enterprise Edition); and,
Reports are still sent when there is no data (zero records).
These limitations in reporting within Salesforce have provided an opportunity for external sales reporting and dashboarding tools like PowerMetrics to step in.
Within the Salesforce AppExchange and outside of it, there are a variety of options worth considering when it comes to Salesforce reporting.
Below is an overview, including the advantages and disadvantages, of some of the top Salesforce reporting tools available today, including:
Tableau
Klipfolio
G-Connector
Conga Courier
Smartsheet
Zoho Reports
InsightSquared
In case you're curious, data is one of the top sales skills recommended by the team at Saleforce. It's definitely worth a read!
Tableau as Salesforce Reporting Tool

Tableau is a visual analytics tool that enables the creation of interactive dashboards to "help you uncover hidden insights on the fly." Accessing and combining disparate data sets in a user-friendly interface, without writing code, is a core value driver.
Tableau supports connections to hundreds of data sources and has a native connector for Salesforce.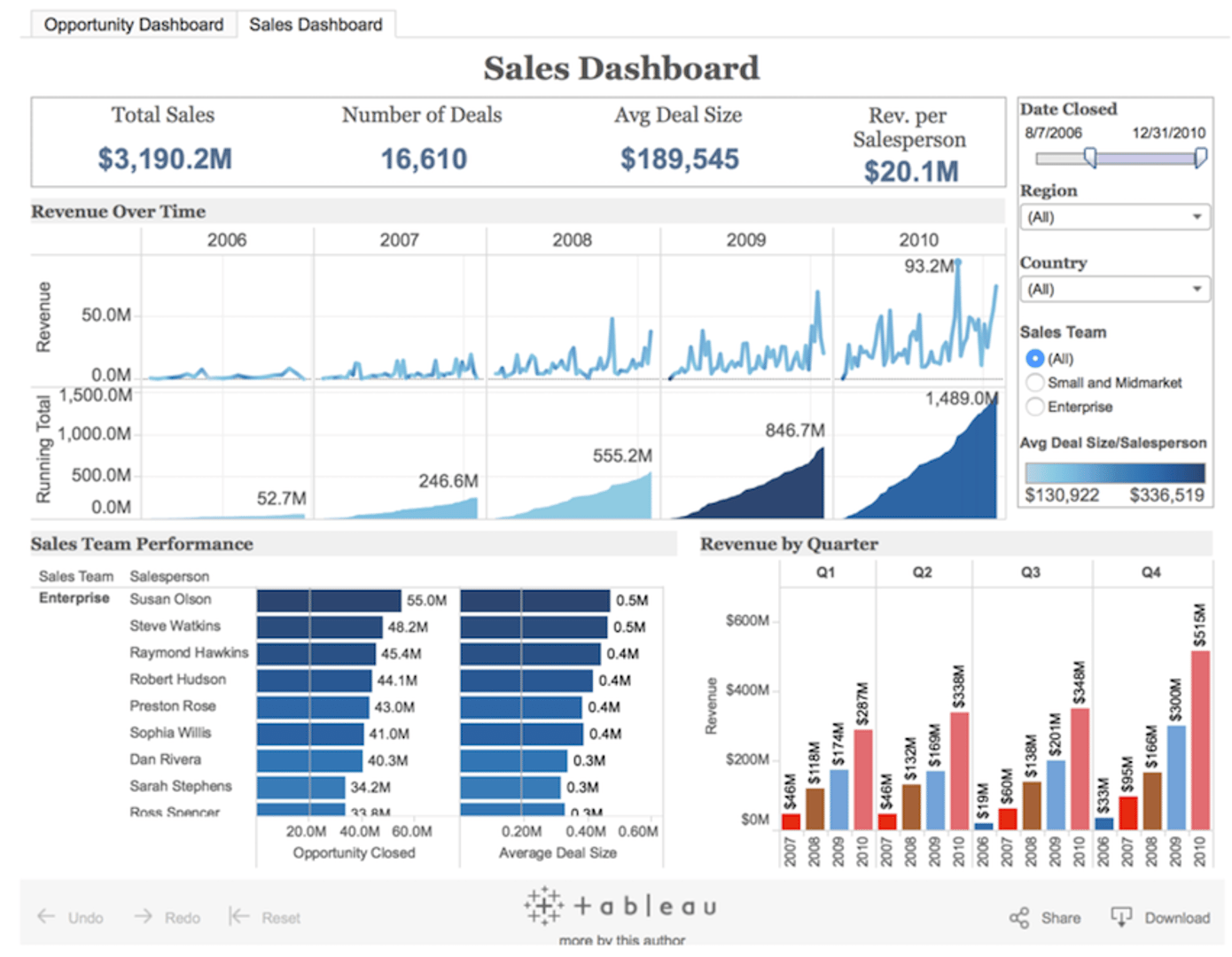 Pros
Easy visualizing: once the right Salesforce data is connected to Tableau Desktop you can point and click your way to beautiful data visualizations;
Salesforce embed: users can embed Tableau visualizations directly into Salesforce with Salesforce Canvas;
Exploring on the go: responsive, touch-optimized controls make viewing mobile Salesforce analytics on Tableau's mobile apps a pleasure; and,
Plug and play report templates: Tableau Report Templates for Salesforce help you get up and running quickly.
Cons
You'll likely have to pull in a lot more data than you need to conduct your analysis. Tableau's connector for Salesforce treats Salesforce as a database instead of a web service (it only recognizes SFDC objects), so you can't use a Salesforce report as a data source. You'll often have to pull in an entire table (which can be very time-consuming) even if you're only interested in a subset of the data set;
Desktop dependent: while you can view published reports and dashboards in the cloud with Tableau Online, creating data visualizations and reports must be configured on Tableau Desktop. In addition to not being able to create reports online, this can raise a data governance issue as different users pull in different subsets of data and choose different metrics for their analysis; and,
Price: at $70/user/month for Tableau Desktop and an additional $42/user/month for Tableau Online, Tableau is not affordable for many SMBs.
Klipfolio as a Salesforce Reporting Tool

Klipfolio is a cloud platform app for building real-time business dashboards that can be monitored anywhere, on any device. The power and flexibility to create highly customized metrics and data visualizations fueled by multiple data sources, and the affordability of the platform, are core value drivers.
Klipfolio enables users to connect to hundreds of data sources, including Salesforce (it has an open Salesforce Connector to pull in reports), and you can also use it to pull in detailed or summary information via SOQL.
Pros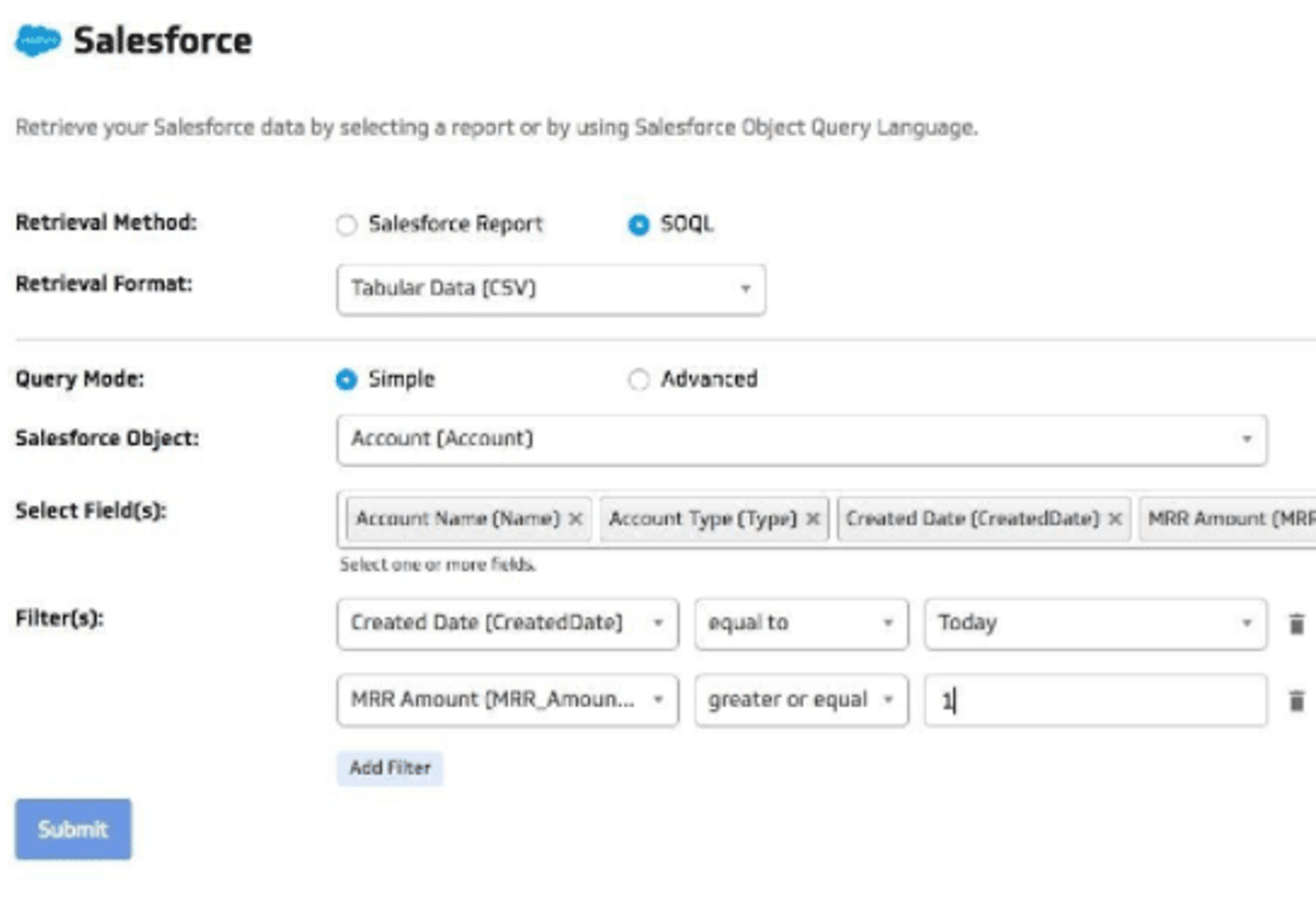 Flexible connecting: with Klipfolio you can access any data that resides in Salesforce; you can pull in Salesforce reports, or write SOQL to pull in subsets of data in detailed or summary view;
Customization: metrics and data visualizations are highly customizable in the powerful Klipfolio Editor;
Data mashups: Salesforce data can be combined and 'mashed-up' with data coming from other data sources (servers, databases, files from your computer, other web apps, etc.);
Publish to TV wallboards: Salesforce dashboards can be put in TV mode, deployed to TV screens, and viewed on rotation;
Pre-built content: in addition to the ability to build Salesforce data visualizations and dashboards from scratch, Klipfolio also has a library of over a dozen pre-built, plug-and-play data visualizations;
Price: plans that meet your needs, starting with a free trial account; and,
Easy sharing: dashboards and the data sources behind them can be made available to SFDC users and nonusers alike; sharing can be done by adding users to your Klipfolio account, by creating published links, by downloading images, or by setting up automated email reports.
Cons
Data sets with 2,000 or more rows of data require the use of SOQL queries; and,
Learning curve: while Klipfolio is a powerful tool, it will require some time to learn.
G-Connector as a Salesforce Reporting Tool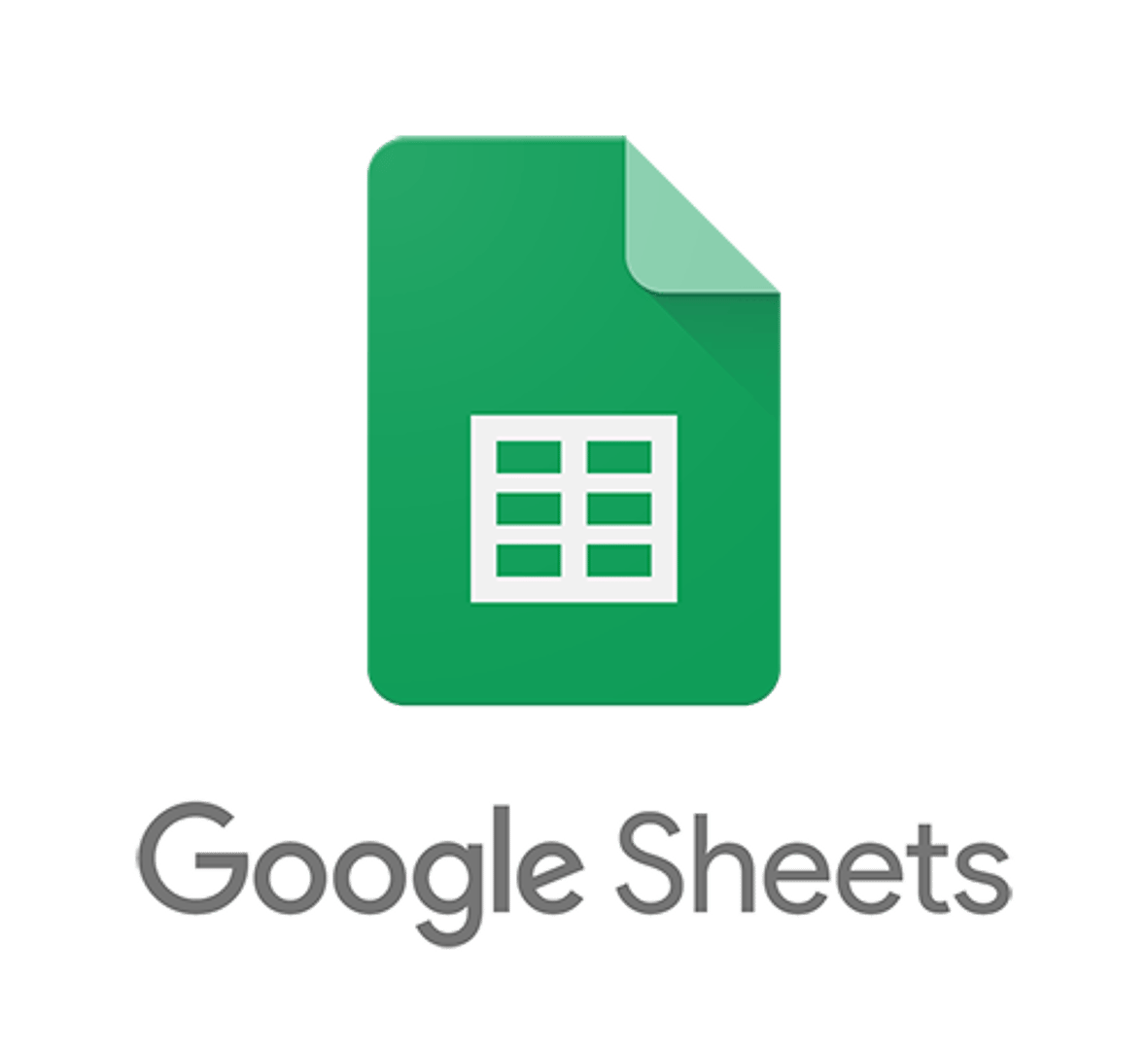 G-Connector for Salesforce (formerly Enabler4Sheets) enables you to connect and exchange data between your Google Sheet and your Salesforce.com account, manually or automatically. The ability to schedule and automate data refreshes/data loads from Salesforce to Google Sheets, and to automate and save 'data snapshots' to Google Drive, are core value drivers.
Pros
Flexible connecting: enables you to connect to both Salesforce reports and subsets of data with custom queries;
Ability to push as well as pull data: you can edit and push data back to Salesforce with the Update command;
Stored data history: data snapshots can be scheduled and saved to Google Drive on a recurring basis; and,
Alerts can be set up and sent to multiple recipients;
Continuous data refresh: data updates can be scheduled and run even when you're not online; and,
Price: basic data loading (pull, refresh, push) features are free.
Cons
Data refresh can only be set up for every hour;
Premium features (including scheduling of automated data pull/push, etc.) require a subscription;
No built-in data visualization capability — you'll have to build them yourself in Sheets or another application;
You have to manually import data from different places to Sheets if you want to mash them up with your Salesforce data in Google Sheets; and,
API only: there's no user interface outside of Google Sheets.
Conga Courier as a Salesforce Reporting Tool

Conga Courier is a plug-in for Salesforce that supports report scheduling and automation. The ability to customize and schedule unlimited individual reports to anyone inside or outside of Salesforce is the service's core value proposition.
Pros
Advanced scheduling options: you can schedule an unlimited number of reports to be delivered at any frequency (no limits on how many individual reports can be sent every hour, month, etc. — that are within Salesforce);
Advanced distribution features: you can send reports to anyone inside or outside of Salesforce, and filter to send to individuals roles, profiles & groups. You can also select recipients dynamically with a Salesforce Report;
Email customization: you can easily set the subject line, From Address and accompanying text, and choose the format of the report to be attached; and,
You can choose to not send reports if they contain zero records (this is not the case within Salesforce).
Cons
No built-in data visualization capabilities: your reports will look similar to what you would see in Salesforce;
Inability to mashup data with data that lives outside of Salesforce: these reports are for Salesforce data only;
Pricing is not transparent: you must call for a quote and pricing is based on the number of reports you're generating; and,
Limited to 25 recipients per email.
Smartsheet as a Salesforce Reporting Tool

Smartsheet is a SaaS platform for "managing and automating collaborative work," and it has a plug-in for Salesforce that enables the synchronization of data between Salesforce and Smartsheets. The ability to sync and streamline workflows in Smartsheets and Salesforce is a core value driver.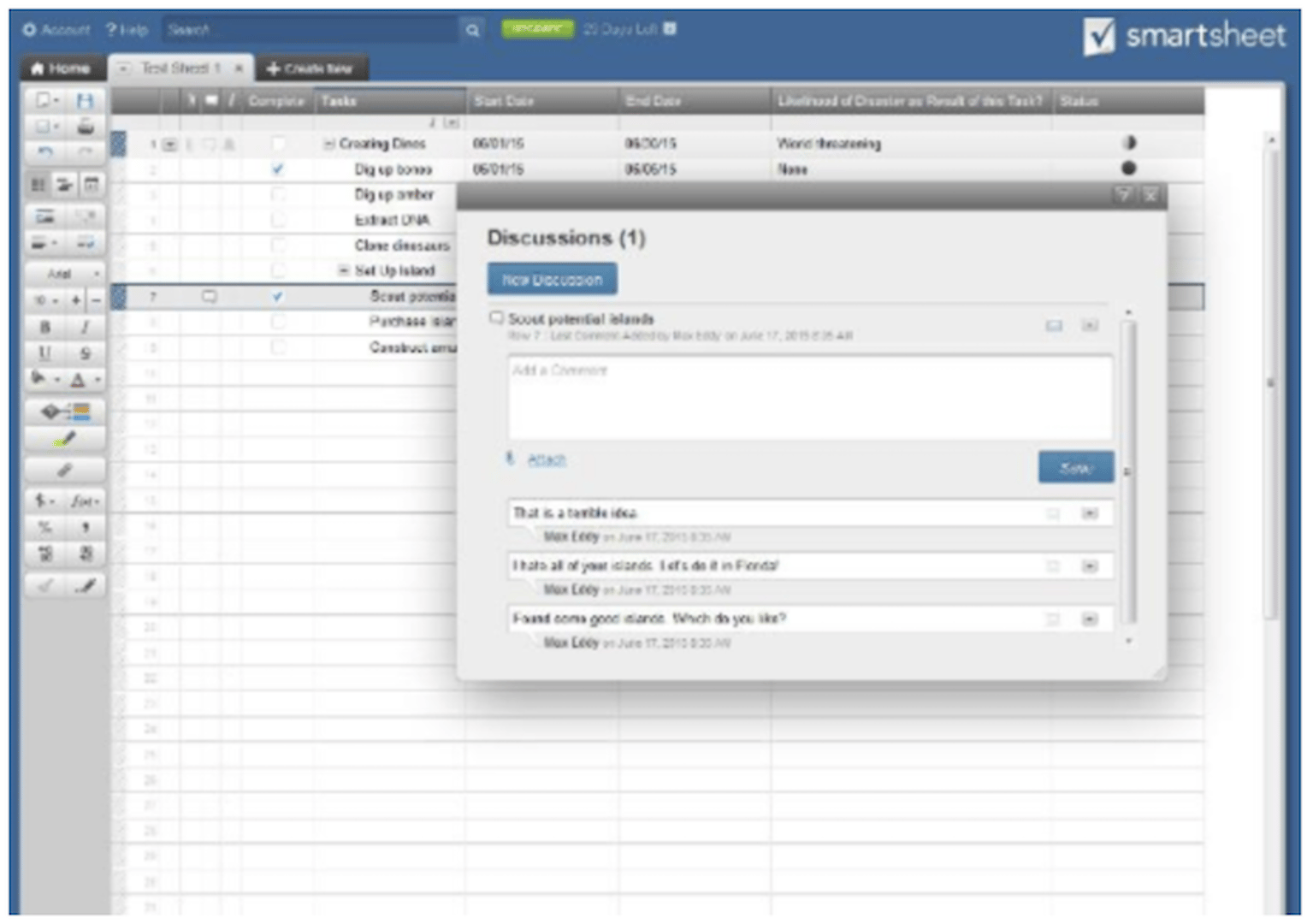 Pros
Data synchronization: you can synchronize data in Salesforce objects and Sheets in Smartsheets;
Enhanced workflow automation: standard and custom Salesforce objects can be linked to Smartsheets and auto-synchronized, enabling collaborative management of sales processes like pipeline reviews, commission payouts, territory assignments, etc.; and,
Comprehensive workflow reports: you can create reports in Smartsheet that provide summary views across multiple projects.
Cons
Lots of learning required;
More of a task management platform than a Salesforce report builder; and,
Pricing is not transparent: Smartsheet for Salesforce is a 'premium' capability available for additional fees — you have to contact them for pricing on Salesforce integration.
Zoho Reports as a Salesforce Reporting Tool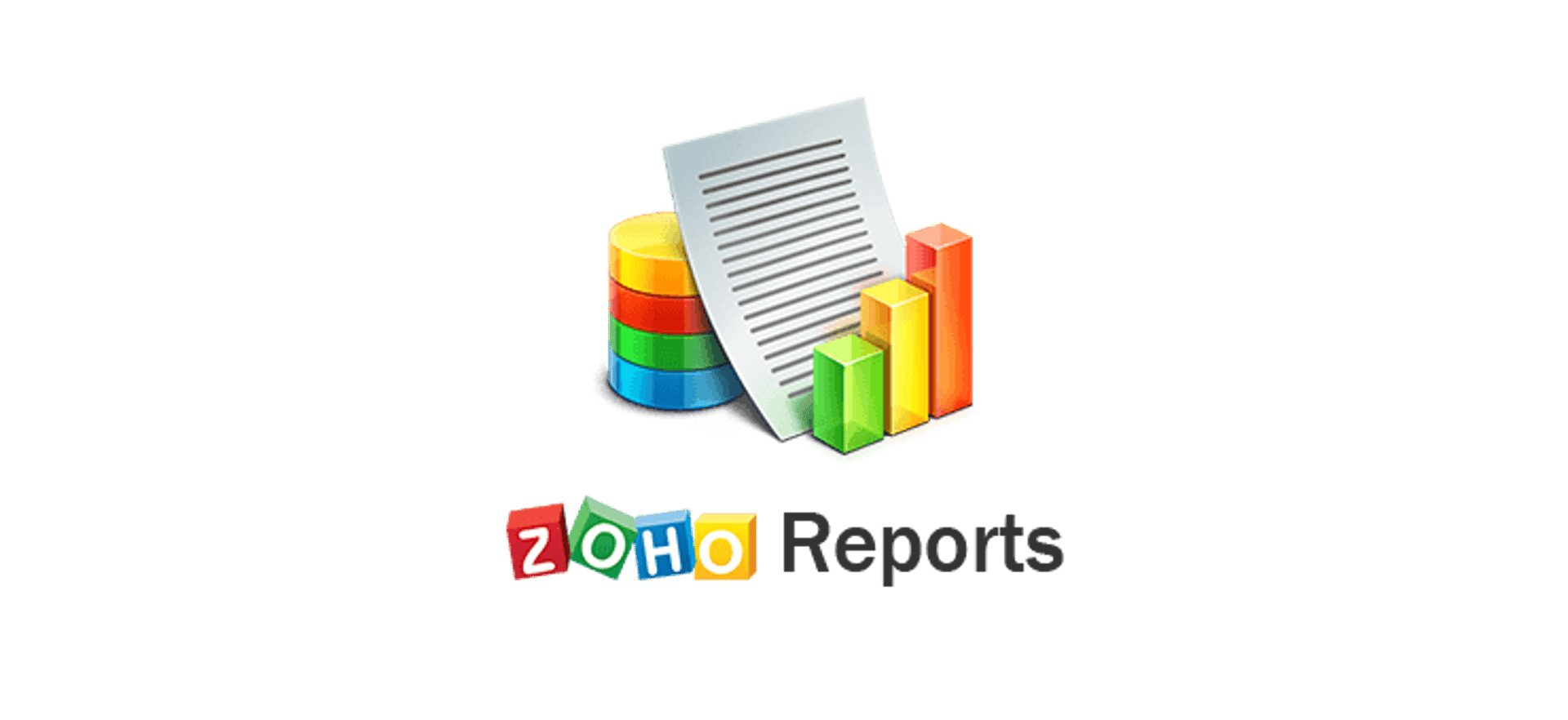 Zoho Reports is a self-service Business Intelligence tool enabling you to create sales reports and dashboards. Zoho has its own CRM, but it also integrates with Salesforce.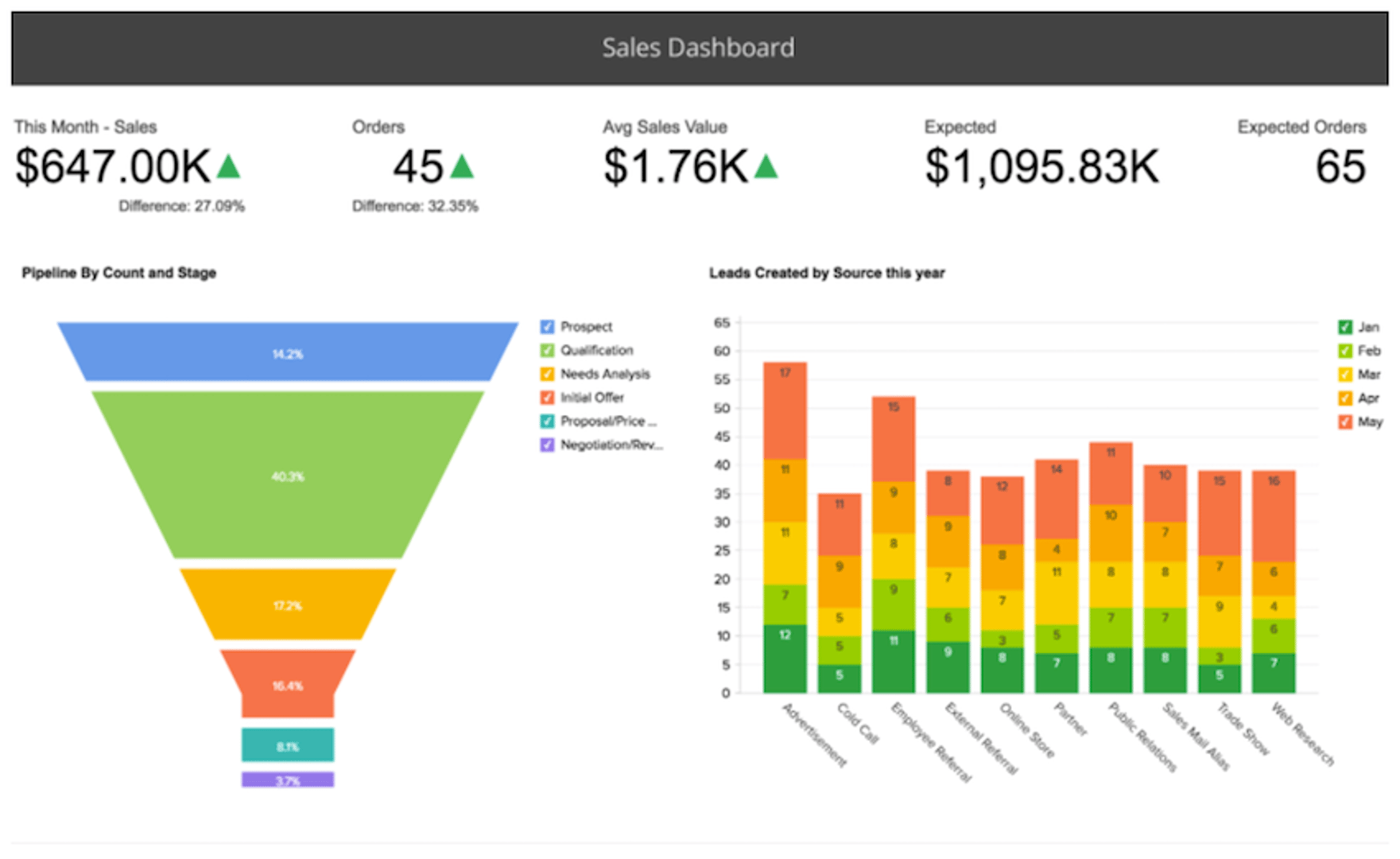 Pros
Hundreds of "ready-made" reports; and,
Easy drag-and-drop interface.
Cons
Lagging data refresh: data can only be refreshed daily / hourly depending on pricing plan;
You'll likely have to pull in a lot more data than you need to conduct your analysis: you have to import entire tables/modules, which can take a lot of time; and,
It can be difficult to customize pre-built reports.
InsightSquared as a Salesforce Reporting Tool

InsightSquared is a sales intelligence and reporting tool, and it has a Salesforce Connector. The ability to pull in historical Salesforce CRM data to create pipeline and lead forecasting models, and to connect Salesforce data to dozens of pre-built reports, are core value drivers.
Pros
More than 80 ready-to-use sales reports;
Ability to pull a long history of Salesforce data in through pre-built data visualizations to spot trends;
Supports forecast modeling to project lead trajectory etc.; and,
Ability to pull in and combine data from multiple apps like Salesforce and Zendesk.
Cons
Pricing is not transparent;
Limitations around customization and flexibility; and,
No real-time data sync: it can take time for new Salesforce data to get updated on your dashboards.
Conclusion
Salesforce is one of the most popular CRMs in the world, and for many good reasons. But - it has never been geared to run analytics, and its reporting limitations are significant.
Gone are the days when Sales Managers can afford to be reactive, producing and distributing backward-looking reports within a siloed Sales department.
Today's leading Sales Ops Managers are proactive, strategic, and collaborative; they work alongside leaders from across the organization to continuously improve sales and business outcomes.
That's why the demand for powerful Salesforce reporting tools is so high.
Hopefully one of the Salesforce reporting tools reviewed in this post helps you gain and maintain control of your sales metrics and KPIs.
Related Articles