The Digital Marketing Dashboard Guide
Sample Dashboards & Klips That Will Improve Digital Marketing Performance
What Do We Mean By "Klip?"
Klipfolio 'Klip'
noun
plural: Klips
A data visualization that brings context to data and delivers business insight(s).
The widgets you show your CMO to get that big raise you've been looking for.
---
Why This Guide?
The Challenge
We've all felt the ground shift: marketing channels are multiplying, noise levels are rising, and crosschannel attribution is getting harder to determine. At the same time, more is being demanded of digital marketers: optimize channel performance; increase process efficiency and productivity; and above all, demonstrate ROI. To meet rising demands in today's dynamic marketing environment, digital marketers need an efficient and effective way to track marketing performance in real-time, across paid, owned and earned media.
The Utility of Dashboards
At Klipfolio, dashboards are our business, and we believe they are an essential tool for performance-oriented, data-driven marketers. We're particularly focused on dashboards that enable real-time visibility into the data and insights that support better business decisions and optimal marketing performance. Today this means monitoring activity within and across many different marketing channels, to understand their relationships and to attribute ROI.
Why this guide?
We think the best way to have a conversation with digital marketers about the power and potential of dashboards is to show you what we have in mind. Throughout this ebook, you will get an insider's view into the ways we at Klipfolio use dashboards to optimize marketing performance. Look for the "View the Live Demo" button to see our interactive public dashboards in action.
We hope this ebook inspires conversation, feedback and ideas that help digital marketers build and utilize dashboards that address their needs, challenges and goals.
---
How We Use These Dashboards
At Klipfolio, dashboards are our life-line, providing us with real-time visibility into the most important metrics behind our business. Monitoring dashboards is part of our culture — throughout the day everyone can view dashboards displayed on laptops, LCD TVs mounted throughout the office, or on their mobile devices. Dashboards keep us on target, and keep us working efficiently and effectively as a team. But it's not just about monitoring. Access to the real-time trends and metrics behind our business help us act in ways that will improve outcomes.
Our marketing dashboards provide us with real-time visibility into the performance of every online campaign we run. This allows us to track ROI across multiple channels in real-time. The flexibility this grants us is critical to our success: we can respond to underperforming campaigns, identify and capitalize on opportunities, and keep the entire team focused on shared targets.
How do we use dashboards? To identify opportunities. To inspire action. To make better decisions. To grow our business.
---
Social Media Dashboards
"We're focused on specific social media channels to engage current and potential customers in conversation. Our social media dashboards tell us how engaged we are, and what impact our social media efforts are having on our business."
- Valerie Hamilton, Customer Marketing Manager
Overview
We see social media as a platform to learn more about our customers, and to get them engaged with our brand and value proposition. A community of active, satisfied and loyal customers is the holy grail for any customer-centric business.
To measure the effectiveness of our social media strategy, we have to do more than count 'likes' and 'fans.' We have to qualify quantitative social media metrics, and judge their impact on business outcomes. Dashboards help us do that.
Social Media Engagement Dashboard
Dashboard Overview: We monitor the impact of our social media marketing efforts by combining metrics from social platforms with Google Analytics, our web monitoring tool. The reason for this is simple: we believe that social media efforts should deliver tangible results in terms of web visitors and new leads.
Data Sources: Facebook, Twitter, LinkedIn, YouTube, Instagram, Google Analytics
Engagement from Social Media (30 Days)
One of the ways we evaluate our social media performance is by measuring how effective we are at driving visitors and leads to our website. This high-level Klip provides an overview of how many visitors and leads came from social media campaigns, and tells us our overall social media conversion rate.
Conversions by Social Network (30 Days)
Like many SMBs, we only have so many marketing resources to allocate to social media campaigns. Therefore, we want to focus on social networks that are most attuned to our target market. The first way we assess this is to look at the number of conversions coming from each platform. Quora consistently drives qualified leads to our website, and we've invested in that network accordingly.
Top Social Media Web Metrics (30 Days)
As with the previous Klip, we want to understand the quality of traffic coming from a particular social network. To help us dig deeper into this data, we measure the number of visits, average visit duration, conversions, and goal conversion rate for each social network. This Klip helps to answer the question, "How effective are our marketing efforts on social media?"
Mentions & Social Sentiment Dashboard
Dashboard Overview: We utilize social listening platforms to monitor mentions and social sentiment surrounding our brand, and we work to connect that data with business performance metrics. This dashboard allows us to visualize mentions and social sentiment alongside KPIs such as Leads and Share of Voice relative to competitors.
Data Sources: Talkwalker, Salesforce
Mentions and Social Sentiment (30 Days)
This Klip displays brand mention volume and the social sentiment behind them, over the past 30 days. Mentions are assigned a tone (negative, neutral or positive) by scoring each word in a sentence, and by passing phrases through a natural language processing (NLP) engine.
Dashboard Overview: Bitly helps us shorten links to marketing content for ease of use in social media, and provides us with activity data surrounding those links. We're monitoring dozens of active Bitly links at a time, and this dashboard helps us do that quickly, without having to navigate to Bitly.com.
Top 10 Countries by Clicks
This Klip shows us how well our social media campaigns are performing (in terms of activity) in different countries.
Popular Bitly Links
This Klip tells us what links have generated the most activity since their publication.
Dashboard Overview: YouTube is an important media channel for us from both a promotional and educational point of view. Our YouTube dashboard helps us understand the reach and impact of our promotional videos and tutorials in real-time, allowing us to adjust content and campaign strategies to optimize their effectiveness.
YouTube Channel Views
This Klip tells us how many views all the videos on our channel received in the past 30 days. Total channel views is a high-level indicator of customer engagement through YouTube.
YouTube Top 10 Videos by Views
This Klip presents us with a view of video performance over time.
LinkedIn Dashboard
Dashboard Overview: As a B2B business, LinkedIn is an important piece of our social media strategy, and we're finding it an increasingly rich channel from a customer intelligence perspective. This dashboard helps us understand if the regions, industries and companies we're engaging through LinkedIn are worth targeting. If we're seeing misalignment with our strategy, we can adjust our LinkedIn campaigns to ensure we're getting traction within the right business communities.
LinkedIn Key Metrics (Last Month)
This Klip provides us with a view of month over month LinkedIn performance.
---
Demand Generation Dashboards
"Demand Gen dashboards support our constant effort to drive targeted traffic to our website, raise interest, and capture leads."
- Jon Taylor, Marketing Senior Manager
Overview
Those of us working in Demand Generation are primarily concerned with two KPIs: volume of targeted traffic to our website(s) and volume of qualified leads. Surrounding these metrics are a number of related performance indicators, such as website traffic by channel, organic versus paid search performance, and website conversion rates. Monitoring these KPIs in real-time is critical to making effective campaign adjustments, which will optimize performance and ROI. There is no better way to stay on top of Demand Gen performance than with dynamic dashboards.
Inbound Lead Generation
Dashboard Overview: The success of a digital marketing team is often evaluated by the number of leads generated. At Klipfolio, we're focused on generating a high volume of qualified leads (we target leads with specific demographic, professional and geographic characteristics), and, in particular, leads that come in as a free trial. Trial starts tend to be more qualified leads for us, as activating a trial signals a willingness to invest time and effort learning the tool. We also ask for more information of trial requesters, which enables more effective communication and higher conversion rates (lead: win). This dashboard provides a clear view of our performance generating qualified leads.
Data Sources: Marketo, Google Analytics
Lead Breakdown (Today)
This Klip presents the daily breakdown between trial leads and leads from other sources. As mentioned previously, trial leads represent highly qualified prospects that convert at a much higher rate than leads from other sources. Basically, prospects that commit time to building a dashboard often fall in love and want to keep their Klipfolio account up and running.
Trial Leads vs. Target
This Klip shows progress towards two trial targets: a daily trial target, and a monthly trial target. The daily target is calculated based on the number of trials we need to attain in order to hit our monthly target. We've made a conscious choice to keep the monthly trial lead gauge red until we've hit our target; our marketing team thrives off a sense of urgency, even if (sometimes) it's artificial.
Google Adwords Performance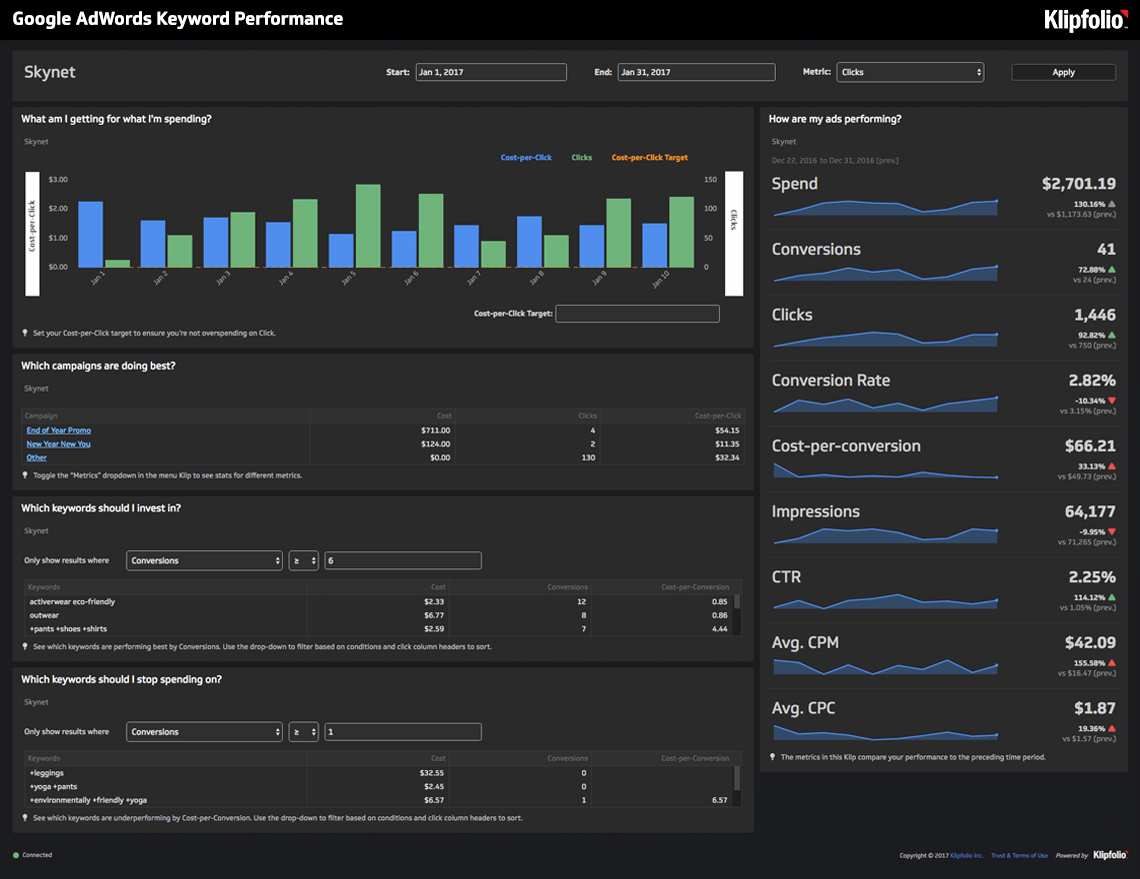 Dashboard Overview: AdWords is one of the cornerstones of any digital marketing campaign. The key to executing a successful AdWords campaign is closely tracking ROI to ensure that the cost to acquire leads is appropriate compared to the time and money invested. In terms of cost-analysis, ROI answers the question: Is campaign investment recouped by new wins brought in by that campaign? At Klipfolio, we use a number of dashboards to track AdWords ROI, and this is one we refer to frequently.
AdWords Clickthrough Rate
Compare your clickthrough rate to typed-in targets, or delete targets to compare to the previous period.
AdWords Conversions
This Klip tells us how successful our AdWords campaigns have been in getting those who clicked to take the action we were targeting.
Google AdWords Campaign
Dashboard Overview: As your Demand Gen operations get more complex and your budget grows, you may find it valuable to work with experts to refine and optimize your AdWords campaigns. Dashboards can be an important tool to monitor their management of your campaigns, and measure their performance. This dashboard was built by Search Warrant, a professional search marketing firm we work with to optimize our AdWords campaigns.
AdWords Conversions by Campaign
This Klip helps us measure the engagement levels our campaigns are achieving against costs.
AdWords ROAS
This Klip helps us track returns on our Google AdWords spend in real-time.
Performance By Digital Campaign
Dashboard Overview: Our digital marketing team is launching and managing dozens of campaigns at the same time. Without a dashboard to track these activities, it'd be easy to get lost in the deluge of data and metrics. On the paid advertising spectrum, we monitor our AdWords spend very closely to ensure we're generating the right volume of leads at an acceptable cost per conversion.
Data Sources: Google Analytics, Google AdWords, Salesforce
Ad Cost Over Time
Keep track of your AdWords spending over time and compare against previous periods.
ROI
Compare conversion values and costs to see ROI. Calculations will be dependant on having conversion values in Google AdWords.
---
SEO & Web Analytics Dashboards
"We generate traffic to our website with a mix of tactics and best practices, from optimizing our website for search engine recognition, to developing interesting and useful content, to creating a seamless user experience."
- Jon Taylor, Marketing Senior Manager
Overview
To effectively drive targeted traffic to websites today, digital marketers need to employ a multipronged approach. At a minimum, web pages need to be optimized for recognition by search engines, and this includes text, images and videos. But beyond SEO, a host of SEM marketing tactics and best practices will support higher search engine rankings and web traffic, from effective AdWords campaigns and a targeted, differentiating web content strategy, to a carefully laid network of backlinks and external links. Dashboards help us monitor and measure our performance in all these areas.
Google Analytics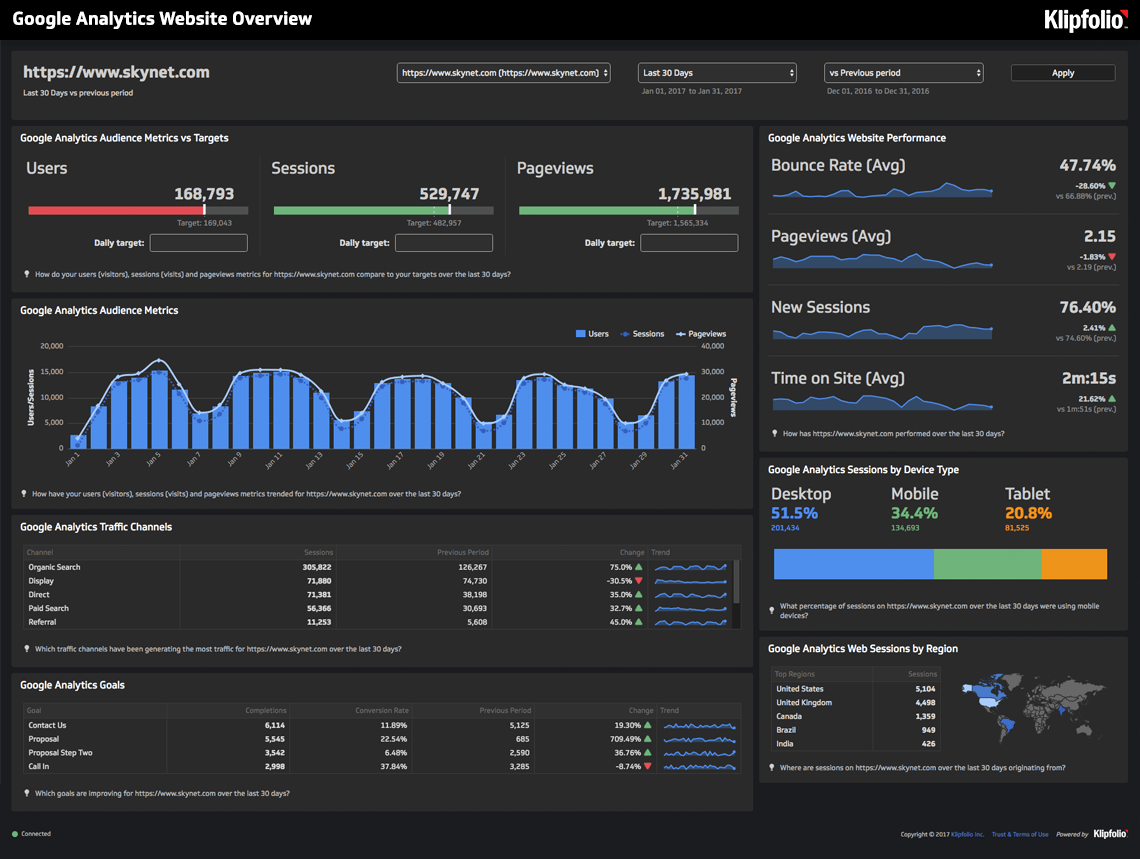 Dashboard Overview: Google Analytics (GA): the digital marketer's home away from home. Google Analytics offers a wealth of information for digital marketers, but it's easy to get lost in the data, and finding the information you're looking for can take more time than you have. We use custom Google Analytics dashboards to suit our every need and preference, so we can see and process the information we're looking for quickly, in one place.
Google Analytics Audience Metrics
This Klip provides a high-level view of key website metrics: users, sessions and views.
Google Analytics Traffic Sources
This Klip presents a breakdown of website sessions by source. We aim to generate a specific mix of paid versus organic traffic based on our monthly budget, and the time and resources we have to produce new content.
SEM Performance Dashboard
Dashboard Overview: Web page rankings are an important metric to digital marketers, especially those focused on inbound marketing. We use a number of services to track our web page rankings and related metrics, including the volume and quality of backlinks and external links to our web pages.
Data Sources: Moz, Bitly, Google Analytics, Xero, Shopify, Search Metrics, and more.
Backlinks
The more backlinks you have pointing back to your website, the more popular it will be. This is a sample of a Klip we use to monitor the number of backlinks to our website.
Moz Domain Authority
Domain Authority is a score (on a 100-point scale) developed by Moz, that predicts how well a website will rank on search engines. This is a sample of a Klip we use to track our domain authority, which is a metric we use to predict our search engine ranking.
---
Other Useful Metric Klips
Customer Lifetime Value
The longer customers stick with you, the more valuable they are. This Klip helps us monitor Customer Lifetime Value over time.
Data Sources: Salesforce
Lifetime Value: Customer Acquisition Cost
We use this Klip to track the ratio between average customer lifetime value and the average cost of acquiring a customer.
Lead Funnel
This Klip helps us understand the customer acquisition process from awareness to purchase.
Data Sources: Google Analytics, Salesforce, Marketo
---
How Do You Track Your Performance?
We hope this ebook has given you inspiration for how dashboards can help you manage your business.
Dashboards can help keep you and your team on track, on time, on budget and on the same page. They instill a sense of urgency to act and enable real-time adjustments so you can avoid periodic course corrections. Most importantly, dashboards support a culture of data-driven decision making that will improve your bottom line and drive growth.
---
Start your dashboard journey with us
Did you like the dashboards in this ebook? We'd love to help you with your dashboard journey. One of the best ways to get started is with our free trial. It's easy to get our dashboards set up, and you'll discover their power once you start building custom dashboards and visualizations.
Try it free for 14 days ● No credit card ● Great free support