Social Media Monitoring Dashboard
Track key metrics from multiple social media platforms in one comprehensive dashboard.
Track all your Social Media Monitoring KPIs in one place
Sign up for free and start making decisions for your business with confidence.
Sign up with Google
or
Sign up with your email
Free forever ● No credit card required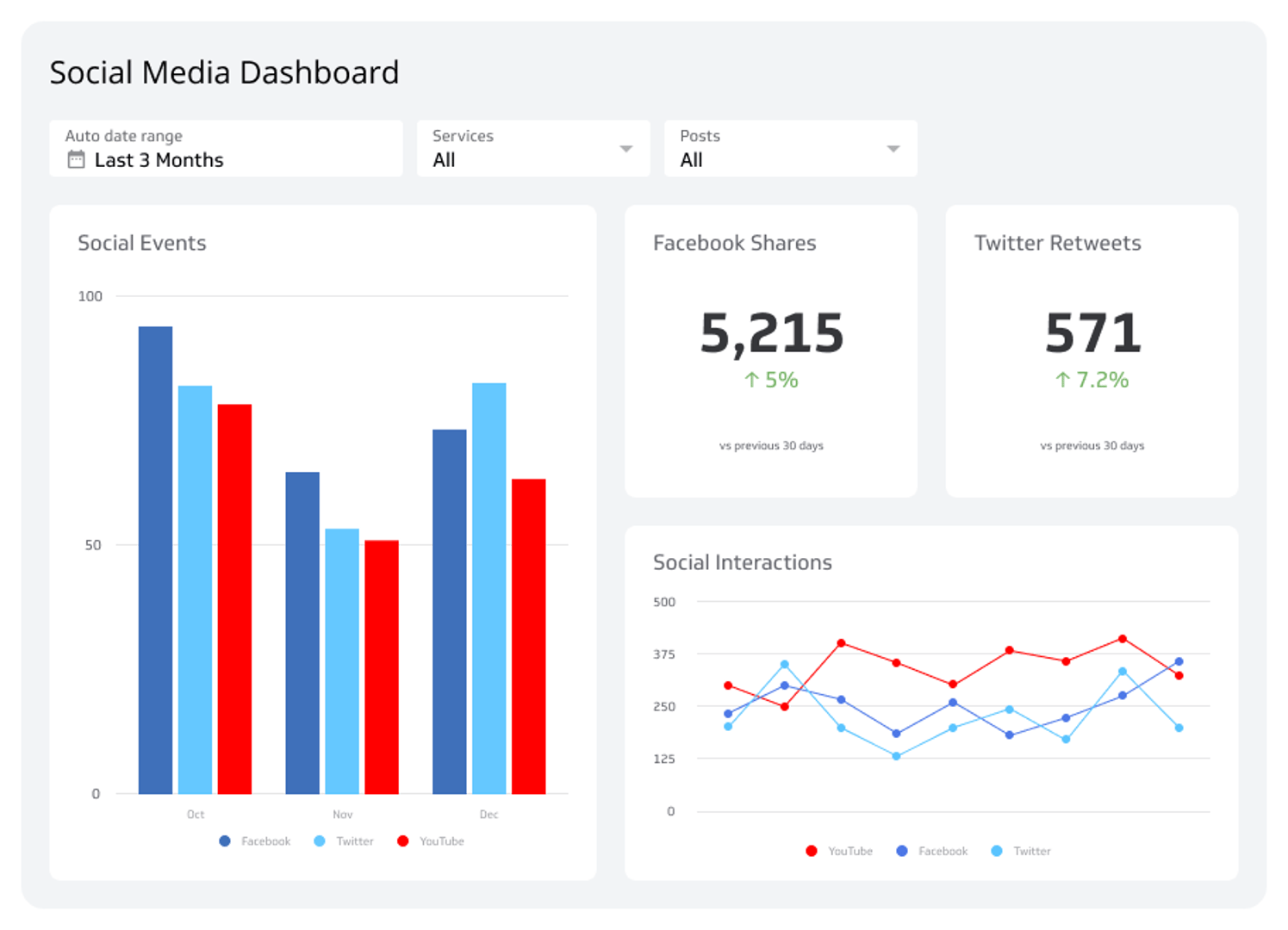 What is a Social Media Monitoring dashboard?
You do it all. You track your Facebook page stats, monitor your LinkedIn mentions, respond to questions on YouTube, and post fun, glossy pictures on Instagram. While your social media strategy may be on point, you may still be jumping from platform to platform in a tiring effort to monitor all your social media accounts. Or, you could use a social media monitoring dashboard to bring all your metrics together in one place.
What should you track in a social media monitoring dashboard?
Track social media key metrics from each account you own or monitor. Think about each platform on its own: which metrics do you track on a daily, weekly, or monthly basis? You may want to give preference to metrics that you track more often, such as reach and engagement metrics. Alternatively, you can create a monthly social media monitoring dashboard to check your progress over time. For this scenario, time series metrics such as monthly new subscribers, audience demographics, or channel views might be better suited.
These metrics basically do two things: gives you a view into your social platforms followers and likes, and shows your most recent posts, conversations, and engagements on these platforms. You can display this social media dashboard on an office wallboard or a TV dashboard to keep an eye out on social progress and buzz topics.
Twitter Metrics
Instagram Metrics
Facebook Metrics
YouTube Metrics
LinkedIn Metrics
Related Dashboard Examples
Start tracking your metrics
Level up your analytics with a free forever PowerMetrics account