Why every company needs to encourage its employees to socialize
Published 2016-03-25, updated 2023-03-21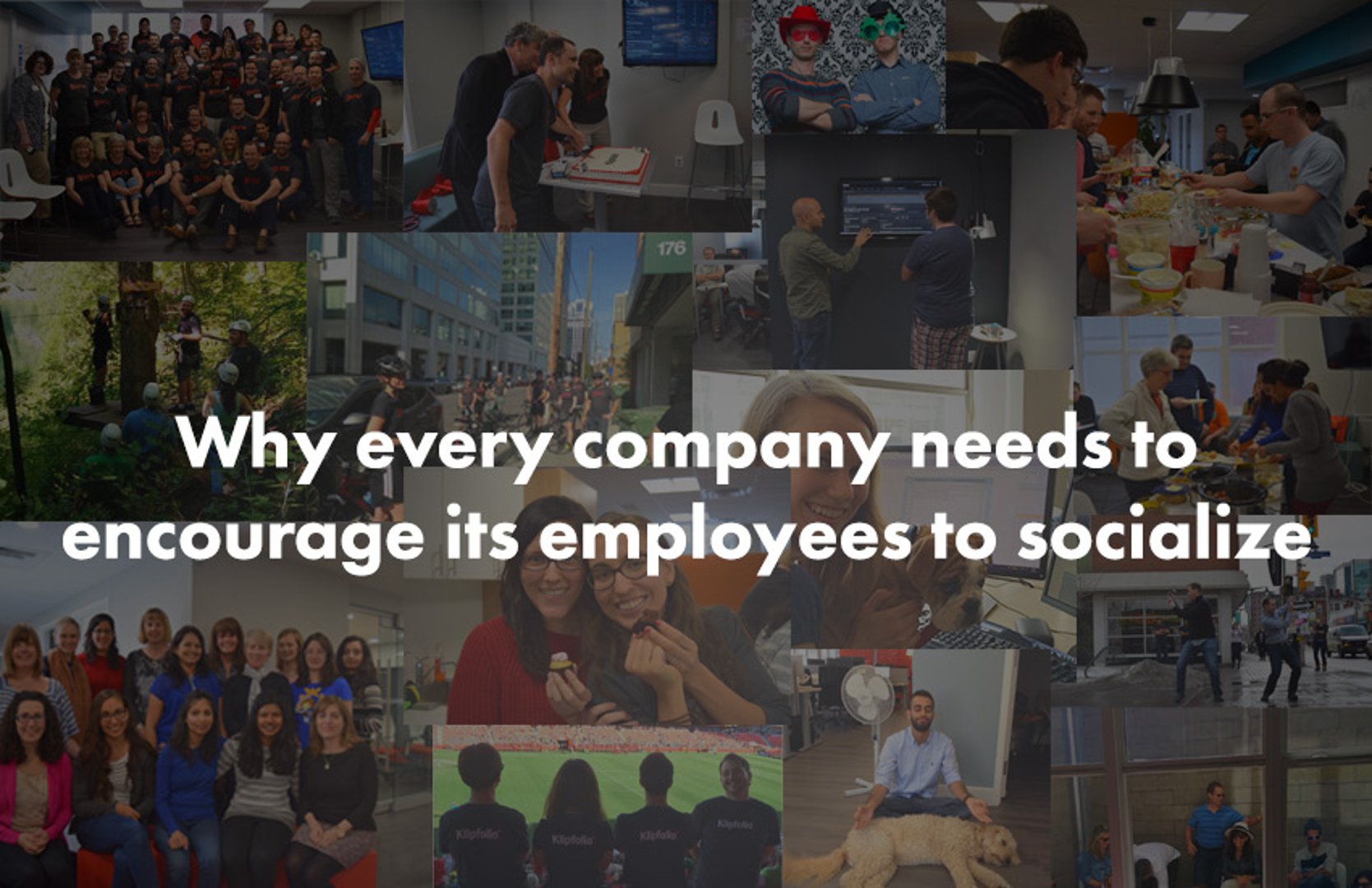 Summary - Klipfolio has an informal social committee that organizes a wide variety of activities for employees. Though the committee was not created by management, it has management's full support. That is because there are tangible benefits both for employees and the company when people get to know one another on a personal basis.
---
One Friday a few weeks ago, we brought in tacos for our employees for lunch. It turned into a big social gathering as everyone gathered in the kitchen to eat, chat and mingle.
I watched people enjoying themselves. This was a good thing – a very good thing in fact, and for several reasons.
It made the employees happy.
It allowed them to build personal as well as work relationships with one another. It made them feel that they belong.
And happy people who are engaged with one another as friends as well as colleagues work better together.
That's why I think every employer needs to encourage employees to socialize.
Management did not organize our Taco Friday. Though the company paid for the food, the event itself was the work of Klipfolio's social committee.
It's an informal group that is responsible for a lot of social interaction within the company.
What amazes me as well is that Klipfolio's social committee was not started by management. It grew organically out of the desire of some of our early employees to play online games. They asked if they could do so in the office after work.
We agreed.
That morphed into a regular board game night.
Someone put a schedule up.
More activities appeared.
Eventually, a volunteer social committee came into being. It now coordinates a wide range of activities:
There's a group that meets regularly at local restaurants for breakfast.
There are winter snowshoeing trips and summer bike rides.
There's a sci-fi book club.
We have movie nights and wine and cheese nights.
We have people playing card games and video games and online games.
The committee is also responsible for regular events like our staff Christmas party and our annual summer barbecue.
The committee has the support of management, and we allocate some money in our annual budget to support such things as Taco Friday and the Christmas party. But it is not an official creature of the company. Though the committee sometimes asks for my opinion about something, I am not really involved.
But I see the benefits.
First of all, research shows that social interaction builds loyalty. People who have friends inside a company are more likely to stay with that company and less likely to look elsewhere.
Second, it gets people from different departments talking to one another. That breaks down internal silos. If you're friends with someone from a different department outside work, then it's no big deal to go over and talk to them at work. Overall, internal communication becomes easier and more natural - and that, as you grow, turns out to be a major benefit.
Third, people who know each other's personal lives and outside interests tend to respect each other more. People who are respected feel like they belong. And people who feel like they belong are better employees.
Finally, the social committee has been valuable in helping us with corporate social responsibility initiatives.
Over time we have raised money for charities like the Ottawa Food Bank, women's shelters, the Humane Society, Run for the Cure and Movember. It was the social committee that helped us get behind many of these programs.
That's a good thing because people want to work for companies that have a social conscience. And that is certainly true of the kind of employees we want to attract and retain.
I want socializing at Klipfolio to be natural and easy; it should never become anyone's full-time job. The challenge for us is to keep that grassroots spirit. Formalizing the process will kill it, which is the last thing we want to do. We want to nurture social interaction.
We believe every company should do so.
If your company doesn't have a social committee, encourage the creation of one.
If you do have a social committee, make sure it's active.
And make sure management supports it. Everyone will benefit.
Thank you to our core group - Lianne, Stephanie, Luke, Valerie, Natalia, Ivan, Jon, Zach, Tamsin, Nikta, Mychelle, Stephen and Lydia.
Allan Wille is a Co-Founder and Chief Innovation Officer of Klipfolio. He's also a designer, a cyclist, a father and a resolute optimist.
Related Articles